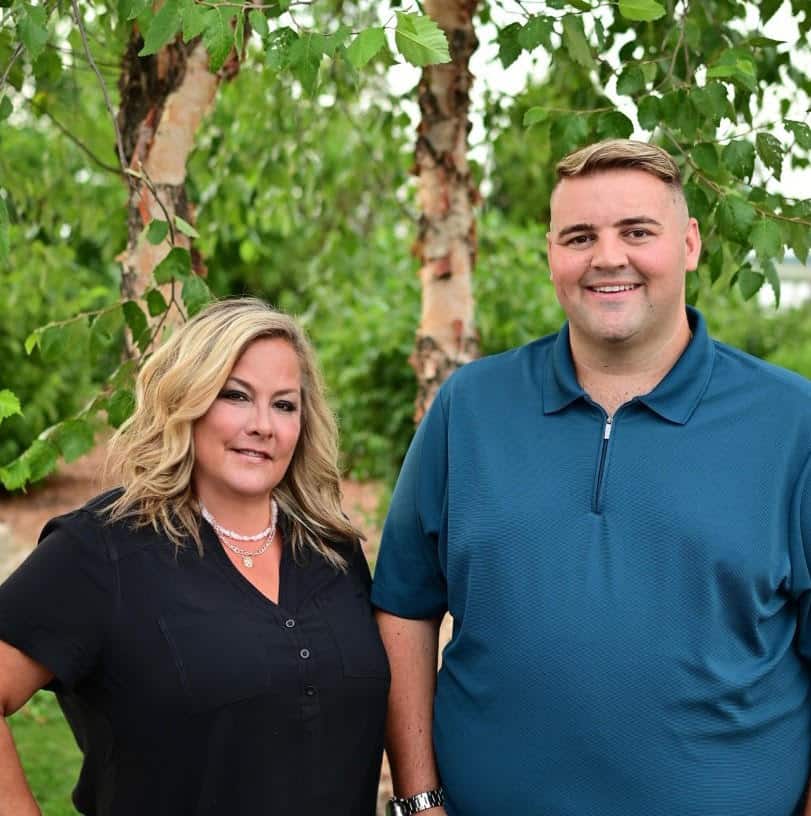 Secaucus school board candidates Monica Berckes and Nicholas Mattiello are running for two of the three open seats on the Board of Education on a platform of consistency and transparency, hoping to be the voices of dissatisfied parents in the district looking for a change in the status quo.
In the Tuesday, November 8 election, they are at ballot positions 4 and 5 in Column I.
Meet the candidates
Berckes spent her post-college career in advertising and marketing for over 30 years, working her way up to principal in an advertising agency, and is also a licensed real estate agent. She moved here around 25 years ago, settling down with her husband, a lifelong resident, and starting a family.
Wanting to get involved in her kids' schooling and dismayed by her limited role as a volunteer, Berckes became certified as a substitute teacher. She taught at the schools her two children attended, and across the district at its elementary schools.
Berckes first got involved with the board through the Community Education Relations Committee, helping Acting Superintendent of Schools at the time Ken Knops put together a district-wide survey to bridge the gap between parents and the board. Trying to reach parents who didn't feel informed, involved, or invested, she grew further engaged with the board.
During the COVID-19 pandemic, Berckes was unhappy with the district's response, given that she had two middle schoolers, and advocated for a full return to classrooms from virtual and hybrid learning.
She ultimately sought to be the change she wanted to see, and hopes to continue the trend she said started in 2021 with the election of the "Change We Need" slate of Leah Fanning-Farinola, Ruby Wish, and Abigail Gonzalez to the board.
"Last year, we managed to successfully get on three people that I felt were more advocates of change," Berckes said. "I was unhappy with the representation and I was happy with the way that the board was going. So I felt like I needed to tac on to that and be part of that change that has started since last year."
Berckes shares her last name with controversial former Secaucus High School Principal Robert Berckes through marriage to her husband, the former principal's cousin, but said there is otherwise no relation relevant to her candidacy.
Mattiello joins Berckes to form "Keep Moving Forward" slate 
Mattiello was born and raised in Secaucus, having gone through the school system from library school to kindergarten through 12th grade. After  graduating Secaucus High School in 2013, Mattiello earned a Bachelor of Arts degree in the Public Relations from Montclair State University and a Masters of Business Administration and Marketing from Seton Hall University.
Mattiello is an adjunct professor at Seton Hall University at the Business School, and at the Business School at Brookdale College. He is only 27 years old.
"That might be a write off to some of our community members or our potential voters," Mattiello said. "But what I like most about that is I have my ear to the ground. I've been in the system more frequently than maybe other board members who are currently serving or who have served in the past. So I built a rapport with the administrators, with the faculty, with the staff, and particular students who are comfortable in coming to me because I recently had just been through the system."
Mattiello worked for the Police Department as a 9-1-1 dispatcher for eight years. He has also been a volunteer firefighter for the Secaucus Fire Department for the past 10 years. He has around five years of corporate experience working for Samsung Electronics America doing advertising, marketing, and partnerships.
Mattiello said he's always been an outspoken community member. That, coupled with being a recent graduate of the school system, led to his run for the board.
"I've always been a staunch advocate for those that might not be comfortable in speaking up or sharing their voice or having their voice be heard," he said. "Being put through the school system and seeing some things that could be changed, I would say it started there. Then when I went on to become a professor, seeing what colleges were looking for in students, and what students should be looking for in colleges, I found the juxtaposition quite the same almost. I saw the balance of the two from an educator perspective and a student perspective. Now I want to take both of those experiences and bring that to the board. That's what lights a spark in me to want to win a seat."
Running on a platform of consistency and transparency
Mattiello and Berckes are running on a platform of consistency and transparency, to be voices for the people who may potentially elect them, and to advocate for further change from the status quo.
Berckes said, if elected, she would take on any board policies they would try to change on a case-by-case basis. She will pay close attention to the curriculum.
"There's been a lot of things that are being introduced that highly sensitive to many of our constituents here in Secaucus," Berckes said. "It's going to be a 'handle it as it comes' situation. If we were to be elected, we would gather information, dissect it, and make either a change in policy, or a new policy to make sure that our kids are protected."
Mattiello wants increased collaboration between the Guidance Department and senior students to better prepare them for college. That may mean managing expectations and finding the right school for some students, and adopting policies to encourage that.
New school and other proposals for the district
Overcrowded classrooms and the potential need for a new school were discussed by the Board of Education and the Town Council at recent joint meetings. Berckes said the current problems are due to a "big failure" in planning for growth by the board.
Mattiello called the collaboration between the board and the council a great approach, and he and Berckes agreed the district needs another school for its burgeoning student population.
"I think our classrooms are at the higher end of what I would like to see them in," she said. "So I think another school is necessary."
Berckes said analyzing the district's spending habits would be a major focus if elected.
"We have to proactively figure out what's working for our kids, and what's not working for them, and adjust and shift funds," she said. "There's probably excess things where we could trim the fat."
The three winners of this school board election will vote on a new superintendent. Mattiello feels the past three superintendents have not been effective, bringing the district to the state it's in now under Acting Superintendent Daniela Riser while it is searching for a full time superintendent.
Mattiello said it's important to find an efficient, well-rounded leader to represent the district around. He pointed to the inconsistencies and wasted taxpayer dollars on "the detriments that came with the prior superintendent," and wants to avoid going "zero for four" in the position.
Superintendent search ongoing in town
Mattiello feels the most important quality in a new superintendent will be consistency. He wants somebody who will be a beacon for students, faculty, and administrators, and who can lead the district.
"There might be some flaws in the curriculum. There might be some flaws in particular departments, because we're lacking that leadership," he said. "Therefore, when we find a superintendent, a really, really great one, what I want to make sure we're looking for is this prolific pinnacle person who's going to be leading the charge and ensuring that we are taking this district to greater heights."
According to Berckes, spirit is a major factor.
"I'm assuming the superintendent, in terms of their qualifications, is going to check all the boxes," she said. "So it's going to come down to spirit and personality. How much engagement do they want to have with the kids and how much of it is going to be spirit, because it's going to carry down from the top."
Berckes would also challenge the new superintendent to explain what New Jersey school superintendents should have done differently in response to COVID-19 and the pandemic.
"I'm looking for somebody to say 'They did this, I didn't agree with it, I think it should have been that,'" she said.
COVID-19 response, sex education, and other hot topics
Berckes said that some COVID-19 response decisions were made based off of politics. While not singling out any policy in specific, she emphasized the need for individual and parent choice.
"I feel like a parent and a pediatrician knows what's best for a kid," she said. "So for me, it would be making sure that we don't go backwards and that we make sure that we remember about parents' rights, and making sure that our kids are protected by that."
New state-mandated sex education standards have been implemented into local health curriculums. Berckes said it's been a frequent topic of discussion in town, and favors an opt-in choice for parents
"I'm one of those people who feel as though those types of discussions belong within their parents' and guardians' homes," she said. "I'm a firm believer that a lot of this is very political. It's a lot of interjecting inappropriate things at inappropriate levels. I am not for Critical Race Theory or Social and Emotional Learning. I feel like we should focus on the academic loss, on the social loss. Some of these children have been bound to their homes for two plus years and literally do not know what it's like to converse with a regular human being. I think those are the priorities that schools should take."
Mattiello slightly disagrees. He was in favor of the opt-out option currently available to parents regarding sex education, noting it should be their choice if they want their kids learning about it in school or at home.
"There are conversations that are meant to be held at the dinner table and in the privacy of your own home," Mattiello said. "We don't know what kind of conversations that the teachers are having. We don't know what kind of conversations the students might be having during or after the lesson. For me, it should be the parents' choice."
On the campaign trail in Secaucus for months
Berckes and Mattiello have been campaigning vigorously, as are their opponents on the "For the Children" slate of Kelli Conroy D'Addetta, Alexander de Hombre, and Christina DeBari. Mattiello said that the campaign has largely been positive, and that the candidates are not opposites of them.
"We're going door to door. We're listening and advocating," Mattiello said. "We want to understand, we want to hear residents' voice their concerns and their thoughts. On the 'Keep Moving Forward' slate, we hear you. And we're ready to bring all of that to the table when the time comes."
At the start of the campaign, Board President Jack McStowe, Trustee Kathy O'Connell, and Trustee Jayesh Patel chose not to run and have endorsed the opposing "For the Children" slate, which Mattiello predicted would be a detriment to their opponents. He suggested endorsement by the incumbents may contradict the current feelings of residents seeking change on the board.
"A majority of our community is fed up with sticking to the status quo," Mattiello said. "They were a part of that, sticking to the status quo with very minimal change, and a limit on transparency or consistency. So for them to publicly endorse 'For the Children' slate, I think it could negatively impact them. If you are looking for change, [we're] your option."
Berckes agreed. They thought they'd be running against the outgoing board members. However, she said they must have felt voter sentiment was trending in the opposite direction, and she is happy that no matter what there will be three new trustees on the board.
Afterwards, they both praised McStowe's leadership and accomplishments. They feel he and other board members had their moment, and it's time to "pass the torch."
Since declaring their candidacies, Berckes and Mattiello have been attending an array of events in town, from concerts in the park to other community events throughout the summer, to back-to-school and home games of sporting events in the fall.
They also host a weekly Zoom conference, "Mondays with Monica and Mattiello," open to residents to ask them questions. The next major campaign event will be the Junior State of America candidate forum at the Secaucus High School Performing Arts Center at 11 Millridge Road on November 1.
Did not ask for New Jersey Project endorsement
Amid the campaign, the far-right New Jersey Project organization has endorsed the "Keep Moving Forward" slate.
According to its website, the group supports "candidates who support: a strong academic foundation in ELA, math, science and history without decisive political, religious and social agendas; closing the gap on the learning loss created by 2020 and 2021 mandates; rejecting the introduction of age inappropriate sexual content in the classroom; protecting parental authority to choose health and wellness interventions for their children; and opening the lines of communication to improve transparency and encourage collaboration between parents and the board of education."
The group's endorsement has sparked bitter controversy in the Hoboken school board race over its backing of the "Kids First" slate.
"Monica and I have never spoken to a representative from that organization nor have we asked to be endorsed by them either," Mattiello said.
Mattiello added he was thankful the nature of the race in Secaucus had not gotten to the point that it is in Hoboken.
"It's a shame to see the ugliness and vitriolic atmosphere occurring in Hoboken for the BOE election," he said. "We are truly grateful that in Secaucus that is not the case."
For updates on this and other stories, check www.hudsonreporter.com and follow us on Twitter @hudson_reporter. Daniel Israel can be reached at disrael@hudsonreporter.com.