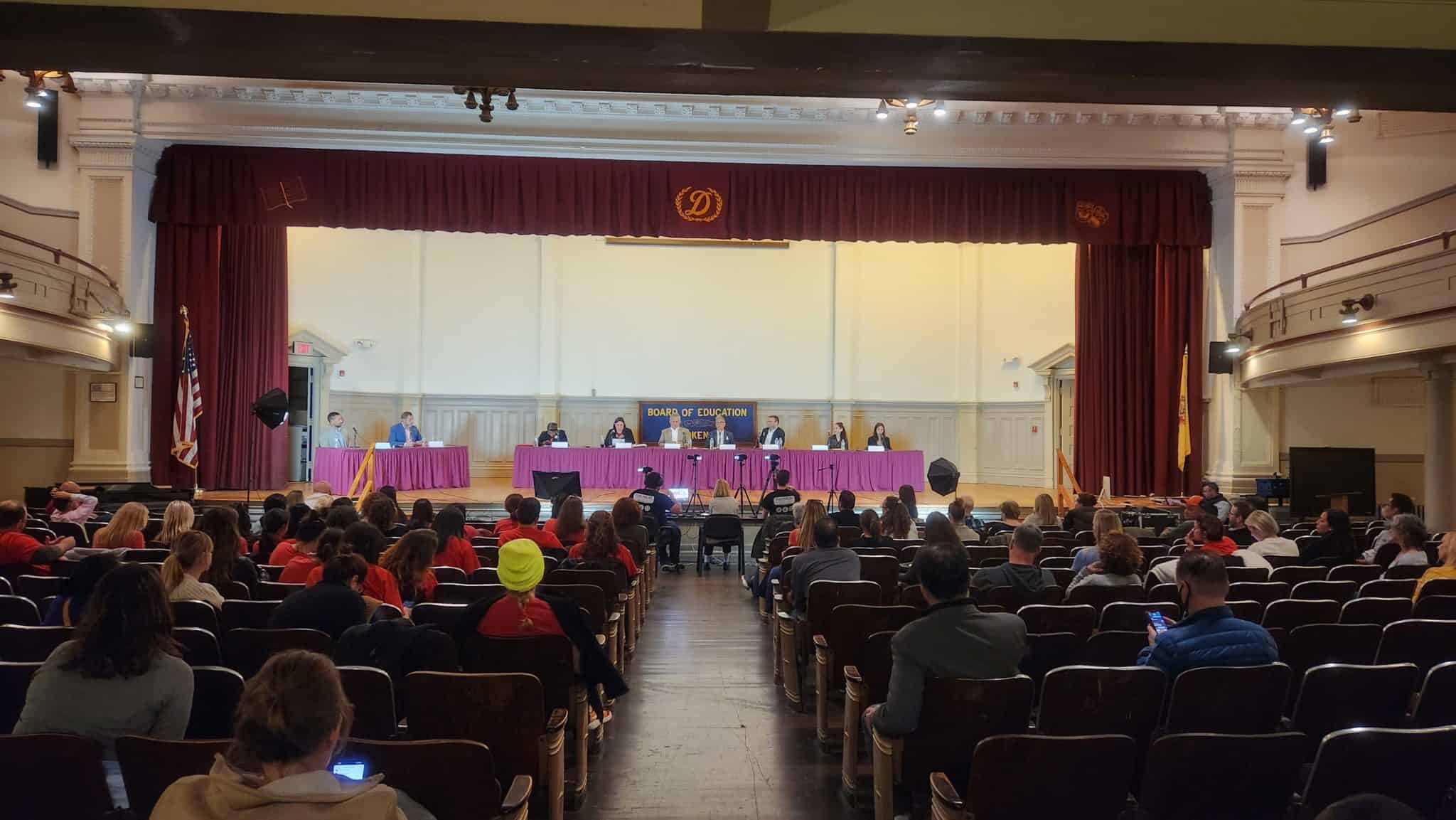 The race for the Hoboken Board of Education reached a pivotal point in the election season on October 28, as nearly all of the candidates running for one of the three available seats took part in a debate over spending, facilities, charter schools and even partisan positions.
Two slates of three people and one independent met at Demarest Middle School, where the sitting school board regularly convenes, and where at least two of the candidates will appear as a trustee after two incumbents declined to run for reelection.
The first slate, "Leadership That Listens", includes Trustee Alex de la Torre, Leslie Norwood, a member of the Hoboken Public Education Foundation, and Antonio Grana, a member of the city's Zoning Board.
The second slate, "Kids First", includes Pavel Sokolov, the secretary of the Hoboken Republican Party, Cindy Wiegand, a former City Council candidate and market researcher, and Donna Magen, a first time candidate who works in the hospitality industry.
Patricia Waiters, a local activist and perennial candidate, was the only independent who was present at the debate, as John Madigan, a former one-term school board trustee, had contracted COVID-19.
The debate was moderated by John Heinis of Hudson County View and Peter Biancamano of The Pulse.
Spending and facilities
Biancamano pointed out that school taxes make up one-third of the tax bill in the city, and asked the candidates how they would keep school taxes stable for residents.
Norwood said that it was important to get "the most out of every dollar" and that they have to continue examining all of their programs. Grana argued that their taxes are "relatively low" compared to other places, and de la Torre said that the public and charter schools should be discussing PILOTS (payments in lieu of taxes) and state funding.
"PILOTs have a direct impact on facilities, capacity and money, and sadly pit community schools against each other," he said. "Collectively, we can have a bigger impact if we work together, the results are better."
Sokolov said that they should audit their expenses and budgets "to get a clearer understanding of where our cash rolls are going and what the needs really are" and partner with other bodies such as City Hall and non-profits.
Wiegand also said they do audits and look at city resources, and Magen said they need to get qualified professionals to find efficiencies, savings and "promote the rightsizing of the district."
Waiters said that they have to get rid of "local greedy politicians", that they should be more transparent and let constituents vote on the budget "and we can see where our money is."
Norwood responded that the district does audits every year and partners with nonprofits, and the suggestions discussed were already being done. Waiters arguied that "not-for-profit" leaves "no room for diversity" and "leaves room for a lot of problems."
Sokolov contested that enrollment and facility space figures are restated every year by different auditors, and claimed that the numbers are manipulated.
Heinis raised the failed $241 million high school referendum in January, saying that a division was created in the city because of the vote, and asked the candidates how they would heal the rift and create a plan that works for all stakeholders.
Grana, who chaired a committee that raised money in support of the referendum, said that they need "a very open and transparent conversation with the community so they understand the concept of supply and demand", and argued that the increase in enrollment and aging facilities requires "investment and expansion."
de la Torre said that he continues to believe in the need for a long-term facility investment, arguing on growing enrollment, that their kids "deserve modern facilities," and that they need to do more to engage with the community. Norwood also said that they have a "dire need" for capital improvements and that the board can do a "better job" in being transparent.
"Over the past eight years, space issues and decades of deferred maintenance at all buildings will need to be addressed," said Norwood. "We can focus on academics and facilities at the same time."
Sokolov, who was one of the leaders in the opposition against the referendum, said that there were capacity and facility needs, but alleged that the referendum was "purposely withheld" from last year's general election in November.
"The process matters," he said. "We need to have an informed community and we need to do this together. We need new leaders that are proven [to] mobilize the community together."
Wiegand said the Hoboken school district has "real" infrastructure needs such as Demarest and that they also need to improve academic outcomes, and said that she has the skill set to go to the community and get feedback, as well as the ability to explain what the board is doing and why.
Magen agreed Hoboken needs "serious upgrades" in its schools, but argued that enrollment numbers were "comparatively stable" and that they should "come back to the table to talk, together, to figure out and weigh situations on how we can move forward together as a community."
Waiters said that they should renovate their schools, and said "hell no" to the referendum, calling it "a deal for the big money bag politicians."
Charter schools and trickles of partisan politics
Heinis asked how the relationship between the public and charter schools has fractured recently, saying that the former is expected to fund the latter, and asked the candidate how to create collaboration between them.
Sokolov said that the divisiveness comes from the personalities on the board, and that they want to put "all of Hoboken's kids first" and end the politics. Wiegand said that her number one goal would be to make the schools "the best they can be" and collaborate with others, and Magen said it was about collaboration, such as sharing facilities and working together.
Waiters said that charter schools are public schools and deserve the same respect and duly-free education, and said to "put your money where your mouth is."
Norwood said her slate will pledge the following: to never vote to revoke or commute the charter of an existing school, to support those that go to Trenton to lobby for more money, and to support them if they lobby the city for space allocation and taxation for public infrastructure. Grana and de la Torre also said that they should collaborate together.
Another question echoed the insertion of national politics into the school board race when Biancamano asking the candidates what their political affiliations are and if that would influence their point of view on the Board of Education.
Wiegand and Magen both said that they're unaffiliated, with the former saying that "great ideas can come from anywhere, and terrible ideas can come from anywhere", while the latter said that party affiliation has "zero place" in a school board race and that Hoboken "is horrifyingly divided on the national local level."
"We need to have open, honest and respectful public discourse," said Magen. "People are allowed to have different opinions. People can live in harmony. Regardless, everyone should vote for people over party."
Waiters said that she's a "people person" (she previously ran in the Democratic primaries for County Freeholder [now known as Commissioner] and County Executive in recent years) and said that she's running "because people like me need representation."
"I don't think this Board of Education should be about politics," she said. "Most of these people will see it for a stepping stone into the political arena. But politics is getting dirty in Hoboken, guys. We don't need no fights, we don't need no civil war, and that's where we headed."
de la Torre, Norwood and Grana all said that they are Democrats. Norwood said that the New Jersey School Board Association declared that school boards need to be non-partisan. She later praised Superintendent Dr. Christine Johnson for her actions during the pandemic, and said that she believes in diversity, inclusion and health standards.
Grana said that his status as a Democrat "has absolutely no bearing on this election" and also reiterated that it was a non-partisan election, before then painting the "Kids First" slate for having made opinions "that we think are extreme and concern us."
"I have been accused of mudslinging," he said. "I am not a mudslinger, but I do believe in transparency. There's no mudslinging, we publish facts, and the facts are there are opinions here that are in an extreme position and are endorsed by organizations that also harbor those same extreme opinions."
His comments come after a flyer that the "Leadership That Listens" slate sent last week accused the "Kids First" slate of being tied to Republican and conservative stances on school issues.
de la Torre also said that political affiliation "has no place in this election" and continued that state aid should not be cut, that they should follow state and local health officials, and that he "appreciates the diversity of thought that each candidate up here brings to the table."
Sokolov, who's an active Republican in Hoboken, said that personal politics should not play a role, and said that things Democrats "claimed that they're all about" such as "advocating for education, voter transparency, fighting against voter suppression tactics" were thrown out "for their own political gains" during the referendum.
"When you have no platform, all you can do is bring in national politics to try to cover yourself," he said. "But at the end of the day, the voters of Hoboken know. They see through this because they know what's good for our town."
The tit-for-tat continued during rebuttals, with Grana claiming that they started their campaign "with an absolute foundation of transparency" and that they've not heard anything from the other side.
Norwood then said that Sokolov hasn't resigned from his position as secretary in the local GOP party, as well as saying how local GOP Chairman Joseph Branco is on their campaign team.
"You know what, I think I might consider resigning," said Sokolov, before then mentioning a number of council members who were in the audience such as Joe Quintero and Phil Cohen that are part of the local Democratic party.
"I think we can all agree – let's all resign," said Sokolov.
For updates on this and other stories, check hudsonreporter.com and follow us on Twitter @hudson_reporter. Mark Koosau can be reached at mkoosau@hudsonreporter.com or his Twitter @snivyTsutarja.