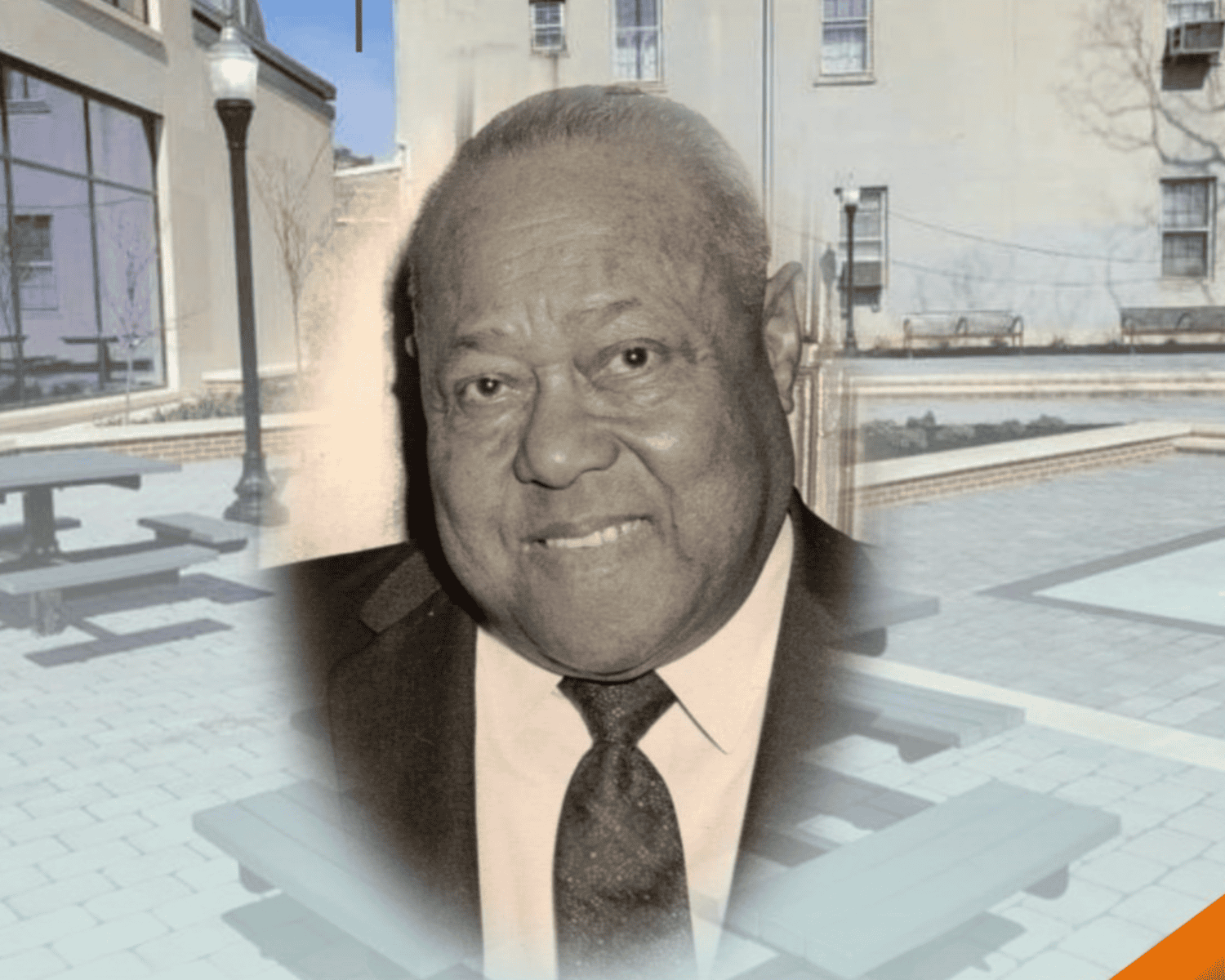 Bayonne has rededicated Dr. David G. Morris Park and unveiled a new plaque to be installed there to recognize the life and achievements of the local civil rights leader. Presented by the Bayonne Youth Center, the ceremony honoring Morris was held at the park at 47th Street and Broadway on Thursday, October 27 at 6 p.m.
Former Board of Education Trustee and iconic musician Dave "Doc" Watson played the saxophone as attendees arrived and took their seats. The groovy music and greetings from city officials at the gate made the event warm despite the chilly evening.
Before the ceremony began, Watson offered some words about Morris, noting that he was related to Morris's wife through marriage of his grandmother's brother. According to Watson, he went to Morris to get a physical before attending Camp Lewis every year.
Bayonne Youth Center President Angelique Jackson-Belle, master of ceremonies, recognized a number of special guests including Margaret Hamiel, the former President of the Bayonne Youth Center before Jackson-Belle. Hamiel previously headed the organization for 30 years.
"They're all Bayonne families that are interconnected," Jackson-Belle said. "There's a lot of Bayonne history that we're celebrating."
Rev. Dorothy Patterson of Wallace Temple AME Zion Church led the invocation. Patterson read two quotes she found fitting of Morris by poet Maya Angelou: "If you don't like something, change it," and "My mission in life is not merely to survive, but to thrive, and to do so with some passion, some compassion, some humor, and some style."
Greetings from city officials
To begin, greetings were offered by Mayor James Davis, City Council President and Third Ward City Councilman Gary La Pelusa, and the President of the Bayonne Branch of the National Association for the Advancement of Colored People (NAACP) Donald Byrd. They thanked residents for attending and praise the accomplishments of Morris.
Davis noted that while most parks in the city were named after mayors, this one was named after Morris, a doctor, who arguably had as much impact on the community as a mayor. Davis said he didn't know him personally, but it was clear Morris spent his life helping people because he wanted to, and that his impact was evident by all those in attendance to celebrate his life.
"That's what we all stand for," Davis said. "If we can't stand together, then we can't stand at all. That's what Dr. Morris stood for."
Located in the Third Ward, La Pelusa said the park was originally dedicated in 1980 and was modeled after a French pocket park. By 2006, during La Pelusa's first political campaign, he discovered the local community wasn't the biggest fan of the park's design and that residents were never sure when it was open due to the fence around the perimeter, among other issues.
"People told me it looked like the Bastille rather than a French pocket park," La Pelusa said.
As a councilman, La Pelusa always sought to do something to change the park. In the meantime, he hosted a fall festival at the park to raise awareness of Morris' accomplishments. That started 13 years ago and ran in the park for a decade straight until COVID-19 hit, as well as an annual Christmas tree lighting.
Now that the park has been renovated and remained passive, the annual events will resume. The upgrade was part of the open space requirements for the recently constructed residential building known as BayOne at 957 Broadway.
Part of the rich African-American history in Bayonne
Byrd told a story about the time he met Morris in 1968, echoing Watson that it had been through Camp Lewis. He said that Morris used to have an office on 26th Street, and that he would get a physical before camp from Morris, who caught and calmed down a young Byrd when he was nervous and tried to run from his tetanus shot.
Speaking on Morris' legacy, Jackson-Belle said her own family's legacy was intertwined. She this is the case with many African-American families in Bayonne that have known each other for generations.
Jackson-Belle explained that she and her sister Colette Jackson-Belle are the great granddaughters of Robert Sinclair Jackson. He was good friends with Morris as well as another doctor and Morris' nephew, Clement Jones, who founded the Bayonne Youth Center in 1945, of which she is now the President.
"The legacy is here," she said. "The history is here. We need to keep it alive."
Jackson-Belle and Lisa Glover, who helped put the program on, searched for any information they could on Morris and Jones, as well as any other significant figures from back in the day who were breaking the color barriers in Bayonne. She said that information was not found in the library, but passed down by word of mouth and other records kept by residents.
Following the event, the Bayonne Youth Center and Bayonne NAACP is now launching a program to keep track of Bayonne's history of communities of color, called "Keeping Our Legacy Alive." She said that she will be partnering with the African-American studies group at Bayonne High School and local families to ensure that those who made an impact in Bayonne like Morris are not forgotten and easily researchable for future generations.
Jackson-Belle also thanked Dorothy Adams and her work at the Bayonne Free Public Library, as well as help from Joyce and Alfred Adams, to help document who Morris was. She encouraged all Bayonne families of color to participate in the initiative, so that "we can let Bayonne know that the African-American history here is very rich, very deep, and very wide."
Who was Dr. Morris?
Glover knew Morris from when she was a child but was unaware of his many noteworthy professional accomplishments. She and Jackson-Belle's research led to the discovery of several prominent African-American doctors in the community, whose legacies their new initiative aims to record.
According to Glover, David Gladstone Morris was born in Tampa, Florida in 1893. He enrolled in Lincoln University in Pennsylvania in 1911 and following his graduation he attended the University of Vermont Medical School, although an injury prevented him from pursuing his goal to be a surgeon.
Morris served during World War I. He later continued his studies and graduated in 1923 as a Doctor of Medicine.
Morris married Gertrude Clark in 1926. He eventually decided to settle down in Bayonne, opening his practice out of his home on 26th Street.
"While slight in stature, Dr. Morris was a commanding presence in the city and beyond, where he sought to, in his words, lend a helping hand wherever it was needed," Glover said.
An official of the Bayonne, Hudson County, and New Jersey Medical Associations, Morris was the President of the Medical Staff at Bayonne Medical Center, a member of the Board of Management of the then-Bayonne Chapter of the American Red Cross, as well as a member of the Board of Trustees at his alma mater Lincoln University. Among his involvement in other local organizations, he was a founding member of the Bayonne NAACP, serving as President for 18 years beginning in 1927.
Interfaith relations and youth advocacy
In addition to fighting for desegregation in the city and championing civil rights, Morris also worked to strengthen interfaith relations, and was awarded a Distinguished Service Citation from the Bayonne Lodge of B'nai B'rith and a Brotherhood Award from the National Council of Christians and Jews. Morris and his wife were also organizers of the then-NAACP Youth Council, which met out of his home, and he was one of the founders of the Bayonne Youth Center, personally paying the rent to keep its doors open in the early years.
Morris' impact extended to his family, which also made great strides in the community too. His nephew Jones also attended Lincoln University as well as Howard University Medical School, becoming the surgeon Morris hoped to become and also moved to Bayonne after graduation to open a practice in the city. Jones too was a beacon of community service, joining and serving as the President Bayonne Lions Club.
Morris' children Barbara Ann Morris and David Clark Morris also embraced their parents' commitment to civil rights. Barbara became the first woman in the state of New Jersey to be named an assistant U.S. District Attorney. She later worked for the NAACP Legal Committee to eliminate laws at the state level which restricted educational opportunities for poor people of color.
David Clark Morris, also a lawyer, was a prominent gay rights activist. He served as the President of the Gay Activists Alliance in Morris County for nearly a decade, and was responsible for changing laws to make sure members of the gay community were treated equitably, Glover said.
50 years after opening his practice in Bayonne, Morris retired in 1976. Morris passed away on March 27, 1986, leaving behind a rich legacy of dedicated service to the Bayonne community.
Officials from across the country remember Morris
A number of others gave remarks on Morris. Even though the sun had set and temperatures dropped, the crowd remained.
Family members Adelyne Oliver and Dr. Merwood Jones, Morris' great niece and nephew and the daughter and son of Jones, traveled five and hours to get there. Oliver said she knew "Uncle Dave" very well and that he had a lot to do with inspiring her father to become a doctor as well. The daughter of Merwood Jones thanked everyone for thinking about the diligence, the support, and the legacy of Morris.
Lincoln Univesity's Central New Jersey Alumni Chapter President Andrew Spriull thanked Bayonne for honoring a "fellow lion" from a Historically Black College or University (HBCU) like Lincoln. Spriull said that Morris was a great leader and a force multiplier of change since stepping on campus in 1911.
"Great institutions like Lincoln University were born out of necessity for our people to be educated, not only just for the educational aspect, but to go back to their communities and become leaders," Spriull said. "I believe that all came into focus for Dr. Morris at Lincoln University."
Spriull said schools like Lincoln University send graduates out and they expect them not to just take a degree, go back home, and get a job, but to go out, impact change, and become leaders like Morris did. He thanked Morris for what he has done. He said Morris' legacy is a guide of what can and should be done.
First Vice President of the NJ State Conference of the NAACP Bruce Morgen used to work at Lower Hook Road in the Constable Hook industrial area of Bayonne. He said he never knew the NAACP had a presence in Bayonne, but came to learn that Morris was at the helm of it.
Trailblazing family in Bayonne and New Jersey
Chief Medical Officer of CarePoint Health's Bayonne Medical Center Alfredo Rabines, said that after six years of dedication at the hospital, Morris became the President of the Medical Staff at Bayonne Medical Center for three years. Rabines said some staff at Bayonne Medical Center remember Morris as a strong leader and a proud man.
"At Bayonne Medical Center, we have about 276 beds and we have over 400 medical staff members," Rabines said. "To get to become the medical staff president, it's quite an accomplishment… Breaking down barriers as one of the first African-American physicians in Bayonne is something we should all be very proud of."
Joyce Malliet, the chief of the National Security Unit for the U.S. Attorney's Office for the District of New Jersey. Mulliet spoke on Barbara Ann Morris' impact, having opened "an extraordinarily heavy door" for her. Mulliet highlighted how Barbara became the first woman of any race in the nation to be sworn in as an Assistant U.S. Attorney and became a federal prosecutor in the state.
Prior to that, Barbara worked at a prominent law firm after graduating from Fisk University, also an HBCU. She was only one of two women in her graduating class from Rutgers School of Law in 1953.
Barbara went on to become Assistant Chief Counsel for the national NAACP. Mulliet said that 66 years after she broke the glass ceiling, there are now 150 assistant U.S. Attorney's Offices and 45 percent are women. She pointed to Barbara as a trailblazer for herself, being the first woman Chief of National Security Unit, and other women because of her "striving for excellence and her brilliance
Schubert Perotte, the Interim Chief Medical Officer at Jersey City Medical Center RWJBarnabas Health, began with an African proverb he was reminded of by Morris' life: "If you want to go fast, go alone. If you want to go far, go together." Perotte said he was moved by stories of Morris, and that, even being the interim Chief Medical Officer of both Jersey City Medical Center and the Satellite Emergency Department in Bayonne, he felt like he could do more after hearing Morris' accomplishments.
"It's really a testament to the family that he was raised in, the seed that was sown, the people that supported him, and the legacy that he continues to leave behind," Perotte said. "Let brother Morris be an inspiration to us all to be better."
Breaking barriers in Bayonne and beyond
Yolanda Melville, Legal Committee Member of the NAACP National Board of Directors who advises on legal strategy, said Morris was committed to the mission of the NAACP and instilled it in his children. She echoed Mulliet that she is walking in Barbara's footsteps, who had served as an Assistant Counsel to Chief Robert Carter who had succeeded Thurgood Marshall after his ascent to the U.S. Supreme Court.
Melville said that she, Carter, and the rest of the legal team utilized the NAACP diverse branch structure to strategize cases throughout the south. One case she worked on saw Jefferson County, Arkansas forced to expedite its desegregation process of schools in 1970.
Carter's administrative papers are now in the U.S. Library of Congress, with memoranda from Barbara herself on issues they championed and causes they fought for. Melville said that Barbara was a national civil rights champion and legacy maker just like her father.
"I hope for the children and young people who get to visit this park every day here in Bayonne, that they look and learn the legacies of Dr. David Morris and attorney Barbara Ann Morris," Melville said.
A resolution honoring the Bayonne Youth Center for putting the event together was presented to Jackson-Belle. City Councilman At-Large Loyad Booker gave short remarks, noting that Morris' legacy was "amazing," and adding he would not be standing there without Morris.
"As a community, you listen to these stories and the sharing that people have, and the memories, and understand that we are all connected and you can relate to every single thing," Booker said. "I'm proud of Bayonne."
City officials and the family then unveiled the plaque. While there is a plaque at the entrance to the park on Broadway to identify it, this plaque has the likeness and legacy of Morris on it and will be installed in the park.
Davis concluded his thoughts on Morris' legacy: "It's all about standing next to one another and helping each other. That's what his life was all about."
For updates on this and other stories, check www.hudsonreporter.com and follow us on Twitter @hudson_reporter. Daniel Israel can be reached at disrael@hudsonreporter.com.