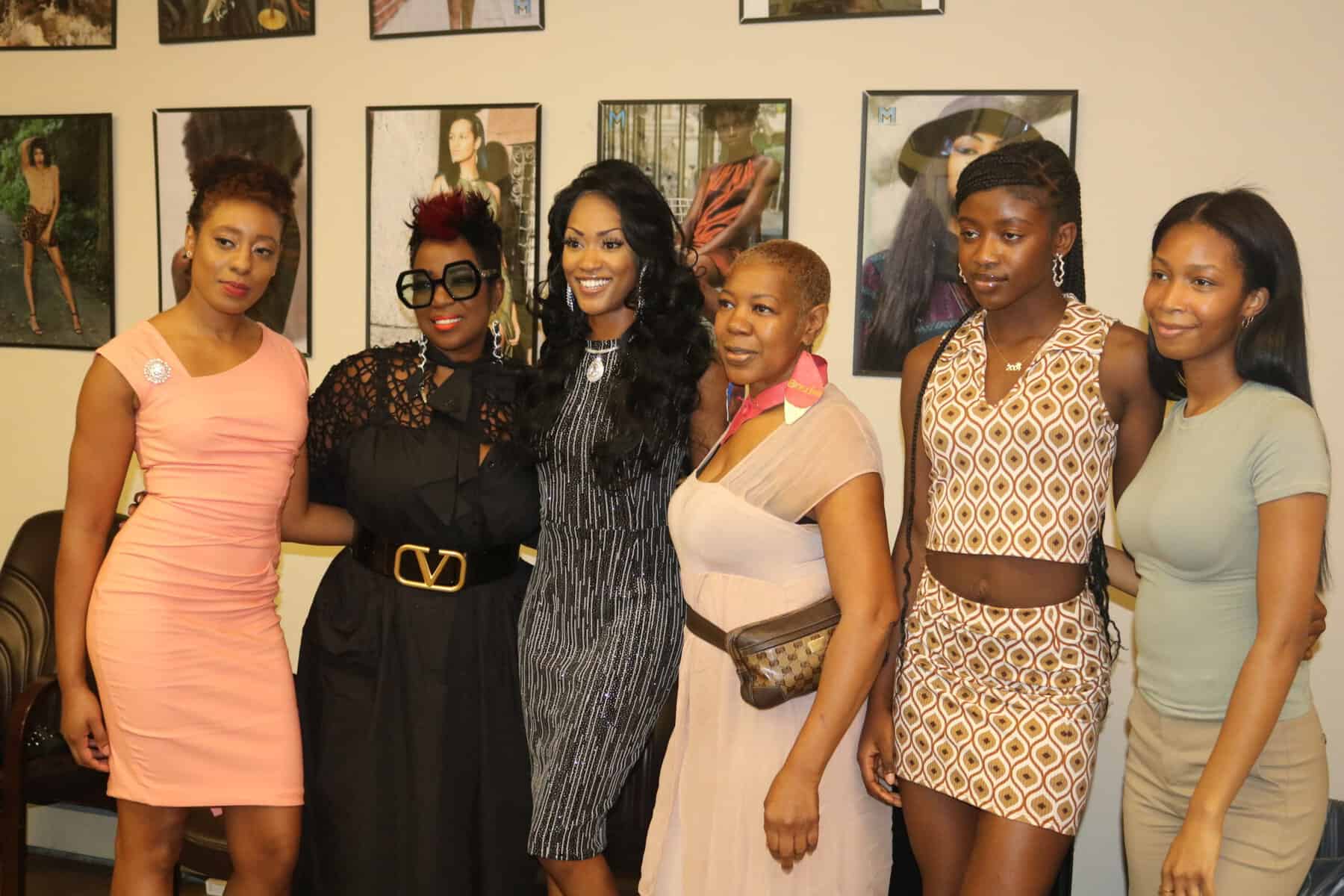 Former Mrs. American 2022 Trenette Norris was in Bayonne last week to spread the word about her non-profit organization, The Snowflake Foundation.
Norris is not only a pageant queen and the founder of The Snowflake Foundation, but also a licensed travel agent and the founder and CEO of L'4AD, LLC.
This was Norris' first actual trip to Bayonne, as she lives in Orange in Essex County. The only other time she had been to the city was by accident, when she took the wrong exit. However, this time she came at the request of Marcellus Walters, the CEO of Magnum Models at 431 Avenue C, after meeting him at the Mrs. International Beauty of the Year competition recently where she was a judge.
Norris came to the Peninsula City on Monday, November 7 to promote The Snowflake Foundation. She said one of the things it aims to do is serve as a transitional foster home. The issue is personal for Norris, who went through many homes as part of the foster care system herself.
"I'm a former foster child, I've lived in over 500 foster homes," Norris told the Bayonne Community News. "My platform is 'Hunger and Homelessness,' with the emphasis of being a foster child after foster care."
The name of the foundation comes from Norris' idea that, "just like snowflakes, no two foster children are alike. All children deserve love, dignity, and individual attention so that they can thrive and be successful,"
From Mississippi to New Jersey, Norris shines bright
Norris said she never met her father and her mother gave birth to her at 15 years old. She and her six siblings grew up with her single mother in Mississippi until they were taken away from her.
"We grew up together," Norris said of her mother. "I raised my brothers and sisters. I'm the oldest of seven. We were taken away from mother twice. So I just really understand not having that support system, that direction, and that understanding where you come from."
Amid her upbringing through the foster care system, Norris was able to secure grants to go to college at Mississippi State University, majoring in Communications with an emphasis on Broadcast Journalism. In addition to graduating from there, she also obtained a degree from Texas A&M University in Human Behavior with an emphasis on Conflict Resolution.
Since she was a young twenty-something year old fresh out of college, Norris was an entrepreneur. She started her first company at 23 years old, a vending machine business based out of Mississippi known as "Snacktacular."
Following that, she eventually moved to Orange in New Jersey. And just this year in 2022, she began her beauty pageant career.
Norris started with Mrs. Essex County, which she won in February of this year. In June, she was crowned Mrs. New Jersey American at the statewide competition in Atlantic City. From there, she went to nationals and was crowned Mrs. American 2022 in August in Las Vegas.
Started snatching crowns just this year
"This has been a very wild ride for me," Norris said. "I'm super proud."
After being crowned earlier this year, Norris was in Bayonne to promote The Snowflake Foundation, which aims to help foster children like she was. She was ecstatic to come to a local African-American-owned small business.
"I'm super happy to be able to come to a business like this, where there are African-American models, and there's an African-American business owner in the community, giving back to the community," Norris said.
In addition to starting the non-profit, Norris has also partnered with a fashion label called "The Five" to start her own catalog. She is also writing a children's book entitled "The Fallen Snowflake," with themes that run hand-in-hand with her non-profit in the works.
Norris said that her winning Mrs. American 2022 helped launched these endeavors she had been seeking since before becoming a pageant queen. While her reign came to an end this past October, she is still using the platform that winning the crown gave her to affect changes in local communities.
"As a former titleholder, this platform is my legacy," Norris said, reiterating her emphasis on "Hunger and Homelessness." She continued: "This is what I ran on and this is what I continue to do, even though I'm not the current titleholder. I still have a passion for this. This was the whole point of it."
Her foundation aims to offer housing and other support
Norris wants to support foster children and misplaced youth across the globe. She said she wants The Snowflake Foundation to be able to offer families a place to go instead of being torn apart.
"The way I'm thinking about the organization is it being like when a church has housing on site," Norris said. "They might have like two or three houses that are brick just like the church, but it's a house that they let unfortunate families, that do or don't go to the church, that are going through a hard time, live there."
Morris said that at one point in her life, she lived in a house like that with her mother after they had gone to a church to eat. She felt it was a generous gesture and wants to provide similar opportunities to families and children who are going through what she went through.
"The church saw the situation and they told my mother about the house," Norris said. "They let us live there for like three months so my mother could get on her feet a little bit more. It really helped us out tremendously. It had a really beautiful yard and was safe. I just felt so happy to have somewhere safe to be, even if it was for a little while."
Norris wants to provide that living space for families in need through The Snowflake Foundation. She also wants to offer programming and other opportunities for children.
"So I'm thinking, maybe The Snowflake Foundation could be like that, where it's like a Boys and Girls Club but there's a portion of it where there's housing that families could live in sometimes, and their kids can come to the Foundation and be a part of it and have free services in that way," Norris said.
On-site guidance counselors and more opportunities
Norris said that it is hard for foster children to lack a support system, direction, or understanding where you come from. She said those things are necessary for children to understand who they are and where they are going, and wants to supply that through guidance counselors at The Snowflake Foundation.
Norris said she would have benefited from the guidance, especially when she was going through high school or college. She said that she was struggling trying to figure out what she wanted to do next.
"I want an organization with an on-site guidance counselor, someone that helps you with your progress," Norris said. "They say 'Okay, what do you want to do? What are you good at? Do you want to go to college or a vocational program?' They'll work with the community and different programs at colleges through which I could feed the people or the children that live in the facility."
While she ideally wants to help families, Norris said that she is still determining what age group she can help. She wants The Snowflake Foundation to maximize its impact, whether that is helping families stay together or assisting foster children and misplaced youth.
Norris wishes that, in her life, someone would have helped the situation so that she was not separated from her mother. She hopes that The Snowflake Foundation will do just that, preventing families from being ripped apart and children going into the foster care system.
"When I was taken away from mother, I really wish someone would have helped keep us together," Norris said. "I couldn't have asked for a better mother. She taught me how to love someone unconditionally, even if you don't have anything. She taught me how to have manners and treat people nice. I feel like that's gotten me further than anything in life."
Setting up a non-profit to help foster children
Right now, Norris is still setting up the non-profit. This entails looking for ways to financially support her endeavors.
While looking for funding to help with the 501(c)3 process, she is contemplating other business models as well. She wants to make sure that, however The Snowflake Foundation comes together, it has the biggest impact that it can, possibly utilizing government contracts.
"There's a lot of subsidized contracts where the government gives out funds to help people who need somewhere to live, whether its children that are in transition or families," Norris said. "I could set up a contract with the government, start a 501(c)3, buy a building, and be able to house families at no cost to them. Or, is it better to get my own funding from sponsors and investors and then form a 501(c)3?"
As Norris is trying to figure out which funding option is better for the non-profit, she has recently met with an interested business owner who could make the organization a reality. She wants the organization to thrive, so she is also soliciting professional advice from successful business people and non-profit founders.
"Before I do something, I like to be very cautious and make sure that I'm getting the most out of my time," Norris said. "Sometimes we make mistakes, but we didn't have to make that mistake if we could have just asked someone or talk to someone whose already made that mistake."
Getting every detail right for the foundation to succeed
Norris has hired an agent and set up with meetings with different business professionals. She wants a solid plan for the non-profit to succeed before launching it.
"I don't want to just create it and then say, 'Okay, this is what is,'" Norris said. "I want to talk to people who have successfully invested in several businesses and ask, 'What do you think I should do?' Or ask someone who has a non-profit that has helped millions of families, 'How do you think I can run this?'"
Norris said she thinks that the potential investor can help her realize both the housing aspect of The Snowflake Foundation, as well as the Boys and Girls Club portion. She is working on creating a website with information and visuals on the data and analytics that supports the creation of the organization to pitch to other investors.
As Norris sets up The Snowflake Foundation, she has shifted away from the pageant world. When asked if there were any pageants in her future, she said she was spending her energy on the non-profit.
"I'm focused on the 501(c)3, The Snowflake Foundation," Norris said. "The only thing that's amplified in my mind is how I can help these kids and how I can ease their transition into the real world."
For updates on this and other stories, check www.hudsonreporter.com and follow us on Twitter @hudson_reporter. Daniel Israel can be reached at disrael@hudsonreporter.com.