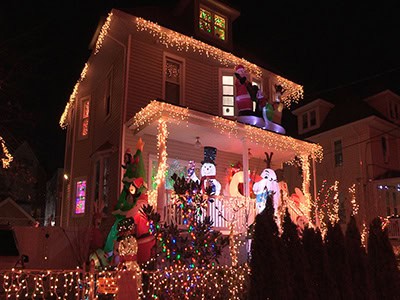 The annual Best Christmas Home Decoration Contest hosted by Hudson Media Group's Pat O' Melia is underway in Hudson County. Three winners will each receive $1,000 in cash and a commemorative plaque.
Home spotters are on the streets now looking for decorated homes across Hudson County. Municipalities included in the contest are Jersey City, North Bergen and Bayonne.
Some contest tips for residents include: turn the lights on from 6 p.m. till midnight, use a timer to play it safe, don't cover the house address, decorate the windows, don't overdo it with inflatables, and don't have Santa in the nativity scene.
Every resident in the municipalities is eligible to participate and win. Winners will be selected on Christmas day.
All the contest homes will be seen on the "Christmas TV Special" airing on Comcast and Optimum Cable, and Hudson Media Group streaming channels on livestream.com, YouTube, and Facebook. Other Hudson County locales have their own contest.
West New York
West New York Mayor Gabriel Rodriguez, Commissioner Margarita Guzman, and the Board of Commissioners invite residents to participate in the town's own Holiday Decorating Contest.
Prizes will be given for: 
Best Decorated Home; Best Decorated Window; Best Decorated Building Lobby; Best Decorated Block; and Best Decorated Commercial Storefront.
Anyone interested in signing up can call Cultural Affairs at 201-295-5270 or 5101, or email culturalaffairs@westnewyorknj.org. For more information,
westnewyorknj.org
.
In Secaucus, Mayor Michael Gonnelli and the Town Council invite residents to participate in "Holiday Lights," the town's exterior illumination contest.
There will be three winners in two categories entitled "Martha Stewart" and "Clark Griswold." There will also be one winner for "Best Block."
Winners will be announced at the January meeting of the Town Council. Lawn signs will be posted by Impressive printing. For more information go to secaucusnj.gov.
For updates on this and other stories, check www.hudsonreporter.com and follow us on Twitter @hudson_reporter. Daniel Israel can be reached at disrael@hudsonreporter.com.