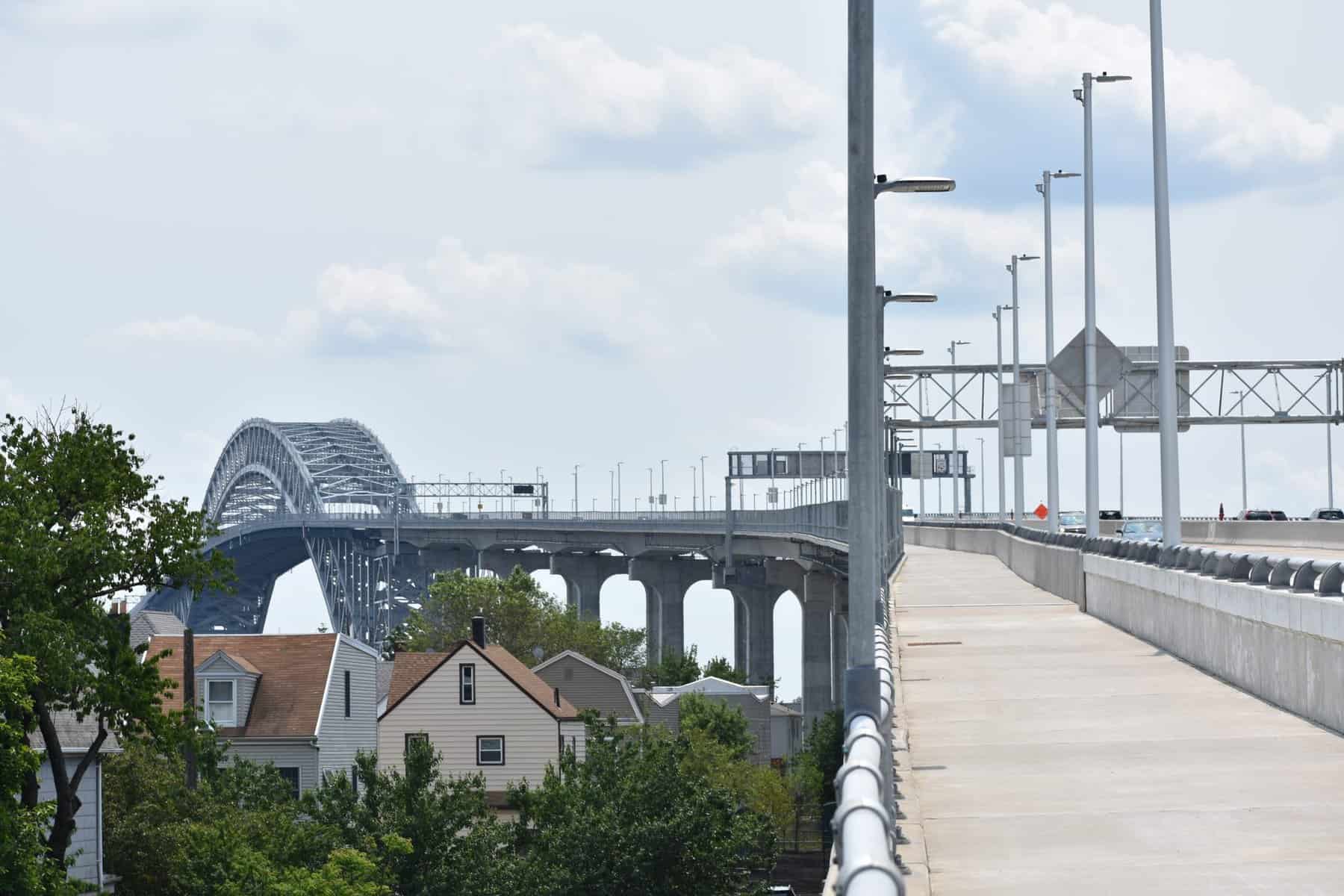 Following a recent suicide, officials want to put up extra security and other prevention measures on the Bayonne Bridge. First Ward City Councilman Neil Carroll proposed the idea at the January City Council meeting.
Carroll made a motion to direct the Law Department to address a letter to the Port Authority of New York and New Jersey asking the accomplish two things as soon as possible. The first would be to add two signs, one on either side of the bridge, with the suicide prevention hotline number 1-800-273-8255 on them in large enough print so people can see it not only on the bridge but from the ground.
"I think that's something that can be accomplished immediately," Carroll said.
The second part of his proposal was that Port Authority provide the city with a plan on installing safety fencing, netting, or some sort of preventative material on the right hand side of the bridge. Carroll said there is already fencing on the side with the pedestrian and bike walkway, but nothing on the car only side of the bridge headed toward Staten Island.
"On the walkway side, there is fencing there that is very very difficult to overcome. On the driving side, the road side, there appears to be little to no protection except for cars… There's nothing to prevent someone from getting out. I would ask my colleagues to agree and ask the Law Department draft that as soon as possible."
City Councilman At-Large Juan Perez seconded the motion without comment. City Council President Gay La Pelusa said that there was a consensus already among the council, as Carroll had approached everyone before the meeting about the issue to ensure support.
Resolution to be drafted by Law Department
The council then moved the motion as a whole. City Clerk Madelene Medina told the Bayonne Community News after the meeting that meant that after the resolution is drawn up, it would still need to be approved by another vote by the council.
Second Ward City Councilwoman Jacqueline Weimmer said it may be good to include an emergency telephone on the walkway side of the bridge with the ability to call 9-1-1. La Pelusa said they already have an safety emergency button with a blue light on the bridge, but added that they could increase the number of those to increase safety and security which Weimmer agreed with.
City Councilman At-Large Loyad Booker agreed with the proposed changes. He specifically was in favor of adding a safety telephone.
"I think installing the phones, citizens will want to get… law enforcement to respond to that area," Booker said. "That falls in line with see something, say something. So I agree."
The council then voted unanimously on the motion to have the Law Department draft a resolution authorizing a letter to Port Authority to add the side prevention signs and fencing as well as other proposed measures to the Bayonne Bridge. The resolution may be heard at the next meeting.
The Bayonne City Council will meet next on February 15 at 7 p.m. in the municipal chambers at City Hall at 630 Avenue C. For more information, go to bayonnenj.org.
Measure comes in wake of online petition 
After the meeting, Carroll told BCN that this was an important step to prevent future tragedies off of the Bayonne Bridge. He said that more people have been walking across it since the project was completed and the pedestrian and cyclist path opening in 2019.
"It's important to have these things in the wake of a tragedy, but just in general," Carroll said. "That bridge has been completed now, many people have been walking over the walkway side and commented on the beauty and that and everything else. And that's tremendous. But they need to address some of the other safety concerns."
According to Carroll, the bridge is now a landmark that pedestrians frequent. He said that it needs to be treated as such from a safety standpoint.
"It is now an attraction," Carroll said. "More and more people are going there. We need to make sure that responsibility is taken to protect those lives. So installing two signs, one on one side and one on the other, with the hotline, I think is the minimum. The maximum, which I hope that they will do, is to put up some sort of safety barrier on the roadside."
Carroll said he was unfamiliar with the recent change.org petition proposing a similar measure, which the council is now going above and beyond. The online petition had been circulating on social media promoted by local groups like Black in Bayonne.
"Please sign the petition to get suicide prevention net placed under the Bayonne Bridge," Black in Bayonne wrote in a social media post, linking to the change.org petition. The petition is online at change.org/p/stop-suicide-build-netting-underneath-or-install-a-high-fence-at-the-bayonne-bridge.
Son of victim encourages bridge safety
The petition was started by Landon Paradine, son of Ed Paradine. On Friday, January 13, his 52-year-old father Ed took his own life at approximately 9:30 by jumping off the Bayonne Bridge.
"My dad suffered from depression for around 7 months – a very short time period," Landon said. "When this started in June of 2022, his job was very overwhelming and stressful to him. This would later affect his sleeping, where he would have many restless nights – getting around 3-4 hours of low quality sleep everyday. Even while being on sleeping pills and antidepressants, he still found it very hard to get through the days."
Landon said the Bayonne Bridge roadway is about 215 feet from the water below and will almost always will be fatal if someone jumps from that height. He noted there is high fences on the walkway side of the bridge to prevent suicide, but no fence on the other side.
"I don't understand how this makes sense," Landon said. "I'm asking that we have netting installed under the Bayonne Bridge to stop suicides from occurring, or even just install a high inward facing fence on the other side of the bridge."
Landon proposed safety netting under the bridge to prevent suicide, or even a fence on the roadway side of the bridge. He feels like this is important because mental illness is increasing at an alarming rate.
"When somebody is depressed, their mind is parasited with negative thoughts constantly. The illness spreads like a wildfire inside of their brain," Landon said. "Like I saw in my dad, it only took him 7 months to take his own life from this terrible, grueling battle. Many suicidal people think they are a burden to the people around them and think taking their own life will be the best for everyone – which is never the case."
Safety netting or fencing proposed in petition included in resolution
Landon concluded: "We can save lives if this netting or a high fence is installed. I don't care if it's just one life that is saved – everyone's life matters. The Golden Gate Bridge in California is installing a Suicide Prevention Net as we speak. Obviously, other people are catching on to helping out the issue of mental illness and suicide, and I think we should too."
The petition was posted earlier this week before the council meeting. Then, the day of the meeting on Jan. 18, Landon had posted an update that he had gotten into contact with a representative from Bayonne and that the city are going to start a study to see if netting is possible.
"Great news," Landon said, noting he we keep people updated as progress is made. "Let's not stop here — keep sharing. Saving lives means everything to me. Much love to all who are supporting."
Since it reopened in 2019, there have been two other suicides where people jumped off the Bayonne Bridge. A woman jumped to her death from the roadway side of the Bayonne Bridge on April 1, 2020. In March of 2021, a man jumped to his death off the roadway side of the bridge.
Also in April of 2020, police stopped a man from jumping off the roadway side of the bridge. Later in May of 2020, another man attempted suicide by trying to climb the fencing on the walkway side of the bridge, however, he was stopped by a Good Samaritan off-duty NYPD cop. While sometimes first responders can save the day, additional safety measures may likely prevent more suicides.
"It's important for the general safety in our city," Carroll said. "It is now an attraction. It is complete. It is a beautiful addition to our city or improvement, but it's an attraction. There's more and more people going there. There's a phrase that comes to mind, 'attractive nuisance.' So you want to make sure that every step is taken to provide as much safety as possible."
For updates on this and other stories, check www.hudsonreporter.com and follow us on Twitter @hudson_reporter. Daniel Israel can be reached at disrael@hudsonreporter.com.