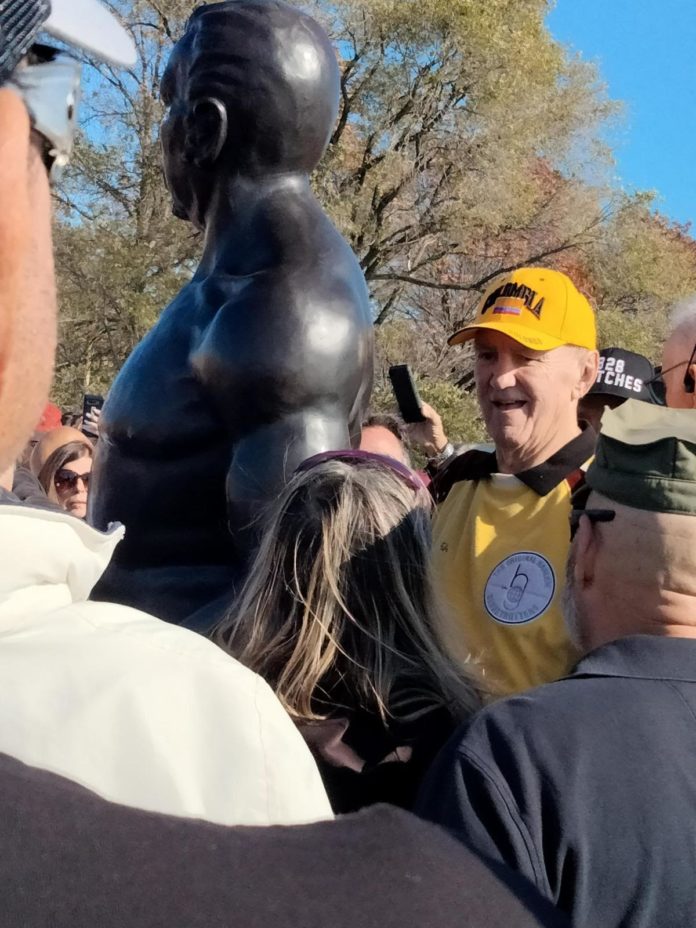 A crowd of several hundred people attended the recent unveiling ceremony for the statue of boxing champion Chuck Wepner, "The Bayonne Bleeder," at the newly renovated Dennis P. Collins Park. The statue of the 83-year Wepner now stands in near 1st Street between Avenue C and Zabriskie Avenue.
Wepner's professional boxing career lasted from 1964 to 1978. He won 35 matches including 17 knockouts, lost 14 matches, and had 2 draws. Wepner held the USA New Jersey Heavyweight title and the National Americas Heavyweight title. In one of his most famous matches, Wepner was 19 seconds short of a gpoing full fifteen rounds with Muhammad Ali in 1975.
Among those at the ceremony were boxing greats Jerry Cooney, Larry Holmes, and Iran Barkley. Also in attendance were former New Jersey Governors Dick Codey and Jim McGreevey, State Assemblyman William Sampson, Congressman-elect Robert Menendez, Hudson County Executive Tom DeGise, Hudson County Chief of Staff Craig Guy, Hudson County Commissioner Kenny Kopacz, Mayor James Davis, and City Council Members Gary La Pelusa, Juan Perez, Loyad Booker, Neil Carroll, and Jacqueline Weimmer.
Marine Corps representatives marched in to open the ceremony. Their presence honored Wepner's Marine Corps service. Bayonne attorney Chris Patella gave welcoming remarks. He credited Chuck Wepner with having "put Bayonne on the map."
Patella said that, in New Jersey, a few celebrities are recognizable by just their first names, such as "Bruce" for Springsteen, "Frank" for Sinatra, and "Chuck" for Wepner. He noted that the statue was placed in Collins Park, which is named after the late mayor of Bayonne who served in that office from 1874 to 1990.
Patella recalled that Mayor Collins was at ringside in Cleveland when Wepner fought Ali in 1975. He thanked all of the Bayonne officials and Public Works employees, and all supporters of the statue fundraisers for making the unveiling event possible.
Statue finally finds its home in Bayonne
Bayonne businessman Bruce Dillin, the co-chairman of the event, reported that his late father, Neil Dillin, said to him, "Get that statue done!" He predicted that Wepner's story will still be relevant when the 2,500 pound bronze statue remains standing 100 years from now.
Dillin spearheaded the effort to raise funds for the completion of the statue. Dillin is a close friend and perhaps the biggest fan of Wepner who runs a small museum dedicated to the boxer out of the lobby of his auto repair shop in Bayonne off of Kennedy Boulevard, Dillin Tire Company.
Dillin has been seeking to erect a statue of the boxing legend at the top of the stairs in Bayonne's county park since 2015. By 2017, Dillin had found a sculptor, and he didn't have to look far.
Next door neighbor Zhen Wu, a Chinese-born artist and Bayonne resident, agreed to sculpt the mold for the 2,500 pound bronze statue for free as long as Dillin provided what he needed. It took Wu six months to sculpt the clay before the mold was complete
However, Dillin still needed the funds to have the statue cast in bronze using that mold. So he set out to raise the tens of thousands of dollars himself.
Dillin has held a number of fundraisers, including a premiere of the movie "Chuck" starring Liev Schreiber and the Roast of Chuck Wepner. The proceeds of both fundraisers went toward the cost of the statue, which has sat in a state of near-completion at a bronze foundry in Philadelphia for the longest time.
After many years of fundraising, in April he held the last of three major events. That brought in enough money to bring the statue from the foundry back to Bayonne.
'The Real Rocky' immortalized in bronze
Hudson County Commissioner Kenny Kopacz presented county proclamations to Wepner and Wu. Kopacz expressed "pride in Bayonne," and said that the statue would be here "for generations to come."
Assemblyman William Sampson thanked the veterans and the Marine Corps representatives who took part in the ceremony. He offered a New Jersey legislative resolution honoring Wepner.
Liev Schreiber, the actor who portrayed Chuck Wepner in the 2016 movie Chuck, described him as "a guy who fought his own demons harder and better than anyone else." Addressing Wepner, Schreiber said, "I am so proud and so grateful to you for letting me have your story." Wepner then presented Schreiber with a hat that was emblazoned with the words "328 Stitches."
Davis brought Wu to the podium, who he noted was Dillin's neighbor. That is how he became the sculptor for the statue, which Davis called it "a typical Bayonne story." Then Wepner read aloud from a proclamation from Davis for Wu. In response, Wu said who immigrated to the country 42 years ago, said "The United States gave me an opportunity," and he thanked everyone for their support.
Explaining the statue's location in Collins Park, Davis said the decision was made to put the statue in a Bayonne park. He said it was fitting because Collins Park is "a veterans' park," and that Wepner is a Marine.
The explanation came after Dillin had previously sought to have the statue placed in Stephen R. Gregg Hudson County Park in Bayonne, by the stairs Wepner ran up to train for the Ali fight. This famously translated into a scene in Rocky, the film series which was inspired by Wepner who is known as "The Real Rocky," where Sylvester Stallone's character, Rocky Balboa, ran up the stairs of the Philadeplhia Museum of Art before a big fight.
'As Bayonne as they come'
Wepner pointed out his family members in the audience and thanked everyone. He said: "The reason that I'm here is because of all of you guys. I'll never leave Bayonne and I'm going to ask the mayor, when I die and they have me cremated, stick me in the ground next to my statue. That'll make me happy."
The ceremony ended with the unveiling of the statue while musicians from The Bridgemen played the theme music from Rocky. Hundreds of people crowded around Wepner and the statue for photos while cameras from television news programs captured the scene.
For updates on this and other stories, check www.hudsonreporter.com and follow us on Twitter @hudson_reporter. Daniel Israel can be reached at disrael@hudsonreporter.com.