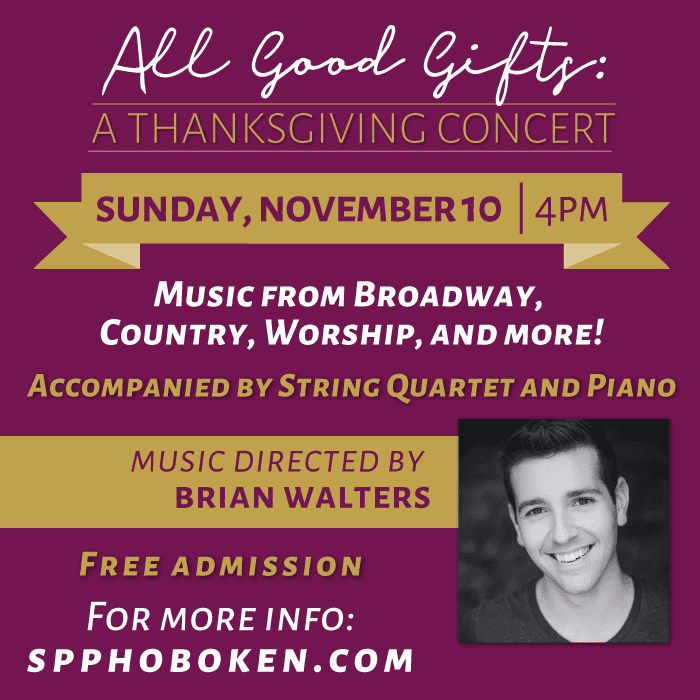 A free concert featuring the Musicians of Saints Peter and Paul Catholic Church
WHO: The Catholic Community of Saints Peter and Paul 
Music Directed by Brian Walters
WHAT: "All Good Gifts: A Thanksgiving Concert" 
WHERE: Saints Peter and Paul Catholic Church, 404 Hudson Street, Hoboken NJ 07030
WHEN: Sunday, November 10 at 4:00 PM
TICKETS: Free Concert, (with suggested donation of $15 to benefit the music program.)
DESCRIPTION:
Singers from the Hoboken community will present All Good Gifts: a Thanksgiving Concert, a free event on Sunday November 10 at 4:00, held at Saints Peter and Paul Catholic Church on 4th and Hudson Street.
"The concert itself is a musical exploration of what it really means to be thankful", says Brian Walters, the Music Director for the concert and at the parish. "These songs from Broadway, pop, radio, and the American songbook each highlight the many- and even surprising- aspects of what the Thanksgiving season is all about." Walters, who also tours internationally as a performer, pianist and conductor, was inspired to present this concert when he overheard a couple on Washington Street discussing the apparent lack of Thanksgiving themed songs. "There's really not much material about the holiday itself. But, maybe that's because Thanksgiving is not about one celebrated day at all! Maybe it's actually about a feeling, a human emotion, which makes every day feel like a holiday. If you look at it from that point of view, you'll be amazed just how many songs are truly about Thanksgiving."
The concert will feature the talents of the Saints Peter and Paul Choir, which is made up of over 25 Hoboken residents of all ages, professions and voice types. The members of this choir come from all different backgrounds- some are college students while others are teachers, some members work in New York, and some are enjoying retirement. "The thing that brings us all together for this concert and throughout the year for each Sunday's 10:30 Mass is the love of music!" 
The concert will also feature the young talents of the Children's Choir and High School ensemble. The singers will be accompanied by grand piano and a string quartet. 
All Good Gifts: a Thanksgiving Concert will perform on Sunday afternoon, November 10, at 4:00 PM. Admission is free and open to the public.  Cash or check donations will be accepted at the door to benefit the adult and children's music programs. Saints Peter and Paul is located on the corner of 4th and Hudson Streets (404 Hudson Street). For more information please visit www.spphoboken.com