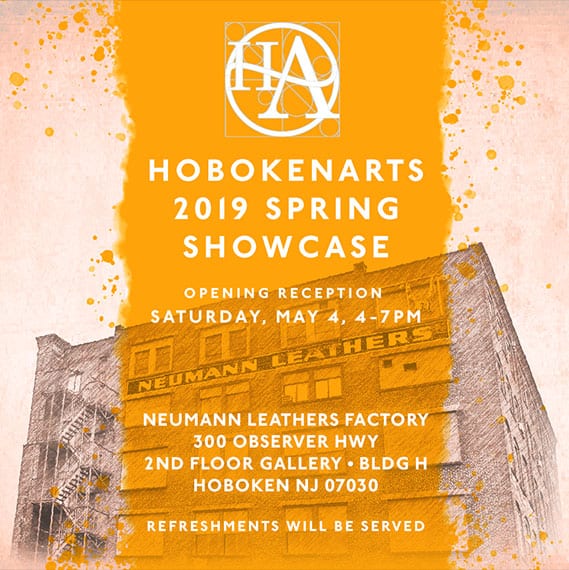 FOR IMMEDIATE RELEASE
HobokenArts™ 2019 Spring Showcase at The New Collective at Project Studios
Hoboken, NJ – April 23, 2019 – HobokenArts™ is proud to announce its first exhibition of the year—2019 Spring Showcase—an exclusive preview of newly added artwork to the online gallery, from May 4 – May 18, 2019 at the Neumann Leathers Factory, in the Project Studios Gallery on the second floor in building H, at 300 Observer Hwy., in Hoboken, New Jersey. The main event and opening reception is on Saturday, May 4, 4 – 7pm, and will coincide with the introduction of The New Collective at Project Studios studio/work space located next to the Project Studios Gallery. Attendees will be able to view and learn more about the new space available to artists looking to work in an affordable professional studio environment as well as enjoy light refreshments while viewing the latest works added to HobokenArts.com.
The HobokenArts™ 2019 Spring Showcase is an exhibition of art by emerging to established local artists from Hudson County, NJ, and beyond, which will include artwork in a wide array of styles ranging from the classic and traditional to contemporary and abstract in mediums such as oil, acrylic, and watercolor paintings, pen and ink drawings, and jewelry. Participating in the show are Hoboken artists Tim Daly, Ed Tadiello, Gloria Pacis, Elizabeth Tokoly, Alex Sobolta, and Mihaela Colibasu, Jersey City artists Robert Piersanti, Lorenzo Irico, Bryant Small, Santiago Cohen, Janina Williams, Sebastian McLaughlin, Iwona Drelich, Weehawken artist Katia Bulbenko, greater New Jersey artists Paul Leibow, Hal Sadler, Phillip McConnell as well as newly added to the gallery Yogamy Ferras-Farley and Joe Dene. The show is curated by the director of HobokenArts, Christopher Coleman, who will be available along with the artists in the show to answer questions about the art and about participating in the online gallery—and how selling online has fast been becoming a leading way to sell art in today's market.
All exhibiting works can be viewed and purchased online starting May 4 at HobokenArts.com or at the exhibit space on three consecutive Saturdays: May 4 during the opening reception from 4-7pm; May 11 which will feature artist talks by four of the exhibiting artists—Paul Leibow, Phillip McConnell, Bryant Small, and Sebastian McLaughlin from 1-3pm; and May 18 from 1-3pm during the closing reception. Purchased work will be available for pick-up on May 18 during the closing reception or can be complimentary shipped by the artists after the exhibit closes.
About The New Collective at Project Studios
The New Collective at Project Studios is the formation of a new visual art collective based in the historic R. Neumann and Company leather goods factory in Hoboken, New Jersey. It will utilize spaces and equipment housed within Project Studios, an art services and studio management company with 30,000 sq. ft. of studio space in the building. It will include access to the ceramics, photography, printmaking, and wood studios, as well as an open-floor plan art studio space and a 900 sq. ft. gallery space—The Project Studios Gallery. The collective should raise the career profiles of its members by providing opportunities to both create and exhibit new works.
Project Studios provides space and support for musicians, visual artists, and creatives working in the design, fashion, and photography industries. Founded by artist Nick De Pirro in 2006, the project has been an important feature in the artistic landscape of the greater New York City area, and with the announcement of The New Collective, it will soon provide facilities and collaborative opportunities to more artists than ever before via a membership model which will grant access to equipment and spaces already housed in our shop spaces.
If you would like more information about The New Collective at Project Studios please contact Proto Gallery owner and Project Studios founder Nick De Pirro at nick@proto-gallery.com or visit http://tumblr.projectstudiosllc.com/studios.
About HobokenArts
HobokenArts™ is an independent online arts gallery featuring curated original fine art, art prints, and products by artists and artisans—emerging and established—who have a connection with the greater Hoboken, New Jersey area. It's mission is to promote artists in the community through the online gallery and popular social media outlets such as Facebook, Instagram, Twitter, and Pinterest. Furthermore, by promoting Hoboken, Jersey City, and the greater northeastern New Jersey area as a vibrant and viable arts hub integral to the New York City art scene by delivering pertinent information regarding visual arts happenings on its community blog and emailed directly to its newsletter subscribers, HobokenArts aims at capturing a larger non-tangible audience through the worldwide web. By providing these services and valuable resources HobokenArts is creating pathways to help connect collectors with thriving artists from the area as well as abroad. And with an expanding catalog of artwork individual participating artists can benefit from each other's viewership of work online.
About the Curator
Christopher G. Coleman serves as the administrator of the online gallery as well as director and curator of this show. He holds a Bachelor of Fine Arts degree from UCONN and a Master of Science from NYU in advanced digital design applications. Chris's vision for the local art scene and his high regard for its artists has lead him to create the HobokenArts.com website which launched in September 2016. With it Chris utilizes its powerful e-commerce platform to provide an online marketplace of artwork by local artists who wish to join its diverse and progressive artist community.
For more information about the 2019 Spring Showcase please contact the HobokenArts Director, Christopher Coleman at director@hobokenarts.com or visit HobokenArts.com.
__________
Company:
HobokenArts.com LLC
https://www.hobokenarts.com/
Facebook, Instagram & Twitter: @hobokenarts
Project Studios LLC
http://www.projectstudiosllc.com/
Facebook & Instagram: @projectstudiosllc
Media Contact:
Christopher G. Coleman
Director/Curator of HobokenArts™
director@hobokenarts.com
201.401.9579
Nick De Pirro
Founder of Project Studios
nick@proto-gallery.com
Press Release: 
https://hobokenarts.com/blogs/news
Press Kit:
https://www.dropbox.com/sh/jwphl67ro5zl638/AAAtuW0BO0lDHVDVrXuPOsJ1a?dl=0