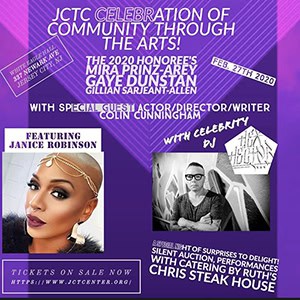 Support the arts + attend the Jersey City Theater Center (JCTC) annual fundraising party at White Eagle Hall on Thursday 2/27/20
The hottest party of the season! This event will bring our community together for music, dancing, and art highlighting talented performers and amazing artists from upcoming programming.
This promises to be an exciting fun filled evening…
** Catered by Ruth Chris **
**Special guests – headliner performer Janice Robinson (X Factor UK) with Grammy winner, DJ Hex Hector**
** Gene Simmons of KISS has donated a signed "Axe" guitar for the silent auction**
** Colin Cunningham (Co-Starring as the twisted but lovable T.C. alongside Ruth Negga and Dominic Cooper in AMC's "Preacher") will be making a guest appearance leading his support to JCTC**
You can look forward to extraordinary: guests & friends, gourmet eats, cocktails, silent auction and lots of surprises!
Jersey City Theatre Center (JCTC) is a non-profit organization under the Internal Revenue Code Section 501(c)(3). Your generous donations are tax deductible.