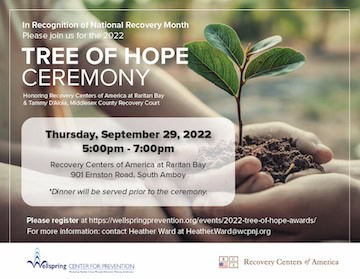 Wellspring Center for Prevention, a private nonprofit agency serving community members and organizations of Middlesex and Monmouth Counties, will celebrate National Recovery Month by dedicating its 2022 "Tree of Hope" to Recovery Centers of America at Raritan Bay. The Tree of Hope is awarded annually to an organization that promotes recovery from addiction. Held Thursday, Sept. 29, the ceremony will include a crape myrtle tree reveal and butterfly release.
Recovery Centers of America (RCA) at Raritan Bay is a drug and alcohol inpatient treatment facility that serves communities in Northern New Jersey and the New York City area. The organization was recently ranked by Newsweek Magazine's amongst the best in the country as America's Best Addiction Treatment Centers 2022. RCA at Raritan Bay is dedicated to helping patients achieve a life of recovery through evidence-based alcohol and drug addiction treatment, as well as treatment for mental health disorders.
Wellspring's annual Tree of Hope campaign is designed to raise awareness of the fact that addiction is an illness from which many do recover, and to celebrate those recoveries. This annual event is one of the agency's primary fundraising vehicles and supports their confidential information and referral helpline, which assists more than 800 individuals and families annually as they begin their journey of recovery.
The event will also recognize Tammy D'Aloia, Middlesex County Recovery Court, as the 2022 Middlesex County Recovery Champion.
WHEN: 5:00 p.m., Thursday, September 29, 2022
WHERE: Recovery Centers of America at Raritan Bay, 901 Ernston Road, South Amboy, NJ
WHO: Ceremony speakers include: Ezra Helfand, APS, Executive Director & CEO, Wellspring Center for Prevention; Heather Ward, MSW, LSW, CPS, Coordinator of Middlesex County; David Dorschu, CEO, Recovery Centers of America at Raritan Bay; Trish Caldwell, Senior Vice President for Clinical Services, Recovery Centers of America; and Michael Parise, Recovery Centers of America at Raritan Bay alumni.
The public is invited to attend this free event. Dinner will be served prior to the ceremony.
Event registration: https://recoverycentersofamerica.com/event/tree-of-hope-ceremony/