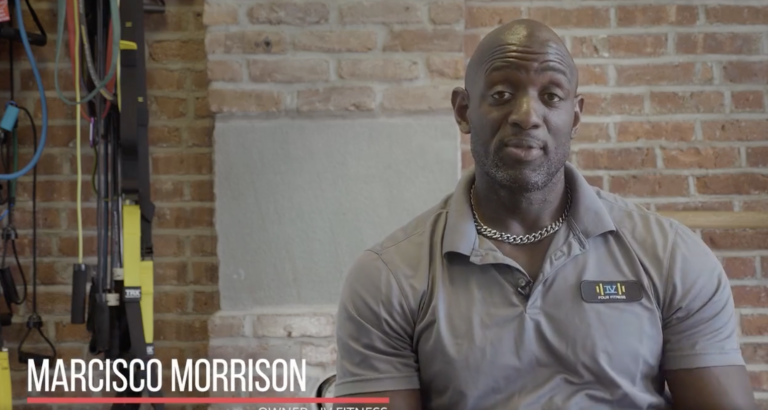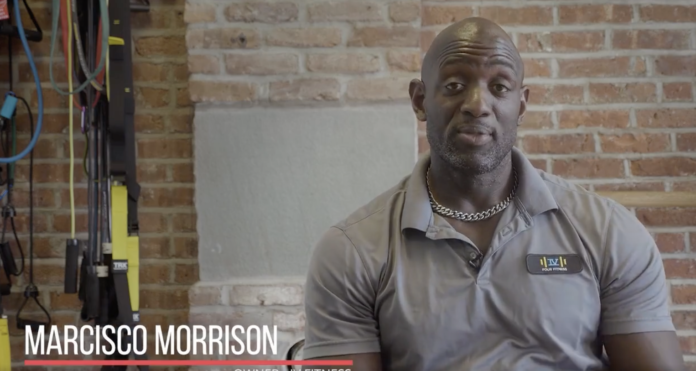 Marcisco Morison remembers taking a flight from Jamaica to New Jersey when he was only 19-years-old, thinking he would grow up to fight crime as a law enforcement officer. Instead he decided to set up shop at 667 Montgomery Street and become a personal trainer.
"It just became easier for me to think about personal fitness in a way of helping others," said Morison, who grew up in Howell Township, Central Jersey with his parents and four younger sisters.
He attended Brookdale Community College for a year and then transferred over to New Jersey City University where he graduated with a bachelors in criminal justice in 1999. He also played for NJCU's basketball team the Gothic Knights, and after graduating college joined the national basketball team the Harlem Globetrotters for about a year.
Marcisco Morison playing with NJCU Basketball team photo courtesy NJCU 
"I eventually found out this wasn't my thing anymore and decided to start my own training facility," said Morison, who is now the proud owner of IV Four Fitness which opened in 2014. "I always hear people complaining about not having time to exercise, which got me thinking of ways to motivate people into exercising."
He said the idea behind the name IV Four Fitness, is to help his clients work out on four major muscle groups such as legs, core, back, and chest.
Clients can also sign up for a free session on their website if they are interested. He said that throughout the pandemic he was offering sessions for free online and live streaming his workout routines through his social media account.
IV Four Fitness 667 Montgomery Street, Jersey City, NJ 07306
"He is just the type of person you just want to be around," said Saleem Khan who lives in Jersey City and trains with Morison twice a week. "He always tell us, 'if you are going to climb Mount Everest, you better do it with someone who's done it.'"
Debbie DuHaime, who tries to go in once a week to the fitness center said, "It just feels that I am getting the one on one I need to properly get my workout," who said she met Morison 15 years ago at another training facility.
Morison, added that he is expected to open up a second location sometime earlier next year. 
For updates on this and other stories, check www.hudsonreporter.com and follow us on Twitter @hudson_reporter. Jordan Coll can be reached at jcoll@hudsonreporter.com.