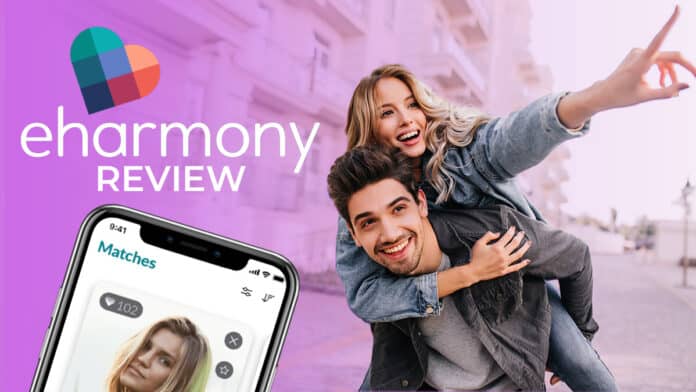 There's no way you haven't heard about eHarmony – it's all over the lists of the best online dating sites and all the rage among millennials.
Or maybe you're lucky, and you don't have a coworker that's been banging your head with how amazing eHarmony was.
Sadly, all the eHarmony hype hasn't escaped us.
And you know what they say – if you can't beat it, join it. So, join it we did to bring you this ultimate eHarmony review and answer the question of whether or not eHarmony is worth all the hype around it.
>>Jump to eHarmony to get started
eHarmony Review: The Bottom Line up Front
If you're not here for a detailed end-to-end eHarmony review, worry not, for we've got a skimmable bottom line right here at the beginning.
These are the most important things to know about the dating site, including our rating of it, and it won't take more than a couple of minutes.
After that, there's an all-encompassing eHarmony review that lets you find out what the eHarmony dating app is like before you have to pay for it.
About eHarmony
eHarmony is no fad – it's been around for over 20 years. It was founded by Neil Clark Warren in Pasadena, California, with the goal of bringing people together for serious relationships based on scientific methods.
It was actually the first dating app to use a compatibility matching system.
That's right – the eHarmony dating app is not your run-of-the-mill swipe-style app. It's for serious daters looking for love and even marriage.
And you'll have to put in the work and give the dating app something to work with, which means signing up will take a while.
If you can't be bothered with that and are just looking for hookups, you'd be better off with some other dating services (alternatives are coming up, too).
eHarmony Pros and Cons
Just like all other dating apps, eHarmony has its good and bad sides – the reasons why people love it and some things the dating app could work on.
So, here's a brief look into the pros and cons of eHarmony.
eHarmony Pros
#1 trusted dating app (2020 survey)
Excellent compatibility matching system
High-quality users
Balanced male-to-female ratio
eHarmony Cons
More expensive than other dating apps
Long sign-up process
What's Good About eHarmony
eHarmony website is your best bet if you're looking for a reputable dating site for a serious relationship or even marriage.
The people on eHarmony, your potential matches, are high-quality folks who have got their life together and are serious about online dating.
The eHarmony matchmaking system really does its job well – the success stories and each eHarmony marriage attest to that.
And last but not least, eHarmony is pretty easy to use and an overall fun place to be.
What's Bad About eHarmony
The worst thing about eHarmony is that it does not work for casual dating. That's because it wasn't made for it, and if you're looking for casual dating, you should head to other online dating sites (we'll hook you up with alternatives).
Filling out your personality profile is kinda labor-intensive and takes more time than on other online dating sites.
If serious relationships are what you're after, you won't mind any of these. The only downside you'll find to eHarmony is that it's more expensive than other dating apps.
Our eHarmony Ratings 4.9/5
Alright, it's time to drop the whole building suspense arc and tell you how we really feel about the eHarmony dating app.
We love it.
It's the best place to go if you've got your life together and you're looking for someone for a meaningful relationship to ace that part of the equation, too.
eHarmony is significantly more expensive than many dating apps, which is why we took off one point.
But if you can afford it, it's definitely worth it.
And the fact that other eHarmony users are paying significant amounts of money for eHarmony dating is kinda reassuring. It tells you they, too, have their life together and are serious about online dating.
>>Head to eHarmony to set your journey for true love
End-To-End eHarmony Review
Now it's time to go over the entire process of online dating on eHarmony and see just what eHarmony offers to its users. We'll guide you through the entire online dating experience from start to finish and help you better understand what you can and can't expect from eHarmony.
The Sign-up Process
We would like to say that we're starting from the beginning, as one should, but we're actually starting with the most labor-intensive and annoying part – signing up.
And, boy, is signing up for eHarmony a bitch.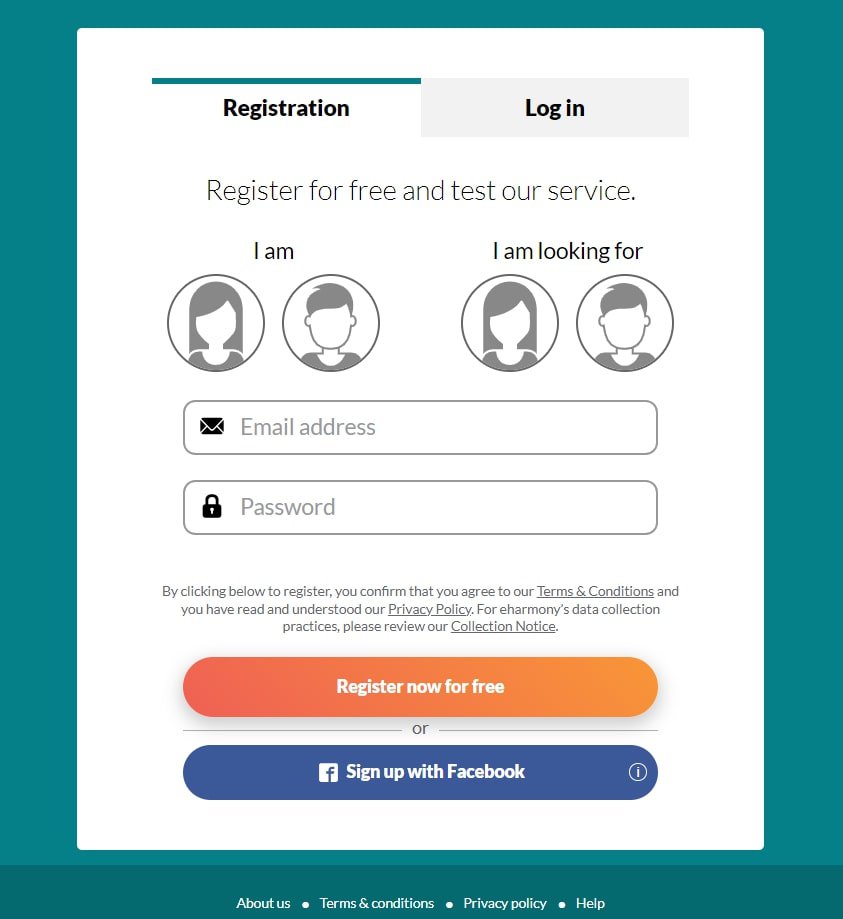 Let's get it out of the way so we can all be happy it's over. This is also how you will feel when filling out all the data eHarmony asks you to.
BUT don't half-ass it!
This may be the most boring part, but it's also the most crucial part of the equation because this is what the dating site will use to fix you up with matches.
First things first – you'll be asked to give your email address and set a password (with very much insistence on a certain form).
Alternatively, you can sign up with Facebook, but since that's a privacy concern for so many, we went with the email option.
You'll also get to specify your gender (just male and female) and the gender you're attracted to.
Then it's off to the compatibility quiz, which is a beast on its own, and that part is coming right up.
After you're done with the quiz, you'll be asked to give some additional basic info, like your name, height, occupation, and zip code.
Then you'll be asked to upload a photo, and you'll get to choose 1 or 2 questions and answer them for your bio and add a special 'About Me' part.
Now, this may not sound as annoying as we said it was at the beginning of this section, but that's only because we saved the compatibility quiz for a section of its own.
So, let's go tackle the beast the compatibility quiz is, shall we?
eHarmony Compatibility Quiz
The picture above depicts the beginning of the compatibility quiz era of your eHarmony sign-up process.
Now, the eHarmony website says it would take around 20 minutes to complete the quiz, but it actually took us about half an hour.
Either way, make no mistake – it will take time and effort.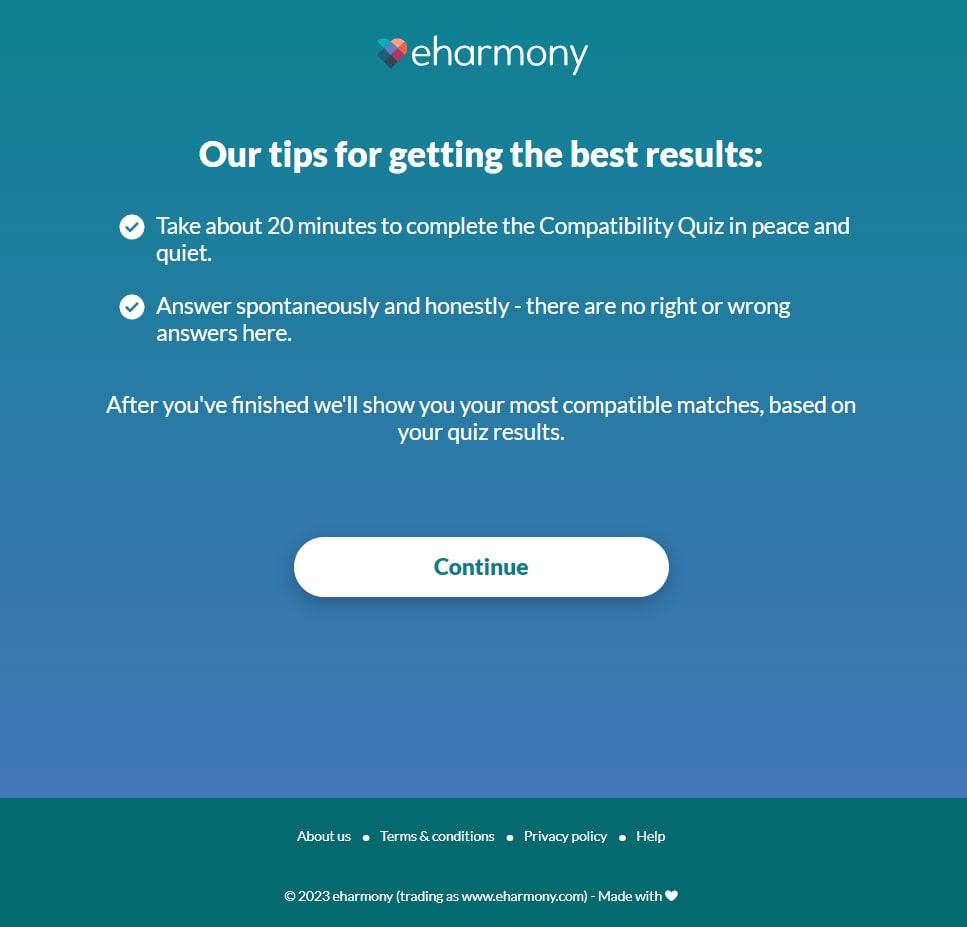 But it's also very, very important that you do it and try to be as honest as possible because it will affect your online dating experience.
Most questions are about your preferences, habits, and interests, but also your emotions and behaviors under certain circumstances.
There are some outright weird ones, like getting to choose shapes you like better, like this one.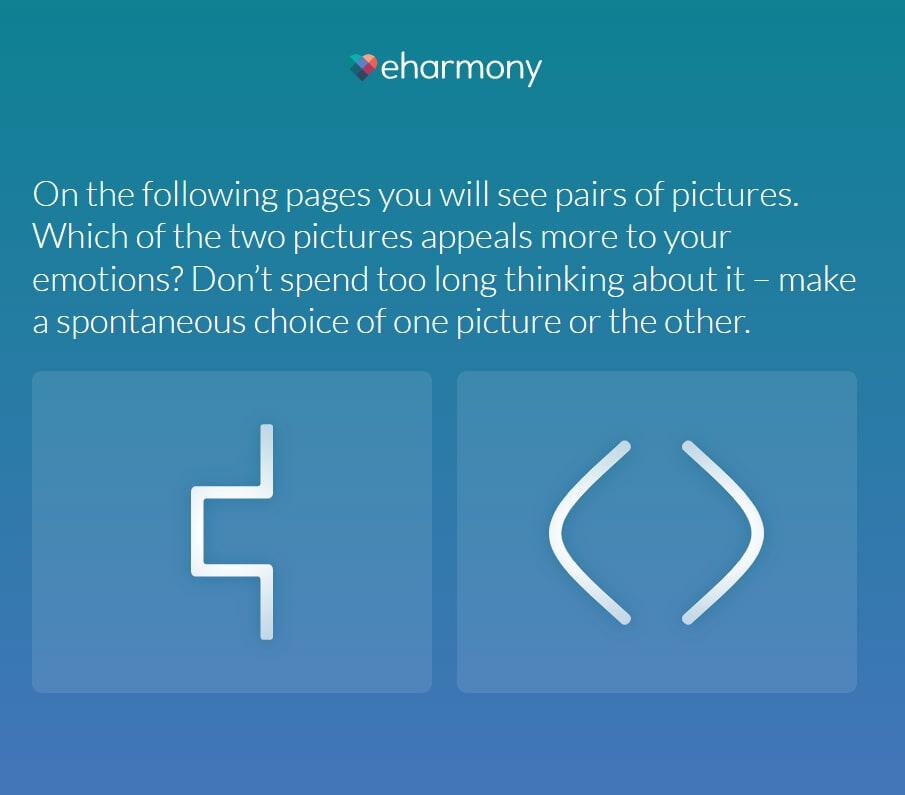 But trust the process, as they say, trust the process, for it will yield results.
After you're done with the quiz, you'll get a free personality profile that helps you learn more about yourself.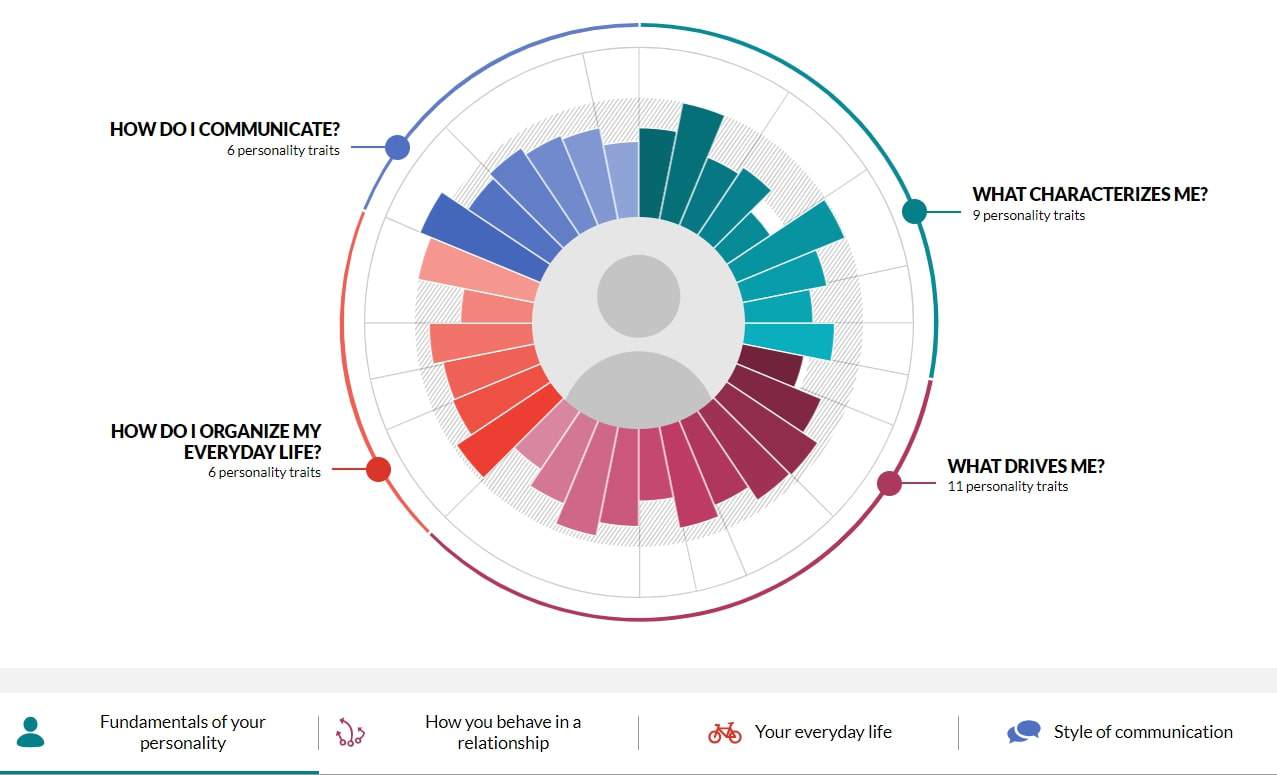 It will also serve to hook you up with compatible matches and for you two to see how compatible you are.
When it comes to the compatibility score, anything above 60 is considered a decent match, and anything above 100 is considered an ideal match.
Finding Potential Matches
eHarmony has a slightly different approach to finding potential matches than your run-of-the-mill online dating site.
You don't get to search for potential matches on your own or enjoy swiping.
Instead, you are limited to the so-called compatible matches eHarmony presents you with on your eHarmony account.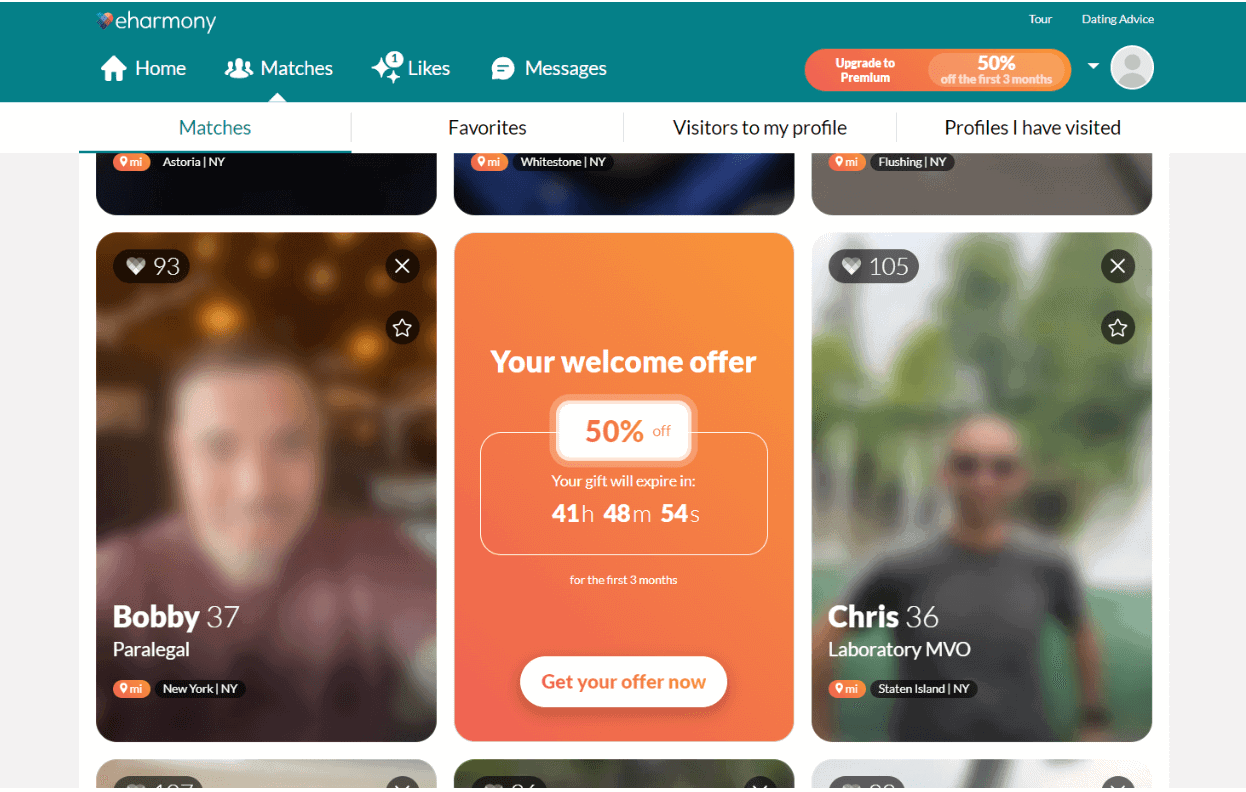 Now, you'll see some eHarmony reviews complaining about this. When we first joined the online dating site, we were feeling kinda iffy about it.
You just don't get that instant gratification we all got so used to with dating sites.
BUT hear us out – maybe you're not supposed to.
The eHarmony dating site presents you with potential matches based on that dang compatibility quiz it takes so long to do, so the folks you see are compatible options for you.
And it's not like your options are limited.
Depending on where you are, you can get hundreds or thousands of eHarmony members. We went over hundreds of them in New York and still had the option to scroll down for more.
You get new potential matches every day, so be sure to favorite those you like or even contact them directly – there are plenty of ways to get in touch.
eHarmony Features
Speaking of ways to get in touch on the eHarmony dating site, let's go over some of the most significant features.
The dating site goes up and above when it comes to facilitating communication among eHarmony premium members, and you'll see why.
Here are some of the features that will let you maximize your eHarmony online dating experience:
Send a smile
Favorites list
Guided Communication
What if
Send a Smile
eHarmony has this thing called Send a Smile, which is the equivalent of Facebook pokes (Internet veterans will remember) or winks on other dating sites.
It's used to signal interest if you're not comfortable jumping to conversation right off the bat or if you just want to test out the waters.
You have to go to the user's profile to do it.
There's a smiley emoticon to the right of the person's profile photo. That's what you click to send them a smile.
Favorites List
Favorites List is in no way exclusive to the eHarmony dating app – you can find it on any other dating service.
Nonetheless, it's a pretty dope feature.
If you catch yourself scrolling through your match list at 4 AM or any other time you don't actually feel like starting something, you can simply favorite a member for later.
You do that by clicking on the start button that's right below the X on your feed or by clicking the three little dots and choosing 'Add to favorites' when you're in a person's profile.
That way, you won't lose the connection, and you can initiate contact whenever you're ready.
Guided Communication
Guided Communication is definitely a feature unique to the eHarmony dating service, and we love it.
It makes getting in touch and connecting extremely easy for people who are shy or just unsure of how to go about it.
Here's how it works – you get to send automated messages to a match.
That way, the link is made, and you get to exchange some words, thoughts, preferences, and more without actually engaging in open conversation.
eHarmony offers you 3 steps of Guided Communication that are supposed to lead to real, open conversation between you two.
Here are the 3 steps:
First Round of Questions – You get to select 5 easy-to-answer but still informative questions to send to your match. The eHarmony app will offer you questions to choose and answering is pretty easy and fast.
10 'Must Haves' and 10 'Can't Stands' – Matches can trade their lists of deal makers and deal breakers through this feature. You can either send them first or request your match to send theirs.
Second Round of Questions – This is the last step before open communication. You get to either choose or create your own 3 open-ended questions for your match.
After this Guided Communication session, you two can choose to either engage in further communication or drop it, depending on how you liked each other's answers.
We really like this feature – not only does it make starting conversations easier, but it also saves you from wasting time and facing or delivering rejections in person.
Video Date Feature
This is yet another cool feature eHarmony premium membership gets you. It's kinda like video chat, where you and your match get to have the dating experience but from the comfort of your home.
Video dates are a great way to save time and money you would otherwise spend on an IRL date and a generally cool way to test out the chemistry.
The video chat feature is also a useful tool for weeding out fake profiles.
Not that eHarmony has many of those, as its premium membership is pretty costly. But there could still be some fake profiles, and it's always good to keep common sense.
What If
Now, we know we told you that the eHarmony dating site only allows you to meet people through their list of matches the compatibility quiz picked out for you.
But eHarmony has an ace up its sleeve for those with a premium membership.
The What If feature will let you explore other folks on the dating app who may not be such ideal matches on paper.
It's a cool option to have because you never know.
That and it increases your dating pool, which is especially important for those in smaller towns where options are limited.
How Does eHarmony Work?
As you can see, eHarmony is the top dating site for serious daters looking for a committed relationship.
It's not like these folks are all bridezillas and groomzillas looking to get married yesterday – there's no such pressure.
It's just that people are looking for something meaningful as opposed to just casual sex.
In that respect, eHarmony very much focuses on detailed matchmaking. You will be asked to do an extensive compatibility quiz when you sign up, and the entire dating process will be more substance-fuelled.
eHarmony will fix you up with an entire page of matches that the system picked for you based on your personality profile.
Members then have lots of ways to initiate conversation, and this is one aspect where eHarmony absolutely slaps.
You get the Guided Conversations feature to help you start talking, and then there's the video chat feature for virtual dates.
There's also an eHarmony app that makes connecting with matches that much more convenient.
eHarmony App
Besides the desktop dating site, eHarmony also has an app you can download on your phone for online dating on the go.
The app works with both iOS and Android, and it's completely free to download.
The best part? The app has the same features as the dating site, which we absolutely love. Some dating sites have different features on the desktop version and on the app, which makes switching back and forth tricky.
Here's another good thing – the app isn't riddled with ads.
How Much Does eHarmony Cost?
Now that we've got the ins and outs of eHarmony out of the way, it's time to address another essential aspect of the online dating site in this eHarmony review.
That's right – it's the eHarmony cost.
eHarmony is a very much pay-to-play dating site, and its free basic membership won't get you far. There is a free version, but it only allows you to see basic info about members.
If you want to send messages and use the site functionally, you would have to pay for an eHarmony subscription.
Here's the breakdown of eHarmony cost:
Premium Light – 6 months – $69.90 a month
Premium Plus – 12 months – $49.90 a month
Premium Extra – 24 months – $39.90 a month
As you can see, the shortest amount of time you can subscribe for is 6 months with the Premium Light deal.
Premium Extra is much cheaper than Premium Light, but it will require you to commit to 24 months.
$39.90 a month is still more expensive than many other dating sites' premium membership, and that's our biggest grievance with eHarmony.
>>Check the best prices for eHarmony
eHarmony Free Trial
Now that you know how much eHarmony costs, you'll also want to know if there's an eHarmony free trial to test out the app and see if you're willing to commit.
Yes, there's an eHarmony free trial.
There's this thing called 'free communication weekends' that lets you test out the dating service for free.
The free communication weekends happen on weekends, as their name implies, and you even get a chance to test out some communication features.
Of course, the app does this with the goal of attracting members.
Still, many eHarmony reviews say how it has helped them decide if eHarmony is right for them, one way or the other.
eHarmony Reviews by Users
Alright, that's what we had to say about eHarmony. Now let's take a look at what other folks have to say about it through their eHarmony reviews online.
For this section of our eHarmony review, it's important to note that eHarmony has an A+ rating on Better Business Bureau.
Not many dating sites have been able to score that high on Better Business Bureau.
We also chose several positive eHarmony reviews as well as some negative eHarmony reviews for you to go over.
That way, you can get a clear picture of how eHarmony stands with the public and make up your own mind if it's worth your time and money.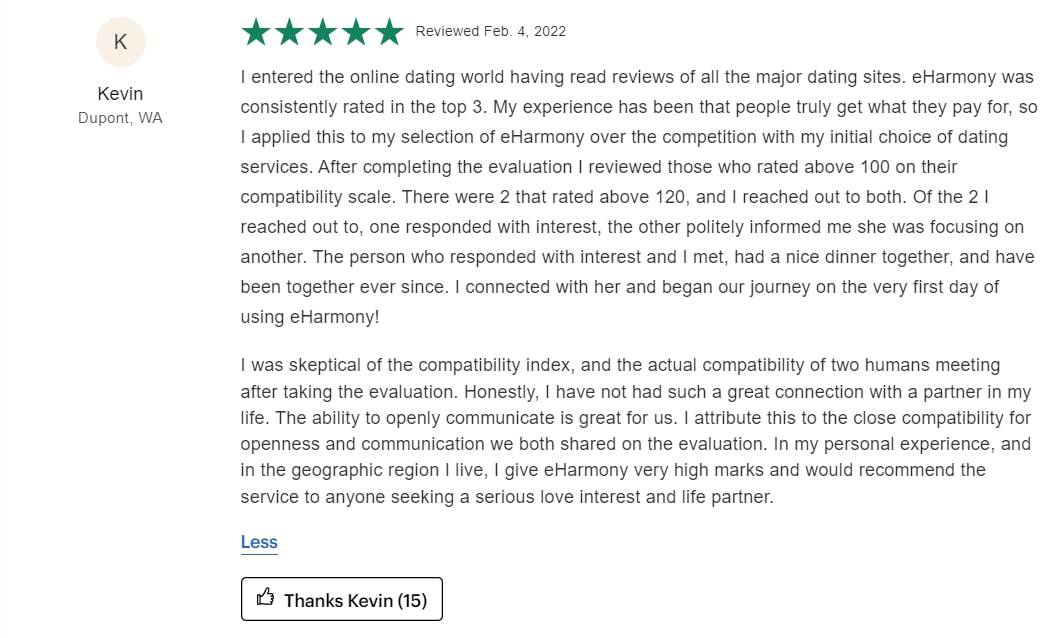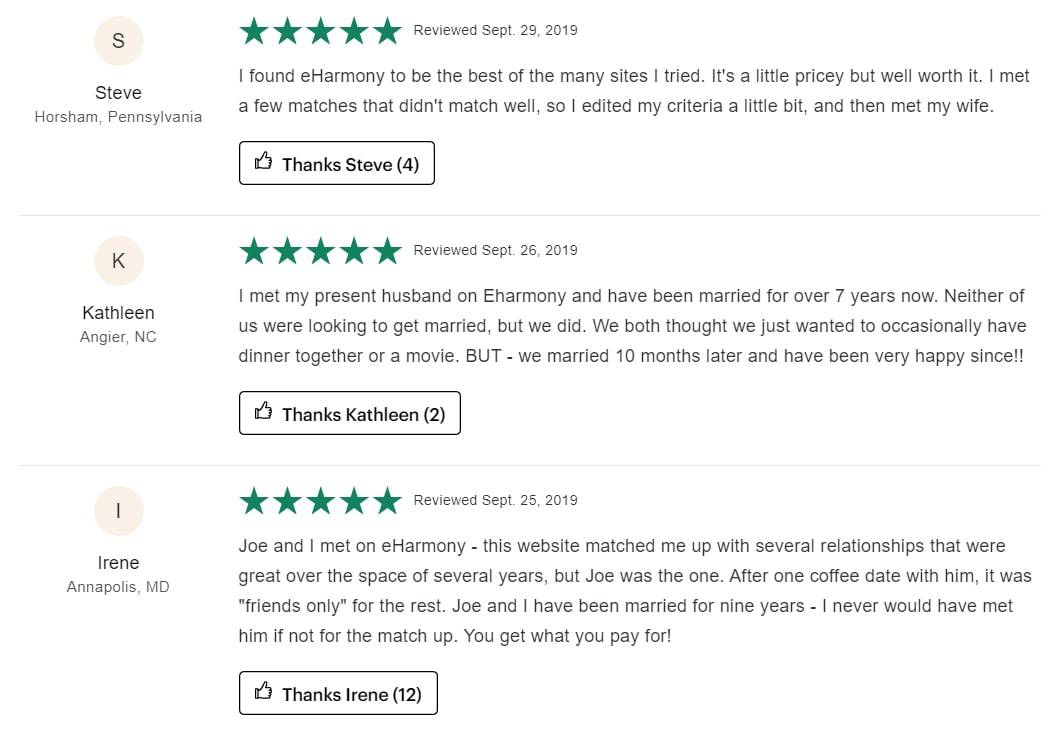 eHarmony Alternatives
You've gone through this entire eHarmony review, and you're thinking, 'This isn't for me'? No worries, we've got you covered with some eHarmony alternatives both for long-term relationships and casual hookups.
Zoosk – Best eHarmony Alternative

Pros
All kinds of dating
Diverse user base
Behavior matchmaking
Cons
Pricing
1 month – $29.99
3 months -$20 a month
6 months – $12.50 a month
If you're looking for a cheaper alternative to eHarmony, look no further than Zoosk. It's best known as a one-size-fits-all dating site, as it works for both long-term relationships and casual hookups.
Zoosk is also incredibly diverse.
That goes for gender, race, nationality, but also the age of users. There's a good chunk of people of all ages, from Gen Z to boomers.
You won't need half an hour to an hour for quizzes or surveys because their matchmaking system, called SmartPicks, uses your previous behavior on the app to fix you up with suitable matches.
But you don't have to only rely on what Zoosk hooks you up with – you can also browse for users by yourself.
Zoosk's search filters are pretty good, and they'll get the job done.
The only downside is that there's no video call feature, so you would have to take that elsewhere. Read our full Zoosk review or
>>Jump to Zoosk, the best eHarmony alternative
Seeking – Bougie Dating App

Pros
Luxury dating
Free for women
Verified female profiles
Cons
More expensive than other options
Pricing
100% free for women
Premium 1 month – $109.99
Premium 3 months – $96.66 a month
Diamond 1 month – $274.99 a month
Those of you who have a taste for finer things in life just won't be satisfied mingling with random folks on random dating sites.
Powerful men love extremely beautiful and bougie women, and they love them back.
That's where luxury dating sites fit in, and Seeking is the best. It's got some really wealthy men and drop-dead gorgeous women looking for each other.
If you thought eHarmony membership was expensive, wait till you see Seeking's prices.
That won't be a problem for men looking for luxury, and women will be happy to hear that they don't have to pay at all.
They will have to verify their profiles, though, which, again, won't be a problem if they are who they say they are, and the men will know how to appreciate it.
Men can also verify their income to up their chances with the ladies on Seeking.
>>Head to Seeking, the best luxury dating app

Pros
Huge user base
Everyone's down
Sex-positive and kink-friendly
Cons
Not for those looking for a serious relationship
Pricing
1 month – $39.95
3 months – $26.95 a month, $80.85 total
12 months – $19.95 a month, $239.40 total
If you're not looking for a long-term relationship at the moment and you just want to have your fun, you should go to FriendFinder.
FriendFinder was created as an app to facilitate fast and easy hookups.
It's a very sex-positive and kink-friendly place filled with sexually liberated folks looking for adventures.
There's tons of explicit content, as well, like live cams by both pros and users, X-rated movies, and (our favorite) user forums.
User forums are places where you can discuss all sorts of topics (usually sex-related), but also meet like-kinked people for casual hookups.
If you're looking for a long-term relationship, you would be better off on some other sites, like eHarmony or Zoosk, though.
But if you're looking for casual sex, there's no better place than FriendFinder.
>>Go to FriendFinder for fast and easy hookups
eHarmony Review: FAQs
Now you know the ins and outs of eHarmony and what dating's like there, but people always have additional questions. So, we decided to round up some of the most popular ones and answer them for you.
Can You Use eHarmony for Free?
Technically, you can use eHarmony for free. You can create a profile and browse through other members. But if you want to actually use the site functionally and interact with the singles on it, you would have to pay for eHarmony membership.
How Much Does eHarmony Cost per Month?
Here's how much eHarmony costs per month, depending on the subscription plan you choose:
Premium Light – 6 months – $69.90 a month
Premium Plus – 12 months – $49.90 a month
Premium Extra – 24 months – $39.90 a month
Is eHarmony Worth It?
eHarmony is 100% worth it for those looking for long-term relationships and those that can afford it. No other site is as dedicated to detail when it comes to matchmaking or has the same kind of dating success.
What Age Group Is eHarmony For?
eHarmony is most popular among millennials, but it's also used by younger and older people looking to settle down or find meaningful relationships. The site provides its users with high-quality online dating, no matter the age.
Why Do So Many eHarmony Profiles Have No Pictures?
The reason why so many eHarmony profiles have no pictures for you to see may be because you are a free user. eHarmony does this to protect the privacy and safety of its paying members.
Which Is Better, Tinder or eHarmony?
It depends. Tinder has a larger user base, and it is better for casual hookups, while eHarmony is a better choice for those looking for meaningful relationships.
Where Is eHarmony Most Popular?
eHarmony is most popular in big cities where there are more active singles looking to settle down compared to rural areas.
Is eHarmony Only for Serious Relationships?
eHarmony was made with serious relationships in mind, but that doesn't mean people on it meet, give it a shot, and call it quits if it doesn't work out. You can use eHarmony however you want, but generally, you will find better luck elsewhere if you're looking for hookups.
Use This eHarmony Review to Good Advantage
There you have it – a complete eHarmony review with all the ins and outs of the popular dating app. The bottom line?
eHarmony is a safe dating platform that can help you find people who share a lot of your interests, hobbies, behaviors, and worldviews.
Yes, it's more expensive than many other sites, but we really think it's worth it.
It's also essential that you take note that eHarmony may not be the best option for you if you live in a rural area or if you're just looking for fast and easy hookups.
We also hooked you up with some alternatives if you decide eHarmony isn't for you.
Either way you go, we wish you the best of luck with finding whatever it is that you're looking for – we're sure it will be worth the wait!