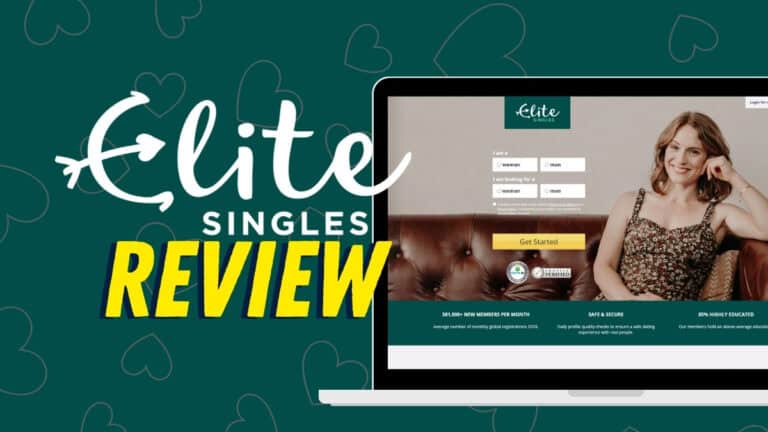 Dating has evolved over the years, with many global websites emerging to give singles a chance to find a perfect match from the comfort of their homes. One of them is Elite Singles.
In this Elite Singles review, we'll explore how it works and who it caters to.
We'll also examine its pros and cons, the process of signing up on the website, and how to initiate conversations with potential matches.
First, let's look at some essential details about the site.
Quick Elite Singles Review
Elite Singles has over 13 million users across 25 countries
About 381K new members join every month
2,500 premium members discover love each month
Profile quality checks are conducted daily
85% of its members hold a college degree
Creates 2,000 new couples every month
What Is Elite Singles and Who Is It For?
To begin our Elite Singles review, let's delve into what the platform is all about and who can benefit from it.
Elite Singles is a part of Spark Networks, the brains behind various dating websites such as Zoosk, Jdate, SilverSingles, and more. With over 20 years of experience, it has facilitated thousands of monthly matches across 25 countries.
The name itself suggests that this site caters to individuals with impressive backgrounds, encompassing education, career, financial status, and more.
Its user base primarily consists of professional and well-educated singles seeking serious relationships. In fact, over 85% of Elite Singles members hold a college degree, a remarkable feature that sets it apart from other dating platforms.
Elite Singles is designed to help individuals find partners who are financially successful, whether they're high earners or belong to the middle or upper classes.
Furthermore, the platform tends to attract an older demographic compared to typical dating sites or dating apps. The majority of its members are over the age of 30, with the remaining members falling below 55.
So, if you're searching for younger matches, you probably won't find any on the platform.
What We Like and Don't Like About Elite Singles
Elite Singles Pros
Over 85% are college graduates
Uses "intelligent matchmaking" approach
Marriage-minded users
Dating experts provide profile advice
Mobile version available
Elite Singles Cons
Photos unavailable on free trial
No video chat feature
What Does the Elite Singles Dating Site Look Like?
The Elite Singles website has a user-friendly interface and a minimalist design. Its layout features a header with four tabs and nine more menu choices on the left sidebar.
However, the free preview isn't particularly noteworthy. It's also hard to check the profiles of free users since the dating site blurs their faces.
Still, you can see bio information and potential matches.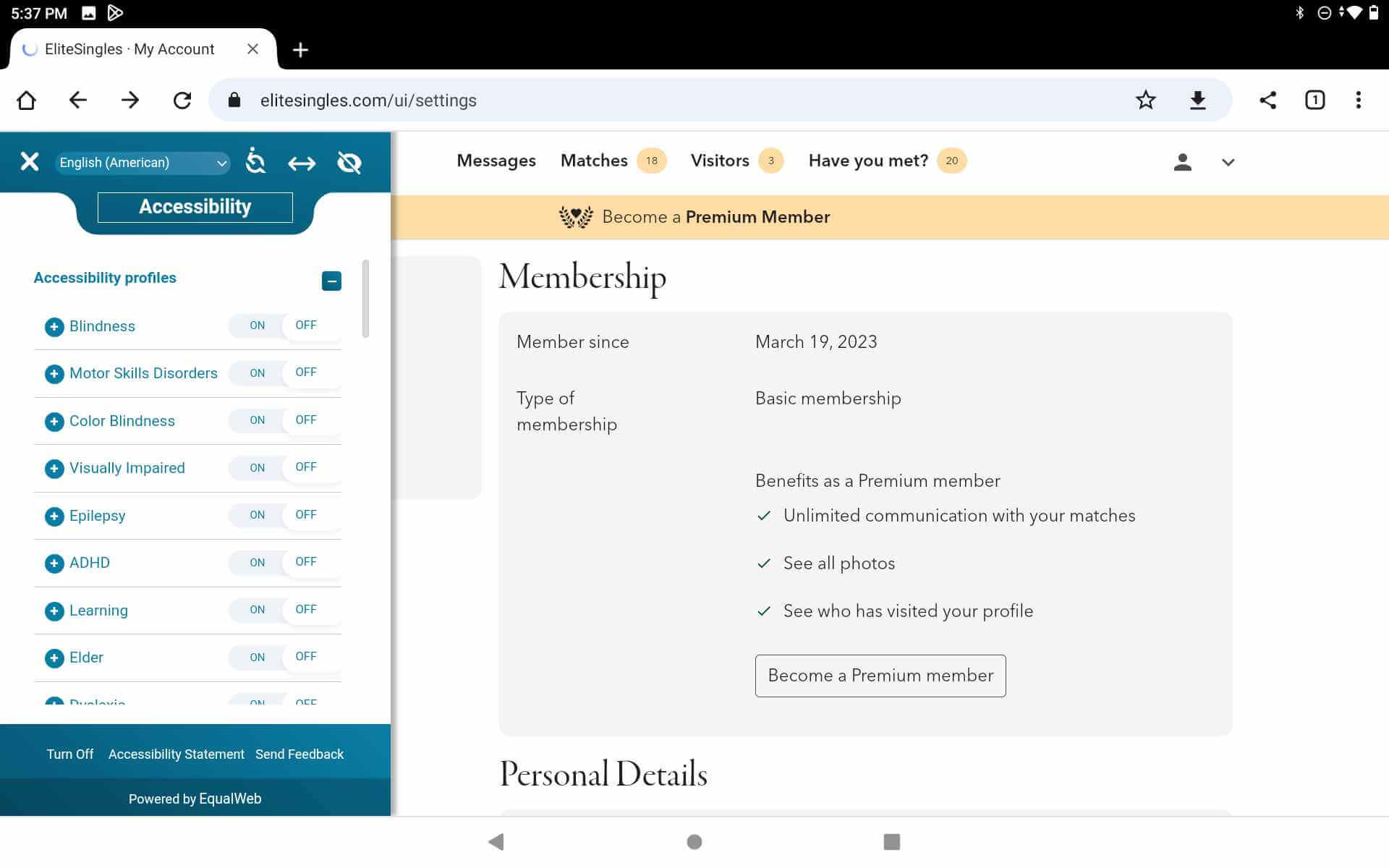 Furthermore, Elite Singles made it easy for older or disabled people to access the dating site. There's an Accessibility menu designed for users with issues, from the elderly and dyslexic to the visually impaired and blind.
You can enable text reader, voice commands, or screen reader adjustment to meet your needs.
Elite Singles Review: How to Sign Up
You can create an Elite Singles account on their website or the mobile app, which is available for iOS and Android users.
Once you access the dating site or app, provide the required details. First, select your gender and the gender you prefer to date. Next, enter your email address and create a password. Then verify your email.
Registration is free of charge and brings you to the next step: answering a personality test.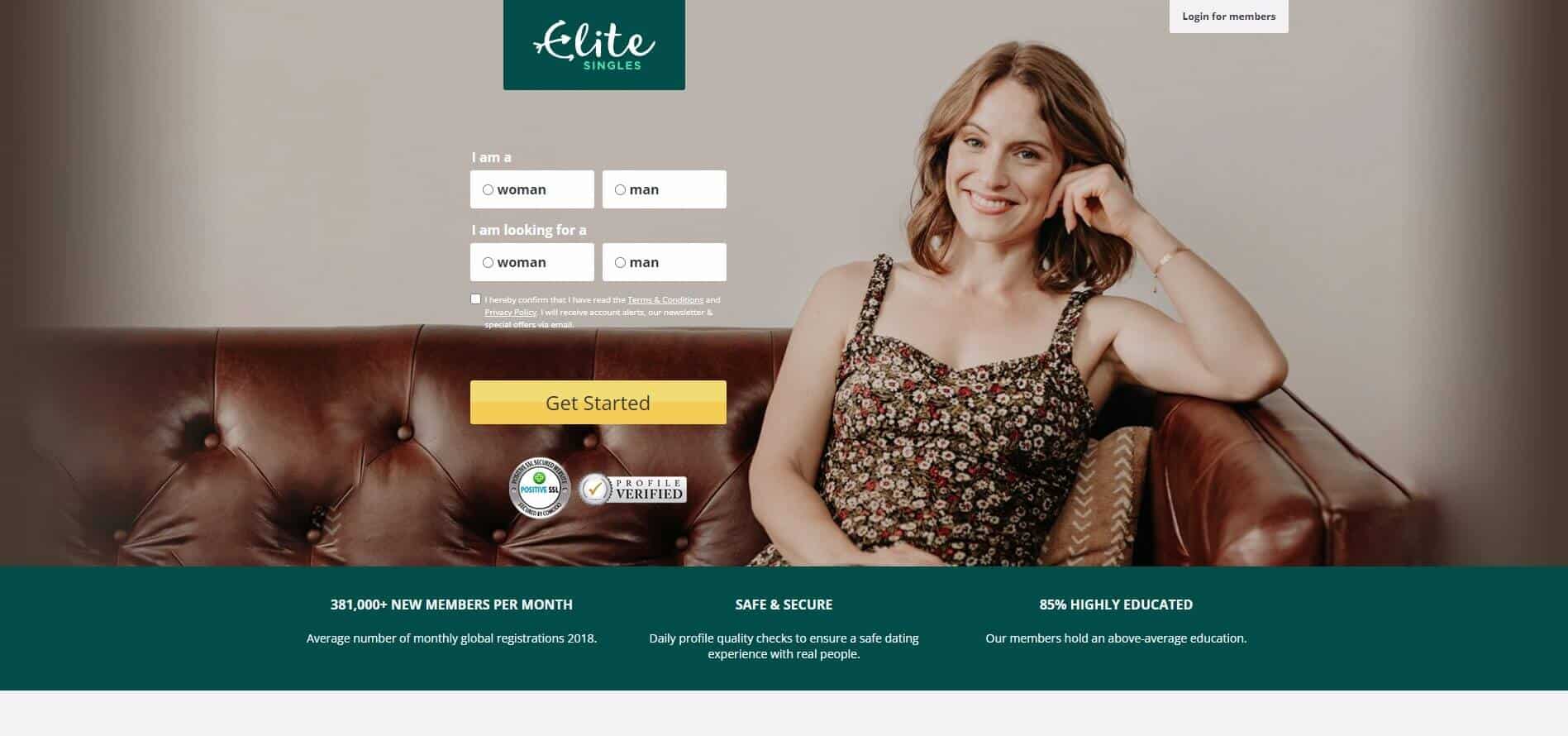 Elite Singles Review: Personality Test
It would be best to have plenty of time when opening an Elite Singles account, as the questionnaire is quite long. In fact, Elite Singles has one of the most extensive personality test features.
The test will help you find a better match, so it would be best if you took it slow when answering.
The assessment includes general questions about your behavior, your ideal partner, and how you would react to hypothetical scenarios.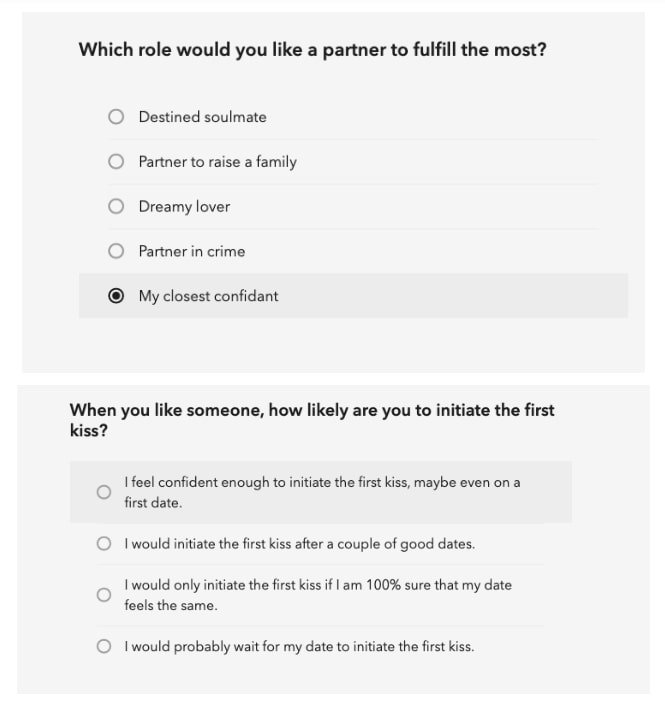 There are also general lifestyle questions common on other dating sites, such as what you look for in a partner, whether you want kids, or whether you drink or smoke.
In general, the test will evaluate you in five primary aspects of personality psychology:
Agreeableness
Openness
Extraversion
Neuroticism
Conscientiousness
After completing the questionnaire, you can check some of the results in the "Personality Profile" section. You'll see where you score along a spectrum for the five personality areas mentioned above.
You'll also see a comparison between your scores and the ratings of the other Elite Singles users. The site will then use your personality test results to search for singles with whom you're compatible.
Elite Singles Review: Dating Profiles
The next step after taking the personality test is to complete your dating profile. Provide your stats and preferences, from body type to hobbies to age and distance.
The platform made it easy for users to fill out their date profiles with easy-to-follow cues, which assort each area with a simple question. One example is, "Which four terms would your friends use to describe you?"
Aside from providing personal details, you may also upload photos in your profile section. Only the users you're compatible with will be able to see them, so you're sure not to encounter singles who are not your type.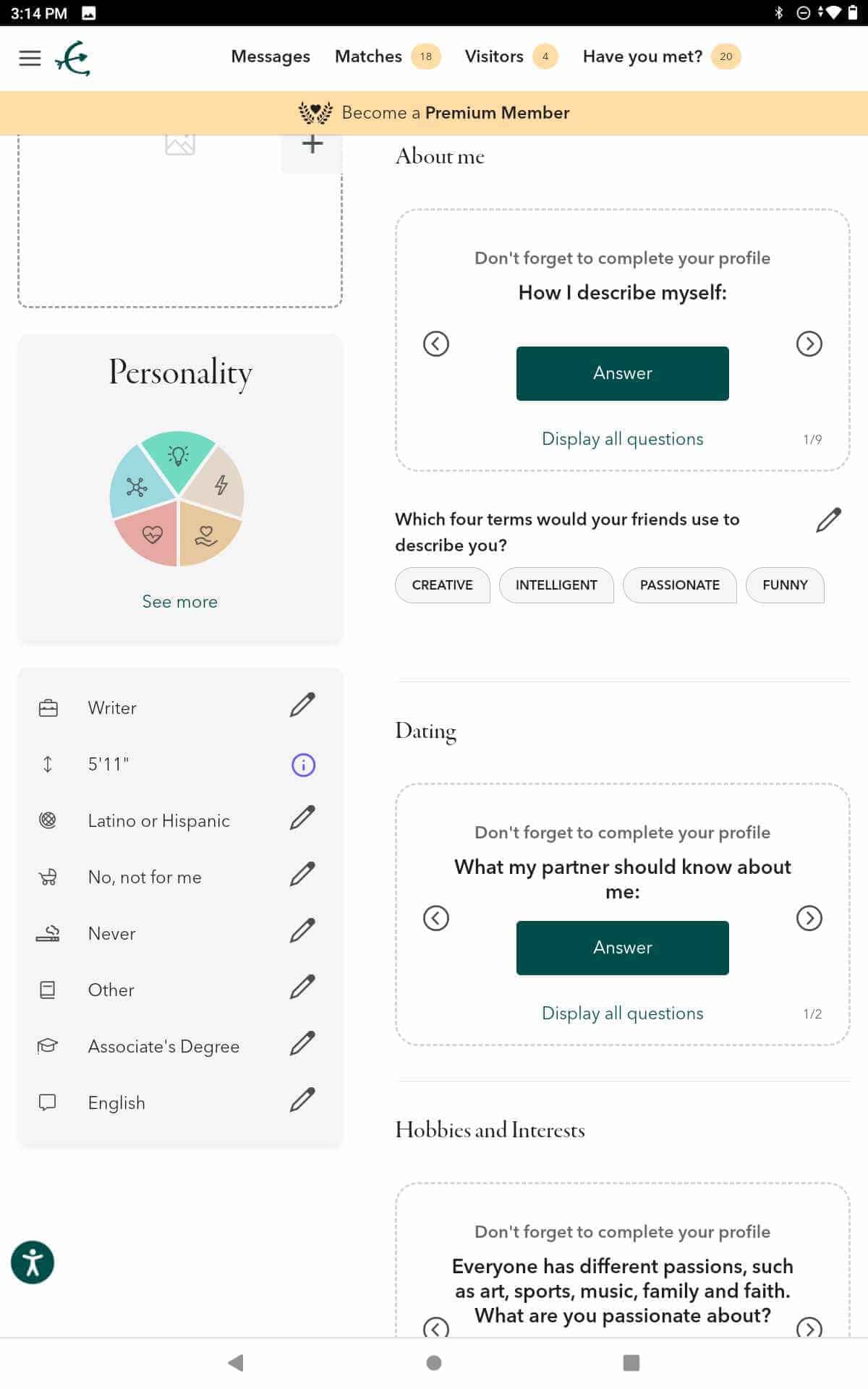 Elite Singles Review: How Does the Dating Site Match Users?
Elite Singles uses an "intelligent matchmaking" method to help educated professionals find compatible partners among its millions of users. It will base partner suggestions on your preferences and personality.
you'll immediately start getting matches as soon as you complete your profile. The platform doesn't offer free browsing, though. It provides five to ten partner suggestions to each user daily. Still, it's unlike other dating sites that give you a match over days, weeks, or months.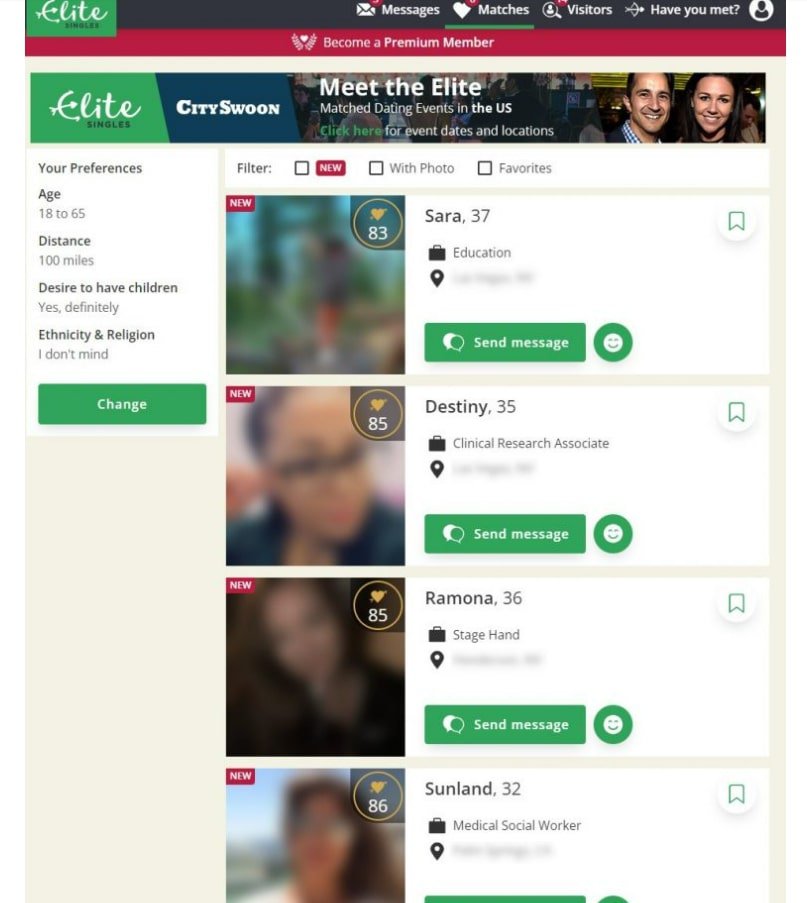 So, if you prefer to see your matches all at once, Elite Singles is the perfect dating website for you. It may pair you with someone with the same career, personality, or educational background.
While the website may introduce you to someone who can help you build a long-lasting relationship, it also offers the "Have You Met?" feature, which functions as a mutual-match swipe feature similar to Tinder.
With this feature, you can browse a selection of singles in your area who may not be the perfect match but share some similarities with you.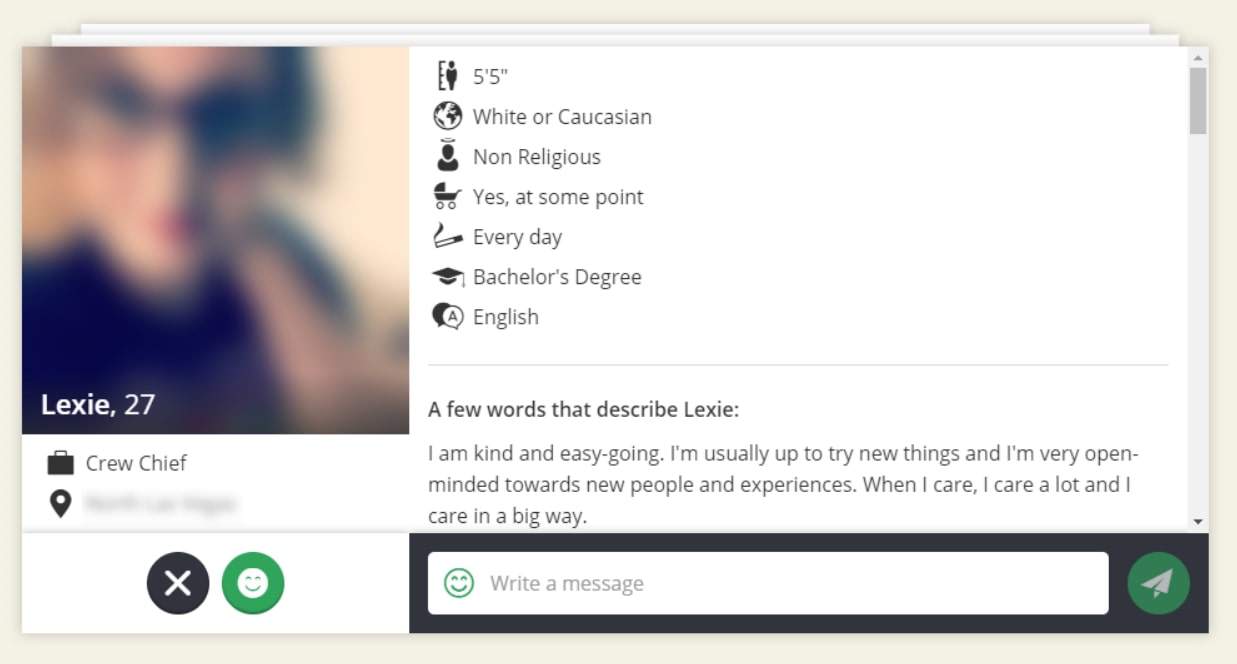 However, there's no need for an actual swipe. Instead, you can click an X if the person is not your type or a smiley face if you're interested in them.
What sets Elite Singles apart from Tinder is the amount of information displayed about each person. This provides you with valuable insights into whether you could be a compatible couple.
Elite Singles Review: How To Start A Conversation With a Potential Match
Elite Singles members have various ways to contact one another. The online dating site allows you to send a message or a smile. To create a good first impression, your opening line can be about what you find interesting about the other person's dating profile.
After all, you're talking to educated singles that you want to impress and build a long term relationship with.
Another way is to like specific parts of someone's profile to show your interest in them. You can like a member's photo or comment and eventually initiate a conversation. The dating website records all interactions in the message section.
Furthermore, you may give the five icebreaker questions to educated singles to begin talking.
Keep in mind that you don't always need to have a match to send a message. You can simply contact anyone you like and tell that person you're interested. If you find a potential match, though, both of you'll receive a notification, like on other swipe-style dating apps.
You may review their dating profile to check their bio information, hobbies and interests, age and height, and other essential details about themselves. You can also check their personality test results to get an insight into how you can get along.
Unfortunately, free users won't be able to communicate with anyone unless they upgrade their membership.
The Best Features of Elite Singles Dating Site
The platform has more primary features – apart from the intelligent matchmaking method and the "Have You Met?" option – that make it unique from other dating sites.
Excellent Security and Dating Profile Review
First, the dating site takes security and the safety of Elite Singles members' personal data seriously. It employs SSL encryption for protection against credit card fraud and uses strategies to detect harmful and offensive messages to give users a safe dating environment.
Users may contact the customer care team to report abuse and remove matches that they consider inappropriate. The platform encrypts all sensitive data, which they don't share with other Elite Singles members or third-party sources.
On the contrary, the platform doesn't have verification options except to upload photos and personal details. But, they do use software to ensure no pictures are copied or downloaded from other sites.
Expert Dating Profiles Assistance
The other feature that sets Elite Singles apart from other dating sites is the professional dating tips that can guide you in making your profile first-class.
After all, your dating profile is the most crucial part of your account, as it's the easiest way for other Elite Singles members to know about you and for you to get partner suggestions during the matchmaking process.
So, if communication skills are your weakness, consider reading articles and following the questions on the profile page to get some tips on what to write.
Elite Singles: Premium Membership
One of the reasons for the positive Elite Singles reviews is their Premium membership, which offers many features. 
These features include an innovative matching system that helps users discover companions who are compatible with them based on their personality traits and preferences.
Another benefit of premium membership is access to special events and activities where members can connect with others who share their interests.
Additional perks of the Premium membership include:
Access to sophisticated matchmaking algorithms

Unlimited access to profiles 

Priority customer service for members

Option to hide their profile from specific users

Unlimited messaging

Frequent suggestions to other users 
The premium features on the website are generally good. They provide a wide variety of advantages that improve the user experience. 
Moreover, these premium features are regularly updated to ensure their relevance and to meet the changing needs of users, contributing to the largely positive Elite Singles reviews.
If you're not ready to become a premium member just yet, you can start with a free membership. The free version of the dating site allows you to:
Browse the personality profile and view the results

Create a profile

Match with other Elite Singles members
Unfortunately, the free version doesn't allow you to see other users' profile photos or contact them via chat. That said, there would be no point in you sticking around on the website unless you upgrade your account to premium.
Elite Singles Cost: Premium Membership
When it comes to pricing, Elite Singles is positioned at a higher price point compared to some smaller dating sites but is competitive with some of the best online dating platforms in the market.
The Premium membership is available in three different plans, each offering similar features but with varying costs based on the duration of the subscription:
Premium Light:

$44.95 for 1 month

Premium Classic:

$22.95 per month for 3 months

Premium Comfort:

$16.95 per month for 6 months
You can make your payment for the chosen Premium membership using a credit card or PayPal. Simply enter your credit card details or PayPal email address to cover the cost of your Elite Singles membership.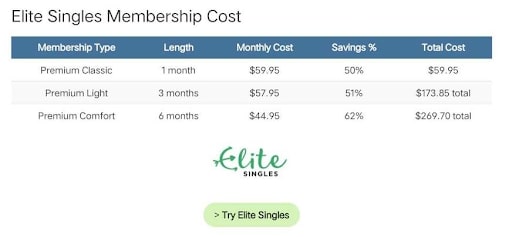 The 3-month membership, which offers a lower price than the monthly subscription, is the most cost-effective plan. 
With this choice, you can make use of all Elite Singles' advantages without committing to a lengthy relationship. This makes Elite Singles way better than other dating sites or dating apps.
An additional benefit is that Elite Singles does not have any a la carte add-ons that you need to pay for, nor do you need to worry about other users paying for additional advantages over you.
Elite Singles App
In addition to its official website, Elite Singles has an application that makes it easy for educated professionals to find matches on the platform with their phones, tablets, and other portable electronic gadgets.
The Elite Singles app is available for both iOS and Android mobile devices. On the dating app, you'll have access to similar features you would find on the web client.
The primary features include "meet people near you," "try conversation," "receive compatible matches daily," and "save favorite matches."
For instance, you can go through the dating profiles of other Elite Singles members and interact with all your potential matches. You can also see their detailed personality profile and determine your similarities.
Moreover, you can update your dating profile and upload photos. On top of that, the dating app is user-friendly, so we highly recommend you download and install it.
The Elite Singles reviews regarding the app mostly turn out to be positive. It has a decent rating on Google Play Store and Apple Store, and most users share a good experience.
Elite Singles Alternatives
In addition to our Elite Singles review, let's explore other online dating websites that can be excellent alternatives for individuals who feel that Elite Singles may not be the right fit for them. Here are some of the best dating sites to consider:

The eHarmony dating site matches people based on the personality qualities they collect through an in-depth personality test. This test comprises 80 questions about your preferences, communication style, likes, and dislikes.
Since its inception in 2000, eHarmony claims to have facilitated two million successful relationships in over 125 countries. It prides itself on being the first dating app and website to utilize an exclusive matching system to provide users with highly compatible matches.
However, an eHarmony review shows that the majority of its clients are typically disappointed with their purchases. Customer service, credit card, and bogus profile issues are the most frequently mentioned complaints about eHarmony. 
Elite Singles vs. eHarmony:
Elite Singles features a more comprehensive profile setup

Elite Singles helps users find highly compatible matches based on their preferences and values.

Elite Singles boasts a larger user base

SilverSingles is one of the best online dating sites for individuals aged 50 and older. It also requires new members to complete a personality test, which the platform uses to help them find like-minded members.
Every day, it provides users with three to seven potential matches, meaning you don't need to perform a manual search to find someone you're compatible with. Moreover, the application and website have intuitive interfaces, allowing seniors to use them without trouble.
Unfortunately, a SilverSingles review has revealed some issues. Customers have complained about unresponsive and unhelpful customer support representatives. 
Additionally, reports of encountering fake profiles on the platform have led to negative user experiences. Problems related to phone numbers, such as authentication difficulties and contacting other members, have also been commonly mentioned in reviews.
Elite Singles vs. SilverSingles:
Elite Singles boasts responsive customer support

Elite Singles provides regular updates 

Elite Singles offers a user-friendly interface

Zoosk is an inclusive dating website that welcomes users from all races, sexual orientations, and religious backgrounds, with the requirement that all users be over 18. In addition to its website, Zoosk offers a dating app for both iOS and Android devices.
This online dating site also uses a personality test and algorithms to match its members and claims to have over 40 million registered users. One of its best features is that it lets users manage the level of information they can share.
While previous reviews of Zoosk have been generally positive, recent comments and one-star ratings in a Zoosk review have surfaced. 
These complaints revolve around issues like refund problems, subpar customer service, and disappearing messages. Users have expressed frustration over difficulties in obtaining refunds from Zoosk, citing instances of rejected or delayed refund requests.
Elite Singles vs. Zoosk:
Customer service is a top priority for Elite Singles

Elite Singles' support team responds urgently to refund requests

Elite Singles offers reliable customer service 

Seeking is another popular dating site, with over 40 million registered users from 130 countries worldwide. The pros of using this platform include an in-depth verification process, the availability of discounts from time to time, and a super active community.
A recent Seeking review shows that users encounter scammers, escorts, and bogus accounts on the dating site. Not only do these problems waste consumers' time, but they degrade their entire platform experience.
Because of that, many users have called for more stringent authentication procedures and enhanced security features in response to the lack of successful steps that Seeking takes to solve these issues.
Elite Singles vs. Seeking:
Elite singles prohibit any explicit or offensive content

Elite singles take immediate action against fake profile reports

Elite singles have stricter rules for making user profiles
Elite Singles Review FAQs
Got more questions on Elite Singles? Here are some of the most commonly asked questions you need to know:
Is Elite Singles a Legit Dating Site?
Yes, Elite Singles is a legitimate online dating site. It has been serving educated singles since 2009 and has earned the trust of millions of people around the world. It's a reputable platform that has become the topic of multiple media outlets.
Is There Any Additional Cost for Elite Singles?
No. After paying for your Elite Singles subscription, you'll have unlimited access to all the features and advantages. You can be sure that your subscription won't include any unexpected or hidden fees.
Can I Try Elite Singles for Free?
Yes, you can try the dating site for free to get a feel of its dating environment. But you're only given access to limited features.
The free membership allows members to create an account, go through other members' detailed personality profiles, and find matches. However, the free version doesn't include a chat feature to allow users to send messages.
Is Elite Singles membership expensive?
Elite Singles membership may be a bit expensive, but its exclusive features, like profile verification and customized pairing algorithms, make up for the extra cost. In other words, it's worth the money spent and, of course, your time.
Does Elite Singles Prioritize Members' Safety?
Yes. Apart from their main goal of helping educated professionals find matches, Elite Singles also prioritizes users' security and safety.
The online dating site uses SSL encryption to prevent credit card fraud. It also employs techniques to detect messages that harm or offend users with certain keywords. They have a customer care team that can handle abuse reports.
While the website doesn't have a verification feature except for uploading photos and providing biographical data. It uses a tool to ensure that the pictures aren't duplicates or don't come from other sites.
How To Cancel an Elite Singles Premium Account?
You can cancel a premium membership on Elite Singles at any time. To do this, click the person icon on the top right corner and choose "Account." Under "Membership," you'll find an option to "Cancel/Refund Your Membership."
Click that option and choose from the many reasons why you want to discontinue being one of the premium members. Afterward, enter your password to confirm the cancellation. But even though you've already canceled, you can still use the website until your subscription ends.
For those using the dating app, go to your Google Play Store or Apple Store account and cancel your premium membership there.
You can get your money back after paying for a premium membership if you cancel the subscription three days after making your initial payment.
Go to the "My Account" section and hit the "Cancellation/Refund" button. Unfortunately, you won't get any refunds if you fail to cancel the membership within those three days.
Elite Singles Review: Final Thoughts

Elite Singles is a dating app or site perfect for highly educated singles seeking serious relationships rather than casual dating. It boasts a user base of over 13 million individuals across 25 countries.
One of its standout features is its intelligent matchmaking system, which takes into account your personality test results and preferences to provide tailored partner suggestions. You'll receive new potential matches each day, increasing your chances of meeting the right person for you.
This matchmaking feature eliminates the need to manually browse through countless profiles, giving you more time to engage with other members and ultimately discover a compatible match.
You may find Elite Singles helpful if you don't have enough time to go through thousands of people daily.
That's it for today! We hope this Elite Singles review has provided you with a comprehensive understanding of this dating site and helped you decide whether it aligns with your dating needs.