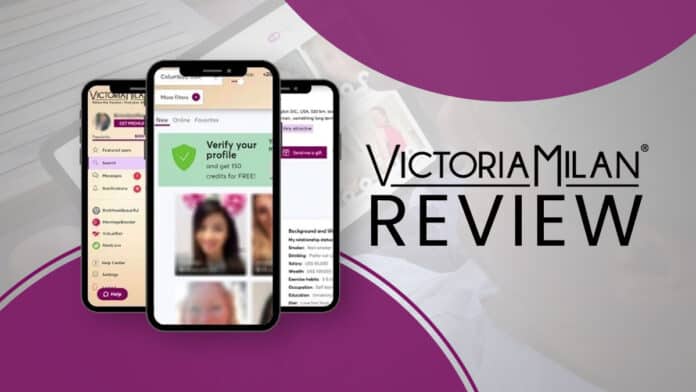 Are you curious about the thrill of passionate and secret dating?
You can't deny it – relationships with an air of secrecy are sexy, right?
And, that's what Victoria Milan seeks to give you…a steamy private little arrangement.
In this Victoria Milan review, we will highlight the platform's pros, key features, how it compares with other similar sites and more.
You in?
Let's kick it!
Victoria Milan Review – Best Dating Site for Secret Affairs
These are our first thoughts and info gathered:
Pros
Over 7 million users

Fast and simple signup process

Panic button to avoid getting caught

Blurred pics for privacy

No personal info required

User-friendly interface
Cons
Limited options for free members

Limited payment options
Victoria Milan is a buzz of millions of users about that spicy, clandestine lifestyle. 
At its core, the app really values privacy, and it bends over backward to see that you can date online with little to no risk of blowing your cover if you don't want to.
So, if you fancy a married or relationship dating thing but are stuck in the "Where do I even begin" phase, don't worry, Victoria Milan has a number of goodies for you.
Victoria Milan Review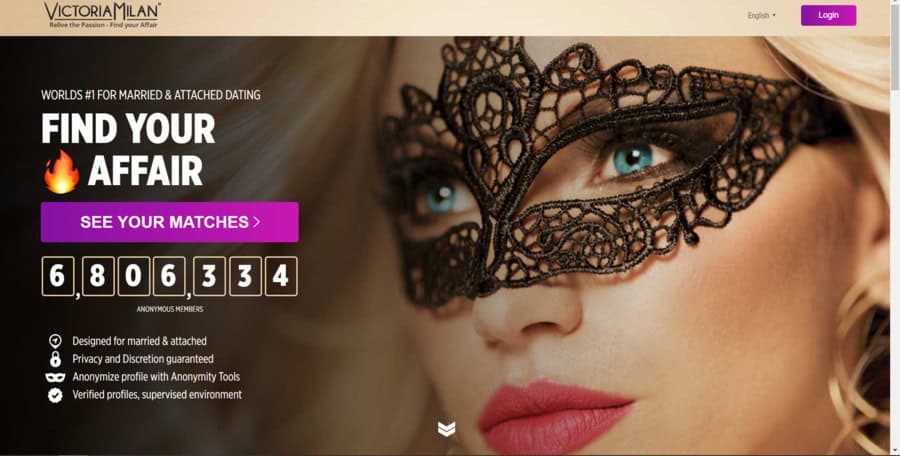 Victoria Milan Users
Why do you think Victoria Milan is named like that? Like a spicy woman's name?
Victoria Milan has more women than men, which is quite rare among most modern dating sites. Obviously to say, if you're a guy who's had a hard time getting successful matches and dates online, you might want to look Victoria Milan's way.
There's also a tasty deal just for the ladies – the premium plan is on the house – totally free.
The free use for women helps create a nice female-male balance on the site and also gives better reply rates for men, which is something many competitor dating sites have struggled to offer.
Don't think this is just a straight affair over here. Victoria Milan seems to attract all sorts of orientations and preferences. So, whether you're straight, gay, or other queer leanings, you can find people of your tribe.
Victoria Milan further knows how to cater to all your desires in a confidential online environment. 
The only issue is that the app only offers the usual "Male" and "Female" options, which can be a little limiting. However, the app is trying to introduce more non-binary options which would be a plus for inclusivity.
Most Victoria Milan users are aged 25-35. This mentioned, there are some middle-aged people and a reasonable number of seniors as well which speaks to the fact that the dating app is almost for everyone.
You'd be wrong to think that Victoria Milan is only for people who are looking to have extramarital affairs. You might find regular single people just seeking romantic thrills with younger and more energetic people.
Now that you've got more insight into the site, let's see how you can join Victoria Milan. 
Victoria Milan Sign Up
Well, the registration process for Victoria Milan is swift and uncomplicated.
The first step is to let the site know your gender and the gender that you're into.
You'll also be asked to fill in an email address. If you want, you can create a new email address just to register on the platform.
You can also add a personal touch with your Victoria Milan username, so don't be afraid to go crazy with your username or stay as far as possible from your real name or known monikers.
You should also know that your username becomes your signature. Therefore, choose wisely. Maybe a name that expresses your energy and vibe.
Stuck in a creativity slump? 
Victoria Milan has a host of dating coaches ready to help you create your profile. This is particularly super useful for older people who might not be that tech-savvy or those who are just finding their feet in the online dating landscape.
The site also asks for some personal info – your birthdate and zip code.
After this, you'll be in, and now you only need to flesh out your profile.
Profiles on Victoria Milan
Profile creation on Victoria Milan is like giving a summary of yourself.
You'll need to have things like a profile tagline, likes, and some photos. 
But that's just a drop in the ocean.
On top of this, you'll have to state your desires and turn-ons. If you like feet or whatever kink out there, you can select the most relevant kink to you from a raft of options.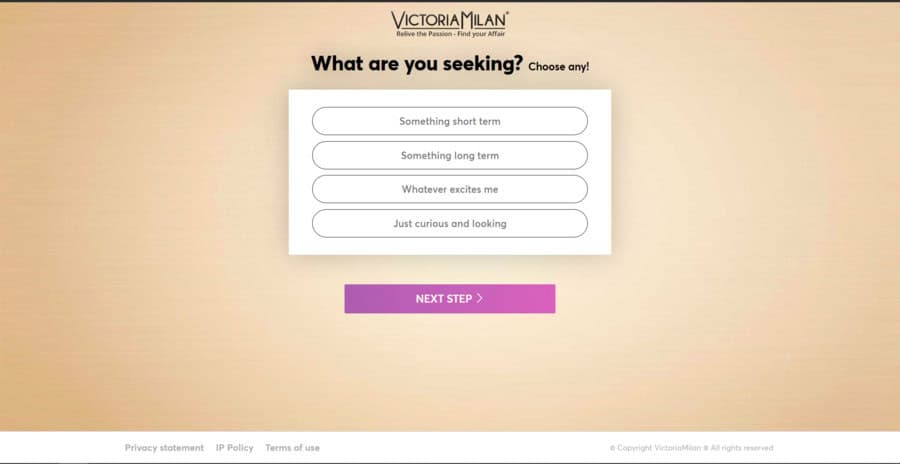 Ideally, the more you select, the more likely you are to find someone that's aligned with your interests. You don't want to cast a wide net and have non-quality matches, right?
Again, you'll have to fill out your bio, which is a spectacular opportunity to say something that's important to you when dating online. You can also get witty with it and try to allure people with some charm.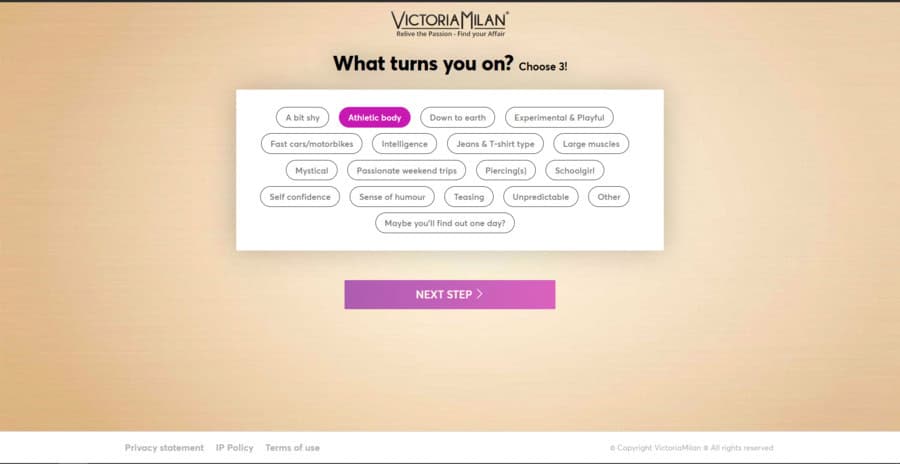 Usually, a profile will have:
Stats
Expect to see and share a little about stats like:
These stats are pretty important if you're really particular about who you want to date.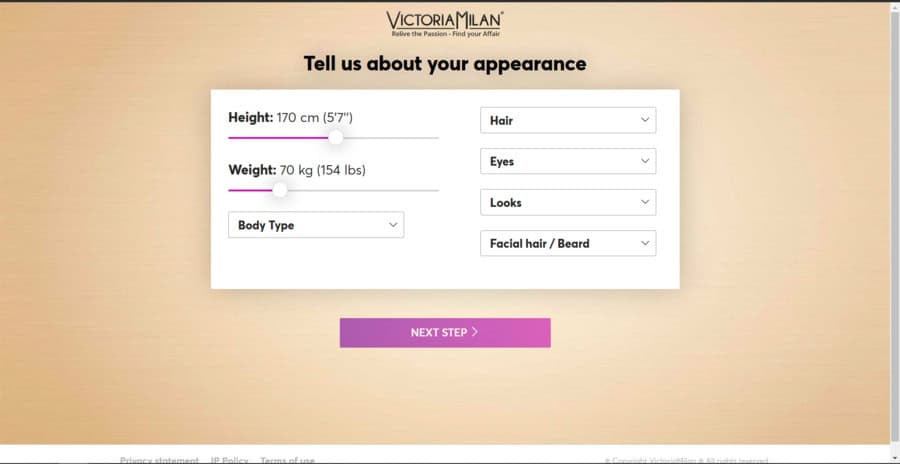 Pictures
Most Victoria Milan profiles have multiple photos, which is good to give you the assurance that you're talking to a real person. Nobody wants to get catfished anyway, eh?
And guess what? Not everyone has to see your photos.
If you want to cultivate an air of privacy, you can use the app's blur tool to blur out your face and only give full photo access to the people you wish.
Of course, you know that you should avoid group photos and family portraits if you can. You don't want to confuse potential dates.
Top Features on Victoria Milan Reviewed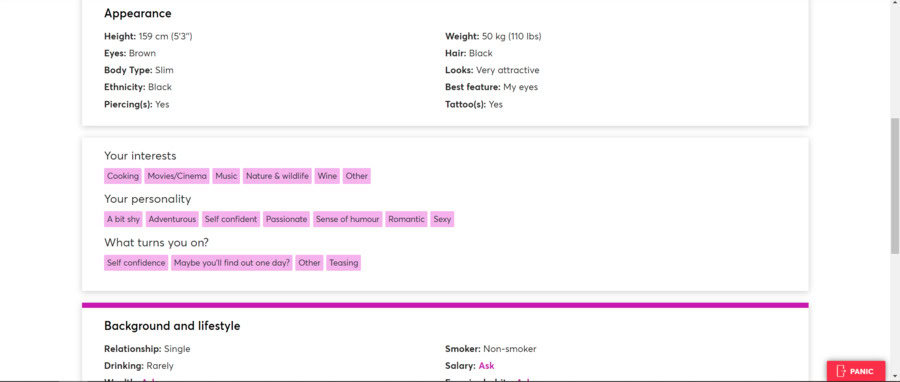 Private Galleries
Want to add the thrill of the unknown?
You can also create private photos to hide your pictures from the public and only show them to people you're getting to know better. 
These galleries also come with 'keys' that you can give to specific people.
Private galleries can be a good way to build a genuine connection if that's something you're after.
Navigating Victoria Milan Profiles
After activating your profile, you can check out other Victoria Milan members. 
Each profile hints at a user's vibe and personality, therefore you want to read a profile deeply before deciding if you want to go for them.
Often, you'll get a sneak peek into someone else's lifestyle, habits, and location just from their profile details.
However, note that the location shown on the app is the last one saved; therefore, don't be surprised if someone says they're someone else.
If you want your actual location to show, you should sync your GPS with your Victoria Milan app.
Interactions on Victoria Milan
Ready to start chatting up that person?
Victoria Milan has a lot of communication options.
Along with the usual live chat, you can send a flirtatious wink or like to show interest without having to write a full message.
Let's take a deeper look.
Likes and favorites
See a profile that floats your boat? You can click the 'heart' button and the profile you've liked will be saved to your favorites' collection.
Favorites are a smart way to bookmark profiles that you'd want to revisit easily.
Winks
You've dropped a sly wink at someone before, haven't you?
By sending a virtual wink, you can express interest with a cheeky charm. Winks are a brilliant way to initiate a playful exchange, taking off the pressure of sending a good first text.
Virtual Gifts
Is chivalry dead? Well, most probably not on Victoria Milan.
If you want to make a strong first impression and impress a potential date, you can send them a virtual gift.
Virtual gifts include flowers, shoes, just to mention some.
Introducing the Victoria Milan App
The Victoria Milan app offers a solid, complimentary mobile experience accessible on both App Store and Play Store.
The app has nearly all the features on the desktop site, with the benefit of on-the-go usage, making it more convenient for many users.
Only, Victoria Milan app's version has been glitchy to some people. Nevertheless, the app platform seems to have taken in user reviews and improved the app by a mile. 
Privacy and Security
Victoria Milan prioritizes privacy and security due to its nature as a site for secret relationships. 
Notable features include the face blur and panic button features.
Face blur allows facial blurring in photos to prevent easy identification. However, you should remain cautious about other identifying aspects in their profile if anonymity is what you seek.
The panic button swiftly redirects you to innocent-looking sites in case someone springs from nowhere and you don't want them to see your business.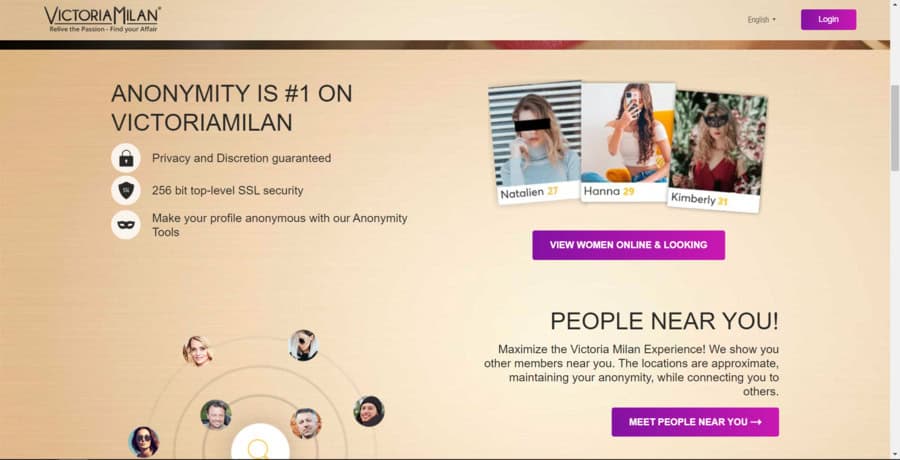 Using a private browser while accessing Victoria Milan is advised for enhanced privacy.
The site further employs security features like encryption to protect your app from unauthorized users and Amazon Web Services for data protection.
Additionally, the dating app's moderators review profiles and photos to ensure that no one is posing as someone they are not and to create a safer dating environment for everyone.
You'll also like that the customer service is fast, especially when dealing with reported profiles. 
When you put in a report or ask customer support for help, they'll respond fast to ensure you have a seamless time on the platform.
Victoria Milan's Free Features
You won't need to spend any money when joining Victoria Milan.
With a free profile, you can:
Register on the site
Create a profile
Check out some profiles
Look at global users
Adjust location filters
Access winks
Explore likes
Add profiles to favorites
As it stands, Victoria Milan has one of the widest capabilities for free accounts.
A basic account is good for getting a feel of the site and getting an inkling of how it works before deciding to explore a premium account.
However, you will not be able to send a message or receive one if you have a free account.
To interact and use the dating app's privacy features, you'll need an upgrade.
Victoria Milan's Premium Features
Victoria Milan's website premium subscription promises all the same features above and unlocks additional essential features. 
Above all is the messaging feature, allowing you unlimited chats with the people you have matched with. 
You can also comment on someone else's profile or pictures with a paid subscription.
Premium members can earn featured user status by maintaining updated profiles and appealing pictures.
By being a featured user, you get more views on your profiles which may feed into more likes, matches, conversations, and eventually dates.
Another premium perk is viewing profile visitors and their visit times. This seemingly minor feature provides insight into shy admirers or users keenly interested in your profile but hasn't shown it directly yet.
Frequent profile visits often signal genuine interest or a desire to know more about you, and you can use these insights to find people who are more ready to talk to you.
In sum, Victoria Milan's free features serve as some sort of trailer to the site, while the premium subscription offers enhanced interactions, visibility, and insights into potential connections.
Matching Tools on Victoria Milan
Navigating the matching system on Victoria Milan is straightforward. 
You'll connect with other users who align with your gender and orientation preferences while residing in your chosen country.
Matches are determined by the common interests you share with someone else.
Often, users you have the most similarity with will be displayed higher up in your date search.
Victoria Milan lets you have the freedom of choosing between casual relationships and long-term relationships.
It also focuses on digital/online connections, brief flings, and hookups, if you don't want to commit to anything serious.
You will notice that changing your search criteria is effortless to accommodate diverse preferences and online interactions.
The biggest plus of Victoria Milan is the flexibility of allowing you to pursue what you want and change your mind as much as you wish.
Victoria Milan Reviews of Alternative Dating Sites
Here are some alternative dating sites, similar to Victoria Milan, we've turned into a mini review for you. So you get 4 mini-reviews in this one Victoria Milan review, because I'm feeling generous 🙂 

Seeking.com focuses on fostering mutually beneficial relationships like luxury dating, companionship dating, or even mentorship.
This unique dating site centers around financial support exchanged for companionship.
Users seeking financial help and meaningful connections are drawn to this arrangement-based approach. 
The matching process involves negotiating terms, including financial expectations and lifestyle preferences. Like Victoria Milan, Seeking also has discreet communication options that cater to individuals who value discretion in their interactions.
While both dating sites emphasize user privacy and offer varying membership options, their core target audiences, and relationship dynamics differ. 
Victoria Milan appeals to attached members seeking excitement, affairs, and casual connections, often emphasizing anonymity.
Seeking targets individuals seeking financial support and meaningful connections within mutually agreed-upon arrangements.

Tawkify is a personalized matchmaking service focusing on curated connections and genuine relationships. 
This dating site offers a more traditional approach to online dating by utilizing professional matchmakers who select potential matches based on users' preferences, values, and compatibility.
Through careful curation and personalized attention, Tawkify aims to inspire meaningful and long-lasting connections. Its user base generally includes individuals seeking serious relationships and companionship.
The dating site leans towards personalized matchmaking for those seeking meaningful relationships, focusing on compatibility and shared values. Victoria Milan is geared towards individuals seeking short-term connections, affairs, and excitement, often valuing secrecy.

Ashley Madison is also renowned for extramarital affairs and discreet relationships. 
Similar to Victoria Milan, it targets individuals seeking secret connections outside their existing commitments.
The dating site gained attention for its emphasis on privacy and anonymity, offering features like discreet profile options and private photo sharing.
While Ashley Madison and Victoria Milan share similarities in targeting secretive relationships, they have distinct features and approaches. 
Read our full Ashley Madison review here.
Ashley Madison gained notoriety as one of the first platforms to focus on extramarital affairs, while Victoria Milan also caters to individuals seeking casual flings and short-term connections.
Ashley Madison may appeal to those looking for discreet affairs within committed partnerships. Victoria Milan is, however, more broad, suiting those in and those not in relationships.
Again, Victoria Milan also attracts a number of swingers while Ashley Madison mostly caters to sole attached people.

Elite Singles is one of the best dating sites for serious, long-term relationships. 
The online dating app emphasizes compatibility and shared values as the foundation for successful matches. 
The website employs a comprehensive personality assessment to match users based on their personalities, lifestyles, and relationship status.
When compared to Victoria Milan, Elite Single appears more structured, however it can be limiting for free-spirited people.
How so, you ask?
Elite Singles doesn't give much wiggle room for you to choose the relationship of your choice. Also, the app has a limited number of match suggestions in a day, which might not bring the best outcome if you want to maximize your online interaction.
Does the Victoria Milan Site Offer Value for Money?
Victoria Milan offers good value for its services compared to other platforms in the affairs and casual hookups niche. 
While it's not the most budget-friendly option, Victoria Milan cost is quite average. 
The paid subscription plans are categorized as follows;
Premium Gold

Platinum

Diamond
A premium account on Victoria Milan will start from $29.99 a month.
12 months – $29.99/m

6 months – $39.99/m

3 months – $49.99/m
Opting for longer plans can save costs. Longer subscriptions can save you as much as 50% on monthly costs.
However, starting with a shorter commitment or a free member account might be more suitable for those testing the waters. Just know that the messaging feature will be limited for free users.
It's important to note that subscribers should also cancel their paid subscription to avoid automatic renewal when the plan ends. 
To prevent charges, cancellations need to be made at least 7 days before the scheduled withdrawal from your Victoria Milan account.
Victoria Milan Review – FAQs
What is the process for verifying my Victoria Milan account?
You can verify your Victoria Milan account through your mobile number, Facebook, Google+, or Windows Live. 
Account verification demonstrates honesty and enhances the overall trustworthiness of the website for all its users.
Is Victoria Milan a safe site?
Yes, Victoria Milan is a safe site.
Victoria Milan promises a robust security infrastructure comprising 256-bit encryption and SSL Trust to ensure a discreet and secure user experience.
The platform's positive reviews also significantly outnumber negative reviews.
Is Victoria Milan a legitimate dating platform?
Yeah, Victoria Milan is a legitimate dating platform.
The site ensures email verification during the registration procedure. Moreover, Victoria Milan carries out profile checks to determine if you are a real person, minimizing the occurrence of fake profiles and accounts.
How can I deactivate my account?
To deactivate your account, access the 'Settings' option at the website's bottom right. Scroll down until you reach 'Deactivate Profile.' If you intend to delete your profile, select 'this form' and proceed to submit your deletion request by clicking 'Send Request.'
Victoria Milan Review – Final Thoughts

Unlike conventional dating platforms, Victoria Milan is beneficially diverse.
Whether it's regular dating, secret dating, extramarital relationships, casual hookups, or serious dating, you can go for whatever tickles your fancy. 
Although it seems like a young people's app, Victoria Milan also has all age groups, so don't fret that you won't find someone in your age range. Nevertheless, you might discover some interesting dynamics with older and even younger people too.
When starting out, a free account is good enough for finding your way on the site. After getting the hang of it, feel free to upgrade to a paid account for the most success and access to features.
Victoria Milan is undeniably a top discreet dating app, and you just need to know what you're looking for, and you'll have a glorious time on the app.
Now, I don't want to take much of your time, so here's a parting shot for our Victoria Milan review: Go and check out the app for yourself and have fun!