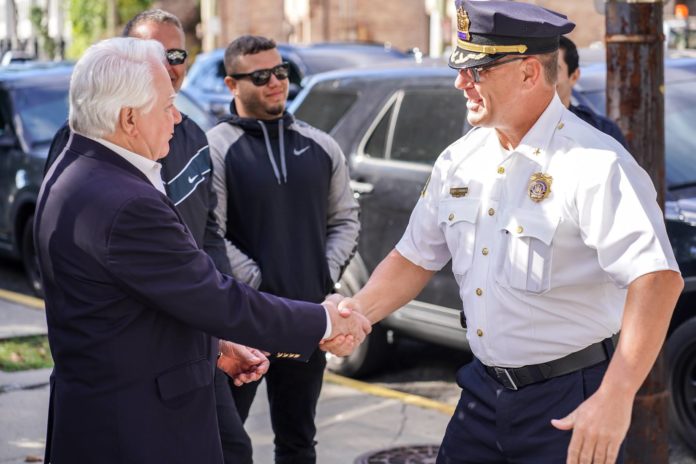 Weehawken Deputy Police Chief Jason Czornomor has retired after 28 years of service. Recently, the township held a ceremony to congratulate Czornomor on his law enforcement career.
Czornomor began his career In July 1994, when he joined the Weehawken Police Department as a patrol officer. He was eventually moved to the "Juvenile Bureau," remaining there until being promoted to Sergeant in May 2003.
The remainder of Czornomor's career was spent working for the Quality-of-Life Squad, which is the unit of policing that focuses on community-oriented policing. He then attained the ranks of Lieutenant in March 2009, Captain in May 2016, and Deputy Chief in October 2021.
Following Czornomor's promotion to the position of Deputy Chief, he was given the added responsibility of Patrol Commander. With that, he managed the patrol division, which also included all Traffic Control Officers, and the Motorcycle Squad, of which he was a member throughout his entire career.
In a joint statement on October 1 by Mayor Richard Turner, Councilman At-Large Robert Sosa, First Ward Councilwoman Carmela Silvestri-Ehret, Second Ward Councilwoman Rosemary Lavagnino, Third Ward Councilman David Curtis, and Township Manager Giovanni Ahmad, they acknowledged that Czornomor served the Weehawken Police Department with dedication for 28 years and they thanked him for that.
"His leadership of the Weehawken Police Department and the Township has benefited our department and the residents of Weehawken," the statement said. "On behalf of the residents of Weehawken, we appreciate your service and wish you well in your retirement; we shall miss your service to the community."
For updates on this and other stories, check www.hudsonreporter.com and follow us on Twitter @hudson_reporter. Daniel Israel can be reached at disrael@hudsonreporter.com.