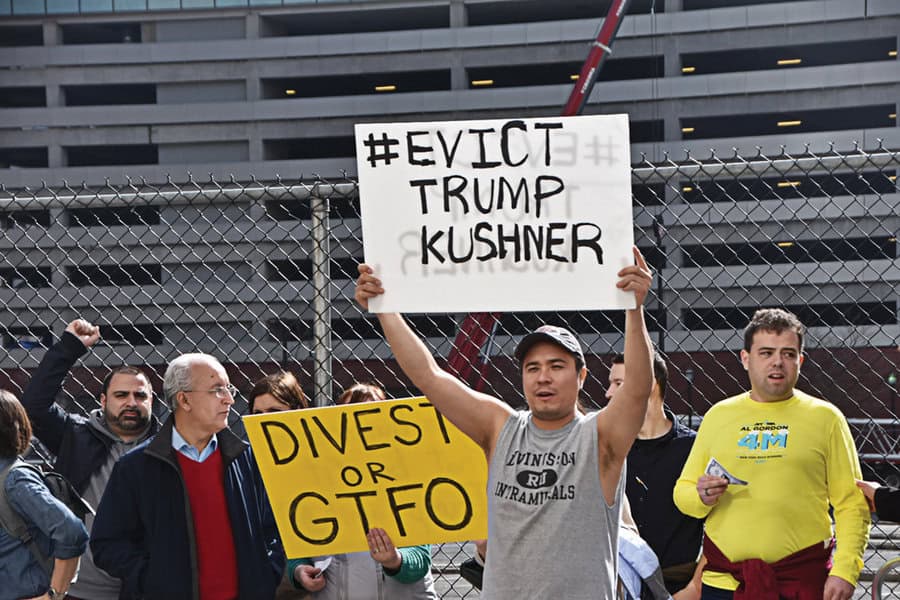 'Five Finger Discount' comes to TV
Based on Helene Stapinski's blockbuster memoir "Five-Finger Discount: A Crooked Family History," the long-form documentary "Five Finger Discount" airs on Channel Thirteen PBS at 9 p.m. on Monday, March 6. The film brings to life Helene's saga of growing up in Jersey City in a family nearly overrun with crooks, petty criminals, corrupt politicians, mobster wannabes and murderers.
Narrated by Stapinski herself, and including new material from her life today, "Five Finger Discount" takes the viewer inside one woman's struggle to confront her family legacy, leave it behind her and become a writer, without losing who she is and the people she loves.
Everybody will be Irish
Jersey City will hold its annual St. Patrick's Day Parade on Sunday, March 12, starting from Lincoln Park at 12:30 p.m. and finishing at Journal Square. The parade is sponsored by The Jersey City St. Patrick's Day Parade Committee.
The annual awards dinner will be held at the Casino in the Park in Lincoln Park on Friday, March 10 at 6 p.m.
Being specially honored this year is Cardinal Joseph Tobin, newly named archbishop for the Archdiocese of Newark.
The list of honorees this year include Grand Marshal Dr. Glen Gabert, Hudson County Community College; Irishman of the Year Robert Caulfield, Fields Development Group; Irishwoman of the Year Nora O'Rourke, Liberty Realty; and Irish Firefighter, Battalion Chief Richard Gorman.
Also honored will be Irish Police Officer Lt. Patrick Sullivan; Irish Paramedic Michael Very, JC Medical Center RWJ/Barnabas Health; Irish Educator Kathleen Carroll Kopacz; Honorary Irishwoman Leah Blesoff-Woodcock of The Hutton Bar & Grill; Honorary Irishman of the Year Brett Michael Bacek, Posthumously, and as Miss Colleen, Katherine Mary Boyle, Hudson Catholic High School.
For further information contact Maureen Hulings, Parade Chairwoman, at  mhulings@connellfoley.com
Shattering Muslim stereotypes: 'Dirty Paki Lingerie' gets N.J. premiere
"Dirty Paki Lingerie" by Aizzah Fatima, a one-woman show about Muslim life in America that has toured overseas and throughout the U.S., makes its New Jersey premiere as part of Borderless, the ongoing series about the repercussions of 21st Century globalization, presented by Jersey City Theater Center (JCTC).
"Dirty Paki Lingerie" explores the lives of six Pakistani-American women as they struggle to negotiate their identities in post-9/11 America. Fatima's play delves into how immigrants negotiate the cultural clash between the traditional and the contemporary while also shattering preconceptions about Muslim life by showing the real lives of women rarely depicted on the stage.
Borderless – the new series by JCTC that runs through March – brings a diverse array of new and emerging voices to audiences with a comprehensive range of art, theatre, readings and performances.
"Dirty Paki Lingerie" is presented by Jersey City Theater Center (JCTC) on Saturday March 11 at 7:30 p.m. at Merseles Studios, 339 Newark Ave., Jersey City. Doors open at 7 p.m. Tickets are $25. To purchase tickets, visit: jctcenter.org
Hudson County launches 'Million Dollar Challenge' to help small businesses
The Hudson County Economic Development Corporation announced the launch of "The Million Dollar Challenge," a new small business lending initiative aimed at increasing access to capital for the county's business owners and entrepreneurs.
Working in partnership with UCEDC, a nonprofit small business lender and training organization, the Hudson EDC is committed to bringing $1 million of fairly priced capital to viable start-ups and growing small businesses that would otherwise be denied conventional lending. Financing will be provided by UCEDC through its SBA loan products.
"Access to capital is the lifeblood of small businesses, but too often, hard-working business owners and entrepreneurs can't get the financing they need," says Thomas DeGise, Hudson County Executive. "We want to give Hudson County's small businesses a fair chance to start, grow and thrive and I'm pleased to see that the Hudson EDC has taken on this challenge with such an innovative response."
Loans from $5,000 to $5 million will be made available to start-up and established businesses throughout Hudson County. Hudson EDC and UCEDC staff will work with strategic partners such as business/professional associations, chambers, business incubators, and other public and private entities to promote the program and assist businesses in applying.
"The Million Dollar Challenge is all about helping businesses of all sizes and types get a fair chance to succeed," says Michelle Richardson, Hudson EDC Executive Director. "It doesn't matter if you're a sole proprietor working from home or the owner of a generations-old manufacturing business  – you are a vital part of our economy and community."
Small business owners and entrepreneurs can learn more about The Million Dollar Challenge by visiting the Hudson EDC website at www.hudsonedc.org .
St. Dominic swimmer keeps breaking records
 Danielle Prekop of Jersey City had a great day on Monday at the Hudson County Swimming Championship finals.
The Saint Dominic Academy sophomore broke two county records in the 200 yard Freestyle with a time of 1:55.34, and the 200 yard Individual Medley with a time of 2:07.28, and helped her 200 medley relay and 400 free relay teams mates to second place finishes.
In addition to representing Saint Dominic's, Prekop trains with the Scarlet Aquatic Club year round, a group that includes many of the state's best swimmers.
She will forgo the High School Meet of Champions to compete at the Arena Pro Swim Series in Indianapolis. The Arena Pro Swim Series will offer challenging competition with the country's best rising age group swimmers, college swimmers and professionals.
At the end of the March, Prekop will compete at the Speedo Sectionals, a regional championship held in Indiana.
Prekop has further qualified to represent TEAM USA in the 2017 International Maccabi Games in Israel this summer. This event is the third largest sporting event in the world held every 4 years.
A discussion about diversity
Greenville Branch Library is hosting a community discussion about the racial disparity in New Jersey's juvenile justice system. Andrea McChristian, who is associate counsel at the NJ Institute for Social Justice and the primary author of a recent report outlining this disparity ("Bring Our Children Home: Ain't I a Child."). McChristian will be joined by NJISJ Juvenile Justice Campaign manager Retha Onitiri, as well as local Jersey City community organizer Amy Albert. Albert is the founder and chair of Jersey City's Haven Adolescent Community Respite Center, which is a diversionary program that helps young people at risk of entering the formal judicial and penal systems.
The event will be held on March 7 at 6 p.m. in the Greenville Branch Library, 1841 Kennedy Blvd. in Jersey City. All are welcome at this free event; light refreshments will be provided.
The Greenville Branch Library is wheelchair-accessible.
Hudson County CASA is seeking volunteers
Learn how to become a CASA (Court Appointed Special Advocate) volunteer and help foster children find safe and permanent homes. You may attend an information session at the Hudson County Courthouse, 595 Newark Ave. Rm. 901 on Tuesday, March 7 at 6:30 p.m.
Hudson County Court Appointed Special Advocates (CASA) is a non-profit organization committed to advocating for the best interests of abused and neglected children. CASA works through trained community volunteers to ensure that needed services and assistance are made available to children while helping to move them toward safe and permanent homes. Hudson County CASA volunteers are everyday people who make a direct impact in foster children's lives. They are trusted, dedicated adults who seek to improve children's well-being. CASA volunteers get to know their assigned child and his or her circumstances and provide valuable information to the court. Judges rely on the volunteers' recommendations to make the best decisions about the children's futures. 
For further information, visit www.hudsoncountycasa.org.