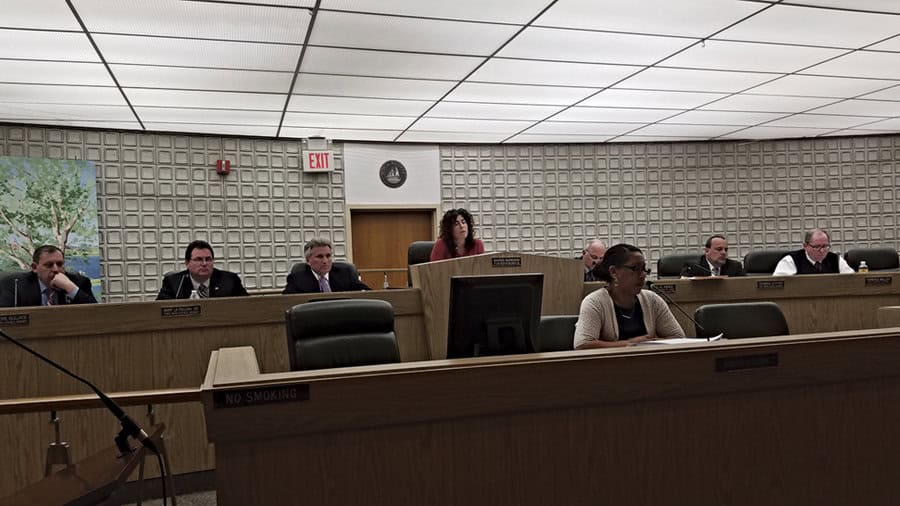 The Bayonne City Council decided to change the city's animal control contract from NJ Animal Control and Rescue (NJACR) to Liberty Humane Society (LHS) at an April 18 meeting. NJACR, which has been contracted by the city since November of 2014, will continue providing animal control services until the LHS contract starts on May 15. LHS will take over the responsibility of responding to animal control calls and sheltering those animals at its Jersey City shelter at a cost of $7,075 per month. The city also plans to train four police officers to respond to animal control calls.
The city issued a request for proposals for animal control services in late summer of 2017 that dictates a two-year, $90,000 maximum animal control contract, with the Jersey City-based LHSoutbidding NJACR in September.
NJACR faulted
NJACR has been the brunt of criticism lately after the North Bergen Housing Authority fired Director of Security and owner of NJACR, Geoffrey Santini, who had been accused in an NBC News investigative report of spending most of his time on his animal control business and little time at his federally funded full-time public housing job.
After the report, NJACR lost its contractwith the town of Garfield, and now Bayonne. West New York may also consider replacing NJACR after issuing a request for proposals for animal control services last month.
Some have complained that NJACR could not provide information that tracks and documents every step of the animal control process and share that information with the public. Legally, animal control providers are not required to provide much more than what call was made, what kind of call, and when it was responded to.
Residents who came to the April 18 meeting in protest of NJACR questioned whether the company followed proper animal control procedures, voiced displeasure with response times, and criticized the council for not severing the contract earlier.
Bayonne City Council President Sharon Ashe-Nadrowski said that the city would have chosen to have LHS take over as of May 1, but the shelter was not immediately prepared. Some residents voiced displeasure with NJACR continuing work through mid-May due to the NBC report about the owner of NJACR allegedly receiving a political patronage job in North Bergen.
"His workers are not the ones that are under investigation," said Ashe-Nadrowski. "Those workers are doing their jobs and are still providing their services to Bayonne."
_____________
Animal control is a long-term problem. It's a head, heart, and wallet type of thing. You have to be committed to it and spend on it." — City Law Director John Coffey III
____________
Feral cats and wild animals
Dozens of Bayonne residents came to city hall in September for a certification course in trapping, neutering, and spaying feral cats. Bayonne Health Officer Vinnie Revelli told the group, "There's a feral cat problem in Bayonne. We all know that." Feral cats live in communities, and the best animal control measures to take, according to Revelli, are to control the population by spaying and neutering them but not removing them from their familiar environments. That's why when it comes to stray animals, the limited shelter space is mostly reserved for dogs waiting for homes with human families.
When wildlife poses a risk to people, those animals are generally removed and relocated or euthanized. But many residents prefer that animal control providers euthanize as few animals as possible.
The core of the wildlife issue, though, has a lot to do with trash disposal. Wildlife become problematic when they rely on people for food, and continually return to problem places like driveways, backyards, side yards, or sidewalks.
"If you're creating an environment that provides food, shelter, and safety, you're going to have wild animals that live there," said LHS Executive Director Irene Borngraeber. "Our job as urban dwellers is to make our environments inhospitable [for unwanted animals]."She urges residents to be careful about leaving garbage out. She cites a garbage disposal system that does not account for wildlife as a major factor in creating animal nuisance problems. She advocates instead using locked garbage cans that can't be opened by raccoons and other wildlife.
Three-pronged mission
Animal control providers help address three problems: stray pets, wildlife, and injured or trapped animals.
Many residents care deeply for the welfare of animals that live in the city and want to be assured that animals are sheltered and/or relocated. Disagreements among residents arise over which animals should be removed, whether animals should be removed at all, and how to care for them when they are removed. Some residents simply want the raccoon out of their yards and away from where their children play.
To best ensure animal welfare, many residents call for a shelter to be constructed in Bayonne. Since the early 1990s, residents and city officials have been discussing the prospect, but it has never come to fruition. The idea is raised at virtually every council meeting that addresses the animal control issue. The cost of building a shelter is usually blamed for inaction.
"Animal control is a long-term problem,"said City Law Director John Coffey III. "It's a head, heart, and wallet type of thing. You have to be committed to it and spend on it." He said the problem has "no simple fix." Building a shelter, he said, "would probably be a public-private partnership endeavor. But to date, it hasn't risen to that level for the City of Bayonne."
Rory Pasquariello can be reached at roryp@hudsonreporter.com.