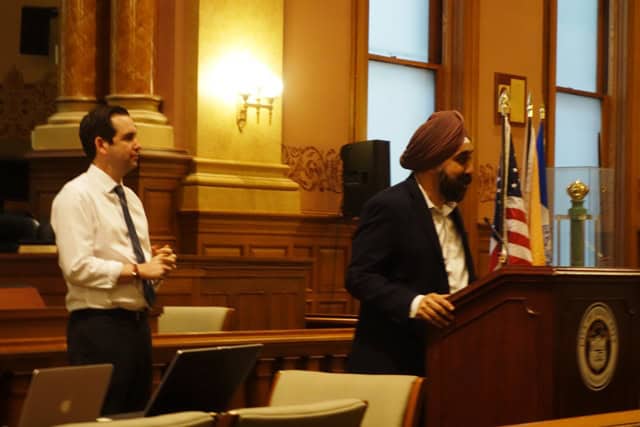 As coastal cities like Jersey City and Hoboken face an imminent threat of flooding due to climate change, environmental activists from around Hudson County, the state, and region, joined officials at a town hall meeting on April 17 to talk about strategies for dealing with it.
Hoboken Mayor Ravi Bhalla joined Jersey City Mayor Steven Fulop in announcing green initiatives for their cities.
Fulop praised Hoboken's "Rebuild by Design" program that will create a barrier against future flooding and the tidal surges that occurred during Superstorm Sandy in 2012. The project also would help protect portions of Jersey City.
Historic storms have been pelting the coast of New Jersey for more than a century as attested to by a super storm that hit here in 1956 and a storm that flooded Hoboken and the PATH system in 1992.
Bhalla said that 80 percent of Hoboken was flooded as a result of Sandy, and that the project is funded by sources other than local taxpayers.
He called climate change the great issue of modern times, and said local municipalities must be more aggressive because the federal government refuses to see it as an issue.
Hoboken, he said, is the first city in the state to operate on 100 percent renewable sources of energy.
"I think we're ahead of Jersey City in enacting a ban of disposable plastic bags," Bhalla joked, also noting the bike sharing and e-scooter programs designed to reduce the carbon footprint. "Mayor Fulop and I often share ideas."
Fulop weighs in 
Fulop said Jersey City is as vulnerable to flooding as Hoboken, especially downtown, which is largely built on landfill.
Jersey City has a number of green initiatives, such as a fleet of electric vehicles, charging stations, and an aggressive environmental committee.
Jersey City, Fulop said, is under a mandate to deal with its combined sewerage system, which is a $10 million project.
He said the big challenge for Jersey City is how to integrate green into infrastructure, not just for the next five or 10 years, but for the next 50.
New Green Deal promoted
Meeting participants largely supported the controversial New Green Deal, proposed by New York Rep. Alexandria Ocasio-Cortez.
The event, which drew hundreds of advocates, strongly endorsed the concept that man-made CO2 emissions from industrial and other sources are causing the polar ice caps and Greenland glaciers to melt, resulting in a rise in sea levels.
The theories that back the New Green Deal blame rising CO2 levels, many manufactured by human activity, for an increase in the temperatures of the planet and contribute to the melting of the ice caps and in particular the melting of glaciers in Greenland. Many believe this melting will dramatically increase ocean water levels and will eventually overwhelm low-lying coast cities like Hoboken and Jersey City.
Members of the panel included Phillip Orton, a research professor at Stevens Institute of Technology and a contributing author to the Intergovernmental Panel on Climate Change's (IPCC) six assessment report. This document seems to support the theory that CO2 emissions impact climate change.
But Orton cautioned advocates that solar and wind power would not be enough to accommodate the power needs of the community.
"We might have to keep our nuclear options open," he said.
Matt Smith from the Jersey City Environmental Commission cited growing evidence of human impact on the environment, and quoted two reports, one from the United Nations Commission on Climate Change and another from the United State Naval Academy Climate Change Assessment.
Worldwide concern
These reports are the basis of the Paris Agreement that President Barack Obama signed in 2015. President Donald Trump withdrew the United States from the agreement.
The reports, updated several times, have become the blueprint for the Green New Deal, a set of proposals that deal with what many consider to be a national, and global,  emergency.
While there were no critics of the New Green Deal on the panel, global warming as a human-induced problem has come under scrutiny by a number of scientists.
Orton said that human-created global warming did not create Superstorm Sandy, but he did claim that it made the water levels higher.
Anti-flooding precautions taken in Hoboken and Jersey City may not be wasted, since both cities have built residential development in what are already known as traditional flood zones.
For updates on this and other stories check hudsonreporter.com and follow us on Twitter @hudson_reporter. Al Sullivan can be reached at asullivan@hudsonreporter.com