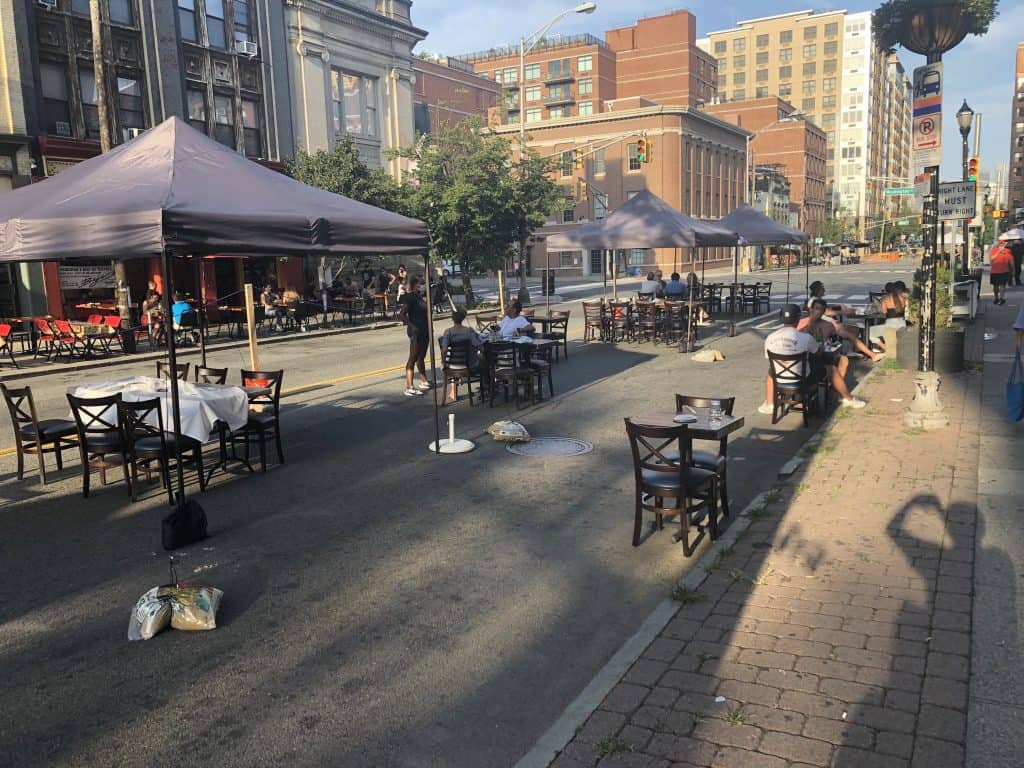 Next year, the Hoboken Business Alliance will continue to launch initiatives to help the local business community, now that the City Council has adopted the roughly $1.37 million 2021 operating budget for the citywide Special Improvement District.
The money to fund the budget will be collected through an assessment paid by the property owners of commercial or mixed-use developments, as well as rental buildings with five or more units.
The assessment is billed and collected by the municipal government and disbursed by the SID management corporation and the Hoboken Business Alliance (HBA), which delivers the district's supplemental services, such as marketing plans or additional trash removal. Failure to pay would result in a property lien.
The assessment will vary from year to year, based on the district's goals for the year, the services rendered in a specific area, where the property is located, and the yearly budget.
Next year's allocations
This year's assessment rate remains the same as last year. But the overall budget has increased due to several items that were not delivered because the pandemic created an anticipated carryover into the 2021 budget.
The HBA will have roughly $1.67 million, including roughly $300,000 anticipated from the previous year's budget, according to council documents.
According to the budget, the majority of funds, roughly 42 percent, will be spent on visual improvements like plantings, street furniture, seasonal decorations, and supplementary cleaning.
Twenty-eight percent will be spent on marketing, including branding, advertising, and public relations, with an increased media focus for all commercial types.
Roughly 24 percent of the funds will be spent on business attraction, including retail promotions, events, and parking and transportation.
Only six percent of the budget will go to managing the SID and the HBA's administration, including rent, accounting, equipment and supplies, and legal services.
An unforeseen emergency
In its first year of existence, the Hoboken Business Alliance tackled the unforeseen, as businesses large and small grappled with the COVID-19 pandemic.
To help ease the economic burdens of the health emergency, the HBA swung into action working with the city to establish streateries and parklets, open streets, Summer streets, and other initiatives to help businesses increase capacity safely outdoors.
The HBA funded some 36 of the streateries.
Other initiatives to help attract business included a 40 percent discount gift card program to support retailers as well as a food crawl of 52 participating eateries and a six-day sidewalk sale with 27 retailers.
The HBA sponsored cleaning services along Washington Street and the Terminal District, including sweeping, graffiti and weed removal, and power washing.
It installed 91 hanging flower baskets, pruned 115 trees, removed dead trees, created new tree pits, planted 29 new trees, wrapped 10 utility boxes depicting Hoboken's history, and installed holiday lighting, including 35 new lighted pole decorations, among other visual improvements.
The HBA also focused on marketing in its first year, creating Here for Hoboken flags and video, the Here In Hoboken campaign, the #GoBoken social media campaign, and worked with the city on the Economic Recovery Task Force, and a new website with COVID resources for businesses.
Several business owners old and new thanked the HBA for its hard work in its first year of operation at the most recent city council meeting, noting the HBA was needed more than ever due to the COVID-19 pandemic
Sam Belfer, co-owner of Brooke+Bel at 60 Fourth St. said opening her new business during the pandemic was "really really difficult" but would have been harder without the HBA.
"When we came into the community we were really welcomed by them," she said, noting that they introduced her to other small business owners and female business owners in town.
"They did a number of programs to support us during these times," she said, highlighting the recent window decorating contest and gift card incentive programs.
"They've been such a support to us," she said.
"It is great to have resources for my business and someone to bounce ideas off of," said Adam Smith of Lokel Group. "This goes without saying, but now more than ever businesses need support."
Pratik Patel, a loan officer at BCB Bank and owner of Ottomanelli's Liquors on Fourth and Monroe streets, said the HBA is vital.
"Small businesses need as much support as possible," he said. "As a current business owner, I've exhausted most of my savings into just staying alive and making sure our guys are getting paid."
To learn more about the HBA go to www.hobokenbusinessalliance.com
For updates on this and other stories check www.hudsonreporter.com and follow us on Twitter @hudson_reporter. Marilyn Baer can be reached at Marilynb@hudsonreporter.com.