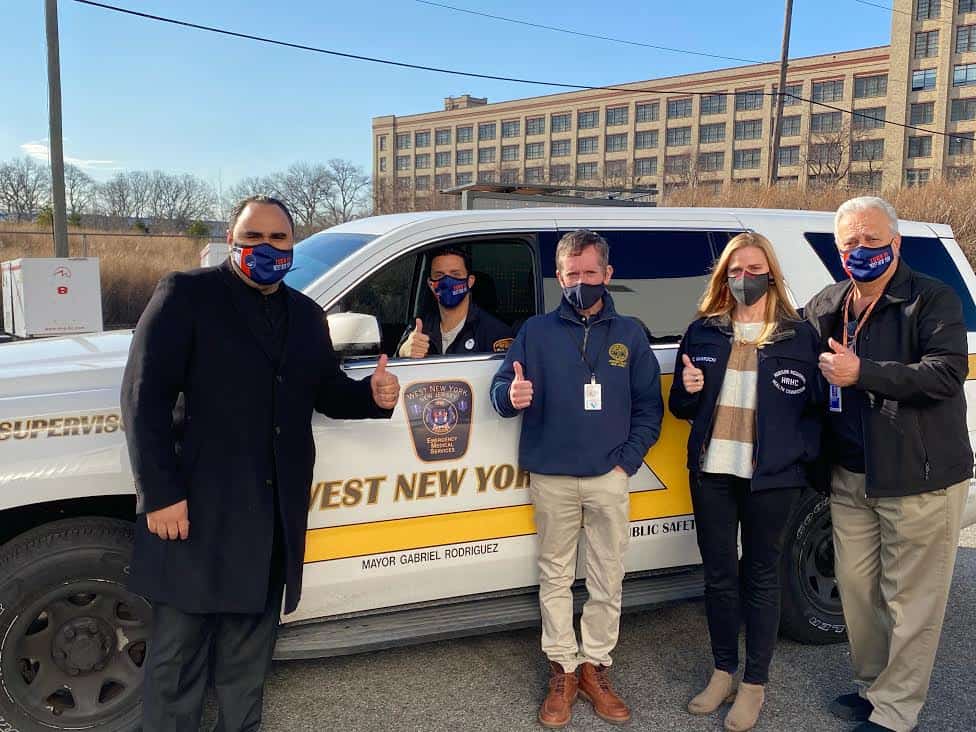 COVID-19 vaccines are being distributed across North Hudson, most recently in Secaucus and West New York.
Sleeves up in Secaucus
Secaucus began administering COVID-19 vaccines at its municipal Vaccination Point of Distribution (POD) on Dec. 30. A very limited batch of Moderna vaccines were administered to healthcare workers and emergency personnel working at the town's Vaccination POD, a trailer and heated tent outside the Recreation Center.
Alongside North Bergen and a joint venture between Union City and Weehawken, Secaucus is among the first municipalities in the state to open a municipal vaccination distribution center.
Secaucus Police Chief Dennis Miller was the first to get the vaccine at the site, administered by Secaucus High School nurse Kathy Gerbasio. Gerbasio was the first frontline healthcare worker to receive the vaccine at the county vaccine distribution center in Kearny.
The POD will soon grow into a fully active site providing vaccines to the Secaucus community. Details of the schedule and number of vaccines the town will receive are still not clear.
Also in Secaucus, Hudson Regional Hospital began distributing the Moderna vaccine to frontline employees on Dec. 22.
Local distribution
"I am very happy that we could get the Vaccination POD set up in town," said Secaucus Mayor Michael Gonnelli. "Our goal is to have this vaccine easily available to our residents, and the POD does it. I can't wait for more vaccine shipments, so our residents can continue to be safe and healthy."
While waiting for additional vaccines to be shipped to the site, Gonnelli and the Town Council, Department of Health, Administration, Police and Emergency Personnel are working closely to ensure smooth operation of the POD.
A registration process will be available to all residents soon, according to the town. Based on CDC and Department of Health and Human Services guidelines, the registration system will determine eligibility for the vaccine.
Because every vaccine must be accounted for, everyone will have to go through the registration system, which ensures vaccines are given only to those who are eligible based on these phased guidelines.
Vaccines will be given by appointment only. No walk-ins are allowed. For the latest updates on the Secaucus Vaccination POD, visit www.secaucsunj.gov/virus.
WNY frontline workers vaccinated
West New York Mayor Gabriel Rodriguez and the Board of Commissioners announced the first administration of the COVID-19 vaccine for healthcare workers and EMTs on Dec. 28. Frontline healthcare workers from WNY now have an opportunity to receive the Moderna vaccine.
"Administering this vaccine marks a milestone in the fight against this horrible virus," Rodriguez said. "As we enter a new year we must continue to do our part by masking up and socially distancing. Once vaccines become available to the general public, we urge everyone to get vaccinated."
Once healthcare workers have been vaccinated, West New York will offer vaccines to first responders and essential employees and continue through each category until vaccines are administered to any resident who wants to receive the vaccine.
Phase 1 is for frontline workers and at-risk residents. Phase 1A includes hospital workers, paramedics, and long-term acute care workers and residents. Phase 1B includes office-based medical practices, police officers, firefighters, and vulnerable members of the community. Phase 1C includes all other essential workers.
Under Phase 2, all people 18 and older who have not yet been vaccinated will receive the vaccine.
For updates on this and other stories, check www.hudsonreporter.com and follow us on Twitter @hudson_reporter. Daniel Israel can be reached at disrael@hudsonreporter.com.