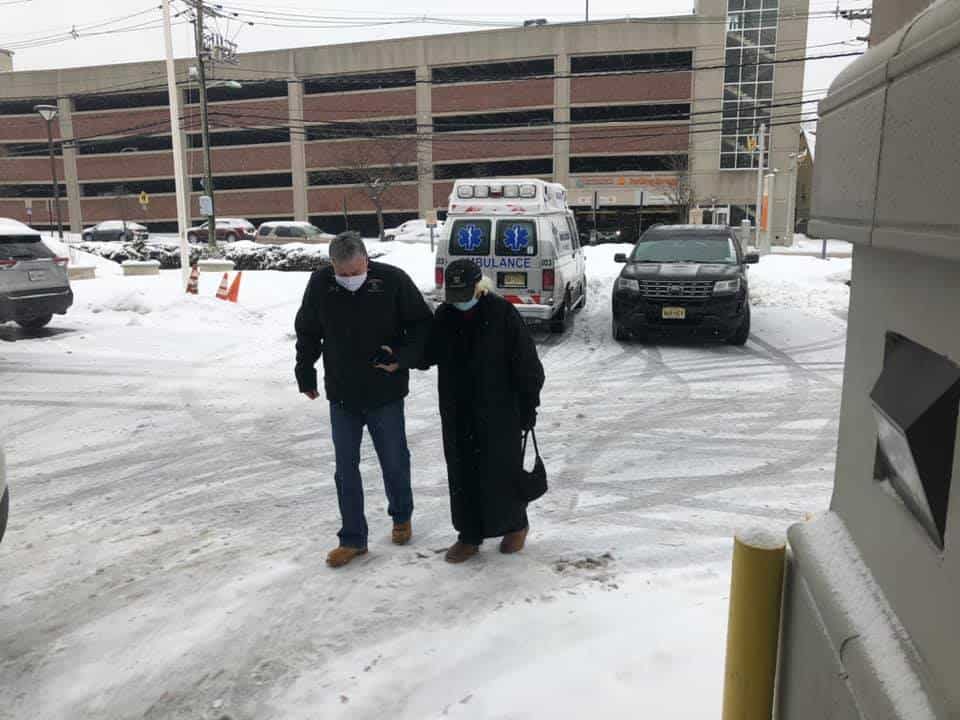 "The vaccination of the community remains my top priority," Bayonne Mayor James Davis said. He's been working for several weeks to increase the supply, noting the city soon will receive a "modest" one.
Davis and fellow city officials helped residents get to their COVID-19 vaccine appointments during Winter Storm Viola on Feb. 18. The city has been shuttling residents to get vaccinated at Bayonne Medical Center (BMC) amid inclement weather and on holidays.
"This morning I was told a group of residents were scheduled, however were unable to navigate their way to Bayonne Medical Center due to the inclement weather," Davis said amid the snowstorm. "Members of my team and myself made sure these neighbors got their second shot today! No vaccine will be wasted in Bayonne!"
Deleted: Davis said that since dosage allotments haven't been great for Bayonne, its important that the city not waste a single dose.
"My team and I will do whatever is needed to ensure every vaccine gets in an arm," Davis said.
Sleeves rolled up
"Although the flood gates have not opened up with the vaccine, Bayonne has been receiving a steady dosage allotment," Davis said. Hundreds of residents are vaccinated each week.
The first doses of the Moderna vaccine were distributed to hospital personnel at BMC on Dec. 22. Since then, more than 5,000 residents have received their first doses.
Thousands of residents have also been vaccinated at the Hudson County Vaccine Distribution Center in Kearny.
"County Executive Tom DeGise has done an incredible job leading the county site, and Bayonne has been a fortunate recipient of their help," Davis said. "My message to you has remained constant: please be patient."
There are thousands of eligible residents in Bayonne that qualify for the vaccine, so scheduling and vaccinating those who qualify will take time, Davis said.
"There are many people working feverishly behind the scenes to call, screen, schedule and vaccinate each resident who has reached out to us," Davis said. "The people doing this work are heroes. They have been working nonstop for our community, and I am so proud of each one of them."
Register now
Currently, those eligible include healthcare personnel, first responders, and those at high risk, which includes those 65 and older and those between ages 16 and 64 with medical conditions.
To register for a vaccination in the city, call 201-858-6088 or email bayvax@baynj.org. Leave a message with a name, date of birth, and contact. The vaccine hotline is available weekdays between 8 a.m. and 5 p.m.
When vaccines are available, the city will reach out to registered residents to schedule an appointment. Do not call or e-mail the city multiple times about registering because it hampers vaccination efforts. The city is experiencing delays due to people calling and leaving voicemails more than once.
"Please be patient as you await a call for the an appointment for the vaccine," Davis said. "I promise you, you will get the call."
The uptown Rite Aid at the corner of Broadway and West 54th Street is administering vaccines. To register, go to covidvaccine.nj.gov.
To register at the Hudson County Vaccination Distribution Center, go to hudsoncovidvax.org. Residents can also register at one of the state's vaccination mega-sites at covidvaccine.nj.gov.
Residents must get their second doses at the same location where they received their first.
For updates on this and other stories, check www.hudsonreporter.com and follow us on Twitter @hudson_reporter. Daniel Israel can be reached at disrael@hudsonreporter.com.