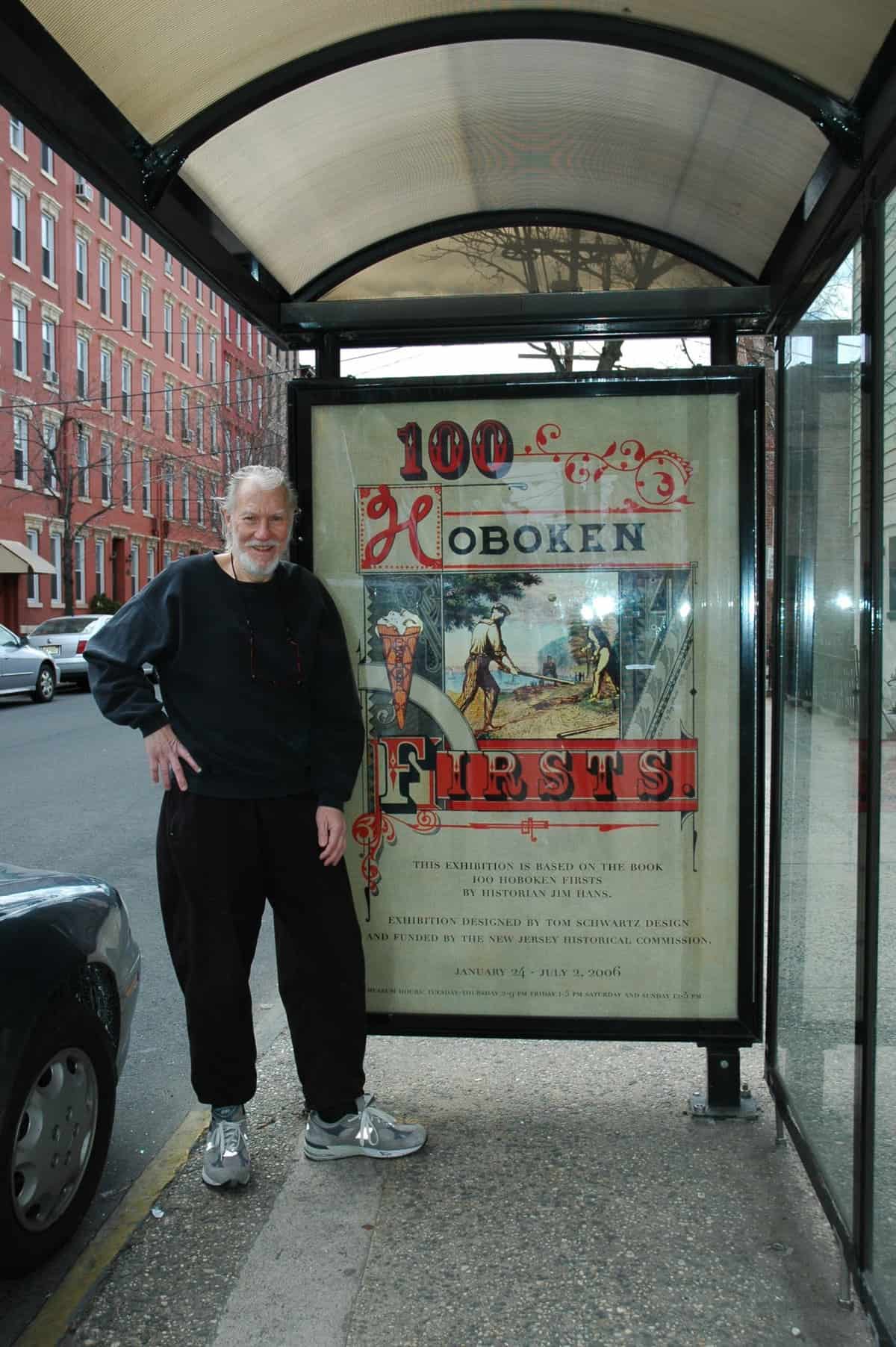 Jim Hans captivated the hearts of many in Hoboken, as an artist, business owner, and co-founder of the Hoboken Historical Museum. Those closest to him recalled his life with happiness and affection after he passed away last week.
Hans was born in Seattle and grew up in Los Angeles where he studied art history and later on moved to New York City in 1959 where he attended the New School for Social Research.
Hans' interests in art drew him into portrait painting, and he picked up on pop art and later on started drawing comic strips inspired by Buck Rogers. On a recent Friday evening, surrounded by vintage Jazz music from the 20's, The Hudson Reporter gathered with Jim Hans' relatives and loved ones on Third Street, to listen in on some of the memories left behind by Jim.
Jim and his wife, Beverly Hans were married in November of 1966, and they opened up an antique shop on Newark Street called "The Hoboken Calendar Shop of Current Event," described in a previous interview with the Hudson Reporter in 2006.
As musical scores of British Jazz bands played throughout the evening, many laughed as they recalled Hans' eccentric self, his wife told this reporter that her husband carried with him "this type of come as you are" personality, and brought people together.
"Once he gets into it, he just does it," she said, describing some of the nights where her husband would be working on comic strips next to her in their bedroom. Others who were there described Hans as a "benevolent soul" who was always coming up with creative ideas and would freely gift his artwork to those around him.
"Jim just had a way of doing things," said Gene Turonis, who had known Hans for over 30 years when they met at a Hoboken antique store around 1971. The times he would visit Hans' house he said "many people would just come and pass through into a very joyous space." Many at Hans' home said he was attentive to those around him and "crisp in his imagination," as a close friend said.

He was the author of "100 Hoboken Firsts," and a contributor to several publications including Changes and The Hoboken Reporter. He was also the co-founder and publisher of the Hoboken Herald and the Time Machine Magazine (where Gene Turonis is drawn at the front page No. 12 edition of the Time Machine Magazine). He was the co-founder of the Hoboken Historical Museum 37 years ago, and was 87 when he passed away. 
Bill Kadish met Hans in their early 20's and characterized their youth together as "young bohemian types," and said Jim was an artist and a man who carried many interests, and was always down for a good time.
"This was a man who you could simply just talk about life with, over his porch, and he would just level with you," said Kadish as he sipped a Fanta Soda, one of Hans' favorite cold drinks.
"We thought Hoboken was the perfect place for those who deviate from the norm," Hans wrote in his book titled "100 Hoboken Firsts," moving here with his wife at a time where people were moving out of the Mile Square City. He dedicated the book to his only daughter Polly Hans, who said that her father paid attention to the things that were bright and positive. "He just had this glow about him that was so infectious when you met him."
"There's the right way, the wrong way, and the Hoboken way," but there is also Jim Hans way, who passed away laughing, as those who were beside his deathbed described it.
For updates on this and other stories, check www.hudsonreporter.com and follow us on Twitter @hudson_reporter. Jordan Coll can be reached at jcoll@hudsonreporter.com.