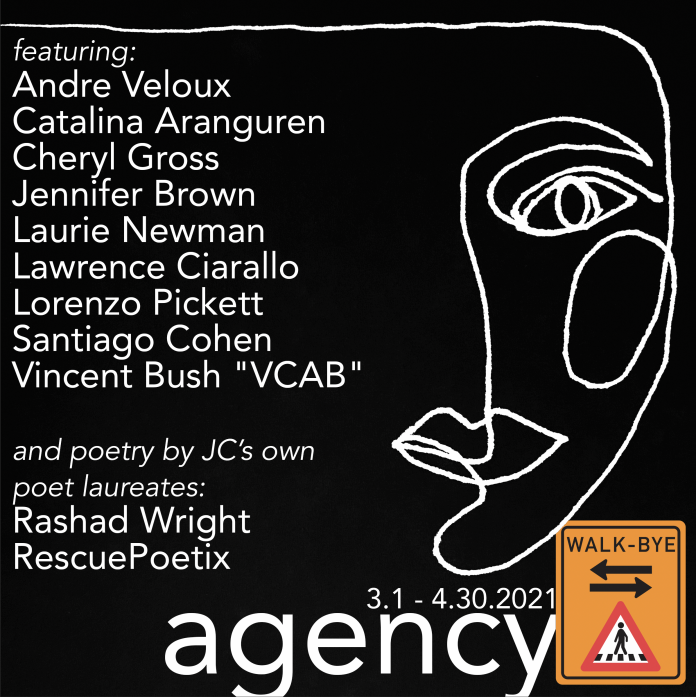 Catalina Aranguren, founder of Walk-Bye by Argia Photography, brings her latest community art installation to life in partnership with the Jersey City Public Library. The group show exhibition titled "agency" showcases original work by New Jersey artists with.
The show, inspired by Black History Month and Women's History Month, displays New Jersey artists' representation of "agency" and embraces the intersectionality in thecommunity. Using photography, poetry, paint and even Legos, the artists explore the individual's intrinsic agency, or belief in self and awareness of one's rights and power within.
The Library, through Walk Bye, had the artists consider what is the ability to affect one's life by having power to make choices, a resistance to oppression and an iron will to gain freedom. To further explore the theme, both Jersey City poet laureates, Rashad Wright and Rescue Poetix were invited to include a poem.
This show marks the second time that Walk-Bye has been able to financially compensate the chosen artists thanks to the generosity of the show's sponsor. The artists featured are: Andre Veloux, Catalina Aranguren, Cheryl Gross, Jennifer Brown, Laurie Newman, Lawrence Ciarallo, Lorenzo Pickett, Santiago Cohen, and Vincent Bush.
The show is the sixth installation in Aranguren's series of outdoor community art exhibits. Walk-Bye has sought to create opportunities for Jersey City Residents to display and view local artwork in a safe manner during the Covid-19 pandemic. Past exhibits include outdoor shows in June and October of last year held in various Jersey City parks followed by a December photo display to commemorate Human Rights Day and International Human Solidarity Day with Welcome Home, a local refugee support organization.
For more information on the exhibit and artists, please follow @Walk_Bye on Instagram.
About Walk-Bye:
WALK-BYE, founded in 2020 by Catalina Aranguren, is a collective outdoor art exhibition of original work, visible to the public from a distance. The installation strives to bring artists and community members together to create a sense of connectivity during the current pandemic.