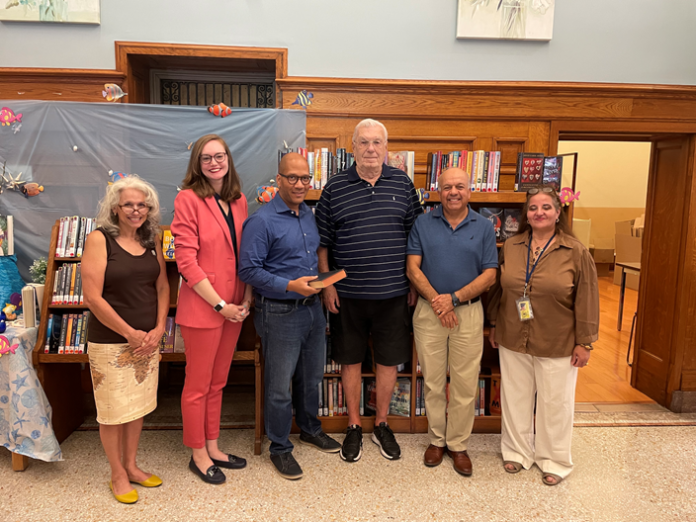 Bob Jablonski grew up in the Pavonia section of Jersey City. He attended Ferris High School and graduated in 1949. In 1947, at age 14, Bob visited his school library, James J. Ferris High School Branch, and checked out Hitler by Oden Rudolph, a novel warning the world about Adolf Hitler.
It was not until recently that Jablonski, who will turn 90 in April, discovered the book while reorganizing his family home. Wanting intensely to return the book, Jablonski reached out to JCFPL to begin the return process.
Staff anxiously became curious to see the book's condition and learn more about Jablonski's library experience in 1947. He does not recall the exact details but returned the book in perfect condition, with its original reference card.
In March 2021, the Jersey City Free Public Library eliminated overdue fines, making it the largest fine-and fee-free institution in the State of New Jersey. The Library's Board of Trustees voted in favor of this policy change to reduce barriers and provide equal access for all. 
"The Jersey City Free Public Library decided to go fine free when we realized we were losing patrons who might have owed money for books they lost years ago," said Assistant Director Kate Davis. "We want patrons in the library, and we do not want fines to discourage anyone from coming back to visit us." 
JCFPL and other public libraries exist to serve the community based on the concept of sharing resources and services. Under this recent policy change, JCFPL has removed all pending overdue fines for past-due books and other materials and has received a number of outstanding returns since its inception. Still, librarians in the Library's Lending department said no book this old. 
Davis continues, "If anyone finds themselves in a similar situation to Mr. Jablonski, do not worry about owing thousands of dollars in fines – even after 70 years, Mr. Jablonski returned the book without owing anything, and so can you." 
About Jersey City Free Public Library

The Jersey City Free Public Library has served as a cornerstone of the community since its founding in 1889. With over 130 years of service excellence, the Library remains committed to meeting the demands of its growing and diverse population by keeping pace with the changing interests, trends, and needs. Today, the Jersey City Free Public Library is the largest municipal library in New Jersey with 10 locations, a bookmobile, and 144 experienced and dedicated staff members.