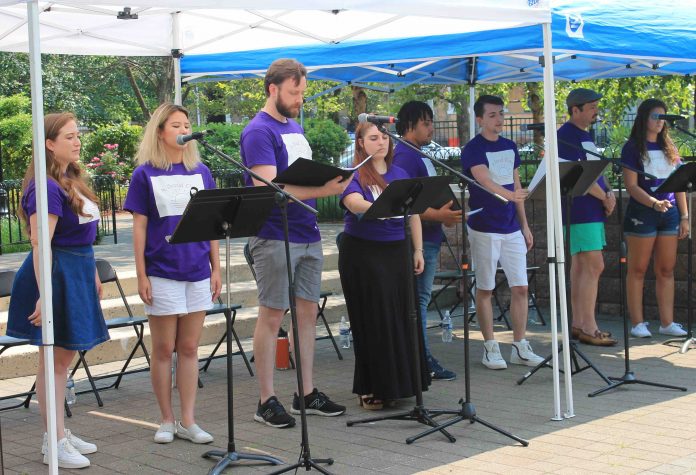 An outdoor musical theatre concert, "A Good Day – Songs from Musicals by Eric B. Sirota, took place on Saturday July 24, " at Ellsworth Park in Union City. "A Good Day" is also the name of Sirota's newest original musical in development.
It's a story of undying love. A widowed artist finds himself brought into the life of his childhood girlfriend, his first love, his muse, who spurned him over 50 years ago, and who now has Alzheimer's.
The outdoor concert was a presentation of the Park Theatre, the historic 1300-seat performing arts center in Union City, and Write Act Repertory (John Lant & Tamra Pica), in association with the City of Union City and the Greater New Jersey chapter of the Alzheimer's Association. The concert, featuring "A Good Day" included songs from three of Sirota's other musicals: Frankenstein, Your Name on My Lips, and Go, My Child.
"A Good Day" was inspired by Sirota's experience with his father, who had suffered from Alzheimer's. In his last years the only way to reach him was through music, singing songs he knew earlier in life. Sirota wanted to write a musical touching on the power of music to rekindle memory and awaken the mind.
Then when making a condolence call to a friend who lost her mother to Alzheimer's, he learned that she had been a cellist. In her last years when all other facilities were gone, if she heard cello music, she would hold and move her hands and fingers in perfect form, as though she was playing that music. He knew immediately who his characters would be. He had already created them in his earlier musical, "Your Name on My Lips," which ends when they are only about 20 years old. The female character in "Your Name on My Lips" had been a cello player in her youth. While he makes use of these characters and their backstory, he wrote "A Good Day" to be entirely self-contained.
He describes it as "Music, memory, an old flame and Alzheimer's – You just hope for a good day." And while the subject matter is serious, the musical ends on a high note. (www.AGoodDayMusical.com)
Sirota wrote "A Good Day" in 2019, after receiving a Denis Diderot Artists-in-Residence grant to attend the Chateau Orquevaux residency in France. Revising drafts over the rest of that year, he had a complete script and score, as the pandemic hit. Having demo recordings of the songs done remotely early in the pandemic, he then had a series of virtual readings and workshops over the course of the following year. The July 24th concert was the first live performance of the material, and Sirota is hoping to gain interest in the work and further opportunities to develop it.
Another theme that runs throughout the show is the importance of arts education, something close to the writer's heart. The music of the show is characteristic of Sirota's work, using his classical inspiration melded with contemporary musical theatre styles, as it serves the story and characters.
The final segment of the July 24th concert featuring "A Good Day" began with the show's opening number 'Sundown.' Sundowning is a condition often occurring in Alzheimer's patients which makes the late day and night particularly difficult. But more than that, the song addresses all of the characters' pains, losses and needs. With Alzheimer's, it is not only the patient who is affected. It takes a major toll on their family/caregivers.
The concert was included as one of the Alzheimer's Association's 2021 "Longest Day" activities. The Longest Day is the day with the most light – the summer solstice. To shine a light on Alzheimer's and dementia, people from across the world fight the darkness of Alzheimer's by raising funds and awareness through an activity of their choice. Events need not take place exactly on the solstice. (http://act.alz.org/goto/AGoodDayMusical)
Eric B. Sirota is a composer/playwright, having written five full-length musicals which have appeared on New York stage. "Frankenstein" played Off-Broadway for three years and "Your Name on My Lips" had two productions at Theater for the New City, where Sirota was a resident playwright.
He studied musical composition at Brown University and is also a highly published research physicist with a PhD from Harvard. He was a recipient of the Denis Diderot Artists-in-Residence grant to attend the Chateau Orquevaux residency. As composer, he wrote the score for A Day at the White House, which was recently recorded as a radio podcast. Other works include The Flemington Oratorio and a dramatic musical setting of Unetane Tokef. He and his wife, artist Cara London, are also part of the group of dedicated volunteers and arts professionals who have worked to save and restore the Park Theatre.
For more information about A Good Day, or any of his musicals, you can contact Eric Sirota at info@AGoodDayMusical.com. To contact the Park Theatre, use info@ParkTheatreNJ.org.