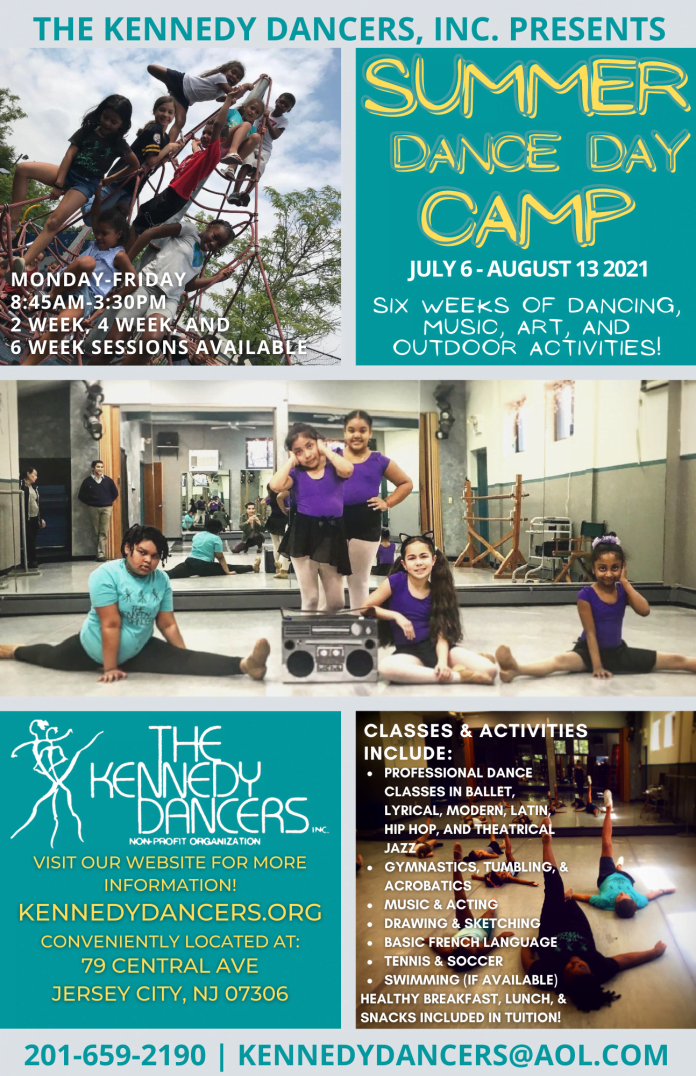 The Kennedy Dancers, Inc., a Non-Profit Organization has announced that In-Person Summer Dance Day Camp will resume this Summer from July 6 through August 13, 2021.
Summer Dance Day Camp will run from 8:45AM-3:30PM Monday through Friday, offering 2, 4, and 6 week programs for those who may be traveling or taking time off during the Summer but who still want to participate.
Campers will be transported into the world of dance and will participate in professional dance classes in Ballet, Lyrical, Modern, Latin, Hip Hop, Theatrical Jazz, and Gymnastics, Tumbling, and Acrobatics. There will also be activities with Music, Acting, Drawing & Sketching, Tennis, Soccer, and Swimming (if permitted).
Healthy Breakfast, Lunch, & Snacks provided by the Jersey City Department of Health & Human Services and New Jersey Department of Agriculture will be served daily, included in tuition! You may also bring your own lunch, packaged from home. No fast food.
Tuition costs for our camp very modest.
Register and Pay by June 11th and Save $50!
2 WEEKS – $410
4 WEEKS – $780
6 WEEKS – $1110
Register and Pay by June 25th to secure your childs spot!
2 WEEKS – $460
4 WEEKS – $830
6 WEEEKS – $1160
**There is a discount for a sibling in the same family. Call or email for details.**
For more information, or to enroll early, please call 201-659-2190 or email us at kennedydancers@aol.com so that we can start your registration process!
Sincerely,
Diane Dragone
Artistic Director
The Kennedy Dancers, Inc.
A Non-Profit Organization
79 Central Avenue
Jersey City, NJ 07306
201-659-2190
kennedydancers@aol.com
kennedydancers.org