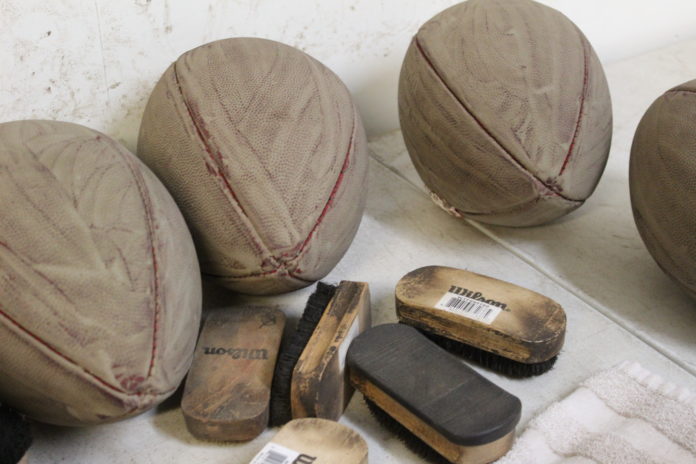 Dan and Emily Kolcun are two Bayonne residents who run a company that prepares footballs for professional and college players before they take the field. 
Gridiron Football Prep is headquartered out of Dan and Emily's townhome in the city. They recently moved to Bayonne earlier this year after being in Pittsburgh, Pennsylvania for over a year. 
Both Dan and Emily have experience in the sporting goods industry. Dan worked for Wilson Sporting Goods for about a decade and headed up football development, football product development, and relationships with key teams. After a restructure, he moved into a different role with another football company, Big Game USA, which operates out of Texas and makes the Nike and Adidas footballs, he said.
Emily also worked a sporting goods retail companies, starting at Wilson, and then moving over to Under Armour, Adidas, and then Dick's Sporting Goods. She said it was more so on the retail side but still within product development. 
"When I got let go, I had teams reach out for this ball prep," Dan said. "Emily kind of took the reins as far as the organization of things, streamlining, and process, and everything." 
Gridiron Football Prep helps prepare footballs for both college and NFL teams. The secret process breaks the footballs in off the rack. 
"When a ball comes out, it's very raw," Dan said. "Think of like a baseball glove, you need to wear in the leather and get it prepared for certain conditions. Football is played in all conditions, so making sure that it obviously has a high coefficient of friction, a good gripe, and can handle rain, cold weather, and things of that nature." 
According to Dan, the company prepares each football for the use in the climate that the game is going to be played in. The football is customized for the players based on that and a number of other factors. 
"If we're sending footballs to the desert, its prep is very different than if its prep for here in New York for the current conditions that we're experiencing on a day-to-day basis," Dan said.  
Emily said preparing the footballs helps to improve performance. Dan echoed that, adding that it's also about getting the players' equipment to peak performance. 
The preparation process at Gridiron Football Prep is secret. However, Dan said there are about three dozen steps to preparing a football. 
"Over the past few years, with my experience I have developed an overarching process," Dan said. "Emily has a background in materials, material engineering, and material sciences. That involves understanding what adheres to leather, understanding temperatures that adhere to leather, when to use warmer temperatures to absorb product into treated leather, how long something should sit. Things of that nature all collided to form various process." 
Dan said there are about 10 different processes depending on where the ball is being shipped and how it's being used. He said that different offenses may require a different preparation. 
"Certain offenses look different, specifically amongst professional and college athletics," Dan said. "So having an air raid offense in the SEC versus a more ground and pound offense in the Northeast obviously is going to lead to different preparations of the football." 
According to Dan, there is a lot of different nuances to the process. There are a number of customizable aspects and things that go into preparing a football at Gridiron Football Prep. 
A football prepared by Gridiron Football Prep can be distinguished by its darker color following the secret process. But the color doesn't really matter.
"It's just a byproduct of it," Dan said. "Now it's kind of become a thing where a darker football is a more worked-in football as a kind of visual cue. But quite honestly, preference is what it is, so it doesn't necessarily mean better or worse." 
According to Dan, the internet has made color seem like the main goal of football preparation. But there's a lot more that goes into it than the color.
"It's kind of a fad of people slathering mud on a football and calling it football prep," Dan said. "There's a lot of different funny things and YouTube stuff that people will soak a ball in water or milk or something to try to get it ready because it gives it a certain look." 
Dan said that, as opposed to some internet fads, they treat the leather that makes up the football using science rather than based on how it looks. That ensures an optimal performance while still having the aesthetic of a prepared football, he said. 
"We understand that you want to have maximum performance out of leather and we understand the science behind it and the nuances, working directly with football companies," Dan said. He noted that he still works with Wilson, and he continues to work at Big Game for his day job.
"We work with these folks and understand the whole process, because every piece of leather can be very different depending on where it's cut on the hide," Dan said. "We notice where that is on the ball and understanding how aggressive you can be with brushing or how much product to put on it." 
According to Dan, the leather varies from ball to ball. Depending on the cow hide, the leather can be different to work with. 
"If you have a ball that has a deep membrane, there's ways that you can test for that," Dan said. "You can be much more aggressive with brushing, that's not going to kill the pebble on the ball. Whereas if a ball has much thinner membrane, then it's isn't going to hold pebble as much. So you have to switch what brush you use and you have to back off the product that you actually put on the football to ensure that you're not going to, in essence, ruin a football while you're preparing it." 
Dan said it all comes down to preference, specifically the choices of the quarterback. He said that everything is done in Bayonne, with teams sending him footballs and him traveling to the quarterbacks of different teams across the country to work on various options with them. 
Nearly each week, Gridiron Football Prep gets footballs shipped to them from teams seeking their secret football preparation. The next time you watch a football game on television, you might be watching the players use a football that was prepared by Dan and Emily right here in Bayonne. 
For more information, visit their website at gridironfootballprep.com.
For updates on this and other stories, check www.hudsonreporter.com and follow us on Twitter @hudson_reporter. Daniel Israel can be reached at disrael@hudsonreporter.com.