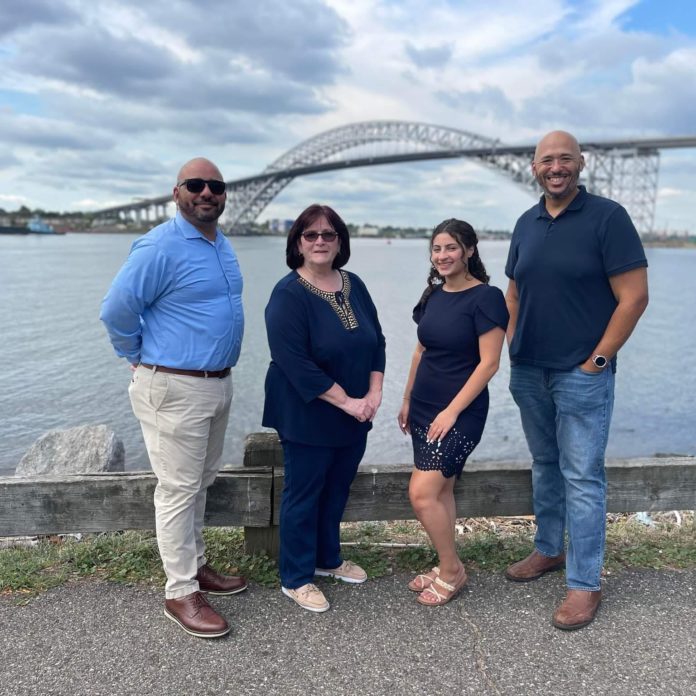 Under the slogan "Together We Can," four candidates are seeking seats up for grabs on the Bayonne Board of Education. The slate consists of incumbent Trustee Hector Gonzalez, Mary Jane Desmond, William Young, and Miriam Bechay, at 1I, 2I, 3I, and 8I on the ballot, respectively.
Three seats are available for a term of three years each. The terms of Trustees Lisa Burke, Jan Patrick Egan, and Denis Wilbeck are expiring and none are running for re-election.
Along with those three seats, there is another board seat available for a term of one year. Trustee Hector Gonzalez, Jr.'s term is expiring after he was appointed in January of this year.
In an interview with the Bayonne Community News, the "Together We Can" ticket described who they are, what platform they are running on, and other pertinent questions related to the election. This included Gonzalez, Desmond and Young, but not Bechay, who did not respond to requests for an interview.
Hector Gonzalez
Gonzalez is a special education high school teacher for the Jersey City Board of Education and serves as a Crisis Intervention specialist, SSLD-Specific Language Learners Disabled students, and volleyball coach. He said he has a passion for education and brings valuable educational input and insight to the board there.
Gonzalez lives in Bayonne with his wife Susan and has one daughter in high school. He is running for school board to: ensure every student maintains a path to graduate and is educationally and socially equipped for life; provide highly competitive pay for classroom teachers; ensure the board and community provides the resources to protect and enrich students when they are not on campus; ensure the board maintains and implements a strong response to bullying; pursue financial policies which provide an outstanding return on the communities investment in their schools; and maintain high district morale.
Gonzalez considers himself an independent thinker on the board. He said that he shares values with his fellow slate members but also has his own opinions.
"I don't consider myself a bobble head that everything is a yes," Gonzalez said.
Mary Jane Desmond
Desmond was born and raised in Bayonne, and has been a single mom since her children were two, three and four years old. She is grateful for the education her three daughters received in Bayonne's public school system.
Desmond has a professional background in management and finance in the corporate, government, non-profit and healthcare sectors. A long time community activist, she has served as City Councilwoman At-Large, Deputy County Clerk, and a former Trustee for the board. Desmond was appointed in the '90s, selected to fill a term in the '00s, re-elected to the seat, but ultimately lost re-election and is now seeking a seat on the board again.
Desmond is running to do her part to ensure current and future students are afforded every opportunity to succeed emotionally and academically. She believes that teachers should be supported with every resource to provide a first rate education for them.
According to Desmond, funding, school safety, aging buildings, over-crowded classrooms and a growing student population all impact how the district is able to provide a quality education for our children.
Prudent handling of financial resources is important in addressing these issues, she said. Desmond touts a reputation of getting the job done and is eager to work with the other members of the "Together We Can" team to do so.
"The reason I do this is because the children are so important to my life and I'm motivated to do what I can to prepare them for life," Desmond said.
William Young
"I've lived in Bayonne for 30 years," Young said. "The day after I graduated junior high school in 1992, I moved to Bayonne and started in Bayonne High School that following fall. Honestly, the city embraced me as a young man from out of town."
After falling in love with Bayonne while in high school while playing football and basketball, he remained in the city, and 30 years later, he is married to his wife Julie and a homeowner with four kids in the district.
Young is a Financial Services and Registered Representative with the New York Life Insurance Company. He is involved with Bayonne Cal Ripken Baseball, now known as Bayonne Youth Baseball and Softball, New Jersey Together, and is a trustee with his church.
Young is running for school board because he wants to increase after-school and summer educational and enrichment opportunities for all students. Young believes that education does not stop at 3 p.m. and is an all year round process.
"All four of my children are in the public school system," Young said. "I see what they go through in high school."
Young has also seen the influence of City Hall on the school board in Jersey City through advocacy work there. He wants Bayonne to avoid the same fate, so he's running for the board here.
Miriam Bechay
Bechay was born and raised in Bayonne. She went to Nicholas Oresko school for the Gifted and Talented Program and Bayonne High School.
Bechay was a part of the Bayonne Basketball Girls Varsity Team for two years, and also the Bayonne Swimming Team and Softball Team for one year. She is currently enrolled at New Jersey Institute of Technology studying Biomedical Engineering.
Throughout high school and through her college years, Bechay has helped campaign and canvass for several city officials and was then given the opportunity to become a fieldwork manager. She hopes to contribute in making important decisions for the Bayonne Board of Education.
"It's my time to give back to the community that has already given me so many opportunities," Bechay said. "I hope to do the same for the younger generations."
Running on platform to address needs and challenges of the district 
According to Desmond, the school district needs to address a number of issues in the wake of the COVID-19 pandemic, including the emotional well-being of students after the isolation they just went through.
Desmond said, "I feel the way to reach children who feel isolated is to allow them that creative expression, which just boils over into academics automatically. Critical reading, writing, it expands upon those skills tremendously."
The slate wants to make safety a top priority for all students and staff, ensure every student has equal access to a high quality education, consistently work to improve communication and transparency with parents, staff and, taxpayers so every stakeholder has a seat at the table. They believe that every child matters and that they are independent voices with shared values.
New policies to propose?
Desmond says she wants the board to advocate for students, staff, and administrators. As a board member, she would promote more interaction with teachers to know their needs and advocate for them.
In Bayonne, post-COVID-19, priorities include renovating heating, ventilation, and air conditioning systems and determining which students need extra attention after virtual learning. Gonzalez, with an eye to improving shared services, took issue with the shared services agreement with the city for garbage and recycling collection by A + L Disposal LLC.
"I think it was the mayor who was the one who negotiated that contract," Gonzalez said. "It was $125,000. Now it's $325,00 for garbage collection days in the schools. It's a lot of money."
Gonzalez also wants to increase transparency on the board and communication with parents. He proposes holding the board meetings at a different school every time to give more people opportunities to attend. Gonzales added the school district needs to be upfront about the tax rate.
Gonzalez also wants to hold weekly meetings with parent teacher organizations at each school to gauge how the board can help meet needs as they arise. Young said one policy he would change would involve increased parental participation, echoing Gonzalez's proposal for frequent meetings with parent teacher organizations.
"There are some things, being a parent, that are concerning to me," Young said. "I think the parents need definitely need to be more involved in in what's going on."
'Integrity, honesty, commitment, and dedication'
Desmond said the slate is running on integrity, honesty, commitment, and dedication. She said they all share the same energy in advocating for the children of the district.
Gonzalez said this iteration of the "Together We Can" slate aims to continue building on the progress the others have accomplished. Most board members on the board now have ran on the "Together We Can" ticket, but Gonzalez said they are all independent voices with shared values with their own way of thinking.
For Gonzalez, keeping teachers in the district is another major issue. He said they are a hot commodity right now, and the district needs to look for ways to maintain them, pay them more, and keep them in Bayonne.
According to Gonzalez, other priorities for the ticket include upgrading the bullying policy, and working on infrastructure such as the funding needed for new boilers by December 6. Under a new state mandate, all boilers in schools must be electric by the deadline, which will cost $250,000 per school in Bayonne he said, noting everything comes down to funding.
Young emphasized that while they are running on the same slate they are independent voices with shared values, echoing a common theme for the ticket. He also wants to create more after-school programs other than sports. Young said such career-oriented programs he experienced growing up in the New York school system impacted him greatly, and he wants the same for Bayonne.
New facility is necessity in Bayonne school district 
As the city grows, so does its population of school-age children. Desmond believes that a new facility is necessary to ease overburdened classrooms.
"It's not even a choice, it's a must-do," Desmond said. "Nobody wants to burden the taxpayers more, but not doing something periodically creates this 'uh-oh' scenario that we're in. These are school buildings that are over 100 years old, with the average age I believe is 80 or 90 years now. You can play around with the brick and mortar, but your heating and air conditioning, those are health and safety issues."
Gonzalez agreed with Desmond that even with the acquisition of the former St. Andrew's School, a new school needs to be built. He said that state and federal funding can help foot the bill.
"People come in and they have children, so then the district is even more crowded," Gonzalez said. "We need to have a new school."
Young also concurred. He said that building new schools is just as important as upgrading existing aged facilities.
Desmond targeted tax abatements for new residential development don't contribute funds to the school district. She said that the district needs to coordinate more funding with the state and federal government to renovate aging existing facilities and to build new ones.
"The state does not fund the district well enough for us to be able to do that on our own," Desmond said. "Taxpayers are overburdened already. The recent rash of abatements hasn't helped. So we have to be defining ways to respond to the need for very safe and sound school buildings."
Young and Gonzalez agreed that tax abatements being granted to redevelopers that don't contribute funds to the school system are a major issue.
"In advocacy work that I've done in Jersey City, I've seen what abatements have done to to the school system there," Young said. "I want to make sure that same thing doesn't happen in Bayonne."
New sex education standards in health curriculum
Recently, the state has implemented new sex education standards in health curriculum at the local level. While there exists the choice to opt out of the lesson in Bayonne, some parents had advocated against the material being taught in schools at all.
Desmond call it somewhat of a government overreach, and wants the state legislators to revisit the issue with child psychologists and therapists and the like. However, she approves of the choice to opt out.
"I do appreciate that there should be in health education, a component, age appropriate, for some of those topics," Desmond said.
Gonzalez said that the district has to implement the state's health education curriculum per the mandate. He praised the choice for parents to opt out, noting that they can choose what they think is best for their kids.
"It's a state law," Gonzalez said. "The state education department that wrote that. We cant say no to the state or risk losing funding. But you have the option to opt out from anything that you think as a parent if you believe daughter should or shouldn't be learning that." Young believes that this is also a parents choice.
"This is something that is a personal choice in terms of what parents want," Young said. "I love the fact that Bayonne has that opt out provision."
While some parents want the option to learn the curriculum completely removed, Young suggests they opt their child out and take the protest to the state level. He said the district can't risk losing funding from the state by not enacting it.
Davis endorses competing slate
Mayor James Davis endorsed the slate on September 21, the first time he had backed candidates in a school board race since 2020 and a departure from backing the "Together We Can" slate as he had in consecutive years past. Davis said he considers electing the "Voices for Progress" ticket among his top priorities for his third term. Desmond criticized the mayor's endorsement as politicizing the race, but was ultimately uninterested in it and more on having the voters' backing.
"Make up your mind, is it an elected or appointed board?" Desmond said. "We are starting to look like every other city in Hudson County with the politicking. I really ultimately don't care."
Gonzalez said there are good people on other slate, well respected. He didn't take issue with them, but with the mayor's involvement in the race, calling for a separation from the board and the city.
Young expressed a similar sentiment. From experience in the advocacy work that he does in Jersey City, he said he has seen how influence from City Hall can affect the board.
"I think City Hall needs to stay away from the Board of Education, there needs to be a separation," Young said.
The "Together We Can" slate has gotten support from other incumbent Trustees including Jodi Casais, Vice President Christopher Munoz, and President Maria Valado. Also backed by former City Council President and mayoral candidate Sharon Ashe-Nadrowski, it appears the election is somewhat of a proxy war between factions remaining from the May municipal election.
On the campaign trail
The campaign has been relatively quiet until September. The "Together We Can" slate began making appearances at local events that month, such as the Bayonne Arts Festival. That continued with their first meet and greet at Bake N Brew on September 22, the Bayonne Bike Club's annual Night Ride, and knocking on doors.
The meet and greets continued, with a livestream featuring a question and answer with parent and teacher organizations, and on October 19 at Kuhl's Tavern. The "Together We Can" slate had a booth at the Bergen Point Fall Festival to meet voters, followed by the most recent meet and greet on October 26 at The Rock Pub.
As Election Day approached, the slate was looking forward to more events, such as the candidate forum at Bayonne High School's Alexander X. O'Connor Auditorium on November 2 from 6 to 7:30 p.m. moderated by TAPinto Bayonne's Al Sullivan. However, she noted it would be akin to a question and answer event as opposed to a debate.
Desmond added that while the slate was interviewed by the BEA, they endorsed "Voices for Progress" last week. She questioned how the event could be unbiased considering the timing of the endorsement, but said the slate will still attend since the commitment was from months prior.
More recently after the interviews, the "Together We Can" slate has also criticized recent flyers by the "Voices for Progress" slate. The complaints stem that the flyers feature the slate members next to Democratic candidates running for office also on November 8, despite the non-partisan nature of the election.
"So, Voices for Progress is handing out literature with their ballot positions and on the other side there are Democratic candidates for office," they wrote on social media. "We at 'Together We Can' believe that the school board election is a non-partisan race and no influence from Democrats or Republicans should be Introduced."
For updates on this and other stories, check www.hudsonreporter.com and follow us on Twitter @hudson_reporter. Daniel Israel can be reached at disrael@hudsonreporter.com.