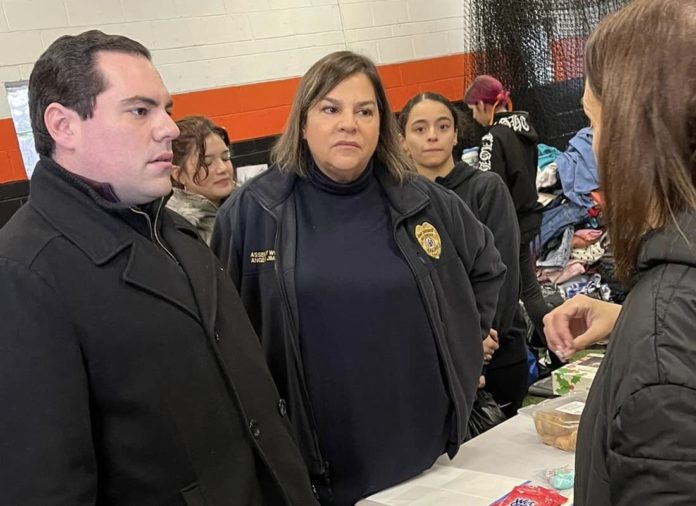 State Assemblywoman Angelica Jimenez, who represents the 32nd Legislative District encompassing much of North Hudson, has announced she will run on a ticket with West New York Commissioner of Public Affairs and mayoral candidate Cosmo Cirillo in the upcoming 2023 municipal election. 
Jimenez joins Commissioner of Revenue and Finance Margarita Guzman in running with Cirillo on the "Moving West New York Forward Team." The announcement of her intention to run on Cirillo's slate comes after she endorsed him earlier in the week and appeared at several public events alongside him and Guzman.
Redistricting reaps representation shakeup in Hudson County
Jimenez is a prime victim of redistricting of the state legislative map along with the rest of the incumbent members of the 32nd Legislative District which currently includes much of North Hudson. Due to redistricting, she, Assemblyman Pedro Mejia, and State Senator Nicholas Sacco are losing their seats in what will be the new 33rd Legislative District.
The new 32nd Legislative District will shift from North Hudson to largely include Hoboken and Jersey City. Meanwhile, the new 33rd Legislative District will shift from Hoboken and Jersey City to include most of North Hudson.
Sacco was redistricted into the same district as Union City Mayor and State Senator Brian Stack. Instead of rehashing a previous showdown between the two Hudson County leaders, Sacco has decided to retire and has endorsed Stack for the new 33rd Legislative District in the 2024 election.
Stack is expected to run on a ticket with current West New York Mayor Gabriel Rodriguez. Rodriguez is not running for re-election and is instead eyeing a seat in the legislature.
In addition to Rodriguez, the other running mate anticipated on the ticket with Stack and Rodriguez is North Bergen Commissioner of Revenue and Finance Julio Marenco. With that, Mejia and Jimenez are left without a seat, thus leading to Jimenez's entrance into the West New York race.
"I am very honored to represent not only the Town of West New York, but the entire 32nd Legislative District, in the New Jersey General Assembly," Jimenez said. "I entered public service because I wanted to help people and give back."
Jimenez proud of past experience in West New York
Jimenez said she was proud of her past in West New York prior to becoming an assemblywoman, including serving as the Vice Chairwoman of the West new York Housing Authority, Vice Chairwoman of the West New York Board of Education. She was also the Vice President of non-profit organization West New York Women's Club that helped with many charitable causes throughout the years, she said.
"It is clear to me that at this moment in time, the best way to help my community is to dedicate myself to the town I have called home for over 52 years," Jimenez said. "I have seen many changes take place during this time and truly believe that we need to move our community forward and not backwards."
According to Jimenez, the community needs to continue its progress and not regress. This was a jab, similar to one in Cirillo's announcement, at likely challenger outgoing Rep. Albio Sires, who was previously West New York mayor from 1995 to 2006. The retiring Sires was replaced by Congressman-elect Robert Menendez, Jr. in the November midterm elections.
Sires has also made clear his intention to run for mayor although he has not announced it officially and won't do so until his congressional term ends in January. It may also come to apply to former Mayor Dr. Felix Roque, who has mulled running again for the spot he held from 2011 until he was ousted by Rodriguez in 2019.
"Cosmo offers our community many innovative ideas and a vision that will help our town thrive," Jimenez said. "We have worked closely together throughout the years and I know he has the drive and dedication to make WNY the best it can be. I am happy to officially endorse him to become our next Mayor and am proud to join him and Commissioner Margarita Guzman as part of the West New York Forward Team."
If she is elected, she will resign early from the General Assembly in July of 2023 to be sworn in as a West New York Commissioner on the first of that month. In the wake of that, a special election would be triggered for her old seat, the victor of which would serve for the remaining six months of her term.
Jimenez concluded: "As an American of Cuban descent, longtime homeowner, and the mother of two children who grew up here, one of whom serves our community as a police officer, I have no doubt that the West New York Forward Team will put in the hard work and place the needs of our residents first."
Cirillo touts Jimenez's experience in West New York and Trenton
With her announcement Cirillo touted Jimenez as a strong leader in Trenton who will do the same in West New York. He pointed to a number of her accomplishments in the State House over the years.
"Assemblywoman Jimenez has proven herself to be an unwavering leader and champion in the State House for her constituents," Cirillo said. "I am truly humbled to have her support and to welcome her on the West New York Forward Team. She has demonstrated herself to be an efficient legislator and is respected by her colleagues who have risen her to the rank of Deputy Speaker and Chairwoman of the Human Services Committee."
Cirillo continued by touting her work in the state legislature.
He said, "She has been a vocal advocate for New Jersey families by helping to pass legislation that provides employees with time off for events regarding the education of their children, as well as fiercely advocating for the nurse-to-patient ratio to change in the state. As a passionate supporter of mental health initiatives, she was awarded the 2020 Legislator of the Year Award by the NJ Psychological Association. Most recently, she is the Prime Sponsor of two out of a five-bill package to combat homelessness within New Jersey."
Cirillo concluded by touting Jimenez's impact on the town. "Locally, I am personally thankful to Assemblywoman Jimenez for her assistance in helping to secure a $12.5 million grant from the State for the development of a brand new public library for the Town of West New York. These are only a few of her amazing accomplishments on behalf of the residents of West New York and the State of New Jersey. It is without question that her experience at the state level and her passion for our town will help move West New York in a positive direction forward."
While 2022 is not even over yet, the 2023 municipal election is already underway in West New York. The Hudson County Democratic Organization has already made it clear they are throwing their weight behind Sires, noted recently at a fundraiser. Regardless, with Cirillo lining up his team, it it sure the West New York election will be one to watch next year.
For updates on this and other stories, check www.hudsonreporter.com and follow us on Twitter @hudson_reporter. Daniel Israel can be reached at disrael@hudsonreporter.com.