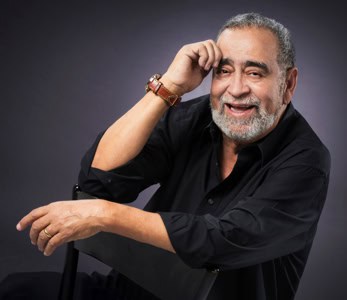 Lehman Center for the Performing Arts 
and Goya Foods is proud to present
the 
Latin GRAMMY Lifetime Achievement Award winner
ANDY MONTAÑEZ
as he celebrates his 55
th
 Anniversary with special guest 
VICTORIA SANABRIA
on 
Saturday, May 
11th
, 2019. 
Also enjoy 
EL TRIO IDEAL
and the exciting dance rhythms of 
JOHNNY OLIVO Jr. con su HERENCIA DE PLENA
's performance of their afro-rich folkloric musical traditions of Puerto Rican 
Bomba
 and 
Plena
. 
Produced by Lehman Center and Leo Tizol.
This concert continues the completion of the first phase of renovations at Lehman Center for the Performing Arts. Concert goers will find that the lobbies have been upgraded for ADA compliance with new ramps and carpeting, and the interior of the theater will have new seating, carpeted aisles, and finished flooring as well. The $15.4 million dollar refurbishment of the Center, which is expected to be completed by mid-2019, will also include 5,400 square feet of enlarged space, with a new main entrance and a redesigned box office, plus new administration offices and restroom facilities on the first and mezzanine floors, and an elevator. The Center seats 2,278 people in the concert hall and is the largest of its kind in the borough. Funding for the project is being provided by the Office of the Governor, the New York State Legislature, the Bronx delegation of the New York City Council, and the Office of the Bronx Borough President. Additional funding is being raised with a seat naming initiative, which allows community members to make a personal connection with one of New York City's most important not-for-profit entertainment venues.
Lehman Center for the Performing Arts
 is on the campus of Lehman College/CUNY at 250 Bedford Park Boulevard West, Bronx, NY 10468.  Tickets for 
ANDY MONTAÑEZ
on Saturday, 
May 
11th
, 2019
at 8pm are $100*VIP, 
$85, $75, 
and $65, and 
can be purchased by calling the Lehman Center box office at 
718-960-8833
(Monday through Friday, 10am–5pm, and beginning at 
4pm
 on the day of the concert), 
or through online access at 
www.LehmanCenter.org
.
*VIP Reception: The Havana Café, Goya Foods 
and Lehman Center special VIP pre-concert wine & hors d'oeuvres reception will start at 6:30pm. VIP tickets include the reception and the best seats in the house. Sponsored by Havana Café Restaurant and Goya Foods. Lehman Center is accessible by #4 or D train to Bedford Park Blvd. and is off the Saw Mill River Parkway and the Major Deegan Expressway. 
Low-cost on-site parking available for $5.
ANDY MONTAÑEZ, nicknamed "El Godfather de la Salsa" and known for his rich, powerful vocals, was born in San Juan, Puerto Rico. He gained international popularity during his 15-year tenure (1962-1976) as lead vocalist of the legendary salsa group El Gran Combo, producing 37 albums that included such hit songs as "Hojas Blancas", "Un Verano en Nueva York", "El Barbero Loco", "Ponme el Alcoholado Juana", "El Swing", "Julia" and "Vagabundo". In 1977 he replaced Oscar D'León in the popular Venezuelan orchestra La Dimension Latina, recording eight albums in three and a half years that included hits like "El Eco del Tambor" and "Ave María Lola". During this same period, Montañez contributed vocals to the three superb Puerto Rico All Stars salsa albums Puerto Rico All Stars (1977), Los Profesionales (1978) which included his soulful rendition of "Aqui En Mi Pueblo", and 1979's Tribute to Messiah which was dedicated to Eddie Palmieri. In 1980, Montañez formed his own orchestra in Puerto Rico and released the popular album Salsa Con Caché. 1981 to 1984 was a very prolific period that saw five new album releases including 1984's Versátil with hits like "Qui, Qui" and "Villaran Cuenca". 1985's Andy Montañez was a game changer not only because it was on the Billboard Tropical chart for 30 weeks, reaching number 2 with hits like "Genio y Figura", "Payaso" and "Dulce Veneno", but because it was the first of many albums that would feature Andy's sons Andy Jr. and Harold Montañez singing coro. Following up with two additional chart topping albums 1987's Mejor Acompañado Que Nunca (#2) and 1988's  El Eterno Enamorado (#4), Montañez secured his place amongst the legends of Salsa. Throughout the 90's he continued to record one successful album after another, earning his orchestra the nickname "Dynasty Montañez" when his daughter Ednaliz joined the chorus. During this period, he also recorded three albums of boleros and Bohemian songs with fellow Salsa great Ismael Miranda: Al Son del Bolero (1996), Romantics de Nuevo (1997) and Con Alma de Niño (1998). In 2005, he again joined up with Ismael Miranda to record the hit song "Se Fue Y Me Dejo". Montañez (with Pablo Milanes) won the 2006 Latin GRAMMY Award for Best Traditional Tropical Album for AM/PM Lineas Paralelas. Also in 2006, he released Salsa Con Reggaeton hitting #2 on both the Tropical and Latin Tropical album charts. 2007's hard hitting salsa album El Godfather De La Salsa was also a success. The 2010 El Gran Combo tribute album, De Andy Montañez Al Combo that featured new arrangements of the hit songs "Brujeria", "No Hago Más Ná" and "Carbonerito" rose to number 5 on the Billboard Latin Tropical chart. In 2014, Andy, with the roots group Viento de Agua, contributed the song "Cortaron a Elena/Santa María" to the album and film Que Lindo es Puerto Rico that highlights the natural beauty and musical heritage of the island of his birth. In celebration of his 55th Anniversary, he released his 2017 album Best 55 Anos De Historia which he recorded with his sons Andy Jr. and Harold with their salsa band Sabor y Mucho Swing that also includes his new single "Acompañame". In 2018, Montañez was honored with the Lifetime Achievement Award as part of the 19th Latin GRAMMY Awards.
VICTORIA SANABRIA was born in Guayama, Puerto Rico into a family of singers. Named "La Diosa de la Trova", she is known for her sublime voice and for her ability of continuing the tradition of peasant island trova jibara song combined with improvisation and mixtures of musical genres. Victoria showed vocal talent from a young age and started performing in public with her father and brothers when she was seven. As a teenager, she entered vocal competitions and won the title of National Troubadour from the Institute of Puerto Rican Culture at the age of seventeen. In 1995, Sanabria performed as a vocalist with the Puerto Rico Symphony Orchestra, and the following year, she was a guest artist opening for Marc Anthony's Puerto Rican concerts. Her first album as a soloist, Cánticos de Serrania, was recorded in 1999, and in the next eight years she released three more in Puerto Rico including 2008's Celebra Conmigo that featured Andy Montañez and Andrés Jiménez as guest artists. That same year, she joined the world-wide Tribute to Hector Lavoe concert tour. In December 2009, Sanabria released her international breakthrough album Criollo Con Salsa, in which she had combined Puerto Rican folk music with salsa. The album contained several hits including "10 Dias", "No Lavo, No Plancho, Ni Cocino", "Jibara Natural" that featured Luis "Perico" Ortiz, and "No Te Quiero" sung with reggaeton star Ivy Queen. 2011 saw the release of the highly successful album Boleros which established Victoria as a major singer, and a year later she followed up with the release of Boleros II, which is now considered a classic. Sanabria's most recent releases are her live concert album Trayectoria that was recorded in Santurce in 2012, and 2016's Música Mía. In addition to her own recordings, Victoria has been featured as a guest on works by Domingo Quiñónez, Olga Tañon, Richie Ray, Bobby Cruz, Gilberto Santa Rosa, El Gran Combo, Danny Rivera, Charlie Aponte, and Willie Colon, among others.
JOHNNY OLIVO Jr. & HERENCIA de PLENA's 
orchestra specializes in Puerto Rican 
Plena
 music, a rhythm-driven, percussion-focused tradition of popular music, chant and dance that originated in Ponce, Puerto Rico at the beginning of the 19th century and is native to the barrios and costal zones of the island.
EL TRIO IDEAL consists of Pedro Velez (lead vocalist); Guillermo Cruz (second voice and second guitarist); and Santos Cruz (lead guitarist and third voice). Their recent album, Para el pueblo con amor, includes such songs as "Mi Viejo,"  "Bajo un Palmar" and "Amor de Madre."
Lehman Center for the Performing Arts, Inc. is supported, in part, with public funds from the New York City Department of Cultural Affairs in partnership with the New York City Council. The 2018-2019 Season is also made possible through the sponsorships by Goya Foods, New York State Council on the Arts, Con Edison, the Hyde and Watson Foundation, 
Havana Café,
 and the Friends of Lehman Center.
For high resolution photos, click these links:
ANDY MONTAÑEZ
VICTORIA SANABRIA
For additional information, photos, interview requests, contact: