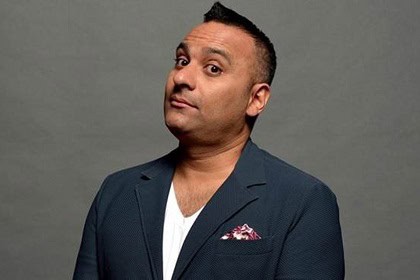 Russell Peters started doing stand-up at the age of nineteen at open mics in his native Toronto in 1989. He spent the next fifteen years honing his craft at clubs across Canada and the UK.
In 2004, Peters gained critical and global recognition for his CTV Comedy Now! special which wound up on YouTube. Peters says: "I never put the special on YouTube. I still don't know how to upload anything on the web to this day." That upload launched a new level of fame and unforeseen success.
The subsequent tours were captured in his phenomenally successful specials broadcast on Showtime and Comedy Central: Outsourced in 2006; Red, White and Brown in 2008; and The Green Card Tour in 2010, In 2013, Peters became the first comedian to create a Netflix Original Comedy Special. Recorded in front of over 14,000 fans at Sydney, Australia's Allphones Arena, Notorious became a global success for Netflix. In conjunction with Notorious, Peters allowed cameras to follow him on-tour for a behind-the-scenes, four-part documentary series, Russell Peters vs. The World, also exclusively for Netflix. Peters' most recent world tour, Almost Famous, a celebration of his twenty-five years in the business, once again set attendance records across the globe, from Canada to Singapore to Madison Square Garden, resulting in his being nominated alongside Jeff Dunham and Kevin Hart as "Billboard's Top Touring Comic in 2015." The corresponding special; Russell Peters: Almost Famous, premiered on Netflix in 2016.
Russell Peters has no shortage of accolades. He maintains a staggering social media presence as his YouTube videos have amassed well over 250 million views, and a Twitter following of over four million people. Professionally, his DVD's have sold upwards of a million copies, while his Notorious World Tour became the highest attended comedy tour ever in Australia, the United Arab Emirates, Oman, Lebanon, South Africa, Thailand, Indonesia, Singapore, Malaysia, Hong Kong and his home country of Canada. Peters has sold-out Madison Square Garden, Radio City Music Hall, San Jose's HP Pavilion, New Jersey's Prudential Centre, the Chicago Theatre, LA's Nokia Theatre, the Sydney Opera House and the Hammersmith Apollo. In November 2012, Peters became the first stand-up comic to perform at Brooklyn's Barclays Centre with over 10,000 fans in attendance. As a result, Peters has been named on the Forbes List as one of the top ten highest earning comics in North America in 2009, 2010, 2013 (finishing third), 2015 (fourth) and 2016.  Watch: https://www.youtube.com/watch?v=Adz4l5qEpD4
Visit: https://www.russellpeters.com/
Showtimes: Fri. 7:30PM & 9:45PM / Sat. 7:00PM & 9:30PM / Sun. 7:00PM
Call: 845-353-5400 / Tickets: $40/ Visit: https://improv.com/nyack/