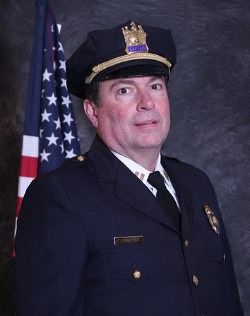 Bayonne Police Captain Paul Jamolawicz has passed away while on duty, Mayor James Davis announced on Saturday, November 12.
"Bayonne is mourning today, as we have lost Bayonne Police Captain Paul Jamolawicz while on duty serving our community," Davis said.
Jamolawicz, a graduate of New Jersey City University with a degree in Criminal Justice, began his career in 1985, with Davis following behind him in 1986. Davis said they remained friends throughout their careers.
In 1999, Jamolawicz was promoted to Sergeant, followed by another promotion in 2013 to Lieutenant. In 2018, he promoted to Captain.
During his career, Jamolawicz worked in the Patrol Division, Detective Bureau, Narcotics Unit, and Internal Affairs Unit. He has received three commendations and seven Excellent Police Service Awards for his service.
According to Davis, Jamolawicz was not only an outstanding police officer, but a devoted family man to his wife Jeanne, daughter Lori Anne and son Paul Jr. He has also been a longtime businessman in town, serving residents as the owner and operator of the First Street Laundromat and past owner of Manny's Liquors.
"Paul's love of family and this city was evident every day of his life and his friendship will be sorely missed," Davis said. "Please keep Paul's family in your thoughts and prayers, as well as our great Police Department… Rest in Peace Paul."
This is the first line of duty death for the Bayonne Police Department in 52 years. Police Chief Robert Geisler also released a statement following Jamolawicz's death.
"It is with a heavy heart that I must announce the death of Bayonne Police Department Captain Paul Jamolawicz," Geisler said on November 11. "Captain Jamolawicz died unexpectedly tonight while on-duty serving our community. On behalf of the City of Bayonne and the Bayonne Police Department, I would like to express our condolences to the Jamolawicz Family."
Additionally, Fire Chief Keith Weaver sent his condolences from the Bayonne Fire Department.
"The Bayonne Fire Department mourns with our brothers and sisters of the Bayonne Police Department, as they suffered the loss of Captain Paul Jamolawicz," Weaver said. "Our agencies are intricately tied together as their loss is our loss, and this is especially true as Captain Jomolawicz is also the brother-in-law of Bayonne Fire Department Battalion Chief Thomas Obiedzinski. On behalf of our entire department, I would like to extend our deepest condolences to the entire Jamolawicz and Obiedzinski families."
The manner of death has not been announced.
For updates on this and other stories, check www.hudsonreporter.com and follow us on Twitter @hudson_reporter. Daniel Israel can be reached at disrael@hudsonreporter.com.