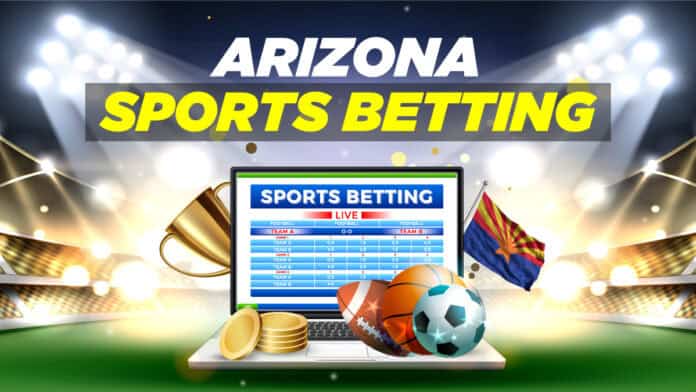 There are as many as 17 legal sportsbooks licensed by the Arizona Department Of Gaming that you can use to bet on sports. Do you have the time to compare their odds and bonuses?
If the answer is no, make sure to stick around for a breakdown of the best Arizona sports betting sites based on how competitive their odds are, the number of sports they offer, and their bonuses for new AZ bettors like yourself.
Following our research, BetMGM turned out to offer the most value for money on average, thanks to some great odds on the NFL and NBA, as well as bonuses with a low rollover.
Read on to learn more about each top Arizona sportsbook.
Best Arizona Sports Betting Sites
Heads up about our links! Adblock might get confused so please disable it if you have any issues.
1. BetMGM – Best Arizona Sports Betting Site Overall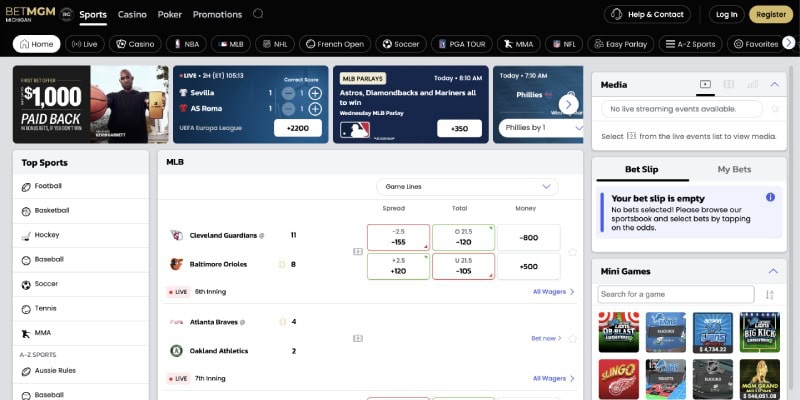 Pros:
Up to $1,000 back on your first bet
Strong reputation
Same-game parlays
Live betting options
Multiple promotions for regular customers
Extensive NFL and NBA betting options with great odds
Cons:
BetMGM is a name that needs no introduction, and today, it easily grabs the title of the best Arizona sports betting site.
Quality of Markets and Odds: 5/5
BetMGM is widely recognized for providing some of the most competitive odds in the market. Amongst the numerous sportsbooks we've reviewed, they consistently offer superb odds for most sports events.
The platform covers all the popular markets in the US while amassing a total of about 30 different sports, each with a lot of betting markets to explore.
We highly recommend BetMGM for betting on the NBA Playoffs, but this sportsbook has to be the #1 sports betting site for NFL betting – amazing market variety, same-game parlays across the board, live betting with streams, and some of the best odds around.
Bonuses and Bonus Bets: 4.9/5
As a new customer, you are eligible for a $1,000 welcome promotion. The way it works is that your first wager is reimbursed up to $1,000 in free bets if it ends up losing.
Other high-quality promotions on the site include the Refer-A-Friend program. You can refer up to 20 buddies, and both of you will score $50 as soon as your friend is verified and places a qualifying deposit.
If you want something less complicated, there's a $10 Bonus Bet awaiting for UCL – just place a $25 wager (pre-match or in-play), and you're all set.
Cash-out is also available, plus the BetMGM Rewards for regular players. And if parlay wagers are your thing, you can receive $25 cash-back on the UCL.
Banking Experience: 4.9/5
The banking experience at BetMGM Arizona is convenient and secure. They accept major credit cards as well as PayPal, making it easy for customers to deposit funds into their accounts quickly and securely.
Withdrawals are also processed quickly so customers can access their winnings without any delays or issues.
Mobile Betting Options and Customer Support: 5/5
BetMGM Arizona offers mobile betting options through its sportsbook app, which makes it easy for customers to place wagers on the go from anywhere in the state.
Additionally, they have excellent customer support available 24/7 via email or phone if customers have any questions or issues with their accounts or bets placed on the site.
2. DraftKings – Best Arizona Sportsbook App for Bonuses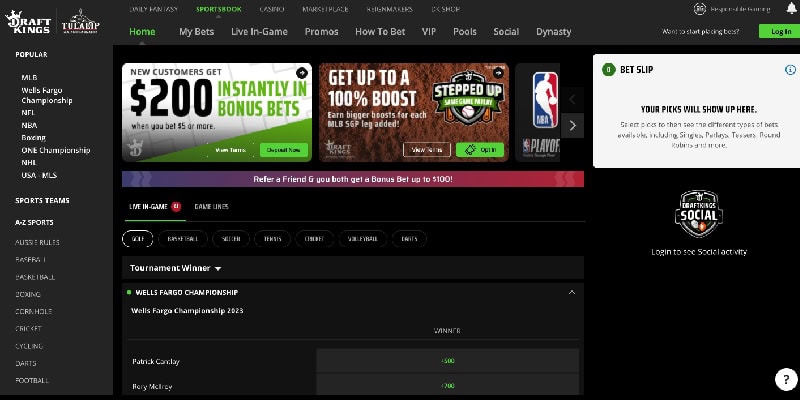 Pros:
$1,000 sign-up promo
10+ regular bonuses and promotions for Arizona bettors
Swift withdrawals
Top-rated mobile app
Responsive support team
Cons:
If you're looking to get started with a real bang for your buck, look no further than DraftKings. This is a highly reputable sportsbook loaded with a $1,000 welcome bonus and about a dozen regular promotions.
Quality of Markets and Odds: 4.8/5
DraftKings boasts a vast array of markets spanning the major sports, including all the most popular US sports and some niche options like darts and snooker. Compared to other Arizona sportsbooks, their odds are competitive, allowing for greater returns on parlay wagers.
Daily fantasy sports and in-game wagers are also available. However, the live betting experience falls short compared to that of BetMGM, whose superior live streaming capabilities and wider range of options are unmatched.
If there's one area where DraftKings particularly excels, then it's betting on motorsports. Odds for the NASCAR Cup Series, in particular, are highly lucrative, and we found that they were the highest on average across all 17 legal sportsbooks in Arizona.
Bonuses and Bonus Bets: 5/5
DraftKings is renowned for providing some of the most lucrative bonuses and promotions available in Arizona. By joining as a new member, you can get up to $1,000 in bonus bets.
Additionally, DraftKings offers several on-site benefits, including a 100% referral bonus, as well as league-specific deals such as the NBA Live SGP boost at 33% and a 100% profit boost on MLB same-game parlays.
To capitalize on these excellent bonuses and promotions, make sure to stay posted on the regularly updated DraftKings promos page.
Banking Experience: 4.7/5
DraftKings offers diverse banking methods to facilitate deposits and withdrawals, such as credit and debit cards, e-wallets (such as PayPal), wire transfers, and other options.
All financial transactions are secure and encrypted.
In addition, it's possible to fund your account through DraftKings gift cards, available for easy use with the online sportsbook and online casino.
Mobile Betting Options and Customer Support: 4.8/5
The mobile app of DraftKings is rated as one of the best sports betting platforms in the Grand Canyon State, providing easy navigation and fast loading speed. That being said, we found the interface to be a bit overwhelming when getting started.
For any account-related or betting query, 24-hour customer support is readily available.
3. FanDuel – Best Arizona Sportsbook Online for Live Betting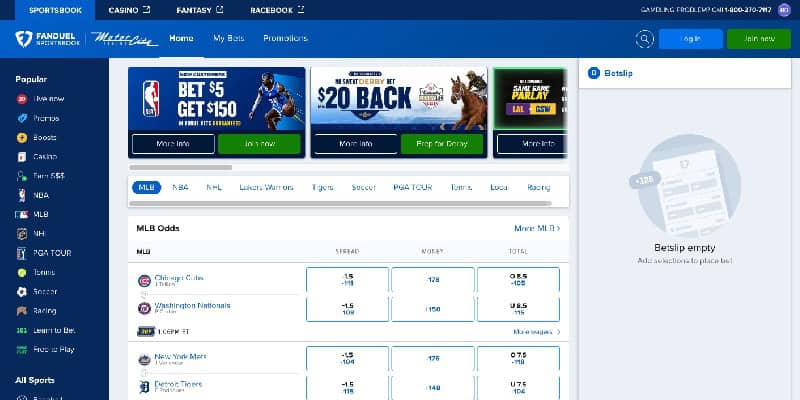 Pros:
Live betting with live streaming capabilities
Odds on 20+ sports
$150 in bonus bets with low wagering
Fantasy sports betting is available
Easy to use interface
Cons:
Can't cancel your bet for some betting markets
If you're looking to place wagers in the heat of the moment, then FanDuel is likely to be the best Arizona sports betting app for you.
Quality of Markets and Odds: 4.7/5
FanDuel offers a comprehensive range of markets, including the PGA Tour, NFL, NBA, NHL, and then some less-popular options like volleyball.
Moreover, this sportsbook is also heavy on college sports, offering great pre-match odds on many events.
Its extensive range of prop bets and live betting options, coupled with competitive odds, makes FanDuel a solid betting site. Speaking of which, the live wagering interface is excellent and boasts live streaming capabilities to take your experience to the next level.
Besides sports betting, FanDuel also facilitates horse racing betting markets and daily fantasy sports.
Bonuses and Bonus Bets: 4.6/5
To cater to new and loyal users alike, FanDuel provides its players with attractive incentives and rewards. Fresh sign-ups can claim a lucrative welcome bonus of up to $150 in bonus bets for betting an initial $5.
Once received, bonus wagers can be used for regular bets, and any winnings are yours to keep while the initial wager is deducted.
FanDuel also offers its current customers a host of enticing perks, including free bets, parlay boosts, money-back specials, and numerous other ongoing promotions.
Banking Experience: 4.8/5
FanDuel offers its users a range of payment choices that consist of digital wallets such as PayPal but also more traditional options like credit cards and debit cards.
Moreover, the sportsbook accepts cash deposits at different locations throughout the United States. FanDuel ensures that withdrawals are processed promptly, allowing users to retrieve their winnings swiftly.
Mobile Betting Options and Customer Support: 4.7/5
The mobile app of FanDuel boasts an intuitive interface complemented by a well-planned layout for rapid and efficient navigation. The app guarantees users will easily find what they seek with ease.
The customer assistance agents are readily available to attend to any inquiries users may have regarding the app or placing bets. Live chat should be your preferred option when you need support, with an email address available for more complex inquiries as well.
How We Ranked the Best Online Sports Betting Sites in Arizona
Quality of Betting Markets and Odds:
We looked at the variety of betting options available, how competitive the odds were, and the range of sports covered. The sites that offered the best combination of these factors ranked higher on our list.
Bonuses and Bonus Bets:
We scrutinized the bonus offerings of each site, including the size of the bonuses, the terms and conditions, and the frequency of new promotions. We ranked platforms that provided the best incentives to Arizona sports bettors higher on our list.
Banking Experience:
We considered the ease of depositing and withdrawing funds, the range of payment methods accepted, and the site's security measures. The more popular options covered, the lower the fees, the faster the transactions – the higher the ranking.
Mobile Sports Betting Options and Customer Support:
We also analyzed the functionality and speed of the mobile platforms provided by each site, as well as the quality of customer support. We are looking for full mobile compatibility with dedicated sports betting apps, plus 24/7 accessibility to support agents via live chat and email.
Related Guides:
Why Is BetMGM the Best AZ Sports Betting Site?
If you are looking for the best Arizona sports betting site, your search should stop with BetMGM. Here are five reasons why.
Loads of Markets: BetMGM covers over two dozen sports, including popular leagues such as the NFL, NBA, NHL, MLB, and NCAA. They even offer markets on niche sports such as table tennis and darts, making it an ideal platform for all types of sports enthusiasts.
Premium-Tier Football Betting Odds: If you're a football fan, BetMGM is where you should be. They offer some of the most competitive odds and a wider variety of markets than other online sportsbooks, especially when it comes to NFL games.
$1,000 Sign-Up Bonus: BetMGM will reimburse your first bet with up to $1,000 in free bets if it ends up being a loser. The bonus is easy to redeem and can be used on any of the sports markets available on the site.
Live Betting With Live Streaming: BetMGM offers live betting, and this feature is upgraded with live streaming options, which allows you to follow the game's progress to place more informed bets.
Highly Reputable: BetMGM is licensed and regulated by the Arizona Department of Gaming, ensuring that your online betting experience is safe and secure. Also, it is known for its fast and reliable payouts and has a reputation for excellent customer service, making it a highly reputable sportsbook.
Interested in learning more about this sportsbook? Check our in-depth BetMGM sportsbook review.
Why Should I Use Arizona Sportsbooks Online?
If you're looking to place bets on professional sports teams in Arizona (or even Arizona college sports teams), you may be wondering whether online sportsbooks or retail sports betting locations are the better options.
While both have their advantages, here are some specific reasons why using Arizona sportsbooks online may be the smarter choice.
Better Odds and Betting Options: One of the most significant benefits of using online sportsbooks is that they often offer better odds than retail sports betting locations. Additionally, online bookmakers tend to provide a wider range of betting options, including more niche sports and prop bets.
More Convenient: Online sports betting is more convenient than using a retail sportsbook. You can place bets from the comfort of your own home or while on the go using your mobile device. This flexibility means you can easily keep track of your bets and follow the action in real-time.
Enhanced User Experience: Many online sports betting sites offer a superior user experience compared to retail sports betting kiosks. With user-friendly sites and mobile apps, it's easy to navigate menus, place bets, and manage your account. You can also access detailed information about teams, players, and odds.
Bonuses and Promotions: Online sportsbooks often offer bonuses and promotions to attract new customers and retain existing ones. These can include free bets, deposit bonuses, and other rewards that can increase your winnings. A retail sportsbook may not offer the same variety of promotional offers.
Arizona Sports Betting FAQ: Guide to Online Sports Betting in Arizona
What bonuses are available at Arizona sports betting sites?
Some of the best bonuses currently available at Arizona online sportsbooks are:
Up to $1,000 in free bets on your first losing bet at BetMGM
$1,000 sign-up promotion at DraftKings
Bet $5, get $150 in free bets at FanDuel
How can I withdraw money from Arizona sports betting sites?
Here's a step-by-step guide on how to withdraw your winnings from Arizona sports betting sites.
Log in to your betting account: Access your account by entering your username and password on the betting site's login page.
Navigate to the Withdrawal Page: Most betting sites have a "Withdrawal" or "Cash Out" option in the menu on their homepage. Click on the option to proceed.
Choose your payment method: Select your preferred withdrawal method from the list of available options. Popular methods include online bank transfers, e-wallets, and checks.
Enter the withdrawal amount: Enter the amount of money you wish to withdraw. Be sure to check the minimum and maximum withdrawal limits for your chosen method.
Confirm your details: Review your payment details, including the amount you want to withdraw and the payment method you've chosen. Ensure that all details are correct.
Submit your request: Click the "Withdraw" or "Submit" button to initiate your withdrawal request. You may need to wait for a processing period before the transaction is completed.
Wait for the funds to arrive: Depending on the payment method you chose, it may take anywhere from one to 10 business days for your withdrawal to be completed.
Which professional sports teams can I bet on in Arizona?
Arizona is home to some of the most popular professional sports teams in the nation. Here are some of the crowd favorites.
Arizona Cardinals (NFL): The Arizona Cardinals are a professional American football team based in the Phoenix metropolitan area. The team was founded in 1898 and is one of the oldest franchises in the NFL. Despite only winning two championships in their long history, the Arizona Cardinals have a dedicated fan base and never fail to attract some betting action.
Arizona Diamondbacks (MLB): The Arizona Diamondbacks are a professional baseball team based in Phoenix, Arizona. The team was founded in 1998 and won one World Series championship in 2001. The Diamondbacks play in Chase Field, a retractable-roof stadium that can seat 48,500+ fans.
Phoenix Suns (NBA): The Phoenix Suns are the iconic Phoenix-based professional basketball team. Founded in 1968, the Suns have made it to the NBA Finals twice but have yet to win a championship. The team is famous for its high-scoring offense, and with Mr. Devin Booker leading the way, the Suns are a team to watch in the playoffs.
Arizona Coyotes (NHL): The Arizona Coyotes are a professional ice hockey team from Glendale, AZ. The team was founded in 1972 as the Winnipeg Jets but moved to Arizona in 1996. Despite being a relatively young team, the Coyotes have a passionate fan base and are sure to attract plenty of bettors looking to wager on NHL games.
Are Arizona betting sites safe?
Yes, Arizona betting sites are safe as long as you choose a licensed and regulated operator. It's important to do your research and select a reputable betting site that is licensed by the Arizona Department of Gaming – like BetMGM or FanDuel.
How to tell if an Arizona sports betting site is legit?
If you're looking to place bets on Arizona sports events, it's important to make sure that the sports betting site you choose is a reputable and legitimate one. Here are some key factors to consider.
Licenses: The Arizona Department of Gaming is responsible for regulating and licensing all gambling activities in the state, including the sports betting industry. Be sure to look for a betting site that has a license from this department and that it is current and valid.
Reputation: Reputation is a key factor when selecting a betting site. Do some research on the betting site's reputation by reading reviews, articles like this one, feedback from other users, and related forums. A quick online search can give you a good idea about the betting site's track record.
Security: Security is a crucial aspect of online betting. Look for online betting sites that have SSL certification and other security features that ensure your personal information and transactions are protected. These features keep your information encrypted and safeguarded from outside threats.
Payment options: It's important to select a betting site that offers reputable and secure payment options. Popular options include credit cards, PayPal, and bank transfers. Verify that the site you choose offers payment options that are convenient to use and have minimal processing time.
Customer support: When it comes to betting online, it's important to have a reliable and prompt customer support team available to assist you. Select an online betting site that offers responsive and helpful customer service via phone, email, or live chat. This way, you can get help when you need it.
How old do you have to be to bet on sports in Arizona?
To bet on sports in Arizona, you must be at least 21 years old. This is the legal minimum age for all types of gambling in the state, including sports betting.
Is online sports betting legal in Arizona?
Online sports betting is legal in Arizona. In April 2021, Governor Doug Ducey signed HB 2772 into the Arizona sports betting law, allowing for the launch of online sportsbooks in the state.
Currently, there are 17 legal Arizona sports betting apps available to anyone over the age of 21, including our top 3 favorites – BetMGM, DraftKings Sportsbook, and FanDuel. Mobile sports betting is also available, as well as live wagering.
What are the most popular sports to bet on in Arizona?
When it comes to sports betting in Arizona, there are several popular sports that people like to bet on. The most popular leagues among Arizona sports bettors are:
NFL: Football is undoubtedly the most popular sport to bet on in Arizona, with the NFL being the main attraction. Many Arizonians love to bet on their favorite NFL teams during the season, and the Super Bowl also generates a lot of betting activity.
NBA: Basketball is another popular sport to bet on in Arizona, with both college basketball and the NBA drawing in a lot of bettors. March Madness, the annual NCAA basketball tournament, is especially popular for sports betting.
MLB: Baseball is also a favorite among Arizonians, with MLB games and the World Series generating a lot of betting activity. The Arizona Diamondbacks, the state's Major League Baseball team, are particularly popular among local bettors.
MMA/Boxing: Combat sports like mixed martial arts and boxing are also popular sports to bet on in Arizona, with big events like UFC fights and boxing matches drawing in a lot of bets.
Comparing the Top 3 Arizona Online Sportsbooks
BetMGM: We found BetMGM to be the best sports betting app in Arizona overall. The site offers highly competitive odds with loads of markets and $1,000 in bonus bets for all new customers.
DraftKings: The best online sportsbook in Arizona when it comes to bonus offers, granting new customers up to $1,000 in sign-up bonuses. There are over 20 sports to bet on, many game and player props to choose from, as well as daily fantasy sports.
FanDuel: The best Arizona sports betting site for live betting. Besides betting on sports live, you can also live stream many events. Bet $5 to get $150 in bonus bets at FanDuel.
How to Bet on Sports in Arizona
To join Arizona betting sites, you just have to follow the guide below.
Enter your email address and proceed to register your account
Alternatively, you can register with PayPal or Yahoo Sports
Verify
Before you deposit, you will need to verify your age
Upload ID documents like your Driver's License and provide any other info that's needed
Wait until your account is verified
Deposit & Claim the Welcome Bonus
Enter the BetMGM cashier and select a payment method
Follow the instructions to place a deposit
You can now bet on sports and enjoy up to $1,000 in free bets on your first losing bet!
Tips and Tricks for Arizona Sports Bettors
If you're a sports fan looking to bet on sports in Arizona, there are a few things to keep in mind. Here are some tips and tricks to help you get started.
Familiarize Yourself with Arizona Sports Teams: 
Before placing any bets, take some time to get to know the sports teams and leagues that are most popular in Arizona. With Arizona State University and the University of Arizona located in the state, college sports are incredibly popular.
In terms of professional sports, the Arizona Cardinals in the NFL, Arizona Diamondbacks in the MLB, and the Phoenix Suns in the NBA are just a few examples.
Understand Local Regulations: 
It's important to understand the local regulations regarding online sports betting in Arizona. As of 2021, sports betting is legal in Arizona, but not every online sportsbook is licensed to operate in the state. Make sure only to use platforms that are authorized to operate within the state's borders, like BetMGM and DraftKings.
Take Advantage of Sign-Up Bonuses and Promotions: 
Many Arizona online sports betting sites offer sign-up bonuses and promotions to new users. These can include free bets, deposit match offers, and more. Take advantage of these offers to maximize your betting budget and potentially increase your winnings.
Stay Up-to-Date with Local Sports News: 
Keeping up-to-date with local sports news and events can help you make more informed betting decisions. This includes understanding recent team performance, injuries, and other factors that may impact the outcome of games. Follow local sports media outlets to stay informed.
Are you traveling often? Check out the best sportsbooks based on states:
Ready to Join the Best Arizona Sports Betting Apps?
The options for online sports betting in Arizona are plenty, but only a few truly great odds and generous bonuses.
Our top pick of the bunch was BetMGM, a great AZ sportsbook app with competitive betting odds on the NFL and NBA, as well as a stellar welcome bonus that will reimburse your first losing bet up to $1,000.
Other top-tier online Arizona sportsbooks are FanDuel and DraftKings.
Whichever online betting site you decide to join, remember to only wager money you can afford to lose!
DISCLAIMER: 21+ only. The information on this site is for entertainment purposes only. Online gambling comes with many risks. Players are advised to gamble responsibly and only use funds they can afford to lose. Remember, gambling is only intended for entertainment purposes and is not a solution to any financial difficulties.
Gambling laws and policies vary from one region to another. Some sites mentioned in this review may not be accessible in your area. Always do your due diligence and check your local gambling policies. It is always better to be safe than sorry.
If you suspect you're becoming addicted to gambling, seek help immediately by contacting the National Gambling Helpline at 1-800-522-4700.
The following resources may be helpful as well: