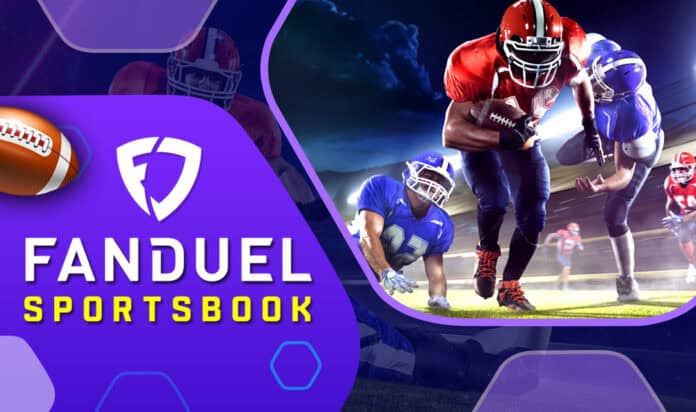 You've likely come across the name FanDuel already if you've been watching the Super Bowl or basically any other US sport.
It's hands down one of the most popular sports betting apps across the USA, but does it have what it takes to be considered the best one out there?
Continue reading our FanDuel sportsbook review to learn more about its betting odds, lines, bonus bets, and how it stacks against the fierce competition in the online betting world.
FanDuel Sportsbook Pros:
5* rated mobile app
Extensive coverage of many sports
Awesome welcome bonus
24/7 live chat
Flawless live betting interface
Plenty of horse racing betting options
Venmo and PayPal banking
FanDuel Sportsbook Cons:
No eSports betting markets
Not available in every state
FanDuel Sportsbook Bonuses:
Heads up about our links! Adblock might get confused so please disable it if you have any issues.
In the following part of our FanDuel review, we will break down all of the sportsbook app's features in detail, including what makes it secure, how reliable its customer support is, how competitive the odds are on average, and much more.
Let's get started.
FanDuel Sportsbook: The Best Bits
Here are a few of our favorite things about betting at FanDuel:
Highly rated FanDuel app for iOS and Android
Amazing range of sports betting markets
Very generous sports betting welcome bonus
Lots of high-quality online casino games
Great range of ongoing sports bonuses
Beautifully designed desktop site
Very responsive customer support chat
Great coverage of markets in a wide range of states
Plenty of banking options
The ability to win money with free play betting games
Is FanDuel Legit?
Taking the plunge at new online sportsbooks can be a little disconcerting if you don't know much about them. How are you supposed to know whether you can trust a new sports betting site or not?
It can be tricky, but we can tell you for a fact that the FanDuel sportsbook is very trustworthy. It doesn't get to become one of the most popular online sportsbooks in the US without winning over a lot of people in this way.
Let's break this down further. We ran all the checks on FanDuel to make 100% sure and found that it protects all sports bettors' personal information very closely indeed.
FanDuel partners with a company called HackerOne, an online security company that works to ensure that its partners are very well protected against outside threats.
They've also implemented a number of extra security measures, such as encryption (including SSL) and firewalls to make 100% sure that they are as safe as they can possibly be.
The FanDuel sportsbook legal team is also on hand to help you out with any concerns, and you can reach out to the company using a 24/7 live chat function on the website.
And, of course, FanDuel is fully licensed to operate. It's owned by Betfair, which is regulated by the State of Connecticut, allowing them to legally operate in a handful of states around the US.
>> Read more about Fanduel NJ
How to Claim Bonus Bets & Bet on Sports at FanDuel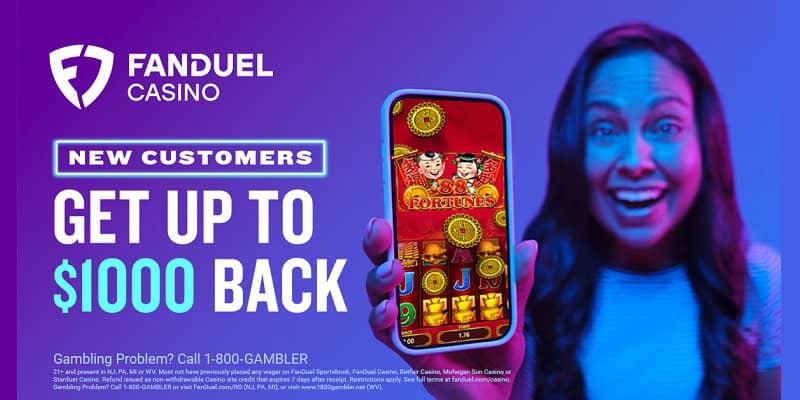 One of the most appealing things about FanDuel is the impressive new customer bonus it offers. So, let us show you how to get your hands on it.
You won't need to enter a FanDuel sportsbook promo code in order to claim the FanDuel sportsbook bonus bets. Just follow these simple steps.
Press the "Join Now" Button
Go to the FanDuel sportsbook site and select your state. If you don't see it, you won't be able to create an account, as FanDuel is only licensed to operate in a handful of states.
Create Your Account
On the next page, enter your email address, then choose a username and a password for your FanDuel sportsbook login details.
Now, it's time to go through the verification process. Enter your full name, date of birth, cell phone number, home address, and the last four digits of your social security number, and then agree to the terms and conditions.
Fund Your Account
Once the checks are complete, it's time to fund your account and get your bonus. Just go back to the homepage and hit the cashier section before selecting an amount and a payment method.
Then, follow the instructions on the screen to complete your transaction. Make sure to read the terms and conditions for the bonus to make sure you qualify.
With this, you can claim your FanDuel sportsbook 2023 bonus bets. All you need to do is put down a bet of $5 or more at particular odds, and you'll get $150 in bonus bets! And remember, there's no need to enter any FanDuel sportsbook codes at all.
How to Contact the FanDuel Sportsbook Customer Support Team
Having some trouble signing up? Need some help with something when you are onboard? Here are the ways to get hold of the FanDuel customer support team.
Live chat: The easiest way to speak to FanDuel is by using the 24/7 live chat function. Just hit "FanDuel Coach" or "Chat with an expert" at the bottom-right of the support section of the site.
Social media: You can reach out to FanDuel using the customer support Twitter handle @FanDuel_Support or via their Facebook page message tool.
Email: For less urgent inquiries, you could go down the email support route. You can send a message via a form on the FanDuel sportsbook support page and expect to receive a reply in 12-24 hours.
Phone callback: It's not possible to just call FanDuel and have someone answer the phone, but if you call 609-224-1019 and leave a message with your issue, full name, username, phone number, and email address, they'll call back.
In-Depth FanDuel Sportsbook Review: Should You Bet on Sports Here?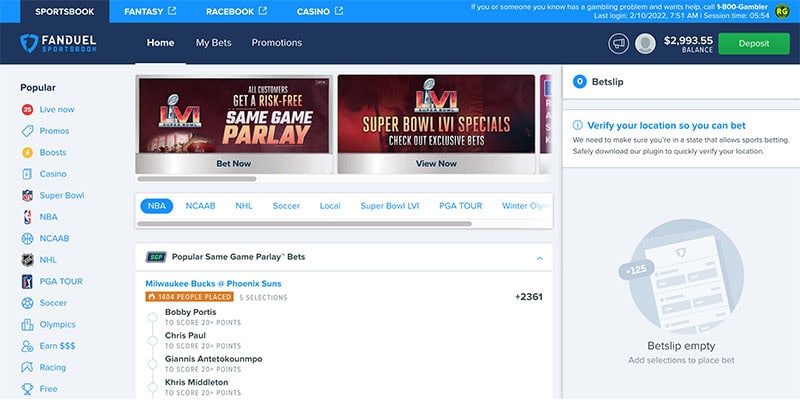 It's crunch time. How good is the FanDuel sportsbook app? Let's find out.
Sports Betting Markets and Casino Games: 4.7/5
Online sports betting at FanDuel is second to none. This online sportsbook covers everything from college sports to Gaelic hurling and does so very extensively, with competitions all around the world. Pretty much every sports betting market imaginable is covered.
However, you won't find any markets outside of real-world sports and daily fantasy sports here. There aren't any odds on eSports or novelty bets, which might cause some disappointment for some players, so we've had to drop a couple of points in this category.
If you want to take a break from sports betting, there are plenty of awesome games in the FanDuel casino department as well. We found hundreds of titles from some of the best providers in the world, such as NetEnt and Microgaming.
As such, you'll be able to play the vast majority of the latest and greatest games in the online casino world.
Matched Deposits and Bonus Bets: 4.9/5
There are all kinds of FanDuel sportsbook offers to check out above and beyond the welcome bonus we just talked about.
Check out the FanDuel promotions page, and you'll find 'Dinger Tuesday', where you'll get $5 in bonus bets every Tuesday, a $75 referral bonus (for both you and your friend), exclusive bonus bets for the NBA playoffs, and many more.
Desktop Site and Mobile App: 4.8/5
Using FanDuel on a desktop computer is a super pleasing experience. The graphic design is great, it's really easy to find your way around, and you'll find a whole lot of in-play betting tools, such as rapid cashouts and some live streams.
Excitingly, you can even live stream NHL hockey and MLB baseball on FanDuel now, something that's rare in the US sports betting industry.
The FanDuel sportsbook mobile app is just as good, if not better. It contains all the features of the FanDuel website on desktop so that you can bet in-play on the go, and it feels just as good to use.
There's no wonder it has such amazing reviews in the Google Play Store. It's definitely one of the best sports betting apps available.
Another cool thing about the FanDuel sportsbook app and site is that you can get loads of great tips on how to bet. There's a whole guide on online betting strategy, which is especially good for new sports betting fans.
FanDuel Sportsbook Review Overall Score 4.8/5
Based on these key criteria, we can say with some certainty that FanDuel is one of the best sportsbook sites in the US right now.
The betting odds are very competitive, you can bet on pretty much any sport under the sun – and the bonuses come with very loose requirements, which is actually one of the most important aspects.
What to Consider Before Creating a FanDuel Sportsbook Account
Ready to get started with the FanDuel sportsbook online? There are a few things to know before you go ahead and grab your account.
The main thing is to take a close look at the terms and conditions for the bonuses and for the site as a whole. It's important to be clued up on the rules for each bonus so that you can learn how you're supposed to use it.
At the time of writing, FanDuel is only available online. You won't find a FanDuel retail sportsbook across any of the states it operates in, which means you can only handle your wagers and payments online.
You should also consider taking advantage of some of the responsible gambling tools FanDuel has to offer. They include deposit limits, spending and time limits, which can be really handy. You can also set cool-off periods.
All FanDuel Sportsbook Promo Code Offers & Bonuses
You'll never need to worry about using a FanDuel sportsbook promo code for any of its promotions. FanDuel sportsbook makes things a little easier than that.
Let's take a look at all of them.
Bet $5 and Get $150 in Bonus Bets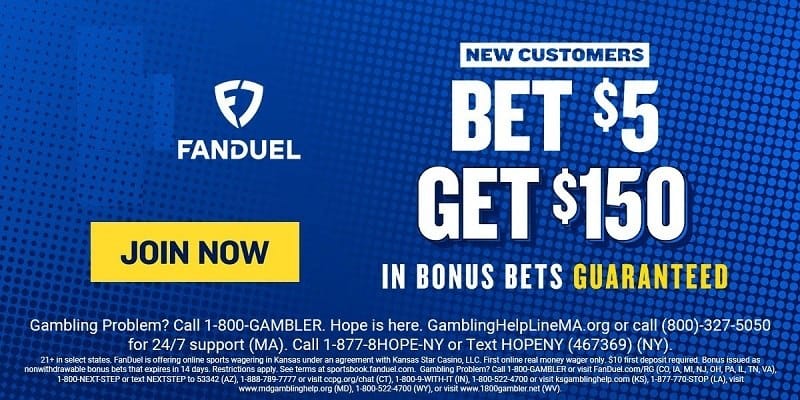 The best way to get bonus bets at FanDuel is to use the welcome bonus. Just sign up, deposit $10, and then stake $5 to get $150 in bonus bets. That's pretty awesome.
Remember, no FanDuel promo code is required for this. It'll simply be credited to your account if you put down the $5 qualifying bet. You can read about how to do that in the bonus terms and conditions.
Once you've played through your FanDuel bonus bets from the new customer offer, be sure to check out Dinger Tuesdays.
Every Tuesday, all FanDuel customers can get a $5 bonus bet when staking $25 'to hit a home run' bet on MLB games.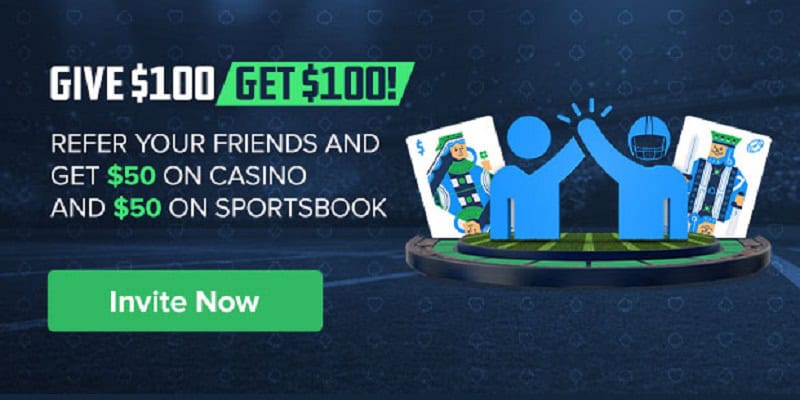 If you refer a friend, you'll both get $50 in bonus bet tokens plus $25 to use in the casino.
Just head to the "Refer" section of your account, and you'll find your exclusive referral link. Send this to a friend, and they'll be able to sign up by using it.
After this, all they need to do is place a $10 qualifying bet, and when it settles, you'll both be credited with all your sportsbook bonus funds.
To get the additional $25 for the casino, they'll need to spend $10 across qualifying casino games.
Win your share of $5000 in prizes every single day when you bet on NBA basketball. All you need to do to have a chance at winning these funds is answer a few questions, and this can be done every single day while the NBA playoffs are being carried out.
Odds Boosts for Same Game Parlays
FanDuel seems to be a big fan of same-game parlays. You'll find special bets for big games that come with odds boosts.
These don't apply to every parlay – just the pre-selected ones from FanDuel that you can find on the homepage. Check it out to see which games have boosted odds right now.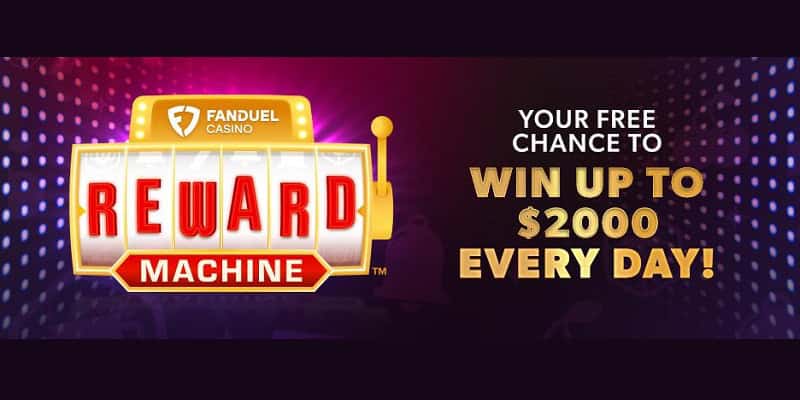 On top of all that sports betting bonus madness, players can grab extra bonuses in the casino. At the time of writing, the following bonuses are available there:
Daily Jackpots: FanDuel offers loads of jackpot games to all players. The good thing is that these jackpots must drop daily, so someone will definitely walk out as a winner.
Weekly Super Sweeps: On top of the jackpots, there are sweepstakes for players who bet $200 or more. This could land you a whole lot of bonus money to play even more casino games with.
Reward Machine: Every single day, all players can spin the Reward Machine for the chance to win up to $2000 in casino bonus funds!
Banking Options at FanDuel Sportsbook
The payment methods available to FanDuel customers are as follows:
VISA
Mastercard
PayPal
Discover
Apple Pay
Trustly
eCheck
Online Banking
TVG Prepaid Card
GreenDot MoneyPak
PayNearMe
Wire Transfer
Money Order
All withdrawal requests at FanDuel are processed within 48 hours. If you request an e-wallet withdrawal, then your payout will be delivered within 1 hour after it's been approved. For other payment methods, it might take up to 5 business days, depending on the bank.
Different deposit and withdrawal limits and fees apply to certain payment methods, so be sure to check out the FanDuel support page before you make your first payment.
FanDuel Sportsbook States: Across the Map
Let's take a look at the FanDuel sportsbook experience in some key areas in the US.
FanDuel Sportsbook NY
Legal sports betting has been available in New York since 2019, but it wasn't until January 8, 2022, that the state also legalized mobile sports betting apps.
From that point on, FanDuel became legally available for New Yorkers to use. That being said, betting on in-state college teams or player prop bets is still not available.
Read More: Best NY sports betting sites
FanDuel Sportsbook PA
Sports betting became legal in Pennsylvania in 2017, followed by legal online sports betting in May 2019 – at which point FanDuel became available for PA sports bettors to use.
As opposed to NY, you can bet on college teams on FanDuel PA – but not on player props for college athletes.
Read More: Best PA online sportsbooks
FanDuel Sportsbook Illinois
The first sports betting apps in Illinois opened up in March 2022, but FanDuel wasn't one of the first to start accepting bets.
Now, you can legally use FanDuel to bet on sports in this state. If you're going to bet on college teams, you can only do so pre-game and not live. Also, keep in mind that betting on elections or award ceremonies is still prohibited in this state.
FanDuel Sportsbook NJ
Sports betting in New Jersey was legalized on June 11, 2018, but it wasn't until August of the same year that the first online sports wager was taken. Now, there are over 20 legal sports betting apps available in NJ, with FanDuel being among the best ones you can join.
Read More: Best NJ sports betting sites
FanDuel Sportsbook Maryland
Maryland is one of the latest states to legalize online sports betting. FanDuel Sportsbook Maryland has been available to use since November 2022.
FanDuel Sportsbook Michigan
FanDuel has been operating in Michigan since January 2021, at which point online sports betting became legalized in the state. You can use this sportsbook in Michigan to bet on various sports, including pro and college sports.
You won't be able to place bets on entertainment or high-school events, though you will be able to bet on the Oscars via FanDuel.
FanDuel Sportsbook Arizona
FanDuel has been legally operating in Arizona since 2021. Similar to Michigan and Illinois, Arizona bettors can use FanDuel to bet on almost every sport under the sun, including pro and college teams.
However, betting on high-school sports or college game and player props is strictly prohibited.
FanDuel Sportsbook vs DraftKings: An Alternative Sports Betting Site to Check Out
The FanDuel sportsbook is pretty awesome – but it's not the only great sports betting site to consider.
Let's take a look at one of its closest competitors, DraftKings. Here's what we think of them:
Sports Betting Markets and Casino Games: 4.8/5
When it comes to real-world sports betting markets, DraftKings and FanDuel are pretty close, although we think FanDuel just about beats DraftKings due to its awesome range.
There's still a lot going for DraftKings, though. For example, it's definitely the better option for eSports betting as it actually has markets for them in a few states.
The one area in which DraftKings seems to beat FanDuel is with daily fantasy sports. This is a bit of a specialty for them, so if this is something you're into, DraftKings could be the better option for you.
So it really depends on what you're looking for specifically as to which of the two you should go for markets-wise.
Matched Deposits and Bonus Bets: 4.4/5
The DraftKings welcome bonus is geared towards daily fantasy sports. When you sign up and place your first deposit, you'll get free entry to a daily fantasy sports contest. This is pretty cool if you're into fantasy sports, but more traditional bettors will find this to be no good.
That being said, there is still a 20% matched deposit bonus of up to $1000 for all players using the sportsbook. We've seen much higher percentages than that, though.
After this, players can still get their hands on a few other bonuses, such as a 33% profit boost on certain sports from time to time and profit boosts on same game parlays.
Desktop Site and Mobile App: 4.5/5
One area that FanDuel clearly beats DraftKings in is actual site design. While both have a downloadable mobile app, the FanDuel one is objectively better as it looks a lot neater and is more well-designed. The same can be said of the desktop site.
This feedback doesn't really do DraftKings a lot of justice, though, as its site and app are still a lot better than average, and you will get a lot of live betting options, which is something we always love to see. You could do a lot worse than end up here when it comes to design.
>> Read our full DraftKings review
Other FanDuel Sportsbook Reviews Online
We wanted to find out what the rest of the sports betting community had to say about FanDuel so that we could bring you the fairest and most balanced opinion of the betting apps.
The only real criticisms we could find about FanDuel were regarding customer service. It's possible that they may take a while to reply during busy periods, but in our experience, any questions or issues we had were dealt with swiftly and effectively.
Let's take a look at a few FanDuel reviews from other players.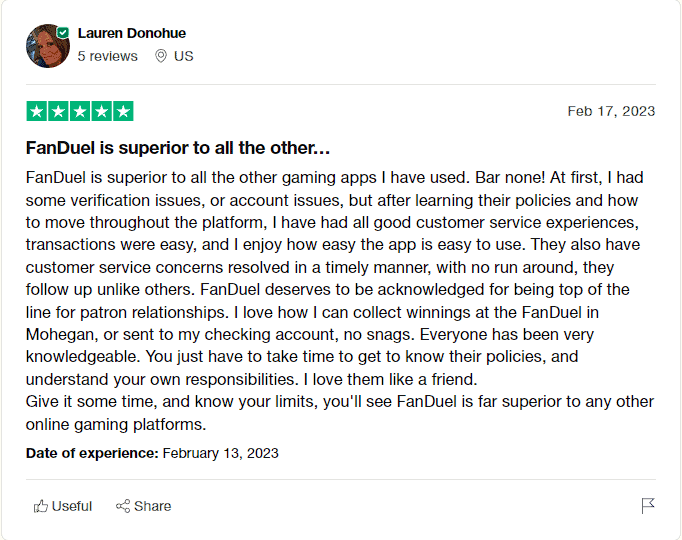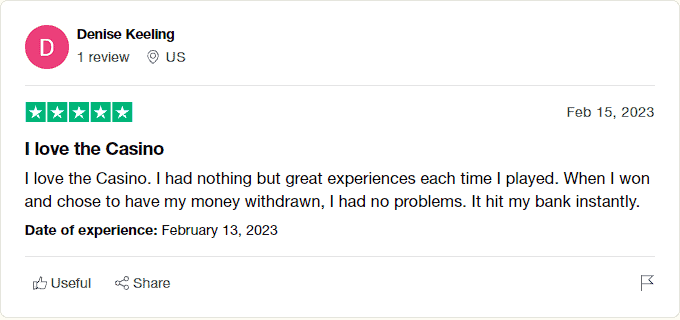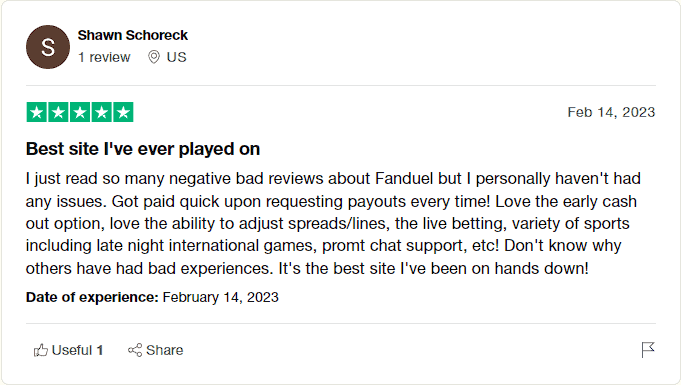 FanDuel Sportsbook Review Verdict: Is it the Best Sports Betting Site in the US?
Greatness is in the eye of the beholder – but we believe FanDuel certainly deserves the best online sportsbook title in the US right now.
It has just about everything: awesome live betting options, competitive lines across 20+ sports, and an awesome sports betting app to take your bets on the go with you.
To get you started on the right foot, FanDuel offers $150 in bonus bets that you can get after you place an initial $5 bet.
Of course, there are other great betting sites to try out, such as DraftKings, so make sure to take the time to decide which is best for you, and remember to gamble responsibly when you do so.
DISCLAIMER: 21+ only. The information on this site is for entertainment purposes only. Online gambling comes with many risks. Players are advised to gamble responsibly and only use funds they can afford to lose. Remember, gambling is only intended for entertainment purposes and is not a solution to any financial difficulties.
Gambling laws and policies vary from one region to another. Some sites mentioned in this review may not be accessible in your area. Always do your due diligence and check your local gambling policies. It is always better to be safe than sorry.
If you suspect you're becoming addicted to gambling, seek help immediately by contacting the National Gambling Helpline at 1-800-522-4700.
The following resources may be helpful as well: