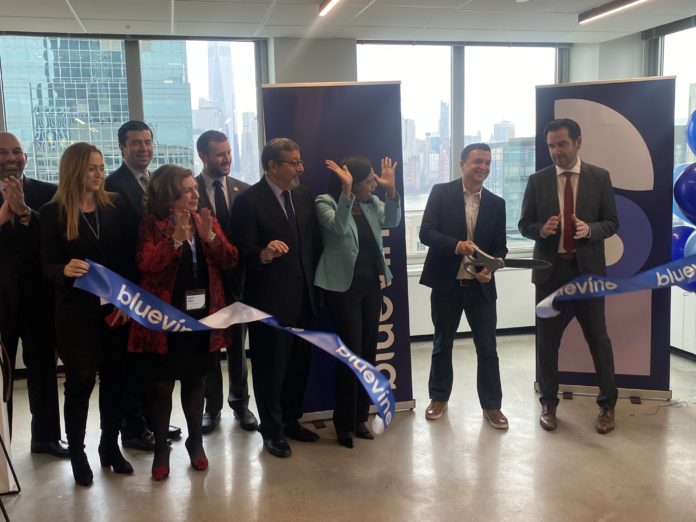 Bluevine, a company which started up in 2013 as a leading provider of small business banking opportunities, will set up shop at 30 Montgomery Street in Jersey City.
The opening Jan. 10 was marked by a ribbon cutting ceremony, attended by Mayor Steven Fulop and New Jersey Secretary of State Tahesha Way.
"The last 10 years we have seen a transformation here with regards to growth, development from small businesses moving here, larger businesses moving here, cultural institutions coming from around the globe wanting to relocate here so Bluevine moving its headquarters here fits perfectly with the narrative that we are trying to push in Jersey City," said Fulop.
The fintech-based company also announced it would partner with Rutgers University to offer internship opportunities for students across departments encouraging technological advancements in New Jersey, but has not disclosed when the programs would take place.
Bluevine provides fast business funding up to $5 million through three products: term loans, lines of credit, and invoice factoring, in a simple online platform, according to the company's site.
"We thought it would make sense to be here, part of it is we are closer to New York the financial capital and moving to Jersey City helps create those technology driven jobs," said Eyal Lifshitz, the company's CEO and co-founder. "There is clearly a motivation to get more companies of this type because it creates an accelerated trend of having more business prosper."
The company currently staffs over 600 employees added Lifishitz, who said he comes from a line of entrepreneurs as his grandfather and father own small local businesses.
According to the company's site, Bluevine is backed by leading private and institutional investors, including Lightspeed Venture Partners, Menlo Ventures, 83North, Citi Ventures, ION Crossover Partners, SVB Capital, Nationwide Insurance, and M12 (Microsoft's Venture Arm). Lines of credit are issued by Celtic Bank, an Utah-chartered Industrial Bank, Member of FDIC. Banking Services provided by Coastal Community Bank, Member FDIC.
For updates on this and other stories, check www.hudsonreporter.com and follow us on Twitter @hudson_reporter. Jordan Coll can be reached at jcoll@hudsonreporter.com.