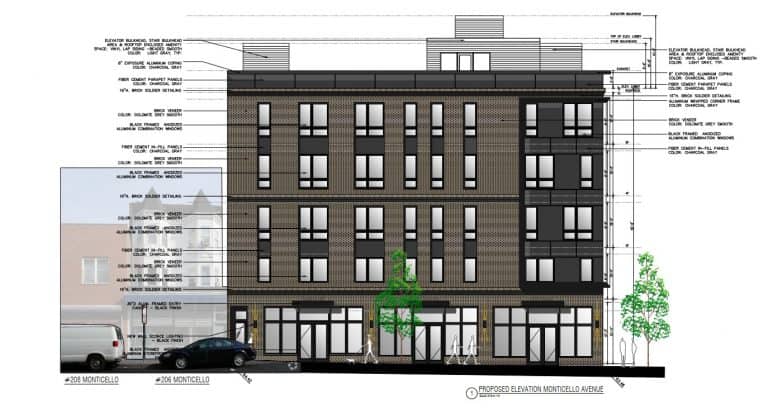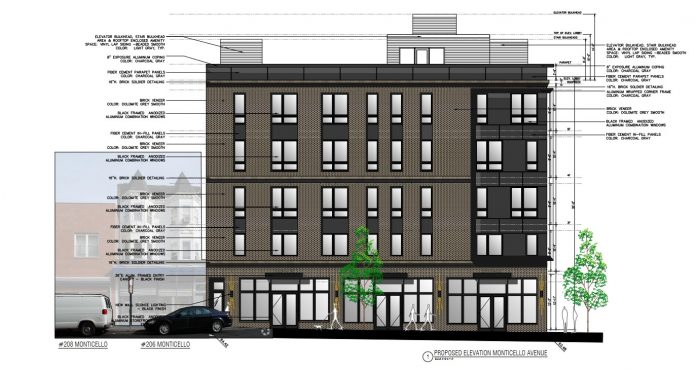 A five-story mixed-use building with 38 units will one day stand on Monticello and Jewett Avenue near McGinley Square, after the Jersey City Planning Board unanimously signed off on its approval at last week's meeting.
The applicants, Monticello 200 LLC, will use three lots, two vacant and one once occupied by a church. The building will include a commercial space on the first floor, followed by eight studio apartments, 26 one-bedrooms and four two-bedrooms.
Jeffrey Lewis testified on behalf of Monticello 200 over the site plans. Outside the building, the applicants plan to have new curbs and sidewalks on Monticello and Jewett, along with adding three new trees and tree pits on Jewett, and a few permeable paver patios in the rear yard surrounded by a six-foot fence.
For the building itself, the first floor will have a 2,331 square foot commercial area and two one-bedroom apartments, along with an elevator lobby with a mail area and package room, a bike storage room for 36 bikes, a trash compactor room, and a 521-square-foot amenity space. Two of those apartments will also have a private patio and yard in the backyard.
Lewis continued that floors two through five will have nine apartments each – two studios, six one-bedrooms and one two-bedroom, connected by a common corridor with two sets of stairs and the elevator. Three of the apartments facing the rear yard will each have their own private balcony at the back of the building.
The studio apartments will be 466 square feet, the one-bedrooms will be 646 square feet, and the two-bedrooms will be 983 square feet. Each will also come with a washer and dryer.
Onto the roof, the deck there will be 1,320 square feet with two green roof areas; one is 628 square feet and the other is 1,016 square feet. The rest of the roof will be used as an equipment area for the condensers for the residential units.
One resident, Valeriy Verkhovskiy, spoke in favor of the project, calling it a "beautiful structure" and saying that will be a positive addition to the neighborhood. "I'm so glad this empty lot is finally going to be developed," he said. "[I'm] so tired of looking at this empty lot of people throwing garbage in there."
The board eventually voted 7-0 to approve the site plans.
For updates on this and other stories, check hudsonreporter.com and follow us on Twitter @hudson_reporter. Mark Koosau can be reached at mkoosau@hudsonreporter.com or his Twitter @snivyTsutarja.