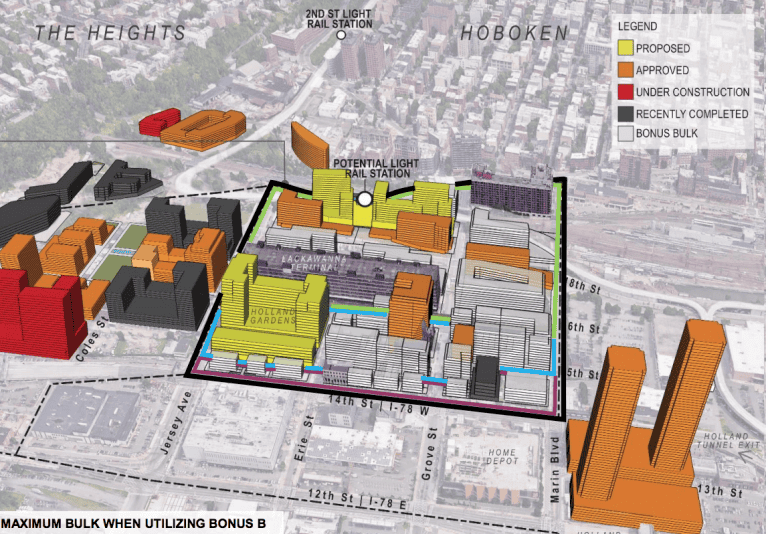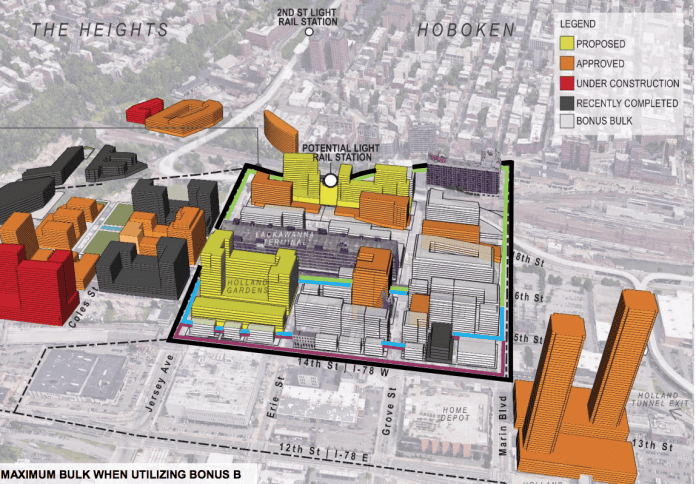 The Jersey City council made headway with two major redevelopment plans, adopting the Central Avenue Block 2901 Redevelopment Plan as well as amendments to the Jersey Avenue Light Rail Redevelopment Plan.
The first plan will make way for a mixed-use building with 400 public parking spaces and a public plaza as part of a public-private partnership in the Jersey City Heights.
It marks the first time the city would create a new parking facility since the turn of the century. It will replace a high-demand surface lot of 164 parking spaces, often crowded with residents and shoppers near Central Avenue.
The plan dictates how 2.68 acres and 24 parcels in Block 2901 can be developed. The area is primarily bounded by Central Avenue to the west, Griffith Street to the south, and Cambridge Avenue to the east. Adjacent northern parcels are not included in the plan.
It divides the area into three zones. The first includes the mixed-use building and parking facility and caps building heights at seven stories.
Councilman Michael Yun who died in April 2020 due to COVID-19 championed the project. In his honor, a 10,000-square-foot public plaza will be constructed as a required community giveback in this zone.
During his tenure on the council he Yun and the city spent nearly two years engaging the neighborhood and business community through public meetings to create the plan.
Development in Zone 1 will have to include 20 percent of its residential units as affordable housing. Alternatives are also permitted such as offsite affordable housing or payment to the affordable housing trust fund.
Zone 1 developments will be required to incorporate green infrastructure as part of the city's Resiliency Master Plan. The developer will incorporate flood reduction and pollution solutions while promoting sustainable development such as a sustainable rooftop, solar panels, electric car charging stations, or rain gardens.
Zone 2's purpose is to recognize neighborhood business districts and promote efforts to strengthen existing main street-type commercial buildings and ground floor retail along Central Avenue.
Buildings in Zone 2 cannot exceed five stories. Residential apartments, retail, and restaurants are some of the permitted uses.
Building heights restricted
Zone 3 primarily permits low-rise housing and mixed-use structures such as family homes and ground floor retail. Building heights are capped at three stories.
The Jersey City Council also adopted amendments to the Jersey Avenue Light Rail Redevelopment Plan.
The area consists of 50 acres bounded by train tracks to the north and the Holland Tunnel to the south anchored by the Lackawanna industrial building.
The amendments primarily include the implementation of a Light Rail Station Overlay bonus, a Holland Gardens Overlay bonus, an Affordable Housing Bonus, which dictates that development will provide 20 percent affordable housing onsite, a School Development Bonus, and other community benefits.
According to council documents, the Light Rail Station Overlay Bonus allows 18 stories along with the construction of a new light rail station in exchange for fewer affordable housing units, requiring only a 10 percent affordable housing set aside.
Area residents have access only to the light rail at Newport or Second Street in Hoboken which requires crossing high-traffic highways.
The stop would be created near the existing tracks near Erie Street and would include an 18,000-square-foot public plaza.
According to council documents, the Holland Gardens Overlay Bonus, will be done in conjunction with the Jersey City Housing Authority to construct a one-for-one replacement of the existing Holland Garden units. Buildings will be a maximum of 23 stories. It also requires the extension of 15th Street between Jersey Avenue and Erie Street.
The redevelopment will include the construction of a community facility such as a library, and the creation of for-sale affordable housing.
The School Overlay Bonus will allow developers to build up to 18 stories, including four additional stories if they build a school or school annex for the Jersey City Public School District in the northern area.
For more information on the Central Avenue Block 2901 Redevelopment Plan go to https://tinyurl.com/mje2yk65
For more information on the Jersey Avenue Light Rail Redevelopment Plan amendments go to https://tinyurl.com/e5ryz539
For updates on this and other stories check www.hudsonreporter.com and follow us on Twitter @hudson_reporter. Marilyn Baer can be reached at Marilynb@hudsonreporter.com.