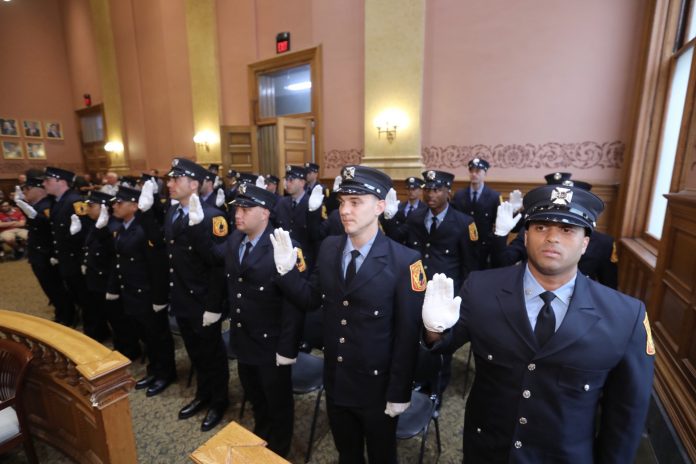 Jersey City swore in a new class of firefighters at a City Hall ceremony on September 1. Mayor Steven Fulop, Public Safety Director James Shea, and Fire Chief Steven McGill swore in 25 new recruits from the 72nd academy class.
"We're extremely grateful to our newest firefighters taking on an awesome responsibility, and also to their families who are constant support systems throughout their careers," said Mayor Fulop. "You are joining a tremendous fire department. One that is distinguished by always fulfilling the call of duty to our 250,000 residents and doing so in a way that makes Jersey City proud."
The group is the 23rd class that Fulop has sworn in since taking office in 2013. 316 new firefighters have been sworn in since then, bringing the department to more than 650 firefighters and superiors.
The new class includes multigenerational firefighters; Charles Donaghue is the third generation in his family to join the JCFD after his father Charles and his grandfather. Four new recruits are following in their fathers' footsteps, and two recruits are joining their brothers on the job.
"As Emergency Medical Responders, our firefighters are even more prepared and equipped to provide initial emergency care in medical emergencies, providing additional levels of aid in situations where every second counts," said McGill.
For updates on this and other stories, check www.hudsonreporter.com and follow us on Twitter @hudson_reporter. Mark Koosau can be reached at mkoosau@hudsonreporter.com or his Twitter @snivyTsutarja.