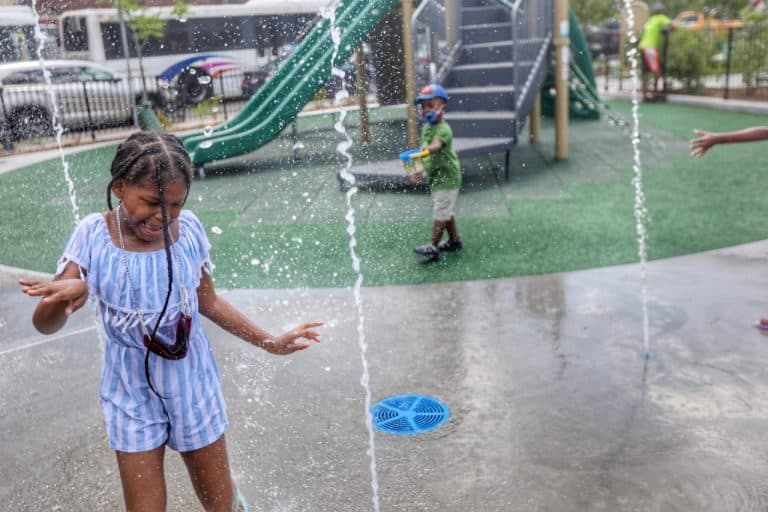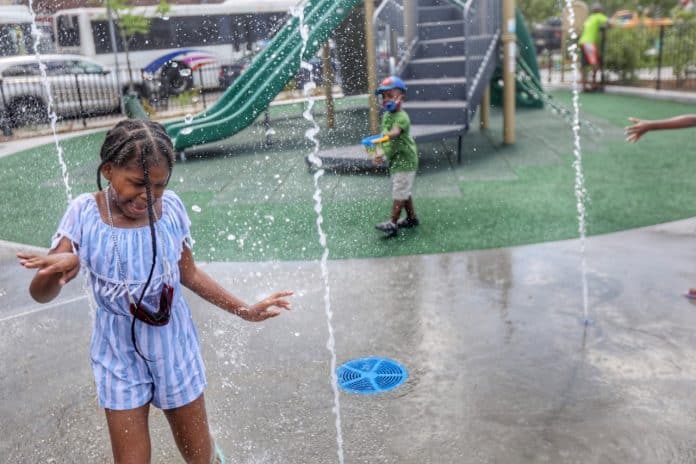 After undergoing $500,000 in renovations, Ferris Triangle Park has officially reopened to residents with a ribboncutting.
The park, in Jersey City's Greenville section, now includes a new ADA compliant playground and a splash pad with push-button activation offering a respite from the sweltering heat as record-breaking temperatures plague the county.
The administration worked closely with the neighboring Triangle Park Community Center to ensure the new park would encourage community and meet residents' needs.
The Jersey City Open Space Trust Fund funded the $500,000 in upgrades which took six months to complete.
'Cool off and have fun in the sun'
"Triangle Park has been a priority under our Open Space Trust Act with a goal of reclaiming the public park space to bring out its fullest potential for the benefit of neighborhood residents, and so we worked directly with the community to understand their needs and bring them to fruition," said Mayor Steven Fulop. "This is a great way to kick off summer, especially for many of the local children and families as these park improvements provide an easily accessible outdoor recreational space where they can cool off and have fun under the sun."
The once passive park, along Old Bergen Road, underwent comprehensive construction to include substantial green infrastructure for beautification and storm water absorption. The park's upgrades also include new seating and tables, flagpole, signage, and lighting fixtures, among other improvements.
"The Triangle Park renovation is a great example of collaboration between residents and their local government," said Ward A Councilwoman Denise Ridley. "Members of the Triangle Park community worked to have this park restored, and we will continue to work together to keep the park activated and in good condition."
The Triangle Park Community Center, a ministry of Episcopal Jersey City, will use the park for community events and programming.
"The reopening of Ferris Triangle Park brings a new revival, one filled with hope and promise that the stigma of the old park stays in history," said Monica Shaw, director of the Triangle Park Community Center. "Today, Ferris Triangle Park begins a new chapter of progress. Let the community take ownership and pride to create a fresh narrative for our youth, families, and seniors to cherish!"
"This park has seen generations of neglect but will now have the chance to empower local businesses and strengthen community bonds," said Trustee of the Jersey City Parks Coalition Patrick Ambrossi. "The Jersey City Parks Coalition looks forward to partnering with the surrounding community and city officials for the rebirth of this park – to bring fun and energizing events to Triangle Park. We are excited to see the impact of the Jersey City Open Space Trust Fund, specifically in Triangle Park, where 100 percent of these improvements have been funded through the Open Space Trust Fund. We are proud to have been advocates for and work with Mayor Fulop and his administration to make this a reality."
In April, Riverview-Fisk Park in Jersey City Heights officially reopened after a $2.1 million renovation, and the city broke ground on a $6 million renovation to Reservoir 3. The following month, Jersey City officially broke ground on the expansion of  Fairmount Triangle Park in Ward F. 
For updates on this and other stories check www.hudsonreporter.com and follow us on Twitter @hudson_reporter. Marilyn Baer can be reached at Marilynb@hudsonreporter.com.