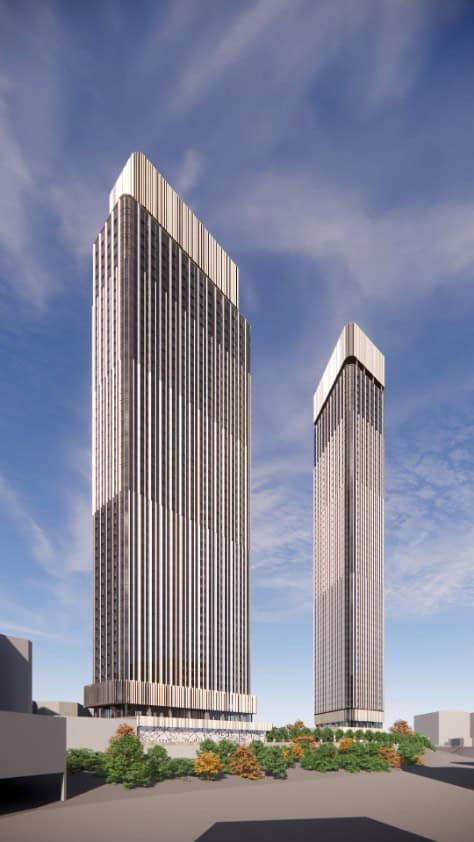 In perhaps a decade from now, those who live or walk in the Journal Square neighborhood will be looking up more after two new skyscrapers were approved by the Jersey City Planning Board on Oct. 11.
The approved 1,189-unit mega project will bring two towers, one that is 49-stories tall with 595 residential units, and another that is 55-stories tall with 594 units, on a 2.21 acre site across from the Journal Square PATH Station and near the Loew's Theatre.
The project will be developed by Kushner Real Estate Group, who also developed the Journal Squared project, and Silverstein Properties, who developed the World Trade Center site in Manhattan, over a decade in two phases, first with the 49-story tower, and then second with the 55-story tower.
The applicant's attorney, James McCann, explained during the board's Sept. 6 meeting that the project will include public benefit improvements such as open space and walkways.
"Our project that we are presenting to you tonight will provide and focus on some really incredible open space, landscaping, artwork and art walk that will link the developing arts community in Journal Square," said McCann.
Going over the project, Leonard Savino of Langin explained that the project will be on five lots totaling 2.21 acres that they will subdivide into two lots. He said a four-level parking garage and separate parking lot on the south part of the site will be demolished to accommodate the development.
He said phase one of the project will start on the south side with the 49-story tower, which will have 235 parking spaces below grade and an overall footprint of 50,049 square feet. The phase will also include a second building that will have a gallery, cafe and rooftop pool, as well as a parking garage entry.
The first phase will also include a vehicular turnaround area to the north of the tower and a pedestrian plaza.
Phase two of the project on the northern end will have the 55-story building that will include 131 parking spaces and a footprint of 10,486 square feet. All the way to the north of the site will be a dog park and other open space.
Gary Handel from Handel Architecture then explained the project will be completing a connection between Journal Squared and Mana Contemporary via an art walk that will begin at JFK Boulevard and go through the project site.
He also explained that all of the parking will be below grade in three levels, which will also have bike storage rooms and bike racks.
For the amount of residential units, 34 percent will be studios, 51 percent will be one-bedrooms, 13 percent will be two-bedrooms and three percent will be three-bedrooms. Each tower will also have an upper sky lounge on the top.
During public comment in the Sept. 6 meeting, resident Saro Cutri said that while he thought the application was a "pretty good project", he voiced concerns over how the property line of it goes right through his property at 810 Pavonia Ave., which he said had gotten Planning Board approval about a year-and-a-half ago to do a four-story building there.
"What they're proposing here has a pool that's going to wrap around and essentially abut the front of my building," he said. "So this plan looks like it's the separation of those two phases; looks like it's done at where they're presuming my backyard is on that property. But that's actually going to be a building."
Cutri was specifically referring to a pool deck on the north tower that would enclose around his property. McCann said that he wasn't aware of the issue or the building that Cutri had gotten approval for, but later said he could discuss the issue with him.
The board then carried their applications to Oct. 11, to which the applicants then returned to say that they met with Cutri and made changes to accommodate his own plans.
Stephen Sheng of Handel Architect explained that they pulled back the face of the terrace to align with the 810 Pavonia Ave. rear property line, which he said will allow the entire side length of the side yard there to be unobstructed by the new terrace.
"We may or may not lose parking spaces, and the reason that we can't give a definitive answer on that tonight is we were still working with the structural engineers in order to figure out how we would create this span," he said, estimating that they could lose between zero to three parking spaces with the changes.
Cutri then returned to say that he was withdrawing his objections, saying that KRE were "incredibly generous and fair with me."
"They're obviously a bigger company than me," he said. "I'm trying to do a small development project, and they've treated me fairly throughout. So [I'm] very happy with the outcome."
The board ultimately voted unanimously 8-0 to approve both the subdivision and final site plans.
"I appreciate the applicant meeting with Mr. Cutri and working everything out to everyone's satisfaction," said Chairman Christopher Langston. "I'm excited for it. I think it's a great project. It means a lot to the neighborhood."
For updates on this and other stories, check hudsonreporter.com and follow us on Twitter @hudson_reporter. Mark Koosau can be reached at mkoosau@hudsonreporter.com or his Twitter @snivyTsutarja.