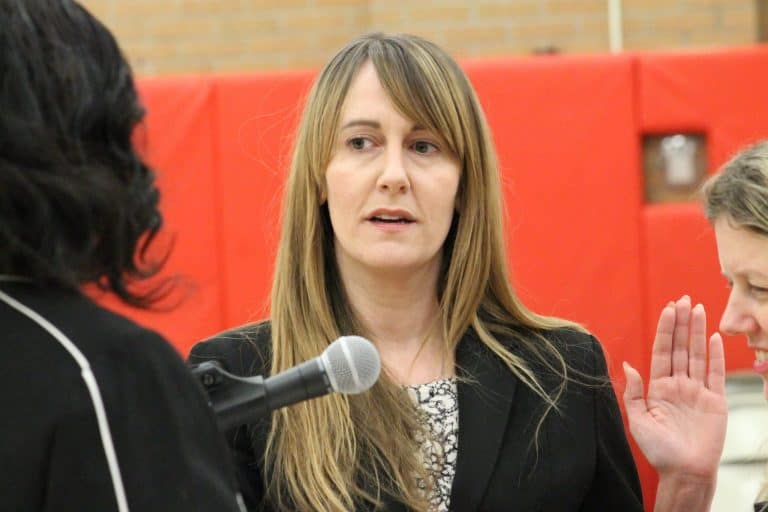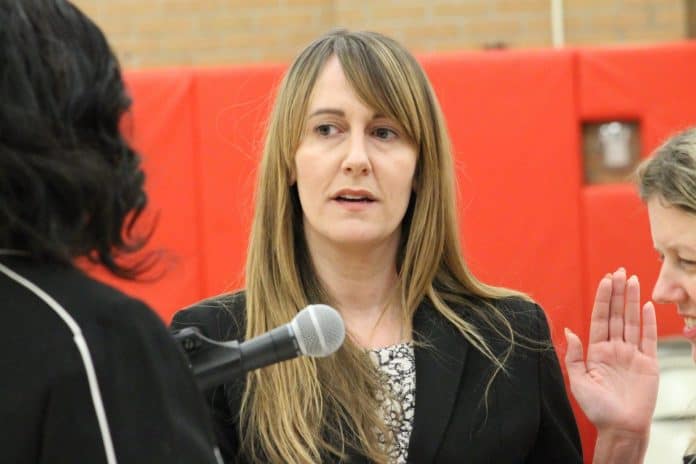 If embattled Jersey City Councilwoman Amy DeGise resigns from her seat on the City Council, who will choose her successor this year – the voters this Nov. 8, or Mayor Steven Fulop's allies on the council?
The answer: it all depends on the timing.
DeGise, who is an at-large freshman councilwoman, has resisted numerous calls to step down from her post after her involvement in a hit-and-run last month, where she struck a cyclist without stopping and didn't report it to police until six hours later.
If DeGise resigns at any point, state laws says that the vacancy would have to be filled by the City Council within 30 days via a council-voted appointment. Mayor Fulop would command a 6-2 supermajority on the City Council, and his allies would be able to appoint an allied council member to fill DeGise's seat.
But then there's the factor of when she could resign. According to Deputy City Clerk John Hallanan, if DeGise were to resign before Sept. 6 of this year, a special election would occur this November and Jersey City's voters, who elected DeGise at-large, would choose whether to keep her successor or not for the remainder of her term.
If DeGise resigns after Sept. 6, the person appointed to her spot would serve until the 2023 general election, when a special election would be held to fill the remainder of the term and when the appointed successor would potentially run with all the advantages of incumbency.
Even if DeGise stepped down now, potential candidates would have a very small window of opportunity to file.
According to Hallanan, state law says that candidates for municipal offices must be filed on or before the 64th day before a regularly scheduled election. Because election day this year is on Nov. 8, the 64th day before would be Sept. 5; but that's Labor Day, so Hallanan said that Sept. 6 would be treated as the filing deadline.
Hector Oseguera, a former congressional candidate and progressive figure in Hudson County, said that there is a possibility that the Sept. 6 deadline could be waited out so that Fulop can appoint someone to that seat. He added however that progressives aren't counting on that scenario.
"It's not a good idea for us to essentially wait it out with them, and expect them to ask her to resign after that date," he said, later adding that they're still focusing on getting DeGise to step down.
Councilman Frank Gilmore, who's one of the two only council members that have called for DeGise's resignation, also said that that scenario would be a "smart move" on behalf of the political establishment that DeGise is part of.
"That way, that individual will gain some form of grounding, have some form of support and to give them [the] ability to create networks and stuff like that," he said.
One factor that would also have to be accounted for in-case DeGise resigns before Sept. 6 of this year is getting the 100 petitions needed to qualify for a special election. With just two weeks before that day, it would be a short window from now to gather the necessary signatures.
When asked if 100 signatures is possible under the time frame, both Oseguera and Gilmore said that it's "reasonable".
"I don't think it would be difficult for anybody to get 100 petitions signed for a special election," said Oseguera. "I really don't see that as a high burden."
The last time a special election was held in Jersey City was in 2020, when a vacancy occurred following the death of Ward D Councilman Michael Yun in April of 2020 due to complications from COVID-19.
The council at the time appointed Yousef Saleh to fill Yun's seat. Saleh went on to win a special election in November of 2020 to finish the remainder of Yun's term, and then the year after won a full four-year term in the general election.
Another option available if DeGise decides to stay on her seat would be to force her out via a recall election, as once suggested by Councilman James Solomon. But there are multiple stipulations to initiate a recall.
The first is that a recall can't be launched until she finishes her first year in office on Jan. 1, 2023. The second is that petitioners would need to gather enough signatures totaling 25 percent of the registered voters who live in said official's electoral district. As DeGise is an at-large councilwoman, that means 42,523 signatures would be required.
For updates on this and other stories, check hudsonreporter.com and follow us on Twitter @hudson_reporter. Mark Koosau can be reached at mkoosau@hudsonreporter.com or his Twitter @snivyTsutarja.