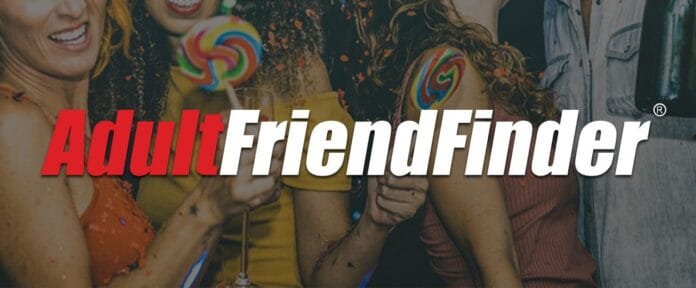 Let's cut to the chase…
There's a reason why you fancy Adult Friend Finder. You are probably looking for a one-of-a-kind dating site big on passion and adult stuff. Right?
But even before we get to that, you're probably wondering if the app is worth your time, legit, and if it'll work for you.
Well, don't we have the answers for you?
With this AdultFriendFinder Review, you'll know everything from the site's features, user base, what to be aware of, safety, and more.
Roll with me!
AdultFriendFinder Review – Is AFF A Legit Dating Site
Pros
Niche adult dating platform
Video dating feature
Translate in multiple languages
Honest, straightforward active users
Longstanding site (since 1996)
Remarkably advanced search feature
Users of all age ranges
Cons
Could improve site design
Ads can be too many (sometimes)
Adult Friend Finder is one of the most sought-after online dating apps today. To give you an idea of how hot the AdultFriendFinder website is, there are over 80M active users across the world.
Some reports even say that AFF could have a user pool of up to 100M. Needless to say, there are tremendous people to talk to here.
Not to mention, AFF is one of the longest-standing and best hookup sites, having been in the industry since 1996.
Again, AFF is also an award-winning site. Most notably, the platform has scooped the best dating company Ynot Award for the adult industry.
As far as reputation goes, AFF does seem to be worth its salt.
BUT…
Don't jump the gun just yet.
There's more to find out.
Who is Adult Friend Finder for?
It's all in the name.
At the heart, the Adult Friend Finder online dating site was created to suit people tired of traditional dating sites.
The site primarily caters to people who are looking for sex dating adventures or basically just any casual arrangement.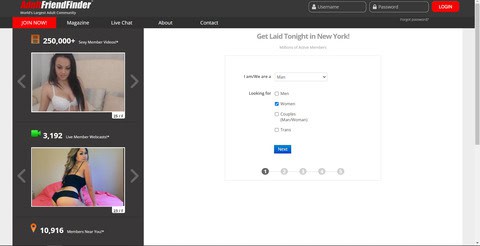 For people that might be looking for something long-term, there are better platforms than AFF.
This said, you might find people who are into the same erotic things as you, which may pave the way for some potential relationships. Sultry compatibility might just be what you need.
So, what kind of people will you find on the platform?
The People On Adult Friend Finder Reviewed
AFF is a hodgepodge of everyone.
Oh yes, everyone. You'll find people from almost every country in the world.
Also, you'd be damned if you think there are only singles on Adult Friend Finder app. There are lots of couples, especially those seeking swinger opportunities. Sexy, aye?
Not to mention, the casual dating app is open to people of all orientations and that plays to the variety of its users.
While signing up, you can state whether you're looking for guys or ladies, and the platform will help tailor the matching experience to your taste.
Interaction and Communication tools – How to Talk to Other Members
The instant chat function is the most popular way to talk to someone on AFF. Once you match with someone, you can send a message immediately on the chat.
Best of all, Adult Friend Finder has a live video chat tool. If you want something deeper and more intimate than a chat, then the video chat will work the magic.
Furthermore, video chat is ideal if you're talking to people from different countries and for people who want to keep their interactions only online.
Still, you don't have to text or video call someone to express your interest. The platform has a gift feature where you can send virtual gifts to break the ice without going all the way.
You can also comment on people's photos and specific areas of their profiles if you don't want to commit to a full-on chat first.
Profile Quality – How Good Are They?
Profiles on Adult Friend Finder are usually detailed, therefore making it easy to know someone a good length before actually talking to them.
Deep profiles also save you time as you can choose to talk to users who share the same goals as you.
A regular AFF profile will have information like:
Photos
Age
Appearance
Orientation
Sexual fantasies
Dating preferences
Hobbies
It is recommended that you include as much detail as you can when creating your AFF account. Complete profiles usually appear more credible and hence give you more engagement with other members.
The only thing is that AFF doesn't have the most strict verification, so you might encounter a few fake accounts.
Nevertheless, the dating platform makes up for everything by monitoring profiles and removing those that may not seem genuine to open you to a worthwhile dating pool.
Stand-out Features
Adult Friend Finder is what it is because of its plethora of features. There are many ways to communicate, interact, and even find like-minded people.
Let's take a look at the best features yet.
Advanced Search
Since tens of millions of people are on AFF, doing a manual swipe search can probably be overwhelming.
With this, the online dating service includes a long array of search filters to help you find other members that are aligned on the same things as you.
From the onset, Adult Friend Finder will suggest people nearest to you to increase the chances of you actually meeting with them.
Nonetheless, you can use the international filter to connect with people from other regions and countries.
To fine-tune your casual dating some more, you can narrow down users based on:
Age
Interest
Physical appearance
Sexual orientation
Likes
Relationship type
But it's the sexual preference filters that really take it away.
AFF sticks to giving you the ideal adult dating experience with filters on specific kinks, and fetishes, whether you only want online sex dating, sexual orientation, or swinging, just to mention a few.
Better yet, you can also look at member activity and see the last time they were online or if they are active or not. This way, you don't have to waste effort making a move on someone who's not active.
Compatibility Matching
Right off the bat, AFF edges out many traditional dating and hookup sites by being intentional with your matching.
The matches you'll receive will mostly be people you share the same things with, e.g. goals and desires.
Still, you can also opt not to use the filters and have random matching arrangements when you feel the need to switch things up from time to time.
Chatrooms and Communities
Away from talking to individuals privately, you can join vibrant groups and forums and discuss the things you like.
AFF's discussion forums give a social network vibe and are usually interest-based. These communities are an amazing place to find your tribe and even make friends depending on the things you share.
To add, a community forum can be a good place to find someone who wants the same things as you as well.
What makes it even better is that these chatrooms have no limits, hence you can be as wild and as free as you wish.
If you're on a premium membership, you can create your own community and invite others to join.
Photos and Video Collections
Unlike other popular dating services, which might have a limit on the media you can upload to your profile, Adult Friend Finder gives you all the freedom.
On top of adding photos, you can add videos to your profile as well, and give people something more to look at. Also, you can choose to be explicit without worrying about the platform banning your account.
If you like, you can create albums and collections as well.
You can go a notch higher and make private media albums if you don't want everyone in your business. Still, you can grant access to anyone you want.
AFF also allows you to comment on a user's photo and potentially spark a conversation from it.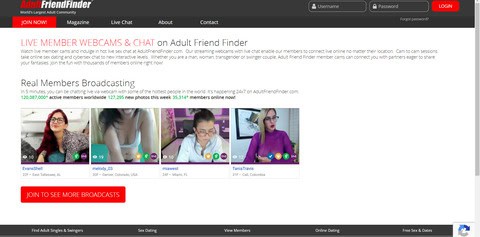 Live Cams
Oh boy! Leave alone video chats. You can enjoy live cams from across the world.
The live cams on the dating site are run by individual users and even amateur and famous cam girls. Suffice to say, you have the option to choose how much sauce you want.
Live cams also have public chat rooms where viewers can talk to a cam model as they run their show.
Often, cam models will run specialized shows like roulette shows where a user spins the wheel and the adult performer does whatever the pin lands on.
You can also experience goal shows where you and other users can sort of crowd-fund and have a cam talent do something from a collection of options.
However, public chatrooms can attract hundreds and even thousands of people, so you might slip through the cracks.
For an incredibly tailored experience, you can request a private session with the cam model and have them all to yourself.
With private live cams, you can also turn on your cam and have a captivating one on one session. If you feel a little shy, you can talk to them purely in the chats instead.
Gifts
There are a number of ways to show someone that you like them on AdultFriendFinder.
One way to make a move without sending a message in the chats is by sending a virtual gift. Matter of fact, you might also receive them if someone likes you much.
It's recommended that you send virtual gifts and money tips to people you really like as sending it to just anyone can be expensive.
This said, there is a raft of cheap virtual gifts that you can get as well.
Flirts
Again, you can also break the ice without necessarily having to send them a message first.
There are an array of emojis like winks, smileys, and even more naughty options if you're feeling a little edgy.
If someone likes you back, they'll probably send a flirt back, and then you can progress with your conversation from there.
Contests
AFF is super racy that it even has a sex academy.
But sorry…no one is getting it on here. At least not in that sense.
The contest sections usually involve photo and sometimes video contests whereby people try to produce the hottest content.
To spice it up some more, the contests are themed. They might revolve around food, sports, movies, cosplay, and more.
If you're feeling bold, photo contests are a great way to showcase yourself and have some fun while at it too.
Did I mention winners get prizes?
Yeah, when you come up top, AFF can give various prices including a Gold membership for a whole year. Fancy that?
Furthermore, you can check out the past winners of the contests if you want some inspiration or if you want to slide into their DM assuming they're still on the site.
Blogs and Magazines
One amazing thing is that this online dating app just doesn't seek to hook you up but also to educate you and lead you to the path of fulfilled romantic arrangements.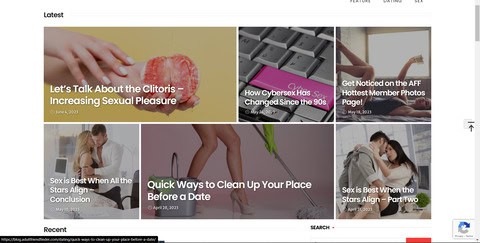 The platform has a magazine section that has well-written articles on expansive topics. To mention a few, you can find information on:
Pleasure and sex
Cybersex
Cleaning up before doing anything erotic
Hookup tips
Impact play
Using dating apps secretly
Adult Friend Finder Gold members can also write blogs and add them to the site or their profiles. Individual blogs can help you know about someone better and even discover things you might have in common.
User-friendliness
Signing up on AFF is pretty fast. In about 3–5 minutes and just a few clicks you would have created an account and started browsing for romantic interests.
Additionally, the registration process is simple and guided, therefore anyone – even those that aren't tech-savvy – can get their way around it.
The most exceptional thing is that even with the myriad of features, AFF is also pretty easy to navigate.
It also helps that there is a line of filters that can assist you with browsing out hotties in your area.
Yeah, we get it. The site's interface isn't the most modern, but I guess the site wants to stick to the classic 90s dating site look.
Even so, the dating website's menu is well-placed, so it's quite painless to find anything. Also, the buttons are also intuitive, meaning you will have it convenient too.
One issue is that unlike most modern dating sites today, AFF doesn't have a mobile app yet.
The web version is however quite pleasant to use. It has also been optimized to look and feel nice on phones and other devices for on-the-go use, making up for the lack of an Adult Friend Finder app.
Adult Friend Finder further plays true to its international audience as it's available in a bunch of languages including:
English
Spanish
French
Dutch
Chinese
Japanese
Portuguese
Italian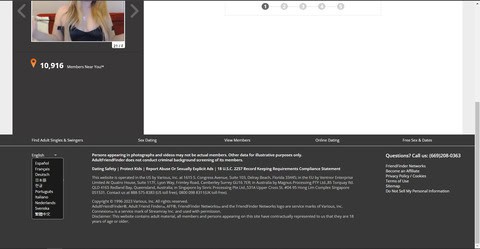 AdultFriendFinder Review of Site Security
Of course, you probably want to know if you and your information are safe on any dating website.
The awesome thing is Adult Friend Finder is packed with layers of security measures to protect your information from hackers and the like.
Again, AFF dating platform doesn't share your data with third-party apps unless you agree to it, therefore less risk of your information being wrongly used.
The dating app also does email and phone verification to lock out fakes and scammers from the platform. Still, like with all dating websites that allow for free registrations, a few fake profiles might sneak their way in.
But you'd be happy to know that the platform does robust monitoring to remove fake profiles.
The customer service is also quite decent, and they would hear all complaints of out-of-pocket users and take action on them.
When you take a look at AFF's blog and magazine section, you can also find online dating tips that can help you have a seamless and safe cyber dating time.
But just to put it out there, don't leave your safety to the site.
It's important to take up more responsibility and talk to users you feel are real and credible. For one, you can check out their photos to see if there's consistency.
If you're not sure, you can ask someone you're talking to have a video call with you. If they're reluctant, you might want to tread carefully.
Pricing
Adult Friend Finder is one of those freemium dating apps.
Freemium means the app has free features but also premium features as well.
Joining the site won't cost you a dime. As a free member, you can use the app to some extent but you'll have to upgrade to a Gold membership if you want more activity.
Adult Friend Finder app is also a boon for people that don't want to spend fortunes on dating websites. Adult Friend Finder's Gold membership plans are reasonably priced. And, the longer the plan you get the cheaper it gets.
Let's break it down…
Standard or Free membership
Premium Membership
1 month – $39.95/m
3 months – $26.95/m or $80.85 total every quarter
12 months – $19.95/m or $239.40 every year
You should also be aware that AFF auto-renews your subscription. Still, you can choose to turn this off from your account settings.
Additionally, canceling your subscription isn't a headache. You only need to go to your account profile status and click on 'cancel subscription' to opt-out.
So what do you get for free, and what do you get with the Gold membership?
Free Features
As a free member, Adult Friend Finder membership basically gives you an idea of how the site works.
Creating an account
Commenting on some photos
Liking profiles
Receiving likes
Liking photos
Using limited search filters
Joining groups and reading blogs
Watch general site videos
Gold Membership Features
With a premium membership, you get unlimited usage of the site and can interact and talk to other users freely.
Add profiles to your favorites
Add friends
Send virtual gifts and presents
Enjoy live cams of members
Send and read messages
See full profiles
You also get higher priority to build on the benefits that the paid membership gives you. This means that more people will see your profile, and therefore you'll potentially receive more likes, matches, and messages.
As you continue using Adult Friend Finder actively, you are also awarded some loyalty points of sorts.
You can use the points you accumulate to send virtual presents, give tips to live cam performers and watch cam videos.
AdultFriendFinder Review – Comparing AFF to Similar Sites
That Adult Friend Finder is one of the most in-demand dating sites right now isn't a fluke.
When you compare it to other dating sites, AFF is one of the most credible with an industry experience spanning almost three decades.
Also, it has one of the highest user pools, which means there are many people to start talking to. Pulling more than 80M only sites like Tinder can match those numbers.
It's phenomenal that AFF blurs the lines of what you can or can't pursue, therefore you won't feel tied to a certain type of arrangement.
It's all up to you whether you want something serious, casual, swinging, or even a cyber relationship.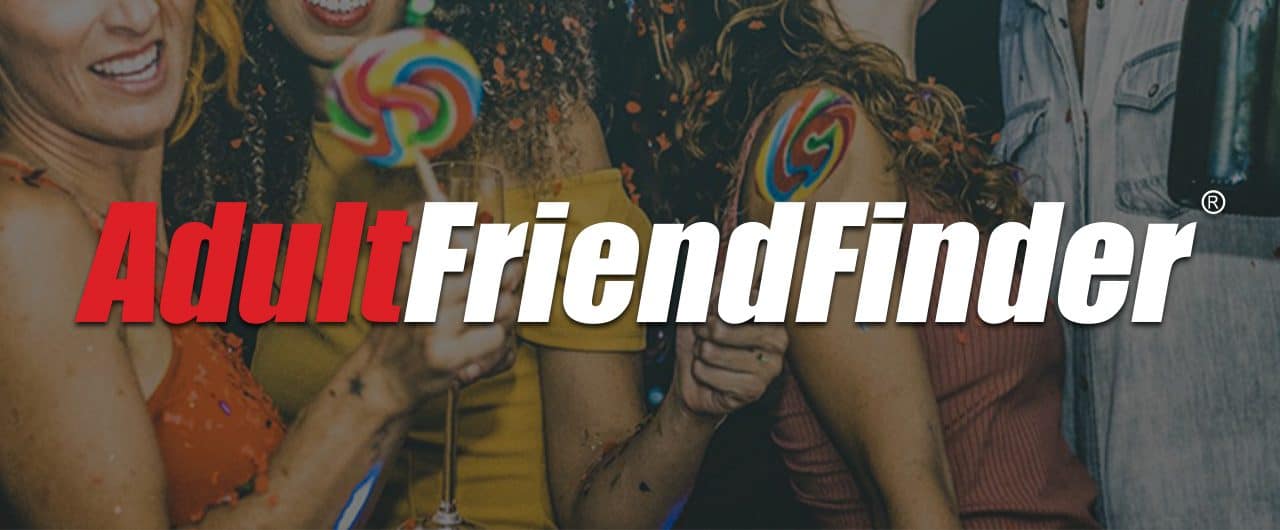 Even though it's been around for a while, AFF has done a massive job keeping up with the times and trying to create a safe and inclusive environment for all by being queer-friendly.
You'll also find that users on this adult dating site don't bite their tongues or mince their words. This makes it easier for you to be honest and get what you're chasing more confidently.
Adult Friend Finder also beats most generic dating websites in the sense that it's not all rooted in dating.
The platform has informative resources that can guide you on having memorable online dating and adult dating escapades.
Moreover, you can read member blogs and watch sexy live cams, and other video collections if all you want is some titillating entertainment from time to time.
Again, you won't find loyalty points with similar sites like Tinder, Ashley Madison, Elite Singles, and the works. AFF appreciates you are using the site with free points that you can redeem for free features.
How to Have the Best Time on Adult Friend Finder
Adult Friend Finder differs greatly from many general dating sites. Therefore, to have success with the site it's best to come up with a different approach before and when you start interacting with other people.
Create a Comprehensive Profile
A profile is your chance to showcase yourself, so why not put your best foot forward.
Make sure to say all you can about your interests, likes, goals, hobbies, dealbreakers, and more to find users that want the same things.
Also, add good photos of yourself. Avoid using group photos to avoid confusion. You don't want someone you've matched with saying something like 'Oh, I thought you were the other one'.
Adult Friend Finder dating app usually push high-quality profiles to other users.
Furthermore, with a detailed profile, you create a credible picture to others, and you won't risk losing your account when the site does profile clean-ups.
Know What You Want
You can chase many things on the Adult Friend Finder dating platform.
You can go for no-strings-attached relationships, one-night stands, serious relationships, swinging opportunities, and more.
Having a goal will help you find people on the same wavelength as you. It will also help you get more clarity on what search tools to use to find your tribe.
Even so, you can also be experimental, and it's good that AFF's user pool is adventurous, so no judgment here.
Talk with more people, play around with different goals, and who knows? You might just find what you don't know you needed.
Get a Paid Subscription
Of course, Adult Friend Finder is totally free to join and check out. However, the sauciest features are premium.
To communicate with people, make video calls, see complete profiles, and many more, you'll need to upgrade from a free version.
Be Honest and Keep an Open Mind
Close mouths don't get fed, and 'word mincers' don't get what they want.
If you aren't direct and honest with what you want, you might have a hard time getting a good time on Adult Friend Finder.
Most users on Adult Friend Finder are aged 30 and above, and these are usually straightforward people who don't want to play any games.
Don't be afraid to state what you want. You'll actually be surprised by how people welcome honest opinions here.
Stay Active on the Website
Using Adult Friend Finder regularly will help you find your way around the site and know how to use the features to your advantage.
The online dating service also gives active profiles higher rankings than dormant profiles, in turn, giving you vibrant interaction with other AFF users.
That a user can also check out your activity and see when you were last on the platform means that you'll be more likely to receive messages since people would tell you'll read them soon enough.
An added perk is that you receive points you can redeem for better premium features depending on how much you use the site.
Join Group Chats and Communities
AFF's group chats and communities help connect you to more people who are into what you're into.
In these group chats, you'll find people who have the same kinks, fetishes, dating goals, and more.
You might even score a date here if you take an interest in someone and message them. You never know, someone might also reach out to you.
How To Stay Safe on Adult Friend Finder
Don't Give Out Any Personal Details
It's online, you might never get to know someone you're talking to on chat until you actually get to meet them in person.
To stay safe, avoid giving anyone your personal or financial details. Scammers may pose as romantic interests and try to win your trust before asking for your financial details.
Watch Out for Love Bombing
Well, we're not saying love at first sight isn't a thing but just be wary of anyone profusely expressing their love soon after meeting you.
Some people may use love bombing to blind you from the fact they want something in return. Oft-times, they'd pretend to be in some sort of fix and ask you to lend them some money.
Do They Have Their Photos on Their Profile?
If their profile doesn't have any photo of them, it might be a catfish, or they might be hiding something.
If they have a photo, you can try doing a reverse photo search on Google and see if they are what they claim they are or if they simply downloaded a random photo from the internet and added it to their profile.
Another easy way to verify if someone is real is to ask them to have a video call with you. If they decline, they might be dodgy since fake accounts usually want to keep their identity hidden.
Avoid Any Conversation Around Money
Be skeptical if any match starts mentioning money too soon after you start talking.
Scammers might try to woo you with fast money-making ideas just to get you to send them some money, and then they'll ghost you.
AdultFriendFinder Review – FAQs
Can Anyone Use Adult Friend Finder?
Yes, anyone can use Adult Friend Finder.
Adult Friend Finder is available all over the world thus anyone can sign up on the platform.
The dating service is also welcoming to people of all sexual identities and orientations, making it one of the most inclusive online dating communities right now.
Is Adult Friend Finder safe?
Yeah, after our AdultFriendFinder review, we consider it generally safe.
AFF does email and mobile number verification to keep away potential scammers and spammers.
The platform also reviews profiles to remove those that break its rules, those that other users have reported, and those that have been dormant for a while.
But like with any online dating app, you shouldn't trust everyone on the site with any sensitive personal or financial information.
Can I Use AFF for Free?
You won't need to pay anything to register and join Adult Friend Finder.
With a free account, you can use some search filters and even view partial profiles. Only, you won't be able to send messages with a free account.
When you're ready to take the next step, get a free account and use unlimited features anytime you want.
Is Adult Friend Finder a Hookup Site?
Adult Friend Finder is a hookup website.
In essence, Adult Friend Finder is an adult dating app for people looking to have sexual adventures.
Still, it's not all about sex here. You might find people that want to get into something serious.
You can even use the dating goal search filters to find your ideal relationship.
Alternatively, you can join communities for people who want to date seriously and try to find a suitable user there.
Is Adult Friend Finder legit?
Yes, Adult Friend Finder is a real dating website.
AdultFriendFinder website is a long-standing platform that has helped millions of people find their ideal relationships.
At the moment, Adult Friend Finder has tens of millions of users from all over the globe.
AdultFriendFinder Review – Is Adult Friend Finder Legit?
With this AdultFriendFinder Review, now you're nicely placed to know how to use it and make it work for you.
If you're tired of the boredom of other dating sites and want to break the monotony, Adult Friend Finder will be a cool place for you.
But we're not saying AFF is perfect. No dating service is. The site has a few lapses like the number of ads they show you. But once you upgrade your account you will have none of those.
Overall, Adult Friend Finder is a good place to have thrilling and sizzling time with other incredibly interesting people.
Whether you want to talk to people directly or interact in group chats, you can go with all that floats your boat.
It's been a blast having you, now go sign up and get some action!
RELATED READS: