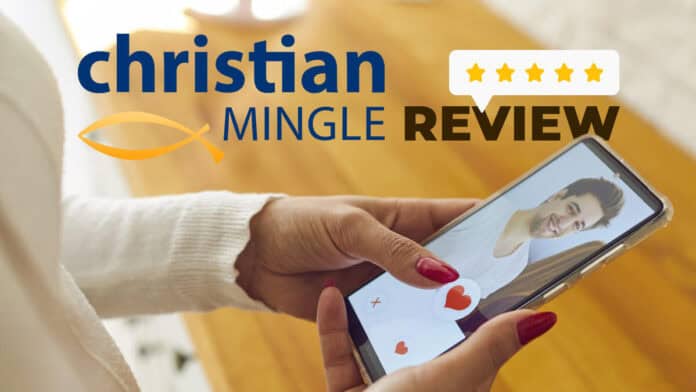 It's really hard to just bump into someone who shares all your Christian values on the street or in a coffee shop.
And if all your church buddies are already married or spoken for, your best bet is to head to some of the Christian dating apps and sites.
But you can't just choose ANY Christian dating site. You want the best one with a large dating pool of high-quality members.
That's what Christian Mingle stands for in the community, but is it really the ultimate Christian dating site? Read this Christian Mingle review to find out.
Christian Mingle Review: The Bottom Line Up Front
We'll start our Christian Mingle review with a short overview of the site and our entire article on it for all our skim readers. This is enough to give you an idea of what Christian Mingle is and what you can expect from it. We'll finish the part with our verdict on the dating site.
About Christian Mingle
Christian Mingle is a faith-based dating app that was brought to us by a reputable online dating giant, Spark Networks. It's been around for over two decades, and it's the #1 Christian dating site, not only by the number of users but also by success rates.
29% of all Christian marriages started on Christian Mingle.
This figure comes from research by Survate (now Upware), a reputable survey provider, and it's pretty dang impressive.
Christian Mingle works by letting you browse anonymously through the dating website and look for matches based on your criteria. There's also the LookBook feature that allows for ever-so-popular swipe-style matches.

Pros
#1 Christian dating site
29% of Christian marriages started here
Diverse user base
Different ways to find a match
Cons
Auto-renewal subscriptions
The site can lag during peak hours
What's Good About Christian Mingle
The best thing about Christian Mingle has to be its sheer size – it's the site with the biggest number of Christian singles on it.
You just can't top that.
All the fancy features and sleek design amount to nothing if an online dating site doesn't have a large amount of active online daters, and Christian Mingle does.
We like the fact that there aren't many unnecessary features like on many other dating sites that only complicate things and make everything seem chaotic.
Christian Mingle's interface is neat, and the features are pretty self-explanatory, making the online dating site easy to use.
Overall, Christian Mingle is a fun place for faith-based Christian dating. Most importantly – it works and has results to show for it.
What's Bad About Christian Mingle
The first thing that's bad about Christian Mingle is the whole auto-renewal membership thing. You have to contact the dating website via mail if you want to cancel your paid membership; otherwise, it'll just keep charging you.
The next thing is that the Christian Mingle dating site can lag here and there during peak hours, which is around 7-8 PM.
And last but not least, we caught some complaints of people being recommended inactive members in their LookBook and some complaints of fake profiles.
Overall, all of these aren't that bad and unique to the Christian Mingle dating site.
In fact, other dating sites have the same (or worse) issues without having all the good qualities Christian Mingle has. But it still has to be noted, and we wish Christian Mingle could do something about it.
Christian Mingle Rating 4.9/5
We feel like Christian Mingle is the best dating site for Christian faith-based dating. It just works, and the success stories (you know, the kind that ends in marriages) prove it.
Christian Mingle's website is easy to use, and the interface looks pretty sleek.
Most importantly, it has the highest number of high-quality Christian singles, and it's an overall fun place to be.
We couldn't really give it a 5/5 as it's not perfect, so we took one point for the flaws we've explained above. But we also couldn't take too many points as it really is the best place to go if you're looking for a relationship or marriage based on Christian faith.
Christian Mingle Review: The Complete Guide
Now's the part where we go over the entire process of online dating on Christian Mingle, from joining to meeting like-minded singles for a God-centered relationship.
This part of our Christian Mingle review should give you a clear idea of whether or not this is the right dating app for you.
So, let's start from the beginning, and let's keep it 100%.
Signing Up to Christian Mingle
First things first, to start your faith-based dating, you've got to join Christian Mingle. The site has made the sign-up process really easy, and we're here for it.
You can sign up with your social media, making things a whole lot faster and easier.
Of course, you can also choose to sign up with your Gmail address – it's up to you. The whole sign-up process can only last a couple of minutes if you opt out of filling out your entire Christian Mingle account.
At first, you'll be asked to answer some basic questions like your email address, name and add at least one picture.
You'll have to fill out this part, and then you can choose to skip the rest, at least for now.
The site will then ask you to fill out additional information about yourself and what you're looking for in a partner.
You'll need to give some basic information about yourself. These include your height, education, marital status (no married people allowed), your denomination, church attendance, and whether you want or have kids.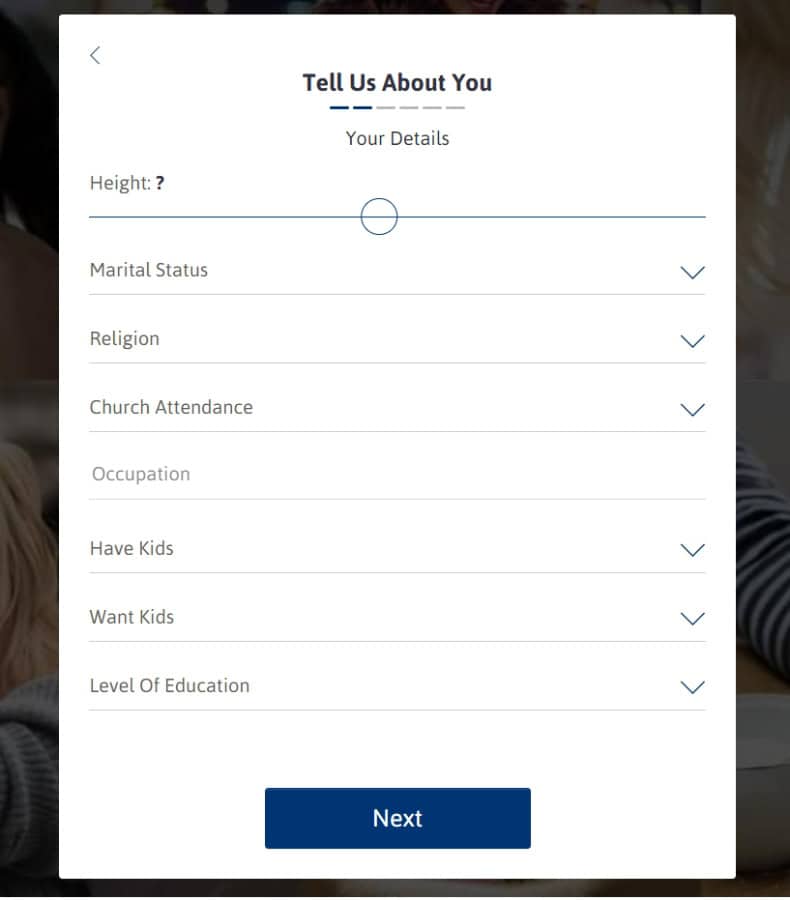 Then you'll get a chance to upload pictures and add a summary (kinda like the About Me part) to your Christian Mingle account. After that, you get to choose the sports, fitness, and activities you enjoy, so other members get a better picture of who you are.
You can skip these parts if you want to speed up your sign-up process.
However, having a detailed profile will up your chances with other Christian Mingle members, and we feel it's best to get it out of the way then and there.
Once you're done filling out your Christian Mingle profile, you'll be prompted to a page where you can choose which type of membership you want.
The six-month membership will be recommended, but there IS a free trial, but more on both later. Let's now continue this Christian Mingle review with a detailed breakdown of how the site works.
Christian Mingle Profiles
It may take from 24 to 48 hours for the site to approve of your profile, as Christian Mingle really does a good job of keeping inappropriate and fake profiles out.
Once you're done filling out your profile, you can get started. You'll be taken to Christian Mingle's feed-style list showing you the profiles of other members.
On the feed itself, you'll only see their picture and some basic info and distance.
You can see more as you click on a member's profile. Remember all those questions Christian Mingle asked you to fill out when you were creating your profile?
Well, other members' profiles will have the same information on their profiles if they were diligent enough to fill theirs out.
Here's what Christian Mingle's profiles can tell you about their users:
Age
Height
Hair color
Location
Ethnicity
Denomination
Church attendance
Education
Occupation
Whether they have/want kids
Drinking habits
Smoking habits
Willingness to relocate
When they were last online
Additionally, folks can add some other things about themselves in their Summary part. We like how detailed the profiles are, considering most people on Christian Mingle are looking for a serious relationship.
Christianity Denominations
Christian Mingle supports all major and most minor denominations of the Christian religion, so finding a person with the same denomination won't be hard.
Here's a list of the religious options on Christian Mingle:
Anglican
Apostolic
Assembly of God
Baptist
Catholic
Charismatic
Christian Reformed
Church of Christ
Espiscopalian/Anglican
Evangelical
Interdenominational
Lutheran
Messianic
Methodist
Nazarene
Non-denominational
Not Sure Yet
Orthodox
Pentecostal
Presbyterian
Seventh-Day Adventist
Southern Baptist
Other Religion
You don't have to be a Christian to join Christian Mingle – there's an option to choose 'Other' as your religion.
However, Christian Mingle is a niche Christian dating site.
Most people on it are Christian singles looking for other Christian singles to date. So you would be better off on other dating sites if you are not a Christian or if your religion or that of your significant other isn't that important to you.
How Christian Mingle Works
Christian Mingle doesn't really have any filters or tags you can use to search for people. Right off the bat, you'll be greeted with the option to look for new members, those who are online at that moment, the closest ones, and those who are the best match.
You can like or favorite members or send them a message right away.
The site will let you know (via mail or phone) which members have liked and favorited you back because they will also see you in their feed.
You can then choose to contact them.

As you can see, you'll also get a chance to browse for members on your own by typing a word in the search bar.
Christian Mingle's search algorithm is pretty good, and the search results will show you all the people that fit your desired keyword.
There's also the Discovery tool that can help you zero in on a perfect match. You'll get the option to search for match preferences based on all those parameters you have filled out as you were signing up.
These include age range, denomination, habits, how often they attend church, whether they have/want kids, education, job, and more.
Besides that, you get access to the Activity tab that shows you the following:
Members who have viewed you
Members you have viewed
Members you've liked and favorited
Members who you have mutual likes and favorites with
Basically, the likes are a big deal on Christian Mingle because they encourage people to exchange messages. You can also just choose to message folks you've discovered via search or these other ways and try your luck.
Spark Networks is also going along with the trends, and they've introduced a faster way to connect called the LookBook.
Christian Mingle LookBook
The LookBook is designed for faster, swipe-style matchmaking that has revolutionized the online dating world.
The dating app shows you a picture of a member with some basic information, like their denomination, their Summary, and your match score.
You have the option to 'heart' the person or click X and be presented with another.
If you 'heart' another user, they'll be notified of it, so either one of you can start actual communication, which is how everything starts.
And that's about it – kinda like the swipe style other dating apps have popularized, just for a more serious type of online dating.
Christian Mingle Pricing
What all of our Christian singles will want to know now that all is said and done is, 'How much does Christian Mingle cost?'
The not-so-small matter of price is what can be a deal-breaker when choosing online dating sites.
Here are the pricing options when registering for a premium account:
1 month – $42.99 a month
3 months – $24.99 a month, $74.97 total
6 months – $19.99 a month, $119.94
As you can see, Christian Mingle offers discounts if you purchase bundle deals. Your best bet is the six-month membership, as it offers a reasonable price, especially when compared to other Christian dating sites.
Christian Mingle Free Memberships
You'll also want to know whether you can use Christian Mingle free of charge. The answer is yes and no.
Christian offers a free version; that much is true.
Their free version is even better than other sites offer. A free user can look (to a certain degree) and respond to the messages the paid users send them, if any.
The keywords here are 'to a certain degree' and 'if any' because you won't like your chances if you rely on a free membership to meet other Christian singles.
Suppose you are really serious about meeting other Christian singles and hope to be part of Christian Mingle success stories. In that case, you should subscribe so you can use the popular dating site functionally.
Christian Mingle App
Online dating is just so much more convenient when there's an app so you can access your profile from anywhere, and Christian Mingle has it!
The Christian Mingle app is available for both iOS and Android users.
It's pretty good and convenient, as you would expect. And where the site sometimes lags during peak hours, the app works like a charm.
Christian Mingle Reviews
Alright, that's what we had to say about Christian Mingle. Now, let's see what all the other folks who have used the site have to say about it via their Christian Mingle reviews online.
Here's a mix of negative and positive reviews of the dating site so you can get a sense of what's the general public opinion about it.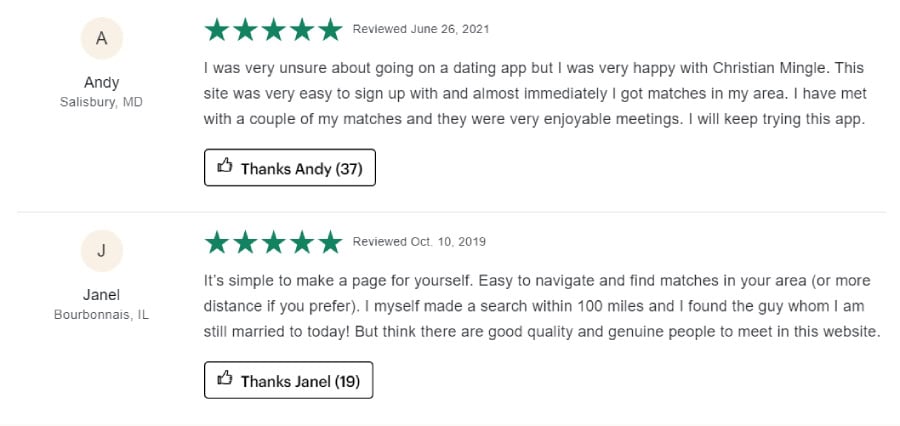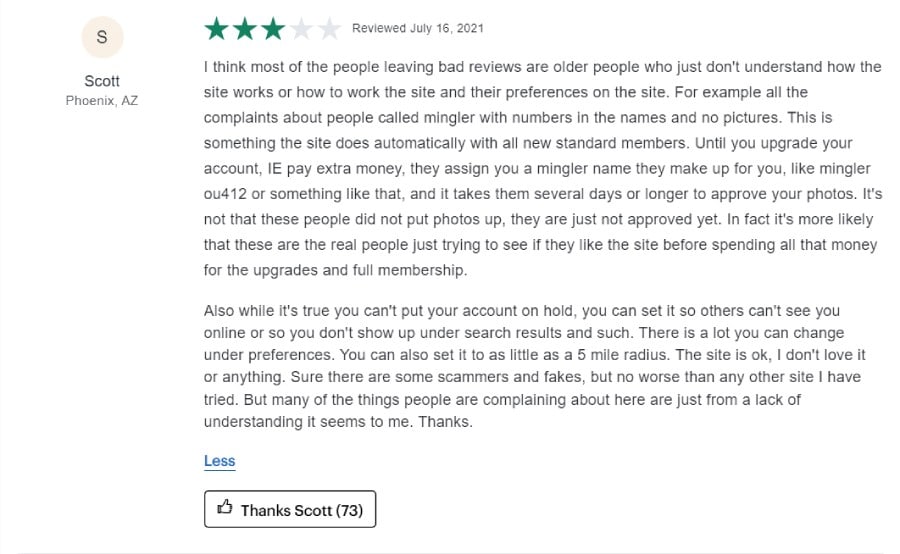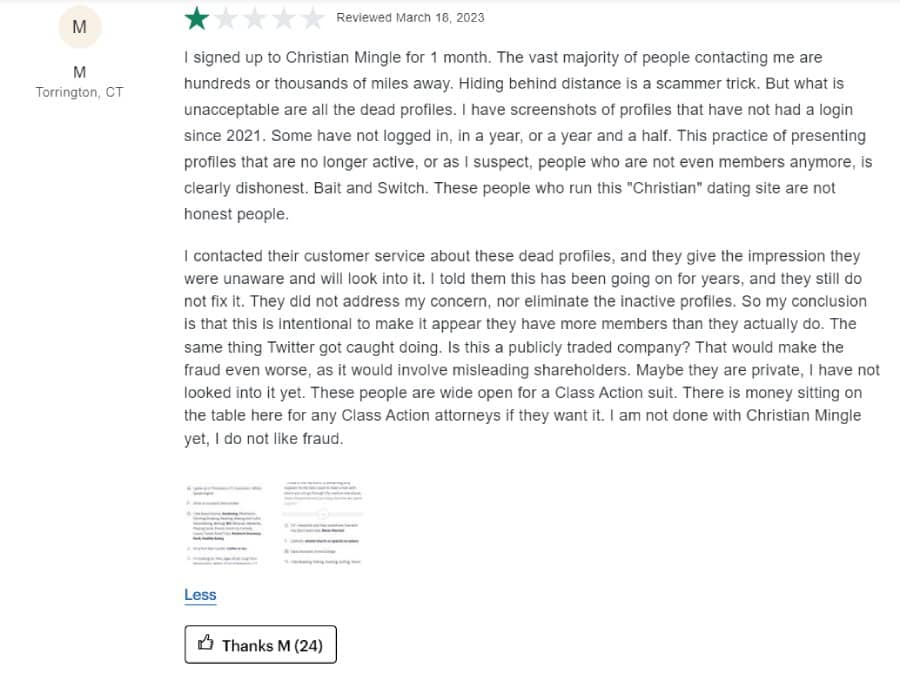 Christian Mingle Alternatives
Not quite sold on Christian Mingle? Let's take a look at what else is there when it comes to online dating sites for high-quality members looking for serious relationships. Here are the top Christian Mingle alternatives:
Zoosk – Best Christian Mingle Alternative Overall

Pros
Casual and committed relationships
Diverse user base
You can pause your account
Cons
Pricing 
1 month – $29.99
3 months -$20 a month
6 months – $12.50 a month
12 months – $12.50 a month
Zoosk is one of the most popular dating apps out there and definitely the most diverse one. You can easily use Zoosk for both serious and casual dating – there are people on it looking for both.
Speaking of users, Zoosk's got some of the most diverse user base.
It has sizable chunks of people of all age groups, all races and ethnicities, and most importantly, a significant number of Christians.
You can pause your account when in a relationship and bounce right back if things don't work out. With prices starting at $12.50 a month, it's more affordable than Christian Mingle, but not all people on Zoosk are Christians.
>>Jump to Zoosk, the best Christian Mingle alternative
eHarmony – High-Quality Singles

Pros
High-value singles
Great matchmaking system
Love & serious relationships
Cons
Pricier than other dating apps
Pricing 
6 months – $69.90 a month
12 months – $49.90 a month
24 months – $39.90 a month
eHarmony is the embodiment of 'quality, not quantity' both when it comes to the users and the matchmaking system.
Its members are successful singles looking for meaningful relationships and love.
The site is very committed to matchmaking, and you'll need to fill out your profile and answer all their questions so they can fix you up with the best matches.
It's not a niche site for Christians only, but there are MANY well-established Christians on it.
The only downside to eHarmony is the fact that it is way pricier than other options, but that also tells you that their members are established people who are serious about dating.
>>Go to eHarmony to find true love

Pros
Niche Christian site
Large user base
Serious about safety
Cons
Pricing 
2 weeks –

$34.97

1 month – $44.97 a month
3 months –

$23.32 a month

6 months – $18.32 a month
If you are really fixed on a Christian-only dating website, and you don't want it to be Christian Mingle, Christian Café is your best bet.
It's another niche Christian site with a huge user base of Christian singles ready to mingle.
Christian Café also allows you to search for matches based on your criteria or to match via the quick, swype-style system.
The best thing about Christian Café is the forum conversation, where members exchange their opinions on all sorts of topics and hang out. It's also a great way to meet like-minded folks more organically.
>>Join Christian Café to meet Christian singles

Pros
60% of users are over 50
Safe & easy to use
3-7 daily matches
Cons
You have to rely on daily matches
Pricing 
3 months – $44.95 a month
6 months – $34.95 a month
12 months – $24.95 a month
All senior Christians looking for a second (or third or fourth…) chance at love would have the most luck on SilverSingles. SilverSingles was created for mature people looking for love – 60% of their members are over 50.
The site itself is easy to use and, more importantly, safe, as it was made especially for mature singles.
The verification process is also pretty strict, so you don't have to worry about fake profiles that much, but still use common sense – you never know.
The downside is that you have to rely on the daily matches the site sends you as there is no way to browse on your own, but the site has a pretty good matchmaking system.
>>Head to SilverSingles, the best place for mature singles to find love
Christian Mingle FAQ section
Before we wrap it up and wish you the best of luck dating on Christian Mingle or elsewhere, we'll answer some of the most common questions about the dating site. Hopefully, you'll find the answers to your questions.
Is Christian Mingle a Good Dating Site?
Yes, Christian Mingle is a good dating site. Not just a good one – it's a great site if you are a Christian looking to meet like-minded individuals for a faith-based relationship and even marriage.
Does Christian Mingle Work?
Yes, Christian Mingle works. It's the best way to meet fellow Christians for a relationship based on the same beliefs and traditions.
Is Christian Mingle 100% Free?
No, Christian Mingle isn't 100% free. There's an option to remain a free user, but you will only be able to reply to the messages paid users send you. To use the site functionally, you would have to subscribe.
How Much Is Christian Mingle Cost?
Here's how much Christian Mingle costs:
1 month – $42.99 a month
3 months – $24.99 a month, $74.97 total
6 months – $19.99 a month, $119.94
Is Christian Mingle Worth the Price?
Christian Mingle is absolutely worth the price. It's a great place for devoted Christians to meet and forge relationships based on their shared faith and beliefs in a world where that may seem difficult.
Is Christian Mingle the Ultimate Christian Dating Site? The Takeaway
Listen, we know how difficult finding other Christians who are devoted to their religion and beliefs may be or seem.
But it doesn't have to be that way.
That's why we're happy to recommend Christian Mingle to everyone who's single and wants a relationship or marriage based on any denomination of Christianity.
It's the biggest niche site of the sort, and that in and of itself says a lot because no fancy features can beat a relevant user base.
Its success rates are also unparalleled in the industry.
If anything, you can use the free version to get a glimpse of how you like the site and whether there are enough Christian singles in your area for you to describe.
We hope you enjoyed reading this Christian Mingle review. We wish you faith, strength, and perseverance despite the loneliness, for they will pay out – maybe even sooner than you know!