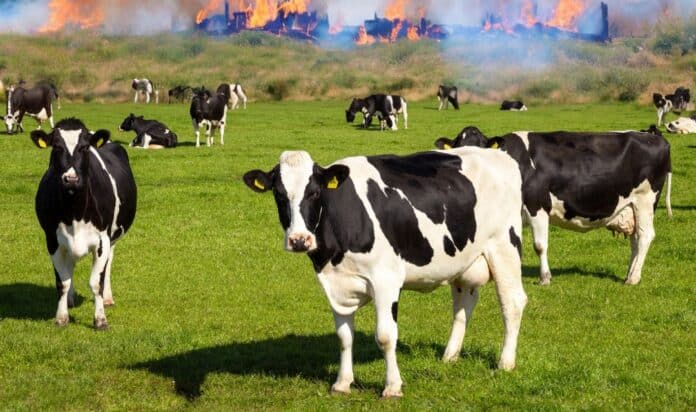 A tragic explosion and fire at the South Fork Dairy Farm in Dimmitt, Texas, on Monday evening, resulted in the death of 18,000 cows and left one farmworker in critical but stable condition.
The devastating incident in the Texas panhandle, 75 miles northwest of Lubbock, is considered the deadliest cattle barn fire ever recorded in the United States.
Explosion Possibly Caused by Malfunctioning Equipment
The state fire marshal is currently investigating the cause of the fire. Castro County Sheriff Sal Rivera suggested that the farm's manure management equipment might have overheated, causing the methane to ignite and leading to the explosion and fire. County Judge Mandy Gfeller mentioned that malfunctioning farm equipment could have caused the disaster.
Massive Scale of Cattle Casualties
The 18,000 cows killed in the fire account for approximately 90% of the dairy farm's total herd. To put the scale of the tragedy into perspective, the number of cows killed would cover 26 football fields if the animals stood 3 to 4 feet apart. Financial losses resulting from the incident could reach tens of millions of dollars, excluding the destruction of equipment and buildings.
Factory Farm Fires: A Surprisingly Common Phenomenon
Fires on large-scale animal farms or factory farms are more common than one might think. Over the last decade, at least 6.5 million farmed animals, mostly chickens, have perished in barn fires in the US, according to the Animal Welfare Institute (AWI). The Dimmitt fire, however, was unusual in its scale. Allie Granger, a policy associate with AWI, noted that the South Fork Dairy Farm was among the country's largest dairy farms, making the number of cows killed significantly higher than in other fires. Between 2018 and 2021, the largest number of cows killed in a single fire in the US was 548.
Future Concerns with Mega-Factory Farms
As mega-factory farms continue to grow and pack more animals into cramped warehouse-sized sheds, incidents with high death tolls may become more likely. Between 1992 and 2017, the number of US farms with 1,000 or more dairy cows tripled, while the total number of dairy cows remained relatively stable.
Addressing the Issue of Factory Farm Fires
While fires may not be entirely preventable, adopting the National Fire Protection Association's Fire and Life Safety in Animal Housing Facilities Code could help mitigate risks by requiring fire protection measures on farms. Proactive fire safety inspections, equipment maintenance, and employee training could be implemented by meat, dairy, and egg producers to prevent similar tragedies in the future.