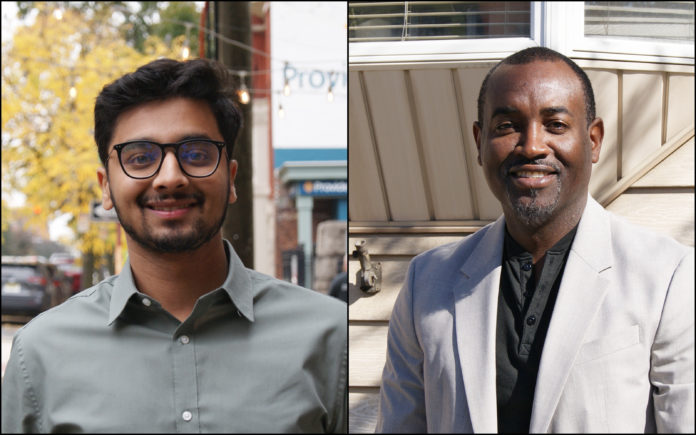 While the main contest in the Jersey City school board election this year is the battle between the "Education Matters" and "Change for Children" slates, there are two separate independents seeking one of the three seats on the board.
Each of them come from different professions but are both first time candidates. Isnel Sanon runs a tax service firm, and Ahsan Nawaz is a real estate agent. Both spoke to the Hudson Reporter on what they plan to bring to the board if they get elected in November.
Isnel Sanon
Isnel Sanon runs a tax service firm called Sanon Global, and was also with the NAACP. He was also a committeeman in the Jersey City Democratic Organization, and is running for public office for the first time.
Sanon said that he's an advocate for parents of Haitian and Caribbean descent, and that he's running because of international students not getting information needed to get to school on time, as well as property taxes "going off the roof."
"It's a matter of working together and negotiating for the people in Jersey City, and it's not being done right now at the current board," he said.
His top priority if he gets elected would be to review "everything we spend our money on to see what is the waste, what is it that we don't really need." "Within that time, I'll be auditing, reviewing on my own time making sure that the following year, the budget goes accordingly to assure no taxes increase," he said.
Another focus would be to bring back activities for students to get involved in "designing what they want to see, pick who they want to see, versus throwing a bunch of politicians to come in and speak things that they don't know."
"I really want to give them that voice, make sure that they work with the teachers [and] administrators," he said.
The school budget in recent years has increased after losing millions in state aid funding since 2018. Sanon said if the board talked with the mayor and city council, they could understand where they stand, and also argued that the city isn't working with the state to reevaluate and fund them "the way [the] state should be."
He said that he would have not supported the new $973 million budget for the 2022-2023 school year that came with an average $1,611 tax increase per household, and that his solution to the funding crisis would be to have the city get reevaluated.
"If we negotiate fairly for the people, I think the state could come to terms that the Jersey City Board of Education needs more money," he said. "It's not so much needing more money, it's what do we do with the money we get, and I think that's part of our problem. Once we have a lump sum, we spend, we spend, we spend, until we realized that we need more."
When asked why he was running as an independent, he said that he wants all the ideas he mentioned to not be influenced by other people "telling me what I should do, what I couldn't do."
"I think that's been the problem," he said. "A lot of those slates, even though they have good intentions, they can't really do so because whoever supports them, whoever backs them up, gives them a script of which direction they need to go."
Ahsan Nawaz
Ahsan Nawaz is a real estate agent at Weichert who's also running for public office for the first time.
"I loved making a difference," said Nawaz. "[New] Jersey has given a lot to me; a student who can barely speak English at one point in his life now ended up getting honors and graduating at NJIT in three years rather than four for the top of the line."
He noted a number of teachers that he learned from throughout the years, and that he wanted to give back and "make a difference."
His top priorities would be based on what he called "CCRISP"; the first is that students are college and career readiness, the second part is innovation, the third is stability, and the last part is procurement.
When it came to the budget process, Nawaz says that he supports a fully funded budget for the school district, though noted that they should look at procurement because "this is tagged taxpayers' hard-earned money that is being spent."
"We need to look at many programs, many functions that we have that are not helping students; we need to get rid of them," he said.
When asked if he would've voted for the $973 million budget, he reiterated his previous comments on having a "fully funded budget" but that there were ways they could fix it. He said that the city should enforce the payroll tax, and that they should also work with them on tax abatements.
"I feel like the city and the Board of Education need to work together and come up with a solution, because I personally believe problems can be handled with a cup of tea on the table," he said.
When asked why he was running as an independent, he said that he "just wanted to make a change."
"As an independent, I filled in the application, I said, 'I want to do it'," he said. "There's no money. There's no other reason. I'm on my own."
For updates on this and other stories, check hudsonreporter.com and follow us on Twitter @hudson_reporter. Mark Koosau can be reached at mkoosau@hudsonreporter.com or his Twitter @snivyTsutarja.