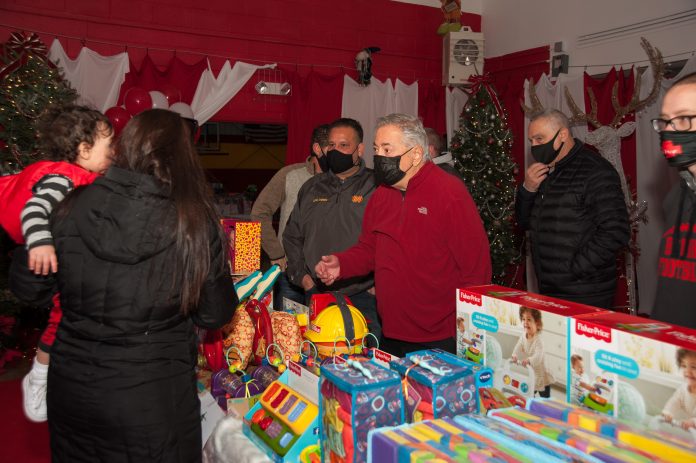 North Bergen is getting into the holiday spirit, albeit a little differently this year.
Toy giveaway
The township held its annual Christmas Giveaway at the Recreation Center on Dec. 6 with special protocols put in place to keep attendees healthy and safe during the pandemic. Activities were held outdoors, including a musical presentation from Mickey, Minnie, Elsa, My Little Pony, and all their friends.
Gifts were arranged on tables inside the Recreation Center, sorted by age groups. Mayor Nicholas Sacco was there with Commissioners Hugo Cabrera, Julio Marenco, and Allen Pascual, along with Santa and Mrs. Claus, all of whom posed for photos with families.
The Recreation Department decorated the Recreation Center.
"This year was very different then every other year due to the current restrictions and the importance of making sure everyone is kept safe," Sacco said. "Although the setup and operation changed, the decorations and presents were still top of the line! The Recreation Department did an amazing job making sure all the children had a wonderful time, but most importantly that they were in a safe environment."
Christmas tree lighting
On Dec. 3, Sacco and County Commissioner Anthony Vainieri presided over the annual lighting of the tree in Braddock Park.
Unlike prior years, this was a low-key affair without the usual crowds, children's chorus, free refreshments, and visit from Santa Claus, who "couldn't come because he can't put his mask around his beard," according to Vainieri.
Sacco expressed his regrets that it couldn't be an open public celebration He instead hosted the moment live on Facebook to ensure the safety of residents.
Joining Mayor Sacco and Freeholder Vainieri were a number of township officials, including Commissioners Hugo Cabrera, Julio Marenco, and Allen Pascual; Police Chief Peter Fasilis; Deputy Chief Robert Farley; School Superintendent George Solter, NHRFR Executive Director Michael DeOrio; and numerous police and sheriff's officers.
At the end of November, free Christmas trees were available at Braddock Park to all first responders, teachers, and front line workers.
DT Allen Contracting, a local real estate development firm, partnered with North Bergen and Freeholder Vainieri to offer free Christmas trees to Hudson County police officers, firefighters, EMTs, and other first responders, as well as frontline medical workers and teachers.
The trees were given out on Nov. 28 as a thank you to the essential workers who have kept Hudson County moving throughout 2020.
Donate toys!
Residents can donate to another toy giveaway later in the month.
The township's Holiday Toy Drive is an annual event for children in need. Sponsored by Mayor Sacco and the Board of Commissioners and coordinated by Aimee Focaraccio and NB C.A.R.E.S., they are currently collecting donations of new and unwrapped toys.
Bring gifts by Dec. 18 to any North Bergen school on Monday and Thursday, from 12 to 2 p.m., or to the North Bergen Police Department at 4233 Kennedy Blvd at any time.
The toys will be given away on Dec. 21 from 10 a.m. to 5 p.m. at the North Bergen Recreation Center, 6300 Meadowview Ave.
Preregistration is not required, but proof of residency, masks, and social distancing are.
For updates on this and other stories, check www.hudsonreporter.com and follow us on Twitter @hudson_reporter. Daniel Israel can be reached at disrael@hudsonreporter.com.