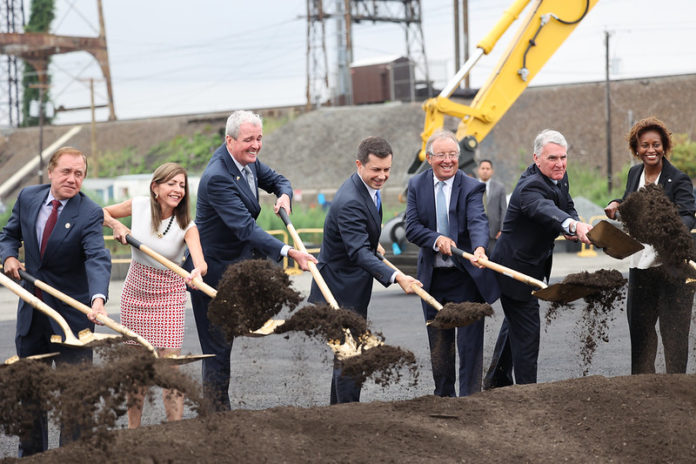 Several federal, state, local officials and project partners gathered on August 1 in Kearny to celebrate the groundbreaking of the new Portal North Bridge.
Although this is the third groundbreaking for the project thus far, this ceremony marked the official physical groundbreaking. The first ceremony was held back in 2017 for the bridge that will cross the Hackensack River from Kearny to Secaucus, with the other being more recently when President Joe Biden visited the site of the project in October of 2021.
Reducing gridlock and increasing capacity
Construction of the new Portal North Bridge aims to reduce gridlock caused by critical operation and maintenance issues of the existing 110-year-old swing bridge and improve service, reliability, and capacity for rail travel along the Northeast Corridor. The bridge is a major part of the larger Gateway Program infrastructure project, and officials saw it as a testament to the prioritization of infrastructure investments by the Murphy and Biden administrations.
"The esteemed elected officials, transportation executives, and union members gathered here today to celebrate a national milestone are evidence of what we can achieve when we band together as Americans in pursuit of a common purpose," said Gov. Phil Murphy.
"Safe, reliable, and modern infrastructure is about more than just getting to work on time. It's also about the thousands of good-paying jobs this project will create and the families they support. By improving connectivity, we will also promote economic opportunity, not just for New Jersey residents and commuters, but for the Northeast Corridor and our nation. The new Portal North Bridge symbolizes our lasting legacy and our commitment to the welfare and prosperity of all New Jerseyans."
"This project turns the Portal North Bridge from a choke point to an access point. It modernizes the way that people and goods get to and from this region that is responsible for 20 percent of America's economic product every year," said U.S. Secretary of Transportation Pete Buttigieg.
"I hope that this bridge will not only bring people to work and loved ones to where they need to be, but brings renewed confidence in our ability to get things done together. We are entering into a true infrastructure decade."
Modern bridge replacement on the way
The current Portal Bridge will be replaced with a new modern two-track, high-level, fixed-span bridge that will improve service and capacity along this section of the Northeast Corridor. The new Portal North Bridge will rise 50 feet over the Hackensack River and will allow marine traffic to pass underneath without interrupting rail traffic.
The Portal North Bridge project will eliminate the over a century old swing bridge, which has been the enduring source of major service disruptions for NJ TRANSIT and Amtrak customers traveling on the Northeast Corridor. The project is being funded by the U.S. Department of Transportation, New Jersey, New York, and Amtrak.
"Today, we turn the page. When the new Portal Bridge opens it will be fixed in place and high enough for marine traffic to pass below unimpeded. It will spare hundreds of thousands of passengers each day from malfunctions and delays," said Sen. Robert Menendez.
"For travelers, it will mean less time stuck on a train and more time with their families and loved ones, and at their destinations. For our region, it will help us double rail capacity between Newark and Manhattan as part of the broader Gateway program. And for our communities, this project is directly tied towards more jobs, higher wages, and greater productivity."
In January of 2021, Governor Murphy announced the signing of a Full Funding Grant Agreement which secured $766.5 million in Federal Transit Administration funding to support the project's construction. Prior to that in October of 2021, Governor Murphy and NJ TRANSIT announced the approval of a $1,559,993,000 construction contract awarded to Skanska/Traylor Bros PNB Joint Venture (STJV) for the construction of the new Portal North Bridge. The contract represents the single largest construction award in NJ TRANSIT's history.
Officials applaud advancing the project
Hudson County's congressmen praised the ground breaking event, including: Rep. Bill Pascrell Jr., a longtime advocate for this project who represents the 9th Congressional District of New Jersey, which includes Secaucus; and Rep. Albio Sires. who represents the 8th Congressional District of New Jersey encompassing most of Hudson County.
"History is happening today," said Pascrell. "For years New Jerseyans have waited patiently for relief at the Portal Bridge over the Hackensack. Because of congestion and delays at this choke point, countless dinners, outings, and hours of family time have been sapped by interminable commutes. Our groundbreaking today marks a titanic step to keep the Northeast Corridor moving and relieving one less cause of stress for countless North Jerseyans. Our federal, state, and local leaders have worked assiduously to reach this moment. I cannot wait for the new Portal North Bridge."
"I applaud Governor Murphy and NJ Transit on the groundbreaking of the Portal North Bridge, which is a huge step towards reducing gridlock and improving safety for rail commuters between New Jersey and New York City," said Sires.
"As a senior member of the House of Representatives Transportation and Infrastructure Committee, I have long advocated for funding to replace the bridge and to complete the other parts of the Gateway Program. We have made tremendous progress, and I will continue working with my federal and state partners to get this project over the finish line."
Sen. Corey Booker, and Reps. Donald Payne Jr., Mike Sherrill, Frank Pallone, Tom Malinowski, and Josh Gottheimer, were among the many officials present at the ground breaking who praised the commencement of the project. Officials from NJ Transit, Amtrak, the Federal Railroad Administration (FRA), the Federal Transit Administration, and other related entities also applauded the move, as well as union leaders from the Hudson County Building and Construction Trades Council, the Regional Plan Association, the International Union of Operating Engineers Local 825.
Construction to take half a decade
The Portal North Bridge project spans 2.44 miles of the Northeast Corridor line and includes construction of retaining walls, deep foundations, concrete piers, structural steel bridge spans, rail systems, demolition of the existing bridge, and related incidental works. The Notice to Proceed (NTP) given to STJV in April of this year signified the start of the construction contract, which is anticipated to take approximately five and a half years to complete.
As for the other aspects of the Gateway Project, such as the Hudson River tunnels, a funding agreement was signed between New Jersey and New York in July.
For updates on this and other stories, check www.hudsonreporter.com and follow us on Twitter @hudson_reporter. Daniel Israel can be reached at disrael@hudsonreporter.com.