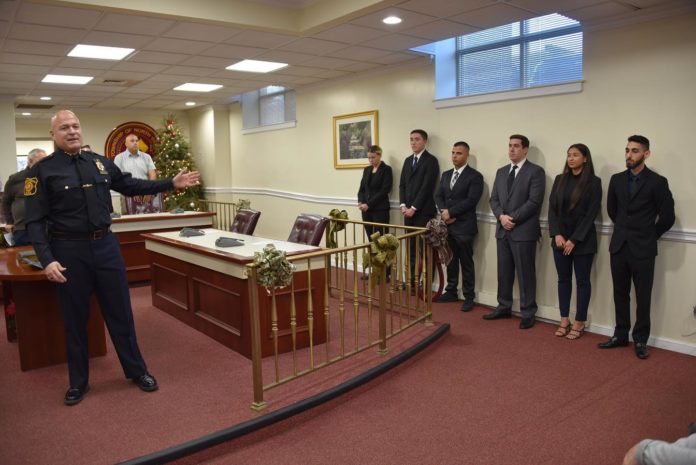 North Bergen Mayor Nicholas Sacco and Public Safety Commissioner Allen Pascual administered the oath to six police officers at a ceremony inside the Town Hall municipal chambers on Wednesday, Dec. 21.
The new officers include Brooke Bargiel; David Corbisiero Jr.; Jose Figueroa; Alexander Lambros; Yosseline Marquez; and Majd Siyam. They will all now be attending the Passaic County Police Academy.
Bargiel graduated from William Paterson University with a bachelor's degree in education. Her great-uncle was a detective in the North Bergen Police Department (NBPD) and she aspires to one day become a detective and or SWAT team member.
Corbisiero Jr. graduated high school with a 4.0 GPA as a member of the National Honors Society and was scholar athlete of the year during his senior year. He is currently a CCTV operator at NBPD.
Figueroa is a Cuban-born North Bergen resident, who is currently attending Hudson County Community College to pursue a criminal justice degree. He is currently a range safety officer at Long Shot Range in Secaucus.
Lambros is a lifelong resident of North Bergen who graduated from North Bergen High School. He attended Hudson Community College and Bergen Community College and is bilingual, speaking both English and Spanish.
Marquez graduated North Bergen High School and is attending Felician University to pursue a bachelor's degree in business administration. She was part of the soccer team at Felician University and is currently a communications operator at the NBPD.
Siyam is a North Bergen High School graduate, currently attending Montclair University in pursuit of a bachelor's degree in criminal justice. He is bilingual in English and Arabic and was previously employed at Hudson County Sheriff's Office as a communications operator.
Police Chief Peter Fasilis was master of ceremonies at the event. Reverend Yuvan Alvarez performed the invocation and benediction. Also in attendance were members of the new officers' families, along with many representatives from the township administration and the police department.
Meanwhile, the Union City Police Department also swore in ten new recruits who are now off to the police academy. In addition, three officers were promoted to the rank of Sergeant.
For updates on this and other stories, check www.hudsonreporter.com and follow us on Twitter @hudson_reporter. Daniel Israel can be reached at disrael@hudsonreporter.com.