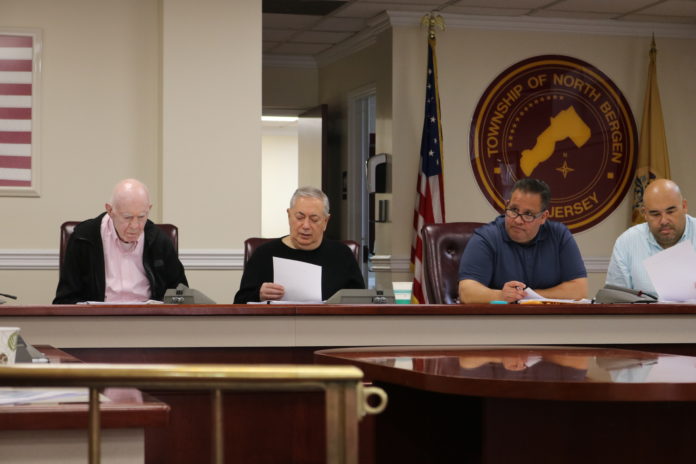 North Bergen's Board of Commissioners has voted unanimously to adopt the 2022 calendar year budget.The budget already had state approval.
At the May 11 meeting, Township Administrator Janet Castro gave a budget presentation. According to Castro, the township is doing "fairly well" all things considered.
"We have a fairly stable budget this year," Castro said.
The 2022 budget totals $106,036,919. This is a $4,669,007 or 4.6 percent increase from the $101,367,912 budget in 2021, which was the first year the budget topped $100 million.
The tax levy will be raised by $68,659,987, this is just shy of the $70,896,726 maximum that is allowed. In total the tax levy in the 2022 budget is $2,236,739.
The appropriations in the budget total $76,645,570, below the $78,490,239 maximum that is allowed. The remaining $1,844,669 under is available for the 2023 budget appropriations.
The number of township employees has risen to 557. This is an increase from 545 in 2021 and 540 in 2020.
Revenues recovering, but still down due to COVID-19
Revenues have been down the past two years, with a revenue loss of $1,821,100 in 2020 and a much smaller $298,636 loss in 2021. However, actual revenues only dipped from $99,729,655 in 2019, to $97,987,995 in 2020. By 2021, actual revenues were back up to $101,069,276.
"On the revenue side, we are still being impacted by COVID-19 in 2020 and 2021, but less of an impact in 2021," Castro said. "That was primarily the hotel tax and municipal court losses. Those were big contributors to that revenue loss."

Mayor Nicholas Sacco noted that nobody was traveling and staying in hotels, and that police weren't giving as many tickets amid the stay-at-home order. Castro confirmed this, noting: "We were at a standstill."
North Bergen continues to maintain a "steady and effective" tax collection rate, Castro said. This year, the township hit 98.89 percent of taxes collected, the highest-ever in its history.
"That's a pretty historic number," Castro said. "Best-ever in the history of North Bergen."
Revenues from payments-in-lieu-of-taxes (PILOT) agreements continue to increase, up to a total of $4,557,000 in the 2022 budget from $4,193,630 in 2021. Since 2016, the PILOT revenues have increased by $1,886,000 or 71 percent, from $2,671,000 to the now $4,557,000.
The township is also no longer reliant on debt issuance for tax appeals. The total budget appropriations for tax appeals is down to $290,000, a decrease of $400,000 or 58 percent from $690,000 in 2021. And that is a decrease of $870,000 or 75 percent from $1,160,000 in 2017.
Surplus up, Moody's rating remains the same, and property taxes down
The year end surplus balance from 2021 was $17,187,945. This is an increase from the $12,866,281 at the end of 2020, which only slightly decreased form the surplus of $13,584,027 in 2019.
The township holds a Moody's Analytics Rating is at Aa2, the highest possible rating according to Castro. This rating led to a successful bond and note sale even amid inflation rates of 7.5 to 8 percent.
"We had a successful bond and note sale with ten bidders and competitive interest," Castro said.
The local property tax levy has increased to $71,200,000 for 2022, up from $70,087,260 in 2021.
However, the local tax rate has decreased from 27.31 to 7.28 percent, due to the 2022 property tax revaluation in North Bergen. After the math, that is akin to a 7.43 percent decrease, which translates to the average homeowner seeing a decrease in property taxes by $280.
"With the reval, some will go up though," Sacco said, noting some residents would see an increase in payment as a result of the revaluation of their property. Castro agreed, noted that the $280 was the average decrease and that some residents would actually receive an increase.
State aid remains flat, according to Castro, which Sacco called "discouraging." The township hasn't seen an increase in 16 years. In fact, prior to it remaining the same since 2011, state aid had decreased each year leading up to that since 2006. The decrease in state aid from $13,713,330 in 2006 to $7,185,597 in 2022 is akin to a 47.6 decrease.
Departmental highlights
Castro also highlighted programs across different township departments that were also funded by the budget.
In terms of programs being operated by Public Affairs, COVID-19 testing and vaccination centers are still available.
"The state has renewed their grants to continue with the vaccination center over at 92nd and Kennedy with that medical facility," Castro said, touting the partnership.
The NB C.A.R.E.S. relief center is complete and in operation. North Bergen's Senior Program is included as well, this year featuring a bingo luncheon program, free movie program, free medical transportation, mall shopping trips, and Yankee game trips, among others. The Summer Health and Green Fair family festival was also highlighted during the budget presentation.
"The family festival is returning after a three year hiatus," Castro said. "That's going to be in June."
Over at Parks and Recreation, highlights include the new community center and library facility which officials anticipate will be completed this summer, as well as plans to renovate 46th Street Park which are underway.
"We had a whole lot of challenges we've endured, like supply chain issues, but we're expecting August," Castro said of when construction will complete on the new community center and library.
Other department initiatives
Additionally, the municipal pool is set to open for the summer, adhering to COVID-19 guidelines, as well as the Summer Fun program and drive-in movies, on top of many other events.
In terms of programs operated under Public Works, up to 20 various streets will be paved, the Graffiti Removal Squad is active with full gear and enhanced equipment. Pothole crews have also been back in action since April; to report a pothole, call the hotline at 201-440-7263.
For the Public Safety Department, the budget supports a full complement of 146 sworn officers. In terms of new initiatives, CCTV cameras are going to be installed in various township parks, and the township will also retrofit a U.S. military-donated trailer to become a mobile command center.
The township's fleet saw upgrades to the tune of a new EMS ambulance, three marked police vehicles, one street sweeper for the DPW, and two pick-up trucks for the maintenance of parks.
"I think we're doing fairly well," Castro said.
For updates on this and other stories, check www.hudsonreporter.com and follow us on Twitter @hudson_reporter. Daniel Israel can be reached at disrael@hudsonreporter.com.